48 Inspiring Lesbian Instagram Accounts you Need to Follow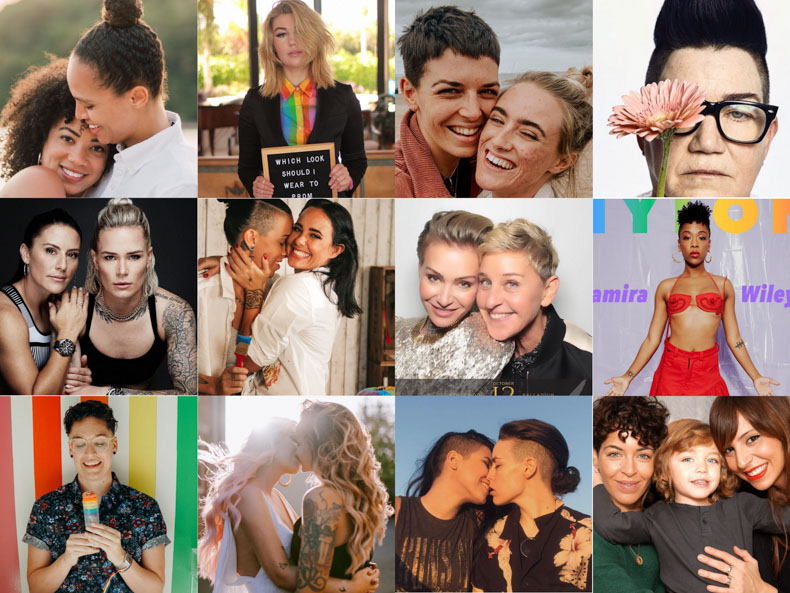 Until recent years, lesbians on Instagram have been notoriously underrepresented. Thankfully, that's no longer the case. And now, there are countless inspiring lesbians on the platform, sharing their stories and making every queer girls' world a better and more accepting place.
We always wonder what it might have been like growing up had we had a platform such as Instagram. Neither of us had any LGBT+ influence in our lives, which lead to a lot of confusion regarding our sexuality.
While, of course, social media has its downsides, I think it's wonderful that members of the LGBT+ community have the opportunity to connect with like-minded individuals.
When we started our lesbian couple Instagram account, it wasn't our intention to get a ton of followers. But we realised how important it is to be visible on the platform, and play our part in 'normalising' same-sex relationships.
If we can inspire just one person to live their truest, most authentic life, then that to us, means the world.
Almost three years down the line, we could never have imagined having built such a beautiful and supportive community. We are continuously moved, inspired, and empowered, and the power of social media is a truly incredible thing.
So let's get to it. Here are 48 Lesbian Instagram Accounts you need to be following right now.
48 Lesbian Instagrammers you Need to Follow
The aim of this blog post is to share with you the most inspiring lesbians on Instagram.
We could have listed a thousand as there truly are too many to mention; however, we've narrowed it down to 48 accounts that excel in their area of expertise.
On this list, you'll find a combination of famous lesbian celebrities, lesbian families, influential lesbians, and lesbian couples on Instagram.
Inspiring Lesbian Couples on Instagram
1. Gabi and Shanna – @27travels
Gabi and Shanna are lesbian Instagrammers based in Brooklyn, NY. Early on in their relationship, they realised that they both loved to travel. And since Gabi is a photographer and Shanna is a videographer, they started 27 Travels to document their experiences as a lesbian couple.
They believe that travel isn't just about ticking destinations and activities off a list; it's about growing, learning, and becoming more and more open-minded. We absolutely love following their adventures, and I do not doubt that you will too.
You can follow Gabi and Shanna on Instagram here @27travels.
2. Allie and Sam – @allieandsam
When it comes to lesbian relationship representation on Instagram, Allie and Sam are pioneers. They share their captivating journey as a couple through stunning photography and inspiring captions.
We absolutely adore their love story. They are both as equally beautiful on the inside as they are on the outside, and we love how connected they are with their followers.
Last year we had the pleasure of watching them get married (through the 'gram), and they made the most beautiful brides. We just love following this stunning couple, and we know you will too.
You can follow Allie and Sam on Instagram here @allieandsam
3. April and Bec – @aprilsanywhere
April lives in Brisbane, Australia, with her fiancee Bec. They both share a passion for travel, and they met while living and working in London.
April's Instagram account is all about encouraging others to be themselves and live their lives exactly the way they want to.
On her tiny corner of the internet, she shares her love life, lifestyle, and adventures, while promoting the importance of LGBTQ+ visibility!
You can follow April and Bec here @aprilsanywhere
4. Chris and Alex – @itschrisandalex
We are a queer couple of gals living a hop and a skip from NYC in Jersey City, NJ. We both work in the television industry, and boy do we have some crazy stories because of it!
When we aren't working, we're travelling – and more often than not, experiencing a few mishaps along the way. People always ask for our recommendations after we visit a new place, and nothing makes us happier than sharing them!
Our goal is to live a life that is rich in experiences, memories, and plenty of food. We share our lives online because we strive to be the visibility and representation we needed when we were younger.
Above all, we want to encourage everyone to experience different places, peoples, and cultures because empathy is the key to dismantling prejudice.
You can follow Chris and Alex here @itschrisandalex.
5. Brittany and Melissa – @brittanyandmelissa
Brittany (Britt) and Melissa (MJ) make sure to be open, honest and proud about their marriage on social media!
MJ is a former professional basketball player, and Britt is a high school English teacher. Together, they flip classrooms around the United States and work hard to ensure LGBTQ+ students are represented in the curriculum.
When they aren't advocating for LGBTQ+ rights, they travel, spend time with friends and family, and do all kinds of outdoor activities! They've also recently become Mums, which we love to see.
Together, they self-published the coffee table style book Proud Women, featuring over 100 brave and diverse women. Be sure to check that out – we are honoured to have been featured.
You can follow Brittany (Britt) and Melissa (MJ) here @brittanyandmelissa
6. Charl and Aislinn – @charlsummersuk & @aislinnok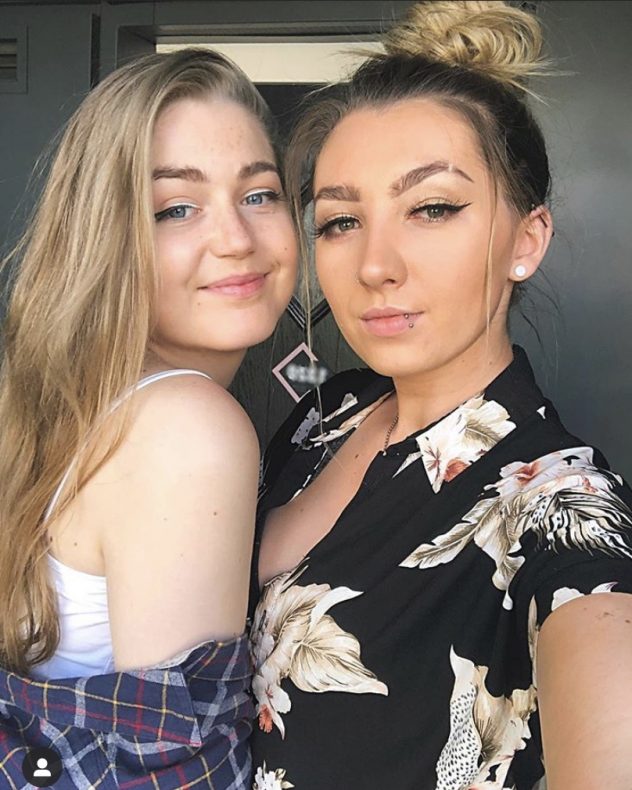 Charl and Aislinn are the beautiful couple behind the awesome lesbian podcast Lestalk.
After growing up in an environment that didn't support their sexuality, both found their safe space amongst the online community.
With this in mind, they created their Instagram page and podcast to help normalise lesbian relationships.
They strive to discuss various topics that are otherwise taboo and hope to be a place where queer and lesbian womxn can feel safe and accepted.
Whilst they have many platforms, they use them to spread the same authentic message: always choose to be you.
You can follow Charl and Aislinn on Instagram here: Lestalk_Podcast, Unite_Uk1 and Charlsummersuk
7. Hannah & Alia – @hersandhers_
Another lesbian Instagram couple we insist you follow is the gorgeous Hannah & Alia. Better known as @hersandhers, these two beauties are Brooklyn-based advocates for all things LGBTQ, Travel and Mental Health.
After meeting on a dating app in 2015, they fell in love, and as they say, the rest is history. They started their Instagram as a place to host their photos and since grown their brand into a successful business.
We admire how they are totally open and honest about their relationship on Instagram, and their warm & welcoming page feels like a community. Follow them, and you can thank us later.
You can follow Hannah & Alia here: @hersandhers_
8. Katja and Katka – @katkabogataj & @mrsbogataj
Katja and Katka are an adventurous couple from a small European country called Slovenia. We had the pleasure of meeting them on our recent trip to Ljubljana, and it's safe to say we have made friends for life.
They have been together as a couple for over seven years, and in 2018 they got married. They are passionate about advocating LGBTQ+ relationships since Slovenia isn't such a progressive country.
We love following their journey as wives, dog-moms, and adventure enthusiasts – not to mention their jaw-dropping photos where their chemistry radiates.
You can follow Katja and Katka on Instagram here @katkabogataj & @mrsbogataj
9. Steph and Kaitlin – @lezseetheworld
Steph & Kaitlin are a married lesbian travel couple from Vancouver, Canada. Both are full-time creative entrepreneurs, and the owners of Lez See the World!
They are passionate about living life on purpose, whether that means travelling, running your own business, or simply being your authentic selves.
The couple share content on Instagram to be visible as proud lesbian women and act as the role models they never had growing up. They want to help empower other LGBTQ+ women to live their lives more openly and chase their dreams.
You can follow Steph & Kaitlin here: @lezseetheworld
10. Lisa and Bianca – @lisbia_
Lisa and Bianca, otherwise known as @lisbia, are without doubt one of the hottest lesbian couples on Instagram. They live in Austria and have been a couple for over ten years!
Now they showcase their beautiful love story with the world, inspiring LGBT+ people all over the world and proving that love is love.
Style icons and pro photographers alike, you're going to love following these two beauties just as much as we do.
You can follow Lisa & Bianca here: @lisbia_
11. Kirstie and Christine – @onairplanemode__
Kirstie and Christine are an LGBTQ+ multicultural couple from New York City who quit their day jobs to backpack around the world.
Their adventures have taken them from the streets of Southeast Asia to beer festivals in Germany and the deserts in Rajasthan.
They share their stories through creative content on Instagram @Onairplanemode__ to inspire their followers to find their passion for travelling while celebrating who they are and who they love.
They also have a blog: OnAirplaneMode Travels, where they share travel guides, lifestyle tips and experiences, and more on being full-time travellers.
You can follow Kirstie and Christine on Instagram here: @Onairplanemode__
12. Jessi and Millie – @jessi_and_millie
Jessi and Millie are one of the first lesbian couples we connected with on Instagram, and they continue to inspire us every single day. They are the epitome of #lesbiancouplegoals.
When they married in 2019, it was one of the first-ever same-sex marriages in Australia. Their wedding day was *love heart eye emojis* and reflected their quirky personalities perfectly.
A few years on, they are now foster parents and recently welcomed their first-born baby, Tide, into the world.
We love how open, honest, and real these two are, as well as how passionate they are towards activism and standing up for what they believe.
You can follow Jessi and Millie on Instagram here: @jessi_and_millie
13. Roxanne and Maartje – @onceuponajrny
Roxanne and Maartje, are a Dutch lesbian couple that travels all around the world. On the road, they started Once Upon A Journey. After being nomadic for three years, they call Amsterdam home again since early 2020.
These girls don't shy away from countries that aren't LGBT friendly but also celebrate the places that are. With being a visible, travelling lesbian couple, the girls showcase that travel can be for everyone. Rox and Maartje are determined to show how beautiful the world can be.
Find their vibrant photography on Instagram @onceuponajrny, and find the best travel tips over at their travel blog.
*When these ladies don't travel, they cook! Head to their food blog for vegetarian and vegan (rainbow) recipes.
14. Charlotte and Natalie – @ourtasteforlife
Similar to the content you'll find on this blog, on Instagram, we share our life experiences as a lesbian couple. Whether that be travelling around the world, enjoying home life as a family, or general relationship & lifestyle stuff.
As I mentioned earlier, we've realised how important it is to be visible on social media platforms, and play our part in 'normalising' same-sex relationships. Our goal is to inspire others to live their truest, most authentic lives, and chase their dreams, regardless of the challenges.
If you'd like to know more about us, you can read about our love story here.
You can follow our journey on Instagram here: @ourtasteforlife
15. Georgia & Lauren – @two_souls_roaming
We only recently connected with Georgia & Lauren, and they've quickly become one of our favourite couples on the 'gram.
The fiery redhead is Georgia, and the cutie with the short hair is Lauren. Not only are they unbelievably gorgeous together, but we love following their adventures as they travel & camp all around the UK.
Their page is all about showcasing love and happy vibes, as well as normalising same-sex relationships.
You can follow Georgia & Lauren here: @two_souls_roaming
16. Jazmyn and Crystal – @vanwives
Jazmyn and Crystal, better known as Vanwives, have made their name by promoting tiny home living. First, travelling the world in their self-converted 2006 Mercedes Sprinter van and now in their self-built cabin in the woods.
They say the best part about living in a van is being able to travel to foreign countries, take the path less travelled, immerse themselves in each place they visit and share it all online!
You can follow their alternative lifestyle and travels on YouTube & Instagram. They hope to show the countries we visit in a different perspective from that of the mainstream media and inspire others to see the world.
You can follow Jazmyn and Crystal here: @vanwives.
17. Steph and Ells – @wearewanderingtravel
Our good friends Steff and Ells have been together for over five years but have known each other since 2009. They have travelled the world for most of their relationship and even lived in New Zealand for one year in a campervan.
Since returning home to the UK last year, they have bought an LDV Convoy minibus which they've converted into another campervan. They are enjoying local travel for the time being until it's safe to head further afield.
As well as being content creators and all-around awesome people, they also own a sustainable clothing brand called Bohemia Organic. They feature collections ranging from LGBTQ+ and empowerment to travel and van life – they're incredible!
You can follow Steph and Ells on Instagram here @wearewanderingtravel
18. Naudia & Serena – @unpredictabletravels_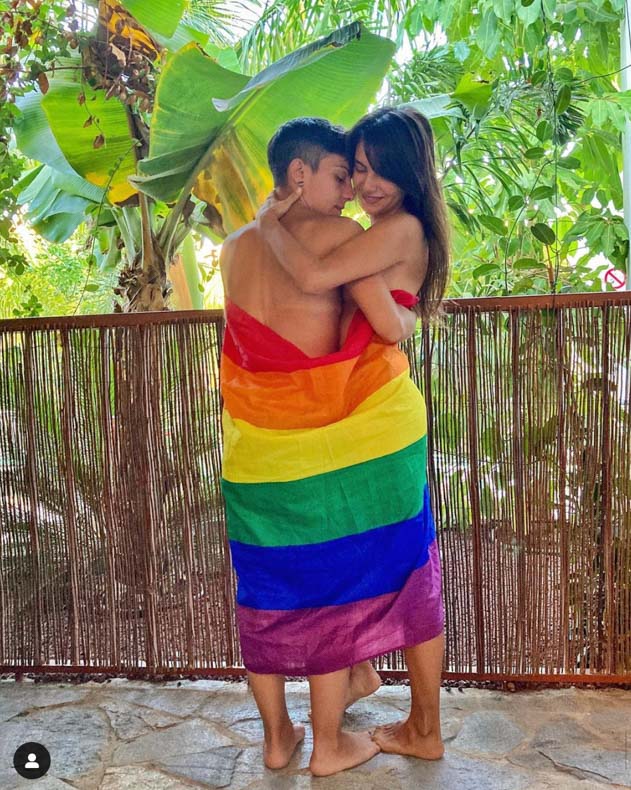 Our next lesbian Instagrammers are Serena and Naudia. A gorgeous married couple with a beautiful love story.
They met in London while Naudia was studying, and Serena was on holiday. After spending 6-months in a long-distance relationship, they eloped in Denmark in 2017.
The pair have experienced many hardships together, such as illness and family resentments; however, they continue to spread love, light and positivity.
Do not miss out on following their inspiring journey.
You can follow Naudia and Serena on Instagram here@unpredictabletravels_
Beautiful Lesbian Families on Instagram
19. Krystian and Caitlyn – @krystian_gabrielle
Our first inspirational lesbian family is Krystian and Caitlyn; otherwise, known as @krystian_gabrielle.
The pair are an interracial married couple from Florida with an adorable son named Grey, and they share snapshots of their lives as wives, Moms, and equality advocates.
After stumbling across their account quite recently, we've loved following their journey as a family, and admire everything they stand for.
Krystian is a strong and empowering Black woman, and together they not only speak up for the LGBT+ community but Black, Indigenous and people of colour, as well. Give them a follow, and you can thank us later!
You can follow Krystian and Caitlyn on Instagram here: @krystian_gabrielle
20. Verónica & Jana – @oh.mamiblue
It's hard even to know where to begin with this remarkable lesbian family on Instagram, but I can tell you they are serious goals.
Verónica and Jana have been a couple for 14 years, live in Portugal, are yummy mummies to a beautiful son named Alex, and have a hugely successful food blog.
They share all things love, relationships, Mum life, cooking, recipes and more on their Instagram. And while their captions are mostly in Spanish, their stunning photography tells the story just perfectly.
You can follow Verónica and Jana on their Instagram and blog.
21. Raff and Micaela – @raffinee
People often want to know who is who so before I get into our story, that's Micaela on the right and, the left is me, Raffinee.
Micaela and I attended the same University. We both majored in Biology but ended up meeting through mutual friends. She was a grade above me, but since we both played sports, we had a similar circle of friends.
I always had a crush on her, (she was a total soccer star!) but we didn't end up dating until a few years post-college while Micaela was finishing up her surgical residency interviews.
Flash forward a few years and now we live in the Bay Area! We have three children, our oldest Mateo and our twins Luca and Lola. We used the same sperm donor for all our children! Micaela carried Mateo and I carried the twins.
Having children as a lesbian couple was definitely a journey and I'm passionate about helping anyone who wants to do that- so please feel free to reach out!
You can read more about our story on my blog www.raffoutloud.com or feel free to DM me on Instagram!
22. Denise & Ebony – @Team2Moms
Denise and Ebony are an interracial married couple with three adorable children: Olivia, Jayden & Lucas. This wonderful family is on a mission to normalise LGBTQ+ families and inspire those looking to start a family themselves.
Since launching their YouTube channel in honour of President Obama's second term re-election, the vlogging couple has acquired millions of followers over their various channels.
By posting fun, relatable, and educational content, they inspire their audience "to be authentically who they are". We absolutely love them!
You can follow Denise & Ebony on Instagram here: @Team2Moms
23. Abby & Jamie – @abbysrollercoasterlife
This next lesbian family on Instagram also represent a different family dynamic since both parents are in the military.
Abby and her wife Jamie have been married since 2014. They share two adorable kids, Maiyah & Jaimeson.
Any current or hopeful LGBTQ+ families will benefit from their content, where they speak openly about their journey. We, for one, can't stop smiling each time we come across their posts.
You can follow Abby & Jamie on Instagram here: @abbysrollercoasterlife
Influential Lesbians on Instagram
24. Brittenelle Frederick – @brittenelle
Brittenelle Frederick is a digital creator, model & style icon, and I've always loved following her for her incredible hairstyles and tomboy style.
Her lesbian Instagram account is all about, well, her actually. But occasionally she can be spotted dating some hottie and enjoying lavish parties in New York.
You can follow Brittenelle on Instagram here: @brittenelle
25. Cole Allen – @cole.alien
Cole is a 27-year-old, meat-free coffee addict from the UK. She and her wife @kate.alien are a pair of badass, tattooed babes and even own their own tattoo shop.
When they aren't working, they are travelling, and we love following along on their journey. Oh, and we can only hope to be as cool as them when we grow up!
You can follow Cole on Instagram here: @cole.alien
26. Danni Parr – @danniparr
Another lesbian Instagram account I love following for style inspiration is @danniparr. Danni lives in Melbourne, Australia, which is one of my favourite cities in the world.
Her page is all about sun, sea and fashion. She has that whole sexy surfer chick look going on, and I seriously crush over her flawless matching outfits.
I'm pretty sure @vans will have to give her a partnership deal one of these days!
You can follow Danni on Instagram here: @danniparr
27. Emily – @emilywwanders
Emily is one of our favourite lesbian accounts to follow on Instagram. She is an adventure enthusiast, mental health advocate, and an incredible all-around person.
Not only does she share unique and creative photos, but her heartfelt captions and captivating words always hit us right in the feels.
Her Instagram is all about normalising lesbianism, embracing feelings and emotions, and providing a welcome space for all who follow her.
You can follow Emily on Instagram here: @emilywwanders
28. Hannah Davis – @wildartistrytravels
For some of the most creative and unique photography ideas, I insist you follow Hannah Davis.
Hannah has her own photography business @wildartistryphotography. And her skills transpire to her personal page where she shares epic photos of her travels with her girlfriend.
You can follow Hannah on Instagram here: @wildartistrytravels
29. Jess Mackenzie – @_jessyoga
Another beautiful human advocating self-love and image positivity is Jess Mackenzie. Jess is on a journey to self-love and redefining beauty.
A yoga teacher from Scotland, we are continually impressed by her insane flexibility & crazy yoga poses. In addition to yoga, Jess shares her experiences with acne helping to normalise the condition and show us that having acne makes us no less beautiful.
Jess and her journey constantly inspires us, and I do not doubt that you will love following her just as much as we do.
You can follow Jess on Instagram here: @_jessyoga
30. Lindsay Cale – @lindscale
We've been friends with Lindsay for quite some time, and we love following her journey as a gender nonconforming individual and a passionate traveller.
Lindsay is dedicated to inspiring and equipping LGBT travellers to live a life of adventures.
On Instagram, Lindsay shares beautiful photos of stunning locations, as well as some excellent travel tips. We also love her style!
You can follow Lindsay on Instagram here: @lindscale
31. Madison Paige – @madspaige
Madison Paige is a world-famous androgynous model and acoustic musician. She actually bears a striking resemblance to Ruby Rose who's later on our list, so it's no wonder why she's shot to Insta-fame.
While Mads Paige doesn't stand for much in particular, there's no denying she's easy on the eye. Her style is incredible, and she's always involved in some uber-cool photo shoots. For style and photography inspirations, Mads is definitely worth a follow!
You can follow Madison Paige here: @madspaige
32. Meg Cale – @megteneyck
Meg Cale is a queer gal with expensive dreams and a whole lot of hustle. Again, we've been following Meg for quite a while, and she's a real inspiration to the queer community.
Meg is the CEO of EveryQueer magazine, which aims to inspire people to think differently about the global queer community. What started as an LGBT Travel Blog is now a multi-platform brand.
You can follow Meg's adventures around the world on Instagram here: @megteneyck.
33. Millie Poutama – @mx.millie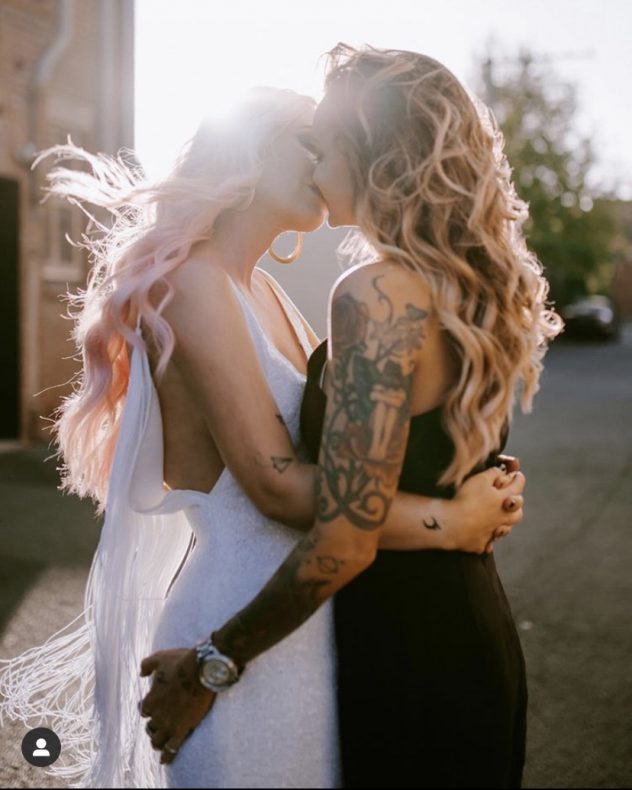 When it comes to lesbian influencers on Instagram, Millie is one of our favourites.
This blonde bombshell is a wife, mum and feminist living with endometriosis, and it's impossible not to be inspired by her journey through life.
Millie is married to Jessi James, and they share awesome couple photos on their couple account @jessi_and_millie.
You can follow Millie on Instagram here: @mx.millie
34. Zoe Stoller – @zoestoller
A genderfluid lesbian and LGBTQ+ educator, Zoe is by far one of the most influential lesbian Instagram accounts to be following right now.
Specialising in LGBTQ mental health, Zoe provides invaluable resources regarding the LGBTQ+ community.
We continue to learn new things from them every single day, from how to approach the topic of pronouns and debunking common LGBTQ myths, to challenging gender stereotypes and much much more.
The LGBTQ+ spectrum is broadening by the day and it's important we educate ourselves so all members feel welcomed into our community. So please give Zoe a follow and support her work.
You can follow Zoe on Instagram here: @zoestoller
35. Jenna – @thejennaway
Jenna is a girl after our own heart. She loves to travel and is passionate about inspiring others in our community to do the same.
Similar to us, her most recent adventure has been converting a campervan with her partner Kirsten. Since they live in the UK, I hope we will bump into them on the road sometime soon.
As well as advocating a travel lifestyle, Jenna is a bad-ass LGBTQ+ activist. If anybody is going to make you feel proud of who you are, it will be Jenna. So go ahead and give her a follow.
You can follow Jenna on Instagram here: @thejennaway.
Famous Lesbians on Instagram
36. Ashlyn Harris – @ashlynharris24
Ashlyn Harris is a badass goalkeeper for the US Women's National Team and Orlando Pride – the highest division of women's professional soccer in the United States.
Not only do we love her trendsetting style and sexy tattoos, but we love the beautiful love story she shares with her wife @alikreiger. They've been together for many years; however, only recently came out in 2019.
Follow Ashlyn & her wife for style inspiration and LGBTQ representation.
You can follow Ashlyn on Instagram here: @ashlynharris24
37. Cara Delevigne – @caradelevigne
I'm sure this famous lesbian needs little introduction. However, just in case you've been hiding under a rock somewhere, Cara Delevigne is a renowned fashion model from the UK.
As well as working with top designer brands such as Dolce & Gabbana, Fendi and Chanel, Cara has also starred in a few movies. Her most notable roles were in Paper Planes and Suicide Squad.
It's unclear whether Cara is in fact a lesbian or bi-sexual, but she has had some high profile girlfriends. Most recently she was going out with @ashleybenson of Pretty Little Liars. But sadly, it's rumoured the relationship is no more.
You can follow Cara on Instagram here: @caradelevigne
38. Cynthia Nixon – @cynthiaenixon
Cynthia Nixon is our favourite redhead from our favourite comedy sitcom, Sex and the City. She is married to Christine Marinoni, and together they have an adorable son called Max.
Since meeting her wife in 2004, Cynthia's sexuality has been at the forefront of the media. She famously said "I don't pull out the 'bisexual' word because nobody likes the bisexuals. Everybody likes to dump on the bisexuals." and "I'm just a woman in love with another woman."
In 2018 Cynthia ran for governor of New York, and I find her an incredibly inspiring woman all round. Her video "Be a Lady" combatting gender discrimination went viral on Instagram and is one you have to watch.
You can follow Cynthia on Instagram here: @cynthiaenixon
39. Ellen De Generes – @ellendegeneres
Ellen DeGeneres is an American comedian, television host, actress, writer, and producer. You'll most likely be familiar with her daytime talk show The Ellen Degeneres Show.
Of course, Ellen is no stranger to the limelight, albeit recently it's not been exactly positive. Rumours of toxic work environments on her show are spreading like wildfire; however, don't be too quick to trust what you hear in the media.
In our eyes, Ellen is a pioneer when it comes to LGBT+ equality. She came out to Time Magazine in 1977 when it wasn't exactly 'cool' to be gay. She's gone on to be one of the most famous lesbians in the world and is married to the beautiful Portia DeRossi.
You can follow Ellen on Instagram here: @ellendegeneres
40. Kate Moenning – @kateomoennig
Kate Moenning is an actress from the United States, best known for her role as sexy Shane McCutcheon in the L Word.
Surprising to some, Kate didn't know she was a lesbian until she joined the show. It was only while playing the part as the androgynous heartthrob that she figured that she might be into girls.
As it turns out, that was to be her fate, as she is now married to a Brazilian musician named Ana Rezende.
On Instagram, Kate shares snippets of her personal life, behind the scenes action, and plenty of animal photos, so pet lovers rejoice!
You can follow Kate on Instagram here: @kateomoennig
41. Portia De Rossi – @portiaderossi
Remember we mentioned Portia earlier on in the article? Yes, Portia is married to the legendary Ellen DeGeneres, but she's also a successful lesbian celebrity in her own right.
Portia is an Australian-American actress appearing in shows such as Ally McBeal, Nip/Tuck, and Scandal. She and Ellen have been married since 2008 and are one of the most famous couples in the world.
If you want to see plenty of cute couple content from the pair, you won't regret giving Portia a follow on Instagram here: @portiaderossi
42. Samira Wiley – @whododatlikedat
Samira Wiley is an American actress, best known for her role as Poussey Washington in the lesbian Netflix favourite sitcom Orange Is the New Black. She has also starred in The Handmaids Tale, The Sitter, and You're the Worst.
Samira's lesbian love story is quite interesting since she met her current wife, Lauren Morelli, whilst filming OITNB. They fell in love during the filming of the hit Netflix sitcom and later married in 2017.
Alongside important topics and behind the scenes action, Samira shares cute photos of her and her wifey to her 2.9 million followers on Instagram.
You can follow Samira Wiley on Instagram here: @whododatlikedat
43. Sarah Paulson – @mssarahcatharinepaulson
Next up, we have the queen that is Sarah Paulson. Where to even begin? Sarah Paulson is an extremely talented American actress. Her most notable roles include American Horror Story, Cupid, Ratched, and The People Vs OJ Simpson.
For her role as Marcia Clark in The People Vs OJ Simpson, Sarah won various awards including a Golden Globe and Emmy. Not only that, Time Maga recently named her one of the most influential people in the world.
Sarah describes her sexuality as fluid; however, she is currently in a long term relationship with actress Holland Taylor.
You can follow Sarah on Instagram here: @mssarahcatharinepaulson
44. Hayley Kiyoko – @hayleykiyoko
Hayley Kiyoko is an American singer, songwriter, and actress. The sensation behind songs such as "Curious" and "Girls Like Girls", she is often dubbed the 'Lesbian Jesus' by fans.
If you follow Hayley's Instagram page, you'll get to see behind the scenes action from shows and performances.
We just love how real and down to earth she seems. She also never fails to stand up for what is right, and we are so here for that!
You can follow Hayley on Instagram here: @hayleykiyoko
45. Jessie Paege – @jessiepaege
Jessie Paege is a vlogger, actress, rocker girl, LGBTQ+ advocate and author. She is known for her roles in Deadcon & Guilty Party, although most recently she is famed for her positive influence across her social media platforms.
After coming out as bisexual on YouTube, her testimonial went viral, inspiring thousands of fans to live their truest most authentic lives.
Jessie also speaks openly about her struggles with mental health and eating disorders creating a safe & educational space for her followers.
You can follow Jessie on Instagram here: @jessiepaege
46. Lea DeLaria – @realleadelaria
Lea DeLaria is an American comedian, actress, and jazz singer. She is best known for her role in the lesbian Netflix series Orange Is the New Black. Lea played the part of Carrie Black – the butch character otherwise known as 'Big Boo'.
Lea is also the comedian who started the whole 'U-haul' lesbian joke. The joke refers to the common theory that lesbians move in together rather quickly. Which let's face it, we do!
As it stands, Lea is single and ready to mingle, but never fails to entertain us with her comical photos and witty captions. Make sure to give the self-confessed 'Lord of the Lesbians' a follow!
You can follow Lea on Instagram here: @realleadelaria
47. Lena Waithe – @lenawaithe
Our next celebrity lesbian Instagrammer is Lena Waithe. Lena is an actress and producer, who starred in the Netflix comedy Master of None.
Three years ago, Lena made Emmy history as the first Black woman to win for comedy series writing. The said episode Thanksgiving is said to be loosely based on Lena's experiences coming out to her mother.
Above all else, Lena's passion for equal rights is genuinely inspiring. We love that she uses her platform to raise awareness and amplify oppressed voices.
You can follow Lena on Instagram here: @lenawaithe
48. Ruby Rose – @rubyrose
We all know who Ruby Rose is, don't we? Remember sexy Stella Carlin from series 3 of Orange Is the New Black?
Stella won the heart of Piper, and pretty much every other woman who watched the show – straight or gay!
Her success on the show catapulted Ruby into stardom, and she has since starred in movies such as Pitch Perfect 3 & Batman. We are yet to watch either of them, but they are on our list.
You can expect plenty of sexy photos of Ruby on her Instagram account, and from what we can tell she's still single. So, girls, you might be in luck!
You can follow Ruby Rose on Instagram here: @rubyrose
Who's Your Favourite Lesbian Instagrammer?
So there you have it, 48 of the most influential lesbian Instagrammers that you should be following right not.
Which lesbian influencer is your favourite? Are there any others that you think deserves a spot on this list?
Let us know! We love hearing from you. You can reach out to us in the comment section below or through our contact us page.
If you enjoyed this article, you might also be interested in the following :
Don't forget to follow us on Instagram, where we share our lives and experiences as a proud lesbian couple.
Sending Love,
Charlotte & Natalie x
Disclosure: Some of the links in this post are affiliate links. That means that if you purchase through these links, we will earn a small commission, at no extra cost to you. And we can continue bringing you free travel tips and advice. If you found the content helpful and are kind enough to use our affiliates – you are awesome, and we thank you!
PIN IT FOR LATER
Last Updated on February 3, 2022 by Our Taste For Life