It's not always easy to find the perfect lesbian hairstyle. What looks incredible on one person, will not necessarily look good on you. But with the help of this great guide, you'll be well on your way to #lesbianhairgoals.
Like many lesbians, I'm kind of obsessed with having a good haircut. For me, my hair has always been about making a statement, and I've always said it's my staple feature.
If my hair looks good, I feel good. And if it doesn't, well, I have been known to throw a tantrum or two – Whoops!
With this in mind, the purpose of this article is to collate the very best lesbian and androgynous haircuts all in one place.
We are talking hair goals here folx, so I hope you're ready for some serious scissor action (pun most certainly intended).
So let's get to it, here are 40 epic lesbian haircuts to help inspire your next trip to the stylist.
Disclosure: Some of the links in this post are affiliate links. If you purchase a product through these links, we will earn a small commission at no extra cost to you. And we can continue bringing you free tips and advice. If you found the content helpful and are kind enough to use our affiliates – you are awesome, and we thank you! 
Lesbian Haircuts 2023 -
40 Bold & Beautiful Hairstyles
It's safe to say I've spent countless hours on the internet looking for the best lesbian haircuts, and even more hours in front of the mirror trying to tame my unruly bangs.
I've had some queer hairstyles that I absolutely loved, and others where I just wanted to hide under a paper bag until it grew out.
I'm afraid, my loves, that it's all about trial and error. But be rest assured that no #hairfail lasts forever. So don't be scared to get out there and experiment with different looks.
I'm not just talking about the best short lesbian hairstyles here either. Regardless of what type of lesbian you identify as I've got a haircut that will compliment your style flawlessly.
I've got sections on shorter hairstyles and longer hairstyles, the hottest lesbian undercuts, haircuts for butch lesbians, and much much more!
The Hottest
Short Lesbian Haircuts​
I absolutely love having short hair. One of the first things my best friend said to me when I first came out was 'let's cut your hair'.
We were in Italy on a work trip, so we picked up some scissors from an art shop and cut my hair into a short choppy bob. It was one of the most liberating feelings of my life.
Now, I just don't feel like me with hair any longer than my chin. So, as short hair is my speciality, let's kick off the list with the hottest short lesbian hairstyles.
PinkCupid dating app for queer women 
PinkCupid is a safe and inclusive space where you can connect with thousands of lesbian singles to find their match from all over the world.
You can create your profile for free and join a community of like-minded women looking for friendship, love and more.
A short choppy bob is a great entry-level lesbian haircut. As I say, it was the first hairstyle I had after coming out, and I loved it.
It wasn't too drastic of transition from the long blonde locks I had previously, but dramatic enough to make me feel seen.
You can make dress this style as feminine or masculine as you like, so it's incredibly versatile and insanely cute!
Cropped in at the sides and back, with a sweeping combover to one side, you can style this trendy tomboy haircut however you like. Slick and elegant, or messy and edgy, it's the perfect all-rounder for any occasion.
Thanks to the likes of Justin Bieber and Ruby Rose, the side comb is iconic in the fashion world. So you're sure to feel both confident and hot when you rock up with this new look.
The pixie cut is probably the most popular short hairstyle out there. Not only a favourite amongst us lesbians, but a hit with many a straight girl too.
This hairstyle comes in various shapes and lengths, so it's appropriate for any hair type; however, the fundamentals are that it's convenient, edgy, and relatively effortless to style.
That is especially true for the short pixie cut. It requires almost zero effort in the mornings, but still leaves you looking on point.
Not only that, whereas other short hairstyles can lose their hold during the day, this cut will hold its shape for days at a time. You really can't go wrong with this trendy and timeless lesbian hairstyle.
The messy undercut has always been one of my favourite hairstyles. It's edgy, bold, and on-trend. And if you're looking for the lesbian look while still maintaining some feminity, it's a winning style to choose.
That said, it's by no means the easiest style to keep, as an undercut will require frequent trips to the stylist. There was a time I'd be in the barber's chair every 2-3 weeks.
But these days, ain't nobody got time for that! Now I tend to rock a kind of shaggy look for 3-4 weeks until I finally get round to booking myself in for a cut!
When you think of a pixie bowl cut, what comes to mind? For me, it's Demi Moore in the movie Ghost, because boy she absolutely rocked that look! Does anybody else think she looked like a cute lesbian in that movie?
Anyhow, the pixie bowl cut has come a long way since the early 90s. Now, there are countless variations that allow this style to be as soft or as edgy as you please.
The fade is another of my firm favourite tomboy hairstyles. While it's typically a men's haircut, a fade can look totally badass on women as well.
A fade traditionally means a transition of lengths on the back & sides of the hair that fades into the skin. When done right, it's incredibly satisfying to look at.
However, these days you can ask your stylist to start your fade as long or short as you'd like. For example, you could begin with a 2, and fade out to a 0.5. And, how you wear your hair on the top is down to you as well.
As the name suggests, an edgy fade is basically an edgy spin on the traditional fade. If you let your imagination run wild, you could create a multitude of designs with the edgy fade.
Take this one for example that Ruby Rose is rocking. If you're looking to stand out in a crowd, this hard-to-pull-off style is guaranteed to turn heads.
I love this look. Far easier to maintain than the undercut yet equally stylish, this messy look is highly versatile.
I mean you never have to worry about your hair looking a mess, because that's kind of the point.
Pair it with a lovely platinum blonde or a silver toner, and you'll be making a true fashion statement.
A longer pixie cut style is ideal for those who want a quirky look, while still keeping it pretty and girly.
Again, this hairstyle is extremely adaptable! You could opt for shorter on one side and a choppy bob on the other, or keep it one length and go for some choppy layers to add definition – the opportunities are truly endless.
The traditional pompadour hairstyle is a popular choice amongst our butch lesbian community, so I talk more about it further down. But in this category, we have the longer pompadour look that's a little less slick, and just the right amount of messy.
The Best Butch
Lesbian Haircuts​
Now that we've covered the best short lesbian haircuts, I'm going to move on to some styles that are favoured by our butches.
Whereas the previous looks can still be quite feminine, butch lesbian haircuts are purposely masculine.
Butch women generally want a no-hassle approach when it comes to their appearance, so when it comes to hair, the shorter, the better.
While these hairstyles appear quite simple, you'd have to be pretty bold to wear them. Only butch lesbians have enough swag to pull these hairstyles off.
When it comes to low maintenance hairstyles, they don't get much easier than the classic buzz cut.
Traditionally, a buzz cut is one length all over with the clippers, but it is possible to get a little creative should you choose to.
For example, you could get a fade on the sides to give your buzz cut an edge.
I touched on this style earlier, so you get the idea, but the traditional pompadour is more masc and hence a popular butch haircut.
This timeless look features length and volume on top, swept-back with the "pomp" at the front, while the sides and back are usually slicked down or short.
Elvis Presley was one of the first people to rock the pompadour. It's since become an iconic style in the fashion industry and continues to evolve, incorporating more variations and modern styling.
If you want a hairstyle that requires minimal effort but still allows you to keep a reasonable amount of hair, the slicked-back look is a winning choice.
The great thing is, this style works for all occasions. All you need is some strong hair pomade to keep those bangs at bay.
You can really play around with this style as well, experimenting with various lengths and variations.
One of the best butch lesbian haircuts, the short & spiky resembles a pixie cut, but it's more dramatic and certainly more masc.
With a rebellious look like this one, you'll want to invest in a drum set and motorbike to match. And rocking this whole rockstar vibe, you're definitely going to be a hit with dating the ladies!
There's nothing more swoon-worthy than a freshly trimmed neat fade.
It's the perfect butch hairstyle for you professional ladies out there, as well as those who like a clean-cut & classy look.
Rock this hairstyle with a nice suit and delicious cologne, and you're sure to be the hottest one in the room.
Another low maintenance style, the crew cut is a classic masculine haircut. It traditionally features short faded hair on the back and the sides, and longer length on top.
If you're keen to have short hair, but not as dramatic as the buzzcut, then a crew cut is ideal for you. It requires minimal effort to style and works well with all head shapes as well as hair types.
You can't go wrong with this timeless hairstyle, that's extremely low maintenance while still looking elegant and classy.
A taper cut basically means to blend the hair from the shortest point to its longest point. It's less of a dramatic transition as a fade or undercut, but still incredibly neat and smart.
With this in mind, it's the perfect choice for our butches or tomboys who need a soft professional look while still preserving their masculine charm. A taper cut also works great on afro or naturally curly hair.
Longer
Lesbian Haircuts​ Styles
When it comes to lesbian haircuts, they are rarely associated with having long hair. And I know many queer women who worry that they look too 'straight' with hair that's too long.
When we think about long hair, we imagine these long, feminine, flowing locks of hair. But that needn't be the case.
Long hair can be just as edgy as short hair, and here I'm going to show you some of the best longer lesbian haircut styles.
The classic bob has proved itself to be a timeless hairstyle, evolving over the years with several variations to suit modern styling.
One of the trendier versions is the blunt bob, and it's easy to see why. This look is both edgy yet sophisticated and easily customisable.
So if you're feeling feminine one day, and more tomboy the next, your hair will never get in the way of the look you're trying to achieve.
This style will suit most head shapes and hair types while emphasising the jawline and giving you a flattering and bold appearance.
The Long with Shaved Sides
If you need to keep your hair quite conservative for any reason, long hair with shaved sides is an excellent option. When your hair is down, it will appear feminine and gorgeous. But when it's up, it will look edgy AF.
You can have as much fun as you like with the back and sides. Shave it all one length, have a fade, or get creative with a whacky design. Either way, you're going to look absolutely gorgeous!
The Long with Shaved Side
This longer lesbian hairstyle is a little less subtle than the others and involves shaving one entire side of your head while keeping the other as long (or short) as you like.
Our friend Kirstie of @onairplanemode_ rocks this style flawlessly. Doesn't she look amazing? We love that this haircut still retains some feminity, yet provides a hot tomboy look at the same time!
There's something so hot about the surfer girl look, with their bronzed skin, k!ller abs, and surfer locks that are just the right amount of messy.
We often wondered what the secret is behind this messy-yet-flawless hairstyle. And it turns out that it's sea salt! Sea salt helps give our hair texture, volume, and natural movement by absorbing the natural oils that occur after washing.
But do not fear, those dream-like wavy locks do not belong exclusively to surfer chicks. You can replicate the look using a sea salt spray like the one recommended below.
Honestly, I swear by this stuff, not just for the messy look, but for any styles that require a stable hold.
Don't you just envy those girls, who seem to make zero effort with their appearance, but still look great. Well, with this lesbian hairstyle, you could pull it off too.
Not too dissimilar to the surfer look, a shaggy cut features lots of natural waves, choppy ends, and bold texture, making for a perfectly messy and wild look that's still uber-trendy and gorgeous.
It's also super easy to maintain, as that untamed bedhead look is kinda the point.
For a modern twist on the ponytail, get creative and experiment with a top knot.
The top knot allows you to keep your bangs long, or shave the sides and back, while the remaining hair piles up into a bun on top of your head.
There are various variations and lengths you can play with when it comes to the top knot. And the result is a hipstery yet hot effortless look.
While it might seem contradictory, it is possible to rock long hair and short hair simultaneously.
As the name suggests, the long top allows you to wear the hair longer on top, while the sides and back are kept short.
Again, you can get creative with the sides, incorporating a bold undercut or a designer fade.
One way to transform your average long hairstyle is to add some texture and choppy ends and swoosh those bangs over to one side.
You know when you run your fingers through your hair, and it falls into a slightly messy yet gorgeous style? Yeh, like that!
Uber-Gorgeous
Lesbian Undercuts
We've already touched on undercuts – you can easily pair most of the haircuts above with one. However, as they are such a popular lesbian & tomboy hairstyle, it was only right to dedicate an entire section to them.
Here I'll be covering undercuts fitting for the bold and fearless ladies out there. And also some of the subtler options that are slightly more conventional.
It's incredible what hair stylists can do these days, and you only have to take a look at some of these designer undercuts to see what I mean.
You can get literal art shaved onto your head now. And when done right, it can look amazing.
If you find the right stylist, there are no ends to how creative you can get. Go for something bold like an intricate geometric pattern or a mandala, or even as simple as some line work or shapes.
Any designer undercut will be effective, and you're sure to get heads turning with this bold and unique look.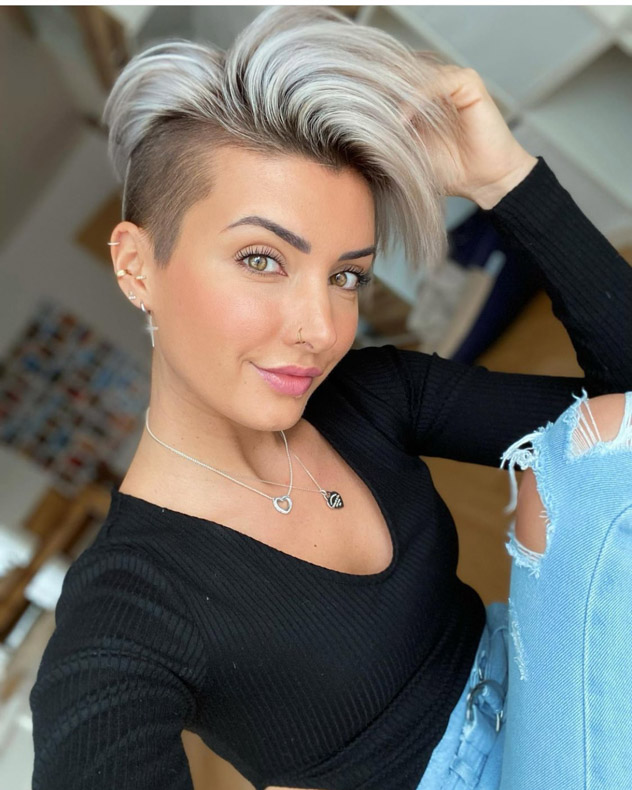 The Disconnected Undercut
The disconnected undercut is bolder than your traditional undercut, in the sense that there is a dramatic transition from the long to the short hair.
Whereas many undercuts incorporate a blending or tapering approach, with a disconnected undercut, there's an obvious point where the long hair stops and the short hair begins.
It's a bold look and doesn't work with all face shapes, so definitely speak with your stylist before taking the plunge.
If you're looking for a lesbian undercut that's both on-trend yet out of the ordinary, then the braided undercut is a winning choice for you.
Here we have another versatile style that allows you to get creative. And with a selection of bold and brave styles to more subtle designs, there's sure to be a variation that will suit you.
Next up, we have the triangle undercut, which is a designer undercut in its own right.
It's become one of the more popular undercuts amongst girls with long hair, as it allows you to maintain a feminine look but with an edgy twist once the hair is in a ponytail.
Again there are numerous variations of the triangle undercut, and here are some examples to help inspire you to try out this trend.
Another original approach to the traditional undercut is to incorporate these defined lines that you can see in this photo below. The dramatic variations in length create an unusual yet bold and show-stopping look.
The side-swept undercut is a unique variation of the traditional undercut, involving the sides and back trimmed short, with several inches extra length on the top.
The hair in front can be as long as you like, and when swept to the side creates an asymmetrical look that's both bold and fierce.
This is the ideal tomboy hairstyle if you want long hair but desire the aesthetic of a shorter and edgier hairstyle.
The Short & Curly Undercut
Curly hair has a bad rap for being difficult to work, but that's not strictly true. With the proper undercut, you can get fantastic definition and volume.
For example, this gorgeous lesbian undercut with the short sides and curly pile on top looks fire AF. Absolutely perfect for low-maintenance curly-haired folx.
The Multi-Coloured Undercut
If you're feeling extra brave and believe you can pull it off, why not experiment with a multi-coloured version of the undercut.
Here is another chance to get wildly creative, introducing a plethora of colour to your life wherever you go.
Certainly not for everyone, but if you don't mind the attention then why the hell not!
Awesome Androgynous
Haircuts
OK, we are coming towards the end of our list. But not before covering some awesome androgynous haircuts.
Many of the haircuts already featured could be classed as androgynous; however, these next styles are often classed as queer haircuts, as it's rare to see someone who isn't queer sporting them.
But less of the stereotypes, and let's take a look at our final fabulous three!
The classic quiff originated in the 1950s Teddy Boy era, and like the pompadour, has evolved over time. It remains to this day a very trendy and hot hairstyle and is very popular amongst modern lesbians.
While it works best on those with a rounded face shape, most people can pull off this look. However, the secret to the perfect quiff is brushing all the hair forward before styling it into that iconic wave shape.  
Here we have a look for our style icons, who want a bold and daring style that's still flattering and on-trend.
The faux hawk is a less dramatic approach to the mohawk. Whereby, there's not a great contrast between the hair on the top of your head and the hair on the back and sides.
It still means that the sides are clipped shorter; however, it's a subtle distinction, and the final result is equally badass.
OK, so this whacky style is certainly not for the faint-hearted. But with a shit load of confidence and the right amount of swag, you might just be one of the few lesbians out there who can pull it off.
Pair it with some textured layers, and choppy ends for a tousled hipster finish, that will have you looking like you belong in a rock band.
Are You Ready
for a New Lesbian Haircut?
Thank you for reading! We hope you enjoyed our list of the best lesbian hairstyles of 2023.
Be sure to let us know if you have any others that you think need to be on this list. We love hearing from you. You can reach out to us in the comment section below.
Happy scissoring!