Slovenia is one of the most photogenic countries in Europe. To help inspire your creativity, we have put together a list of 16 of the best Slovenia photography and Instagram spots.
Slovenia is one of Europe's hidden gems. And while it may be smaller than most cities, it certainly doesn't lack adventure or beauty.
Boasting a realm of natural wonders, from towering snow-capped mountains and sweeping national parks to whimsical villages and alpine lakes, it's easy to see why Slovenia is a photography hotspot.
We, for one, fell head over heels in love with Slovenia and you are about to see why. In this Slovenia photography guide, we share some of the most awe-inspiring locations throughout the country.
So let's get to it, here are the 16 Best Instagrammable Spots in Slovenia.
Instagrammable Slovenia – The Best Photography Spots in Slovenia
1. Lake Jasna, Kranjska Gora
We are kicking off our Slovenia photography guide, with Lake Jasna. This crystal clear water lake is located in the beautiful area of Kranjska Gora.
Encompassed by jagged mountain peaks and stunning panoramic views, it's impossible to take a bad photo here regardless of the season.
In the winter, enjoy hot wine by the frozen emerald lake and in the summer enjoy an ice cream under the sun. Either way, you'll find photo opportunities aplenty at this idyllic location.
2. Slap Pericnik falls, Mojstrana
Next up is the Pericnik waterfall located in the valley of Vrata, near Mojstrana. It's totally worth stopping off at this spot on your way to Lake Bled.
Beautiful all year round, it's often frozen during the winter and makes for a refreshing dip during the summer. One of Slovenia's hidden gems, you'll likely have this place all to yourself.
Allow for a picturesque 15 minutes hike to the waterfall, where you walk behind the falls or continue to the top for a breathtaking view. There's a free car park on-site.
3. Lake Bled, Bled
No Slovenia itinerary is complete without a visit to Bled. The charming alpine town looks like it's landed straight out of a storybook, with the pinnacle being the astonishing Bled Lake.
Regardless of whether you visit Bled in Winter or Summer, there are tons of incredible photo opportunities.
Discover one of Bled's many viewpoints, take a boat to the iconic Bled island, or go hiking amidst the surrounding mountains.
Otherwise, you can walk or cycle around the lake, where the pristine nature is rich with birdlife. Bled is also one of Slovenia's camping hotspots.
4. Ojstrica viewpoint, Lake Bled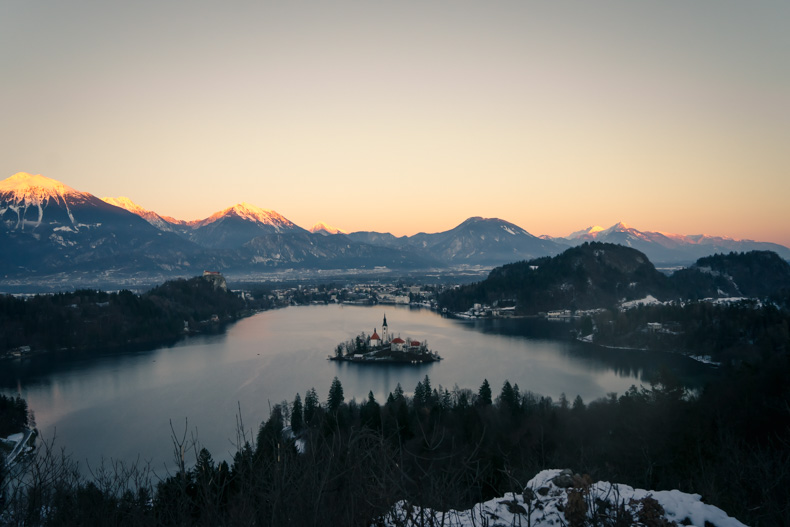 Ojstrica viewpoint is one of the most popular Instagram locations in Slovenia, and not without good reason.
It's very likely you've already encountered photos taken at this very spot, which allows for jaw-dropping vistas over the lake and surrounding mountains.
To reach the viewpoint requires a reasonably easy hike, which so long as you're in fair shape shouldn't be too difficult.
For more information, including GPS coordinates, check out our guide to hiking to Ojstrica Viewpoint.
5. Triglav National Park
The Triglav National Park is a stunning nature park named after Mount Triglav, the highest summit in Slovenia (2864 m).
Boasting abundant natural beauty, from tremendous alpine peaks and gorgeous glacial lakes, to a variety of flora and fauna, nature lovers are sure to be in their element.
The plentiful flowers and wild animals add to the charm of Triglav National Park, and it is one of the most popular spots for Slovenia photography.
Head off on stunning hike through the alpine mountain slopes and valleys, before cooling off in the turquoise Soča River.
More experienced hikers can venture further up the towering peaks with many lodges along the way. Or if your short for time you can drive through the lush nature and picturesque villages.
The views from this area are like nowhere else in Slovenia, which is why it's one of our most favoured Instagram spots.
6. Lake Bohinj, Bohinjsko Jezero
Our 6th Instagrammable spot in Slovenia is Lake Bohinj. Located in Mostnica Gorge, one of the most beautiful natural wonders in Slovenia, the alpine lake makes for some extraordinary photo opportunities.
Surrounded by pristine mountain landscapes and lush green meadows, Lake Bohinj is the largest glacial lake in Slovenia. Enjoy a peaceful hike through the woodland and crystal clear waters.
While you are here, it's also worth making a visit to Savica Waterfall, the most famous waterfall in Slovenia.
7. Tolmin Gorges, Tolmin
When it comes to nature photography in Slovenia, there are few places more extraordinary than Tolmin Gorges.
The emerald water is jaw-dropping and makes for a striking photo, while the hike brings along many wet, dark tunnels, crossings, rapids, and waterfalls.
This gorge is the lowest entry point into Triglav National Park (number 5) if you wanted to combine the two.
8. Soca Valley, Soca
River Soca has a distinct emerald green colour and is considered to be one of the most beautiful rivers in Europe!
With some of the most photogenic spots in Slovenia here, you don't' want to miss this in your Instagram feed.
The river flows through waterfalls, cascades and rocky gorges, perfect for the adventure enthusiasts.
9. Saint Thomas Church, Sveti Tomaž
Saint Thomas Church is located in Sveti Tomaž, a small village surrounded by the Alps and rolling golden meadows.
It's without a doubt one of the most idyllic and photogenic spots in the whole of Slovenia making it a popular Instagram hot spot.
10. Hrase, Medvode
Next up, we have one of the most underrated Instagram spots in Slovenia – Hrase.
Like a scene straight out of a fairy tale, this place requires little explanation as to why it's worthy of a spot on your Instagram feed.
11. Logar Valley, Logarska Dolina
The Logar Valley (Logarska Dolina) is one of the most beautiful Alpine glacial valleys in Europe. The Instagram spot below can be found at the heavenly Hotel Plesnik.
In the Winter you can enjoy hot wine by the fire and in the Summer you can enjoy outdoor movie nights under the stars…. yes, please!
12. Ljubljanica River, Ljubljana
Our 12th Instagrammable spot of Slovenia is Ljubljanica River which runs through the countries capital, Ljubljana.
A whimsical city full of famous buildings, sculptures and bridges, it's worth spending at least 1 day in Ljubljana before heading off to explore other parts of the country.
You're never too far from a photo opportunity in Ljubljana. From the quaint cobbled streets and historical buildings to the many bridges along the river.
Winter in Ljubljana is a particularly picturesque time for taking photos!
13. Škocjan Caves, Divača
When it comes to cave photography in Slovenia, you do not want to miss Skocjan Caves.
A World Heritage Site famous for its many waterfalls, diverse stalactite formations, and limestone pools. It's also known to have the largest underground canyon in the world!
A truly spectacular cave system in southwest Slovenia that will look epic in your Instagram feed.
14. Slap Kozjak falls, Kobarid
Featuring an awe-inspiring waterfall with turquoise water, Slap Kozjak Falls is like finding a slice of Bali in Slovenia.
It is one of the most picturesque waterfalls in all of Slovenia and every nature photographers dream.
Walk along the river from Kobarid and through lush forest to reach Kozjak waterfall. Nearby are the remains of the World War I bunkers which are accessible on foot.
15. Bears in the wild
Did you know Slovenia allows the opportunity to capture wild brown bears in their natural habitat?
There are several hundred brown bears in Slovenia, population estimates are between 300 and 600.
Check out Slovenian Wildlife Bear Photography tour for your chance to see them in the wild!
16. Postojna Cave and Predjama Castle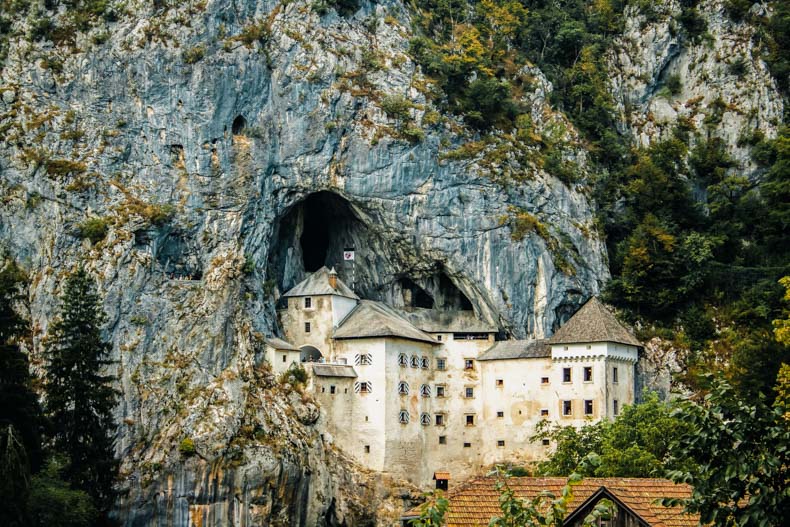 Last but by no means least on our list of Slovenia photography spots is Postojna Cave and Predjama Castle.
Located within Postojna Cave Park, both Postojna Cave and Predjama Castle are considered national gems in Slovenia.
Firstly, Postojna is said to be one of the most captivating and impressive caves in the entire world. To explore, you must take a magical underground train ride.
Located within the same national park, Predjama Castle looks like something out of a twisted fairy tale. Both make for extraordinary photo ops.
Responsible Photography in Slovenia
Often when you travel, you see things that completely blow your mind, It's natural to want to take photos. However, please keep in mind the following basic rules of photography:
Respect historical and memorial sights
Don't climb on sacred buildings or structures
Take care of your safety at all times
Do it for the 'gram does not apply if it seems unsafe in any way
Be friendly – A smile goes a long way
Respect the privacy of your subjects
If somebody is irritated by the camera, put it away.
If you're asked to delete an image, do so.
Check out our guide on responsible travel
If you have any questions about how we took any of our shots, feel free to ask in the comments below. You can check out our photography gear here.
Enjoy these Instagram Spots in Slovenia!
Well, that concludes our list of Slovenia's best photography spots. I hope you enjoy your time in this magical country!
Travelling to Slovenia soon? Perhaps these other articles from our Slovenia series will be of some interest to you.
If you have any questions or feel we have missed anything, please reach out to us in the comment section below.
Don't forget to follow us on Instagram where we share more travel tips and avice.
Stay adventurous and Happy travels.
Charlotte & Natalie x
Disclosure: Some of the links in this post are affiliate links. That means that if you purchase through these links, we will earn a small commission, at no extra cost to you. And we can continue bringing you free travel tips and advice. If you use our affiliates, you are awesome, and we thank you!
2 Days in Berlin – The Best 2 Day Berlin Itinerary
2 Days in Prague – The Best 2 Day Prague Itinerary
4 Days in Budapest – The Best 4 Day Budapest Itinerary
1 Day in Helsinki – The Best 1 Day Helsinki Itinerary
PIN IT FOR LATER