Freaking out about what to gift your partner this Valentine's Day? Don't worry, I've got you covered! I've collated a list of 22 fun & romantic lesbian valentines day gift ideas to suit all budgets and interests.
Valentines Day. You either love it, or you hate it. It's a tricky one because we've just about recovered from the emotional and financial drain of Christmas. Then before you know it, there's another holiday to plan for.
I'm a hopeless romantic. So I can't help but get wrapped up in the spirit of Valentines Day. It's a particularly special day for Natalie and me as it's also the day that we met – as corny as that sounds. Which, as it turns out, is a bit of a result actually, as I get away with combining two occasions into one.
Nevertheless, I've got seven years of experience when it comes to V-day gift-giving. And in this article, I will share what I have learned. The key is to think outside of the box, hence why these ideas far outshine your average flowers and chocolates combo.
So let's get to it; here are 22 romantic ideas to gift your love this lesbian valentines day.
Lesbian Valentines Day – 22 Gift Ideas for your Love
Disclosure: Some of the links in this post are affiliate links. That means that if you purchase a product through these links, we will earn a small commission, at no extra cost to you. And we can continue bringing you free tips and advice. If you found the content helpful and are kind enough to use our affiliates – you are awesome, and we thank you!
Lesbian Valentines Day Gifts on a Budget
I always find that the most romantic gift ideas are the ones that don't cost a lot of money. Buying gifts on a budget forces you to get more creative. So they usually end up being more sentimental and thoughtful. No matter your budget, you're sure to love these suggestions.
1. Personalised Notebook/Journal
Did you know that journaling has been proven to help reduce stress and anxiety, improve your memory, and even strengthen your immune system? Pretty interesting, huh?
So why not encourage your other half to implement this practice into their self-care routine by gifting a personalised notebook or journal?
Personalisation allows you to take your bog-standard gift idea and make it into something meaningful. Personalising could be as simple as a name or initials. Or you could go above & beyond by including their favourite quote or saying.
2. Write Them a Poem
Have you ever tried writing a poem? It is not easy, I can assure you of that. But just think how moved your other half will be by your efforts.
Start by writing down all the things that you love about your partner. Then research the different styles of poetry that there out are and see if you can put something together.
It doesn't need to be perfect. It just needs to be thoughtful. If a poem proves too tricky, try a love letter instead.
Either way, this would be a great gift to combine with a personalised notebook or journal. You could jot your words down on the first page so that they always have them to look back on.
3. Full Body Massage Promise
There aren't many more sensual and romantic things than giving your partner a massage. So when you gift them with the promise of a full body massage, I'll be surprised if they don't cash it in immediately.
If you want to up the wow factor, design your very own gift voucher and put it inside a cute lesbian valentines day card. You could also pair it with a massage kit, so you have all the tools on hand to get started.
4. Cook Their Favourite Meal
Another budget-friendly valentines idea is to cook your partner their favourite meal. It's way more personal than taking them out for dinner, and again, you'll earn serious brownie points for your efforts.
You can up the ante with this one by giving the meal a personal touch. Perhaps cook a 3-course meal where each dish represents a memory of the two of you together.
Alternatively, you could try out a special themed menu such as love or passion. Or maybe cook a local cuisine of somewhere you've travelled as a couple. Pair it with a bottle of wine, and you're in for the perfect date night.
5. Rainbow Neon Light
Come on, how cool and funky is this neon rainbow light? Yep, it's gay AF, and we are so here for it.
This decorative lamp adds a gorgeous ambience to any room of the house. So if you live together, you'll even get to take advantage of this one too.
It can be hung on the wall or placed on a table, and it can be powered by batteries or by using a USB adapter. It's the perfect rainbow-themed gift.
6. Aphrodisiac Mood Candles
Smells and ambience can play a huge role in getting us in the mood. So it makes sense that you would both appreciate some aphrodisiac mood candles this Valentine's day.
Aphrodisiac scents are said to ignite our senses and increase our sexual desire. Some known aphrodisiac scents include pumpkin, lavender, vanilla, and cinnamon.
You might also want to check out some of these lesbian love songs to help set the mood.
7. 365 Reasons why I Love You
One of the sweetest lesbian valentines gifts I've seen is a jar containing 365 reasons why I love you. I've never done this one myself, and I'm kinda kicking myself now. As it's definitely gonna get your partner all fired up in the best kinda way.
It's pretty self-explanatory; however, the idea is to write down 365 things that you love about your partner. Keep them on separate pieces of paper or post-it notes, fold them up, and keep them all in a jar.
Every day for a year, your partner gets to pick out a note and be reminded of how much you love them. This can work especially well on the days you're in the dog house. When they read your thoughtful words, I guarantee that all will be forgiven.
8. Giant Personalised Cookie
I don't think I need to explain why this one makes an excellent gift idea. I mean, cookies. Giant cookies at that. Throw in a sugary romantic note, and that's just the icing on the cookie!
Here in the UK, you can get said cookies from Millie's Cookies. But I'm pretty sure the US has plenty of places that do these as well. If they don't, well, I've just given you a solid business idea.
9. Gift Box of Their Favourite Things
We continue with our budget-friendly valentines ideas with a gift box of all their favourite things. Here's another one that will put you as firm-favourite to win the award for the partner of the year. And I won't even take credit, I promise.
I challenge you to dig deep with this one. Here's your opportunity to blow your partner away by how much you know them and listen to them.
I'm thinking their favourite chocolate bar, a book by their favourite author, skincare products by their favoured brand, their favourite photo of the two of you together, a frame with their favourite quote, that kind of thing.
10. Our Moments: The Couples Edition
Even the healthiest of relationships require a little work sometimes. You may think you know somebody inside out; however, we are forever changing and growing.
Which isn't a bad thing at all. In fact, it's really exciting. When we grow, there's always more to learn about us. So, really, you and your partner will forever be getting to know each other as you did in the beginning.
To help you along, this couples edition of Our Moments features thought-provoking conversation cards. With over 100 cards spanning a variety of topics, they're sure to keep you entertained on many a date night to come.
11. Heart-Shaped Waffle Maker
I'll admit, a heart-shaped waffle maker sounds a bit cheesy and tacky on paper; however, I'm not suggesting that you wrap it up and gift it to your partner. No, no, my idea is much more romantic.
What I'm imagining is surprising your partner with breakfast in bed. And do you know what's on the menu? You guessed it.. heart-shaped waffles.
Of course, that's not all you have to have on the menu. Another cute idea is to learn how to make latte art and add a heart to their coffee. Or jump straight to the hard stuff and enjoy a nice glass of champagne.
More Lesbian Valentines Day Gift Ideas
OK, I've covered my gift ideas that are achievable on a budget. I hope you agree that there were some real gems in there. Now I will suggest some ideas that will set you back some cash.
Not necessarily lots of it, though. The lower end of the scale gifts will set you back around $40, while the higher end maybe a few hundred. Regardless of your budget, I hope you find the perfect gift for you.
12. Their Favourite Fragrance
Don't you find that perfume/aftershave is one of those things that you can never buy for yourself? It feels almost wrong when you do. It's become one of those items you can only have if somebody gifts it to you.
With that in mind, your partner will be over the moon when they receive this gift on valentines day. Not only is it a practical gift that you know they will use. But as the fragrance is a smell you likely associate with them, it's also quite a romantic gesture.
13. A Romantic Getaway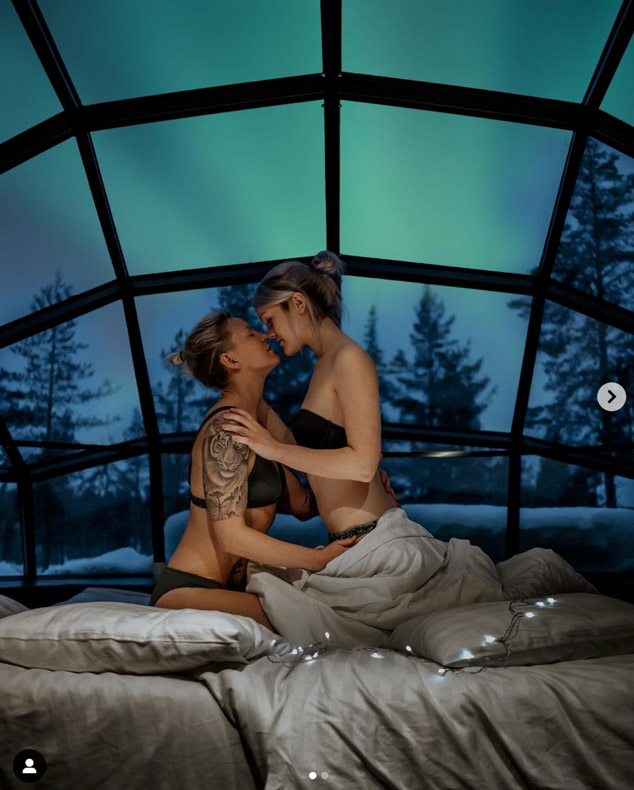 For those of you in a position to do so, surprising your other half with a romantic getaway is always going to be a winning valentines gift idea.
If you know us at all, you'll know how much Natalie and I love to travel. There's something about travelling to somewhere new that always manages to ignite the spark in our relationship.
Some romantic getaway ideas include a treehouse in the woods, a romantic city break like Rome, Prague or Budapest. Or, if you really want to splash out, a glass igloo in Lapland.
14. Lingerie
Whenever I gift Natalie lingerie, she always asks, "Is this a gift for me, or is it a gift for you?" And what can I say? Who doesn't have ulterior motives when picking out sexy underwear for their partner?
Lingerie might sound like your typical valentines gift idea, but it's not without good reason. Especially when you've been together a while, gestures like this help keep things fresh and exciting. 
I'm confident St Valentine would be content with how things have progressed over the years.
15. Polaroid Camera
If all that lovey-dovey stuff has you both eye-rolling and fake-vomming, what about something cool & quirky like this polaroid camera?
I don't know any lesbian who wouldn't love this as a valentines gift. I love the retro design and how it has that queer AF rainbow stripe.
Polaroids are much more spontaneous than the digital cameras we have nowadays. No fancy edits or all that jazz. Simply snap away at random moments and have printed memories to last forever.
16. Rainbow Roses
OK, I know I said no flowers. But these aren't just any flowers; these are rainbow roses. Nothing screams "I love you in a full-on lesbian way" like rainbow roses.
When Natalie sent these to me one valentines day, I'd never seen anything like it. I was blown away, and so was everybody in my office.
I'm pretty sure they aren't as rare and unique as they were a few years ago. But that doesn't make them any less impactful.
17. A New Bedroom Toy
Create a real buzz around valentines day this year by gifting your other half a new sex toy. You know, if you're into that kind of thing. 
It's a sure-fire way of spicing things up in the bedroom. And with all the new innovations coming on the market plus the reinventions of old ones, it'd be rude not to try them all out, wouldn't it?
18. LGBTQ+ Graphic Clothing
Keen to support a small business this year? I know just the brand.
Bohemia Organic are a queer-owned sustainable fashion brand with various collections ranging from LGBTQ and Empowerment to travel and van life gifts.
I'm in love with their bold, creative, and stand-out designs. And the best thing is, once you've worn your product out, you can send it back, and they will remake it into a new product.
19. Macrame Wall Hangers
If your partner is an artsy type soul who loves all things handmade, I have the perfect gift idea for you.
Macrame is an age-old crafting practice that uses knots to create various fabric items such as table runners, plant hangers, and dream catchers.
Available in various whimsical designs, macrame wall hangers make for the perfect accessory in any room. But of dream catchers are intended for the bedroom, where it's believed they act as a filter for dreams.
20. Romantic River Cruise
A romantic river cruise makes for a dreamy date idea regardless of the occasion. So I can only imagine how romantic it would be on Valentines Day.
It doesn't matter how well you know a place; seeing it from the water allows you a whole new perspective. Especially in a city like London or Budapest where there are plenty of beautiful sights to see on the water.
Some river cruises even include dinner & drinks on board, making this already magical experience even more special.
21. An Experience Day
Is there something that you've always wanted to try as a couple but never got around to doing?
It might be a cooking class or a winemaking workshop. Or perhaps something more adventurous like sky diving or go-karting.
Whatever it might be, your partner will be thrilled that you've taken it upon yourself to make it happen.
22. Mini Projector
For our final valentines day gift idea, we have this adorable mini projector.
Having a mini projector allows you to take movie nights to a whole new level. Set it up in any room of your house or even your back garden. It also makes for a great accessory when you travel.
Unlike other cheaper versions on the market, this pocket projector by Kodak supports smartphones and allows you to connect wirelessly.
23. Don't Forget a Lesbian Valentines Day Card
Oh, I almost forgot. Don't forget to include a cute lesbian valentines day card alongside your excellent lesbian valentines day gift.
Our friends over at Sesame But Different have some of the most creative designs when it comes to lesbian greetings cards. On their website, you'll find an entire range specifically for Valentines Day, so I highly recommend that you go check them out.
Did you find the perfect lesbian valentines day gift?
So there you have it, 22 romantic and fun gift ideas for valentines day. I hope you found something that your partner will love.
Is there anything that sticks out to you? Are there any other gift ideas that you think deserve a spot on this list?
Let us know! We love hearing from you. You can reach out to us in the comment section below or through our contact us page.
If you enjoyed this article, you might also be interested in the following:
Happy Love Day,
Charlotte & Natalie x
Disclosure: Some of the links in this post are affiliate links. That means that if you purchase through these links, we will earn a small commission at no extra cost to you. And we can continue bringing you free travel tips and advice. If you found the content helpful and are kind enough to use our affiliates – you are awesome, and we thank you!
PIN IT FOR LATER