Slovenia is a magical country in Eastern Europe. And while it may be smaller than most cities, it certainly doesn't lack in adventure or beauty. We knew very little about the country before our recent visit. In particular, Gay Slovenia and what it would be like to travel there as a lesbian couple. We imagined this part of Europe to be quite conservative. But as it turns out, Slovenia has an accepting and progressive culture. Gay Ljubljana especially has an almost thriving LGBT+ scene, and the country as a whole has a lot to offer gay travellers.
We travelled via coach from Budapest to Ljubljana, so were fortunate enough to take the scenic route into the capital. Towering snow-capped mountains hugging rolling green hills dominated the landscapes. Only to be occasionally interrupted by quaint villages resembling something out of a fairy tale. Slovenia was flaunting herself at us, and it worked. We were head over heels in love before we'd even left the coach.
Our love affair with Slovenia continued into Ljubljana and beyond. The capital is enchanting, bursting with beautiful architecture, art, culture, and charm. While the rest of the country boasts some of the most captivating nature we've ever laid our eyes on. When we also consider Slovenia's gay-friendly attitude, it's a place we will return to time and time again.
In this travel guide, we cover what Gay Slovenia and Gay Ljubljana have to offer LGBT+ travellers. We will list the best Ljubljana gay bars, cafes and nightclubs; gay-friendly hotels and hostels; LGBT+ events; as well as all the top things to do. We will also touch on LGBT+ rights in Slovenia, so you are fully prepared.
Gay In: Slovenia – A LGBTQ+ Guide to Gay Ljubljana
*Before You Travel to Slovenia, have you got your travel insurance sorted? Cover yourself for the unexpected, read why you really need travel insurance or get a quote from World Nomads.
*Have you got your travel Visa sorted? Check if you need one here and retrieve a quote. It's simple, fast and reliable.
*Don't leave home without any backpacker essentials with our free printable packing list.
LGBT+ Rights in Slovenia
Same-Sex Sexual Activity: Legal since 1976.
Same-Sex Marriage: Legal (to an extent) since 2017 -More info below.
Rights to Change Legal Gender: Legal since 2011.
Same-Sex Adoption: Step-Child Adoption only.
LGBT Discrimination: Illegal since 1995.
If you are keen to learn more, Equaldex elaborates further on LGBT+ rights in Slovenia.
As you can see, the road to equal LGBT+ rights in Slovenia has been, and still is to an extent, a turbulent one. While same-sex sexual activity has been legal since 1976, same-sex couples were neglected the same marital rights as straight couples until 2017. Before that, the government recognised 'registered partnerships'; however, this included little inheritance, social security or next-of-kin rights.
While the change in the law is a step in the right direction, the fight isn't over. While LGBT+ couples have equal marital rights, in the eyes of the law, the partnership does not constitute marriage. Instead, only recognised as a civil reunion. Not only that, same-sex married couples are denied the right to adopt children as well as access to artificial insemination. There is hope, however; and a strong movement amid LGBT+ rights campaigners strives for complete equality in the near future.
Is Slovenia Safe for LGBT+ Travellers?
Despite the unsavoury political situation in Slovenia, we would still consider the country to be gay-friendly and safe for LGBT+ travellers. It even states on the Slovenian Tourism Board website:
"Slovenia, especially Ljubljana, is friendly and open to all visitors. As guests who are members of the gay and lesbian community, you are welcome here. All the services provided by Slovenia to its guests are also available to you."
The social opinion is, for the most part, very liberal when it comes to the LGBT+ community. Recent surveys show that most Slovenians support gay-marriage, and in our experience, the locals are incredibly welcoming. There have been the odd isolated cases of intolerance in recent years, but sadly, that is the case for most places in the world. We never judge a country based on the actions of a few small-minded bigots.
The Ljubljana Gay Scene
Again, having done very little prior research, we were surprised by how progressive and modern the capital city is. With a population of less than 300,000, we certainly did not expect much of a gay scene; however, we learnt that Gay Ljubljana is up and coming. We connected with a local lesbian couple, who happened to marry in Slovenia last year, and it was interesting to hear their story. They pointed out that while the Gay Ljubljana scene is limited, it is also vibrant and improving all the time. Of course, it doesn't compare to the likes of Berlin or London; however, with a select few gay bars, clubs, events and organisations, there is enough of a 'scene' to ensure you have a great time!
Gay Bars and Clubs in Ljubljana
With that, here are some of the best gay bars and clubs in Ljubljana. (By that, I mean ALL of the gay bars and clubs in Ljubljana!)
Klub Tiffany: Probably the most popular gay bar in the city, Klub Tiffany is somewhat of an institution in Gay Ljubljana. As well as it's rowdy, cheap-booze-fuelled club nights, the club hosts numerous LGBT+ centred events including lectures, workshops, and exhibitions. Most of all, it aims to provide a safe and inclusive environment for members of the LGBT+ community. Be sure to check out the website for the updated events calendar.
Pritličje: Is it a bar? Is it a cafe? Is it a club? No, it's Superman! No…? On my own with that one then. Anyhow, Pritličje is all of those things – apart from Superman, of course. I guess the best description would be an LGBT+ venue, considering they host live music nights, serve incredible coffee, sell comics, and have an exciting events calendar. A super cool, all-rounder of a place, and definitely worth checking out! See their Facebook page for the upcoming events and parties.
Klub K4: Not specifically a gay bar, but positively gay-friendly. Klub K4 regularly hosts LGBT+ specific nights under their sub-brand Roza Club. Interestingly, Roza Club is also an independent political organisation who heavily support gay-rights movements in Slovenia.
Lesbian Ljubljana
Oh, ladies, we often get left out when it comes to the 'scene', don't we? In fact, when we find a Lesbian bar, we consider ourselves spoilt. So imagine our surprise when we learnt that there is a self-heralded lesbian club in Ljubljana.
Lesbian Bars & Clubs in Ljubljana
So here it is, all of one Lesbian bar in Ljubljana. But don't sweat, all of the gay bars I mentioned above also attract a largely lesbian clientele.
Klub Monokel: Set in the cultural Metalkova district, this self-acclaimed lesbian bar is arguably one of the coolest spots in the city. The impressive schedule of live music and entertainment attracts a fun-loving alternative crowd, so good times are guaranteed. But be sure to visit on the weekend, as the club only opens on Fridays and the occasional Saturday.
LGBT+ Events in Gay Ljubljana
Again, while they are minimal, there are a couple of LGBT+ centred events in Ljubljana that are worth considering when planning your trip.
Pink Week
For the past few years, the Slovenian tourism board have been supporting Pink Week – An organised tour catering specifically to the LGBT+ community. Usually held in late May, the tour allows you to explore the beauty of Slovenia and get to know the cuisine and local traditions. At the same time, you'll experience all the fun that Gay Slovenia has to offer. Check out the Pink Week website or Facebook page for details of this year's event.
Ljubljana Gay & Lesbian Film Festival
Held annually during the first week of December, the Ljubljana Gay & Lesbian film festival concentrates on the promotion of international queer cinema. Interestingly, the festival initially launched in 1984, making it the oldest queer film festival in all of Europe.
Ljubljana Gay Pride
Of course, how could we not mention Ljubljana gay pride? Held annually every June, the event is on a smaller scale than most pride celebrations in Europe. But, what's not to love about thousands of people coming together and marching for LGBT+ rights? Accompanied by a fun-filled weekend of club nights, parades, and LGBT focused events… where do we sign up?
Gay Saunas in Ljubljana
If you were wondering if there was a slightly more, should I say, seedy side to Ljubljana, then the gay saunas are where it's at. No judgement here, but please do protect yourself if you're considering cruising in Ljubljana or anywhere really! Anyhow, less of the Mum lecture. Here are the two main gay saunas in Ljubljana. Girls, these are just for the boys I'm afraid.
District 35: Spread across three floors, District 35 is an ultra-modern premise designed for ultimate relaxation and entertainment. Throughout the property are Finnish and infrared saunas, a steam room, lounges, several private booths, a sunbathing area and a bar. It means you can enjoy the whole day here, which is a good job because the entrance fee is quite high.
Gymnasivm: A men's only club and gym located on the outskirts of Ljubljana. As well as fitness and spa facilities, the establishment occasionally hosts LGBT+ focused events and parties.
Gay-Friendly Accommodation in Ljubljana
While there are no specific gay hotels in Ljubljana, most will happily welcome LGBT+ travellers. These hotels, by reliable resources, are acclaimed to be gay-friendly. Here I list a budget, mid-range, and luxury option which cater to a variety of budgets and interested. For more places to stay in Ljubljana, you can check the latest prices here.
Budget $ – Homestay Rosa Lia
During our short stay in Ljubljana, this is where we stayed, and for those on a budget, we would highly recommend it. As the name suggests, this is a homestay, so you are given a room in an apartment. The bathroom, kitchen, and communal areas are shared with other guests. The apartment itself is small, but the rooms were very spacious, and we loved that we could prepare our own meals in the kitchen. It's a little bit outside of the city centre, but if you don't mind the short walk, this is a fantastic budget option in Ljubljana.
Check the current rates and availability for Homestay Rosa Lia here.
Mid-Range $$ – Art Hotel
Located in the heart of Ljubljana, Art Hotel is a 3* establishment that offers divine comfort and incredible facilities. The rooms are bright, spacious, and modern, complete with all the amenities you need for a comfortable stay. Several of the cities attractions are in walking distance of the hotel, along with a variety of bars and restaurants. At the hotel, you can enjoy a drink at the onsite bar and an excellent buffet breakfast in the restaurant.
Check the current rates and availability for Art Hotel here.
Luxury $$$ – Intercontinental Ljubljana
If you're seeking 5* comfort, there is no better place to treat yourself than at Intercontinental Ljubljana. Situated in the city centre, this luxurious hotel features a comprehensive wellness and spa centre, an indoor pool, a rooftop restaurant, and an onsite bar. The guest rooms come modernly furnished and equipped with all the amenities you might expect at a 5* hotel. It's also in walking distance of the gay nightlife and Ljubljana's main attraction.
Check the current rates and availability for Intercontinental Ljubljana here.
Things to do in Gay Ljubljana
Ljubljana might be a small city, but it has a lot to offer. On the one hand, you have beautiful architecture and charming cobbled streets. On the other, a more alternative side with its street art, cool restaurants, and quirky cafes. While you can cover most of the main attractions in a day, we encourage you to take your time. Enjoy the laidback vibe of the city, and maybe consider taking some day trips to other parts of Slovenia. That's the beauty of this country. You can travel to any part of it within just a couple of hours. Anyhow, here are some of the top things to do in and around Ljubljana.
For a more local experience in Ljubljana, beyond the obvious tourist hotspots, we recommend checking out some of the guided tours on Get Your Guide:
Walk to Ljubljana Castle
Perched atop a 375-metre hill, mighty Ljubljana Castle is the protector and centre point of the city. With the medieval structure continuously looming over you, it's easy to let the mind wander into times before. We really enjoyed revelling in the history of Ljubljana. The fantasy tales of heroes and dragons somehow make it all that more interesting.
It took us 15-minutes to walk up to the castle at a steady pace. Otherwise, you can take the funicular. As we were on a budget, we didn't go inside the castle on this occasion, but we marvelled the grounds and breathtaking view. To explore inside, you can go alone, take an audio tour, or even try the castle escape room. The latter looks like a lot of fun – especially if you're travelling with little ones.
Cross the Famous Ljubljana Bridges
You might think we are clutching at straws here, but the Ljubljana bridges are far from boring! Each is unique and carries its own history, which is what makes them so interesting to visit.
Dragon Bridge: Our Personal favourite, because hey, it's dragons and we love all things fantasy. Four fierce dragons guard the entrance to the bridge (not real ones, unfortunately), and it just looks so damn cool! It's one of the most photographed spots in the city, and you can see why. (Pictured above)
Triple Bridge: As the name suggests, Triple Bridge is a collection of three bridges that sit alongside one another. It's the most famous of bridges in Ljubljana, thanks to its distinctive design. The bridges were built to replace a medieval wooden bridge in the 1800s; however, there's no real logical reason as to why there are three.
Butcher's Bridge: Finally, there's Butcher's Bridge, and this one stands out because of the thousands of love locks attached to it. All those declarations of eternal love add to the romance of idyllic Ljubljana.
Visit Prešern Square
If you've ever seen photographs of Ljubljana, it's highly likely you're already familiar with the picturesque Prešern Square. The recognisable landmark here is the pink Franciscan Church of Annunciation, which forms the backdrop of most Ljubljana photography. If any events are happening in the city, this is usually where it's at. For us, it was the Christmas markets (Ljubljana in Winter is beautiful!), but in Summer you can find all kinds of carnivals and parades – including Pride! 
Explore the Alternative Metalkova Street
For something slightly more offbeat, I suggest checking out the quirky Metelkova area. In stark contrast to the idyllic old town, this abandoned army barracks is now a cultural centre and outlet of artistic expression. Adorned in unique street art and graffiti, Metalkova is considered the trendy area of Ljubljana. With that, various pubs and clubs have opened doors here, attracting a somewhat alternative crowd. We didn't have a chance to experience the nightlife scene sadly; however, we loved exploring here during the day.
The only thing I would say is that I don't recommend visiting alone. Although we never experienced it, many recent reviews claim to have been offered drugs or witnessed drug-related activity. If you are travelling alone, we urge you to consider visiting Metalkova with a tour group instead.
Check rates and availability for the Metalkova Group Tour here.
Eat Noodles at Centalna Station
While there are several great restaurants in Ljubljana, if you're on a budget, Centralna Station is our number one choice. This spot was recommended to us by a local, so you just know it's going to be good. Not only is the food delicious and cheap, but this place has a great vibe. Perfect for a quiet meal, but also to enjoy a few beers with friends. Oh, and we highly recommend the noodles. The best noodles we've had outside of Asia!
For more places to eat in Ljubljana, we recommend checking out this list!
Have a Coffee on Cankarjevo Nabrezje
A simple way to appreciate Ljubljana's charm is to sit and have a coffee alongside the Ljubljanica River. A popular spot is Cankarjevo Nabrezje – a pedestrian-only street that leads along the bank of the river up to Prešern Square. No matter the time of year, the cafes spill out onto the cobbled street so you can enjoy the view. In Winter they provide heaters, so it's always cosy. You'll find several cafes along here, but our personal favourite was Slovenska Hisa.
Try the Local Produce at Central Market
Keen to sample some of the local delicacies? Head to Central Market for some tasters. The outside market is mostly made up of fruit & veggies, clothes, souvenirs, and local items, so you won't find many tasters there. However, in the indoor section (Plecnik's Covered Market), you'll find various cheeses, meats, and bakery items (basically all the good stuff) to try. Naturally, though, it's preferred if you try and buy!
Keen to sample all the flavours of Slovenia? Why not consider a food and wine tour? You'll get to taste a variety of local cuisine while learning about the local history from an expert tour guide.
The Best Day Tours from Ljubljana
If you find yourself with more than 2-days in Ljubljana, we strongly suggest taking some day trips to see other areas of this glorious country. Many choose to rent a car when travelling in Slovenia, as it's super easy and quick to drive everywhere. However, you can also take public transport to many places, or otherwise, go on an organised tour. Here are some locations we recommend visiting on a day trip from Ljubljana:
Lake Bled & Lake Bohinj
If you only have the time to take one day trip from Ljubljana, we highly recommend you visit Lake Bled & Lake Bohinj. Or at the very least, you must visit Lake Bled during your time in Slovenia. Is it busy & touristy? Yes. But only really if you visit in the peak season (June to August). Otherwise, it is rather pleasant. Few places live up to expectation thanks to the Instagram editing game; however, Lake Bled surpassed itself. We visited Lake Bled in Winter, and the snow-capped mountains made this location even more picturesque.
Located just 30-minutes from Bled, Lake Bohinj is another crystalised alpine lake. If you are short for time, it's possible to visit both Bled and Bohinj on the same day. If this is the case, you may wish to consider the organised day tour with Get Your Guide. This way, you can take the stress out of planning your day, and leave it all up to them. Click the link below to read more about the tour along with several positive reviews.
Book Your Tour: Lake Bled & Lake Bohinj Group Tour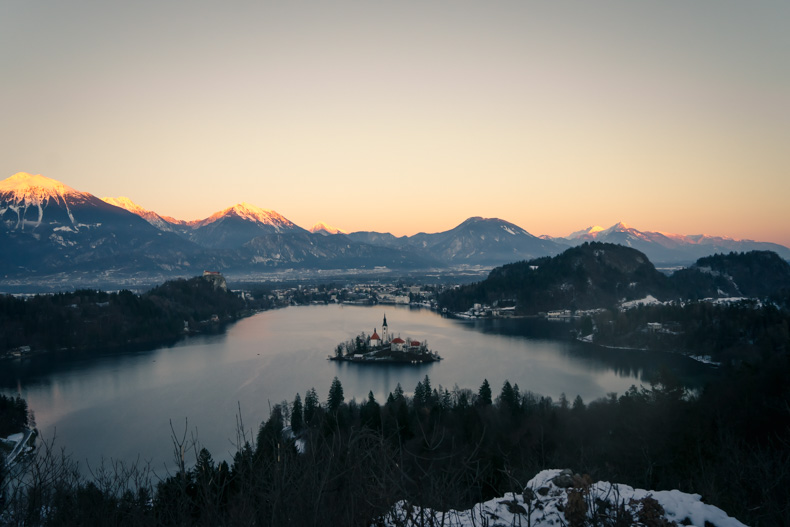 Postajna Cave and Predjama Castle
Located within Postajna Cave Park, both Postajna Cave and Predjama Castle are considered national gems in Slovenia. A visit here makes for a truly adventurous day trip from Ljubljana. Firstly, Postajna is said to be one of the most captivating and impressive caves in the entire world. To explore the millions of years old subterranean, you must take a magical underground train ride where you'll encounter a variety of unique cave formations, wildlife, and fauna.
Located within the same national park, Predjama Castle looks like something out of a twisted fairy tale. Perched amid a 123-metre-high cliff, it is the largest cave castle in the world. The medieval structure is both mysterious and magnificent, inspiring several feature films, including the Game of Thrones. Again, you can plan your own trip, or go as part of an organised tour.
Book Your Tour: Postajna Cave and Predjama Castle Day Trip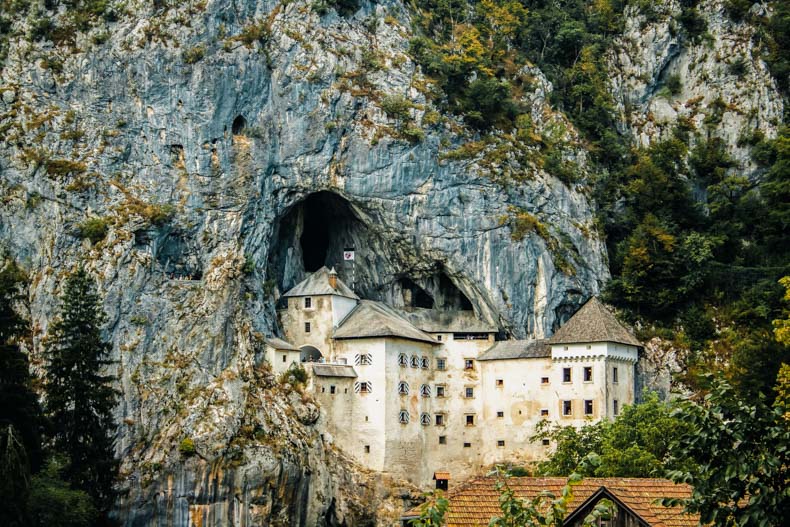 Gay Slovenia: Where Else to Go
Sadly, we only had five days in Slovenia this time around, so we were only able to cover Ljubljana and Lake Bled, with some day trips in between. We plan to return in the Spring and cover the entire country on a road trip. But in the meantime, you can refer to this useful blog by Sofia Adventures – The Best Places to Visit in Slovenia.
Tips & Advice for Gay Travellers in Slovenia
While Ljubljana, and Slovenia in general, is considered safe for LGBT+ travellers, naturally there are some things to be aware of when enjoying your time here.
Getting Around in Slovenia
As I already pointed out, Slovenia is a relatively small country compared to most in Europe. That means, getting around is pretty straight forward. But, best of all, it doesn't take a lot of time! For this reason, many choose to rent a car when travelling in Slovenia. The roads are quiet and in good condition, and you can cover most of the country in a week to 10 days. If you have the time, you could even take a road trip through the entire Balkan region.
If, like us, you don't have that much time, but still want to see parts of the country other than Ljubljana, there are a couple of options. The first is to go on an organised tour like the ones we recommend above. Or you can try your hand at the public bus network. We used it a couple of times during our time in Slovenia, and despite warnings from our friends, it seemed to be reliable enough. Be sure to use the official Slovenian bus network website to plan your route.
Once you've arrived at your designated city or town, it's highly unlikely you'll need to use public transport. Even in Ljubljana, Slovenia's biggest city, we managed to get around everywhere on foot. There are, however, city buses available in most places should they be required.
The Best Time to Visit Slovenia
There is no right or wrong time to visit Slovenia, as it highly depends on what you want from your trip. The country sees mostly dry conditions from May to September, so this is an ideal time for hiking, adventure sports, and visiting the nature parks. In December to March, however, the alpine northwest sees abundant snow, so it is perfect conditions for winter sports. We visited during December, and while we didn't ski or anything, we loved how beautiful the landscapes were in Winter. We were fortunate enough to get some snow, and it added a sprinkle of magic to our trip.
Staying Safe in Slovenia
In short, Slovenia is extremely safe. So much so, it often finds it's way into various top 10 lists of the safest countries in the world. That's not to say crimes never happen. But they are rare and can often be avoided by exercising caution.
Like many places, theft and pickpocketing pose the biggest risk to tourists. We suggest keeping your belongings close to you at all times and use a small padlock or compartmental bag to keep your valuables safe. When travelling at night, avoid being alone in parks or dimly lit areas.
For gay travellers, there is little risk of hate crime; however, you may find rural areas to be more conservative than the bigger cities.
Travel Insurance
With that, don't even think about going to Slovenia without travel insurance. Travel insurance will protect you against illness, injury, theft, and cancellations. In, the unlikely event that something goes wrong, you'll want the best cover money can buy.
For this reason, we always recommend World Nomads for travel insurance. They are affordable, offer a variety of packages and add ons, and allow you to make amendments to your policy while travelling. Say, for example, you go scuba diving or hiking a mountain, World Nomads will amend your plan accordingly. It's a super handy feature that we've used numerous times including the time we trekked to Annapurna Base Camp.
If you need further convincing, read our article on why you need travel insurance. Or get an on-the-spot quote from World Nomads using the form below.
Festivals and Events in Slovenia
Despite only being a small country, the Slovenian events calendar is pretty damn juicy. So, regardless of when you visit, it's likely there will be an event of some sort to keep you entertained. Check out the I Feel Slovenia Events Calendar for this year's schedule of events.
Meeting Other LGBT+ People in Ljubljana
With an almost thriving gay scene like Ljublana, it's incredibly easy to meet other members of the LGBT+ community. Having said that, we understand that it isn't always easy to stroll into a gay bar or event and attempt to make friends.
That is why the internet is such an excellent tool for connecting with like-minded individuals. We suggest using social media to locate other LGBT+ travellers or locals in Ljubljana. You can use Facebook, for example, to yield dedicated LGBT groups in the area. Similarly, navigating certain hashtags on Instagram such as #gayslovenia or #gayljubljana, can help you locate all things LGBT near you.
Similarly, dating apps can be a great way of connecting with like-minded people – and not necessarily for a hook-up. If you're lucky, you could find yourself connecting with a local who can give you a full insider low down of the area. We always suggest using a secure VPN when surfing the web internationally. We can recommend Ivacy, the worlds fastest VPN service, click here to sign up!
Staying Connected in Slovenia
If, like us, you rely on the internet when you travel (let's face it, who doesn't anymore), we have the perfect solution. After coming home to too many hefty phone bills and buying countless international sim cards, we were desperate for an affordable solution. That's when we discovered TravelWifi. TravelWifi's portable pocket wifi allows us to quickly and securely connect when we need it the most. Click the link for more information on coverage, packages, and the latest offers.
More on Slovenia
Planning a trip to Berlin? Check out our other articles to help plan your trip.
Alternatively, select one of the activities below to view more things to do in Slovenia:
More on Europe
Planning a tour of Europe? See the following travel guides and itineraries to help plan your trip:
Did you enjoy our Gay in Slovenia Guide?
Well, that concludes Gay in: Slovenia – A Gay & Lesbian Travel Guide to Slovenia. If you have any questions or feel we have missed anything, please reach out to us in the comment section below. Don't forget to follow us on Instagram here!
Stay adventurous and Happy travels.
Charlotte & Natalie x
Disclosure: Some of the links in this post are affiliate links. That means that if you purchase through these links, we will earn a small commission, at no extra cost to you. And we can continue bringing you free travel tips and advice. If you use our affiliates, you are awesome, and we thank you!
Gay In: Berlin – A Guide to Gay & Lesbian Berlin
Gay in Asia – A Guide to LGBTQ Travel in Asia
Gay In: Malaysia – A LGBTQ Travel Guide to Malaysia
Gay in: Mumbai – LGBTQ+ Travel Guide
PIN IT FOR LATER