1 Day in Ljubljana might not seem like much time when, in fact, it's quite enough to get acquainted with the city. And to help you make the very most of your time, I've put together the best 1 Day Ljubljana Itinerary. We recently spent just over 24 hours in Ljubljana, so we can share what we got up to, and what we consider to be the best places to visit in Ljubljana in a day. We cover all of the Ljubljana hotspots, where to eat, sleep, and party, as well as all of our top tips, to ensure you have the best possible time exploring the city.
It's impossible to skip past Ljubljana when planning a trip to Slovenia. The capital serves as a gateway to Lake Bled, Triglav National Park, and other areas of the country. We knew very little about the city before our recent visit, but were thankful we took some time to look around. What we discovered didn't feel like a city at all. Instead, Ljubljana (pronounced loob-yah-nah) appears like a whimsical little town. Legends of heroes and dragons add to its charm, and you can't help but feel you've stepped into a make-believe children's book.
Ljubljana is a small and compact city, but it has a lot to offer. On the one hand, you have beautiful architecture and charming cobbled streets. On the other, a more alternative side with its street art, cool restaurants, and quirky cafes. You can easily cover the main attractions in one day; however, if you find yourself with more time to spare, it won't be wasted. We could never tire of relaxing days alongside the Ljubljanica River drinking coffee and immersing in the laidback vibe of the city.
Sound good? Well, let's get to it then! Here's the best Ljubljana Itinerary for 1 Day in the city.
One Day in Ljubljana – The Best One Day Ljubljana Itinerary
*Before You Travel to Slovenia, have you got your travel insurance sorted? Cover yourself for the unexpected, read why you really need travel insurance or get a quote from World Nomads.
*Have you got your travel Visa sorted? Check if you need one here and retrieve a quote. It's simple, fast and reliable.
*Don't leave home without any backpacker essentials with our free printable packing list.
Is 1 Day in Ljubljana Enough?
Let's face it, one day isn't a lot of time. But if you plan your 24 hours in Ljubljana wisely, you should find it enough to get acquainted with the city. Thankfully, Ljubljana is compact and straightforward to navigate. You can quickly get around on foot, which means that ultimately, you end up seeing a lot more than if you were taking public transport.
If it's your first time visiting Ljubljana, naturally you will want to see the major tourist spots. These spots are landmarks of the city and popular for a good reason. However, what makes Ljubljana so appealing, in my opinion, is how laidback and idyllic it is. So don't feel guilty for taking some time to chill and appreciate the true essence of the city.
Where to Stay with One Day in Ljubljana
Naturally, there is no shortage of accommodation options in Ljubljana, regardless of your budget or taste. However, if you only have 24 hours in Ljubljana, it makes sense to locate yourself centrally. This way, you can avoid journey time eating into your valuable exploring time. I've made some hotel suggestions below, or you can click the link for a list of all hostels, guesthouses, and hotels in the city.
Check the current rates and availability for all Ljubljana accommodation here.
Hostel $ – Turn Hostel
If you're travelling solo, your best and cheapest option will be to stay in a hostel. Though more expensive than other European cities, there are a few to choose from in Ljubljana, but Turn Hostel seems to be the best rated of them all. Set in an excellent location, walking distance to all the main attractions, Turn Hostel provides the ideal base for your adventures in the city. Featuring clean rooms, comfortable beds, and great facilities, on hostel standards this is one of the best!
Check the current rates and availability for Turn Hostel here.
Budget $ – Homestay Rosa Lia
During our short stay in Ljubljana, this is where we stayed, and for those on a budget, we would highly recommend it. As the name suggests, this is a homestay, so you are provided with a room in an apartment. The bathroom, kitchen, and communal areas are shared with other guests. The apartment itself is small, but the rooms were very spacious, and we loved that we could prepare meals in the kitchen. It's a little bit outside of the city centre, but if you don't mind the short walk, this is a fantastic budget option in Ljubljana.
Check the current rates and availability for Homestay Rosa Lia here.
Mid-Range $$ – Art Hotel
Located in the heart of Ljubljana, Art Hotel is a 3* establishment that offers divine comfort and incredible facilities. The rooms are bright, spacious, and modern, complete with all the amenities you need for a comfortable stay. Several of the cities attractions are in walking distance of the hotel, along with a variety of bars and restaurants. At the hotel, you can enjoy a drink at the onsite bar and an excellent buffet breakfast in the restaurant.
Check the current rates and availability for Art Hotel here.
Luxury $$$ – Intercontinental Ljubljana
If you're seeking 5* comfort, there is no better place to treat yourself than at Intercontinental Ljubljana. Situated in the city centre, this luxurious hotel features a comprehensive wellness and spa centre, an indoor pool, a rooftop restaurant, and an onsite bar. The guest rooms come modernly furnished and equipped with all the amenities you might expect at a 5* hotel. It's also in walking distance of Ljubljana's main attractions and nightlife.
Check the current rates and availability for Intercontinental Ljubljana here.
The Best Places to Visit in Ljubljana in One Day
I go into quite a lot of detail in this comprehensive Ljubljana Itinerary, so if you're short for time, here's a quick overview of the best of Ljubljana in a day.
Climb up to Ljubljana Castle for panoramic views over the city
Meander the quaint cobbled streets of the Old Town
Cross the Famous Ljubljana Bridges
Marvel the unusual pink architecture of the Franciscan Church of the Annunciation
Explore alternative Ljubljana at Metalkova Street
Stroll along the Ljubljanica River and stop for coffee on Cankarjevo Nabrezje
Try the Local Produce at the Central Market
1 Day Ljubljana Itinerary
OK, let's dive into our suggested itinerary for one day in Ljubljana. I've tried to make it as strategic as possible, so to minimise your travel time, and ensure you experience as much of the city as you can. However, remember what I said; it's also quite enough to relax and enjoy the atmosphere, so feel free to switch up the itinerary as you see fit.
Free Walking Tour
If you don't want to explore Ljubljana alone, why not join one of the free walking tours. Not only will you cover all the city highlights, but you'll learn all about the history of Ljubljana from a licensed local guide. The tours are completely free to join, but be sure to tip your guide generously if you enjoy it!
Book Your Tour: Ljubljana Free Walking Tour
Ljubljana Castle
After an energising breakfast at your hotel or one of the restaurants I recommend further down, it's time to start your day at Ljubljana Castle. Ljubljana Castle is easily the most significant landmark in Ljubljana. Set on a 375-metre hill called 'Castle Hill', you can often spot the medieval fortress as you're wandering the old town.
The castle grounds are vast, boasting a wide range of entertainment from museums and exhibitions to restaurants and nightclubs. Furthermore, the castle's outlook tower and fortifications offer some of the most spectacular views of the city. To see it all, you could easily spend the entire morning here.
To get up to the tower, you can walk as we did, which took us around 15-minutes, moving at a steady pace. Otherwise, you can take the funicular railway. As we were on a budget, we didn't go inside the castle on this occasion. But we marvelled the grounds and breathtaking views which is completely free. To explore inside, you can go alone, take an audio tour, or even try the castle escape room. The latter looks like a lot of fun – especially if you're travelling with little ones.
Entrance Fee: €10/Allow: 1-3 hours
Central Market
Next up you are going to make your way over to Ljubljana's old town, stopping by the Central Market on the route. Made up of an outdoor and indoor section, this is your opportunity to buy and sample locally produced goods.
When we visited Ljubljana in Winter, there wasn't much going on at the outside market; however, you'll generally find a variety of stalls selling fruit & veggies, clothes, souvenirs, and other locally produced items.  
On the other hand, the indoor section (look out for Plecnik's Covered Market), you'll find a vast selection of traditional cheeses, meats, and bakery items. Most will allow you to sample the goods, but naturally, it's preferred if you try and buy.
Keen to sample all the flavours of Slovenia? Why not consider a food and wine tour? You'll get to taste a variety of local cuisine while learning about the local history from an expert tour guide.
Dragon Bridge
Your next stop will be the fantasy-themed Dragon Bridge. Celebrating the mythical history of the city, Dragon Bridge is one of the most photographed spots in the city. Featuring 4 ornate dragons, two on either side, it's gothic appearance is enough to conjure up all the Game of Thrones vibes! While there are many famous bridges in Ljubljana, this one was by far our favourite.
Entrance Fee: Free/Allow: 15 mins
Butchers Bridge
Our next famous bridge of the day will be the Butchers Bridge. While the name might sound quite aggressive, its current purpose is anything but. Nowadays, the bridge is famous for the thousands of love locks attached to it. It might be tacky, but we have a soft spot for anything with love locks. All those declarations of eternal love add to the romance of idyllic Ljubljana.
Entrance Fee: Free/Allow: 15 mins
Prešeren Square
If you've ever seen photographs of Ljubljana, it's likely you're already familiar with picturesque Prešern Square. The recognisable landmark here is the Franciscan Church of Annunciation. With its baroque pink facade, the church is one of the most popular Slovenia photography spots.
If any events are happening in the city, the square is where it's at. For us in December, it was the Christmas markets, but throughout the year there are concerts, festivals, parades and political events amongst others.
The area surrounding Preseren Square is entirely pedestrianised, so you can walk around at ease, taking in all of the beautiful architecture. Several roads sprout off from the square, which are worth wandering if you like to shop or browse.
Entrance Fee: Free/Allow: 1 hr
Cankarjevo Nabrezje
By this point, you should be edging towards lunchtime, or at the very least you'll be needing a coffee or refreshment. Thankfully, Cankarjevo Nabrezje is just a 2-minute walk from the square – A scenic and pedestrian-only street that runs adjacently to the Ljubljanica River.
The area is a popular spot amongst locals and tourists alike, who come to enjoy a drink or a meal overlooking the river. Regardless of the time of year, the cafes spill out onto the scenic cobbled street so you can enjoy the view all the way up to Preseren Square.
Triple Bridge
As the name suggests, Triple Bridge is a collection of three bridges across the Ljubljanica River. It's the most famous of bridges in Ljubljana, thanks to its distinctive design, connecting Preseren square with the modern city.
Historically, the central bridge was built to replace a medieval wooden bridge in the mid-1800s. Later, in the early 1900s, they extended it to include the two side bridges, intended for pedestrians. They serve no real purpose as no vehicles are permitted to cross the bridge; however, the result is a unique architectural gem.
Entrance Fee: Free/Allow: 15 mins
Town Square
Ljubljana's Town Square is one of the most picturesque spots in the city boasting a wealth of charming architecture. The square houses the Town Hall, City Art Museum, the Lichtenberg House and a replica of the Baroque Robba Fountain. Not to mention various boutiques and restaurants which make it the ideal spot for an afternoon stroll.
Entrance Fee: Free/Allow: 1 hr
Metalkova Art District
Should you have some time to spare at the end of the day, I highly recommend checking out the eccentric Metelkova area. In stark contrast to the idyllic old town, this abandoned army barracks is now a cultural centre and outlet of artistic expression. Adorned in unique street art and graffiti, Metalkova is considered the trendy area of Ljubljana.
With that, various pubs and clubs have opened doors here, attracting a somewhat alternative crowd. We didn't have a chance to experience the nightlife scene sadly; however, we loved exploring here during the day.
The only thing I would say is perhaps it isn't wise to visit alone. Although we never experienced it ourselves, many recent reviews claim to have been offered drugs or witnessed drug-related activity.
Nevertheless, I hope you get to experience the weird and wonderful vibe at Metalkova, as it's a very unusual place that was a highlight of our Ljubljana itinerary.
Entrance Fee: Free/Allow: 1-2 hrs
Additions to this Ljubljana Itinerary
If you have longer than a day in Ljubljana, that's great. You have time to check out some of the less touristy stuff to do in the city, and perhaps even take a day trip to other areas of the country. Here are a few suggestions for inspiration.
Art Galleries
We are both art lovers, and considering its size, I was surprised to learn that there are many art galleries in Ljubljana. Unfortunately, our itinerary didn't allow enough time to visit any on this occasion, but next time, and there will be a next time, we will make it a priority. If this is something you might be interested in, check out this guide to best art galleries in Ljubljana.
River Cruise
Arguably one of the best ways to appreciate this peaceful and romantic city is on the water. With many significant landmarks set upon the banks of the Ljubljanica river, a river cruise is a perfect way to kick back, relax, and enjoy the view.
Depending on your budget, there are several tours you can choose from. Some provide 1-hour of sightseeing, others are private tours, and there are even romantic dinner cruises. Ljubljanica River Cruises offer a variety of boat trips at a competitive rate, so it's worth checking them out before your trip.
City Bike Tour
Another way to enjoy Ljubljana from a different perspective is with a city bike tour. A bike tour allows you to experience this lively capital on two wheels and learn all about the cities history from a registered local guide. Not only will you explore the cities main attractions, but the tour will lead you outside of the city centre where you'll discover some of Ljubljana's hidden gems.
Book Your Tour: Ljubljana: 3–Hour Bike Cruise
Ljubljana Food & Wine Tour
"This Ljubljana food tour will take you through the old Ljubljana town. During a 3-4 hour guided slowly paced walk you will learn about the city, stories of the people, architecture, the history of Slovenian nation and of course – local and national gastronomy. This is much more than a food tour and definitely not your usual city tour.
During the food tour, you will be served 9 traditional dishes from a variety of different cuisines from all parts and circles of society of Slovenia and 4 sorts of wine. You will also familiarize yourself with historical Ljubljana and hearing an overview of the history of Slovenes. At the end of the tour, your tummy will be full, your thirst will be gone, and you will know more about the history of Slovenes then some of the fellow citizens. You will also be in the know about the old town and know where to go next, what to do next, and what to eat next. It's a perfect way to start your stay in the beautiful and tasty capital city!"
​Book Your Tour: 3.5-Hour Ljubljana Food & Wine Tour
Day Trips from Ljubljana
If you have the time, you won't regret taking a day trip or 2 to see other areas of this glorious country. Many choose to rent a car when travelling in Slovenia, as it's super easy and quick to drive everywhere. However, you can also take public transport to many places, or otherwise, go on an organised tour. Below are some locations we recommend visiting on a day trip from Ljubljana, or you can check out the full list here.
Lake Bled & Lake Bohinj
If you only have the time to take one day trip from Ljubljana, we highly recommend you visit Lake Bled & Lake Bohinj. Or at the very least, you must visit Lake Bled during your time in Slovenia. Is it busy & touristy? Yes. But only really if you visit in the peak season (June to August). Otherwise, it is rather pleasant. Few places live up to expectation thanks to the Instagram editing game; however, Lake Bled surpassed itself. We visited Lake Bled in Winter, and the snow-capped mountains made this location even more picturesque.
Located just 30-minutes from Bled, Lake Bohinj is another crystalised alpine lake. If you are short for time, it's possible to visit both Bled and Bohinj on the same day. If this is the case, you may wish to consider the organised day tour with Get Your Guide. This way, you can take the stress out of planning your day, and leave it all up to them. Click the link below to read more about the tour along with several positive reviews.
Book Your Tour: Lake Bled & Lake Bohinj Group Tour
Postojna Cave and Predjama Castle
Located within Postojna Cave Park, both Postojna Cave and Predjama Castle are considered national gems in Slovenia. A visit here makes for a truly adventurous day trip from Ljubljana. Firstly, Postojna is said to be one of the most captivating and impressive caves in the entire world. To explore the millions of years old subterranean, you must take a magical underground train ride where you'll encounter a variety of unique cave formations, wildlife, and fauna.
Located within the same national park, Predjama Castle looks like something out of a twisted fairy tale. Perched amid a 123-metre-high cliff, it is the largest cave castle in the world. The medieval structure is both mysterious and magnificent, inspiring several feature films, including the Game of Thrones. Again, you can plan your own trip, or go as part of an organised tour.
Book Your Tour: Postojna Cave and Predjama Castle Day Trip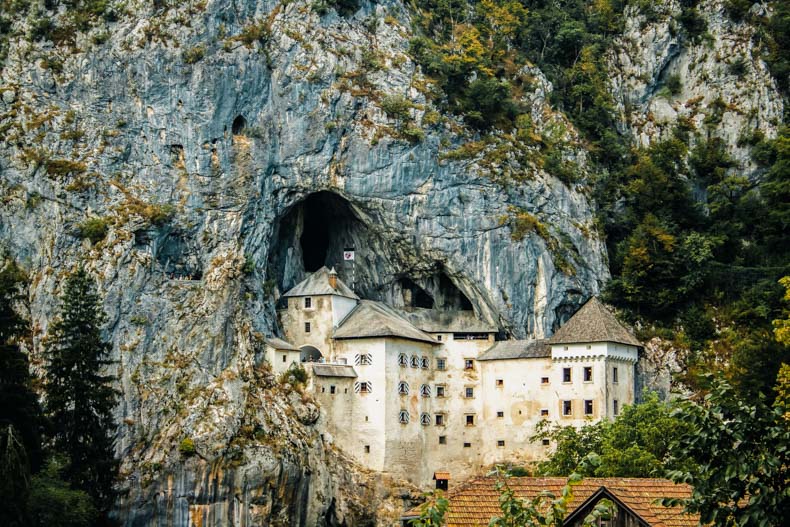 The Best Restaurants & Nightlife in Ljubljana
Much to our surprise, Ljubljana is a happening city with a thriving culinary scene and diverse nightlife. Unfortunately, we didn't stay long enough to try too many places out, but we asked our local friends Katja and Katka for a full low down on the best nightlife and restaurants in the city. So, here they are:
For nocturnal things to do in the city, check out this guide to Ljubljana Nightlife.
Tips & Advice for Spending 1 Day in Ljubljana
Here I'll list some of the travel tips that we accumulated during our stay in Ljubljana. Hopefully, they will help you have a hassle-free break in the city.
Currency & Exchanging Money
The unit of currency in Slovenia is the Euro. We recommend travelling with some cash in your pocket; however, if you don't want to carry large sums, there are several ways to exchange money in Ljubljana. Though naturally, some are more cost-effective than others.
The easiest option is to withdraw cash directly from an ATM. Some ATMs may ask if you want to proceed "with or without conversion". Whatever you do, never proceed with conversion because it leads to disastrous exchange rates. Trust us; we learnt the hard way. Instead, choose to be charged in the local currency, and you'll receive a far more favourable rate on your conversion.
Another money-saving tip is to carry a currency card such as Easy Fx rather than withdrawing money using your debit or credit cards. This way, you can make purchases, withdraw cash and make transfers, all with no international fees. Again, so long as you proceed 'without conversion.'
Budget
Despite being a European city, Ljubljana is surprisingly affordable. If you're careful with your money, you can comfortably live on £30/$40 a day. Actually, we averaged for less than that, but we ate cheap, stayed in hostels, walked everywhere, and didn't splurge on every attraction.
Getting Around
As I already pointed out, Slovenia is a relatively small country compared to most in Europe. That means, getting around is pretty straight forward. But, best of all, it doesn't take a lot of time! For this reason, many choose to rent a car when travelling in Slovenia. The roads are quiet and in good condition, and you can cover most of the country in a week to 10 days. Not to mention, the breathtaking views you'll be rewarded with along the way.
If, like us, you don't have that much time, but still want to see parts of the country other than Ljubljana, there are a couple of options. The first is to go on an organised tour like the ones we recommend above. Or you can try your hand at the public bus network. We used it a couple of times during our time in Slovenia, and despite warnings from our friends, it seemed to be reliable enough. Be sure to use the official Slovenian bus network website to plan your route.
Once you've arrived at your designated city or town, it's highly unlikely you'll need to use public transport. Even in Ljubljana, Slovenia's biggest city, we managed to get around everywhere on foot. There are, however, city buses available in most places should they be required.
The Best Time to Visit
There is no right or wrong time to visit Slovenia, as it highly depends on what you want from your trip. The country sees mostly dry conditions from May to September, so this is an ideal time for hiking, adventure sports, and visiting the nature parks. In December to March, however, the alpine northwest sees abundant snow, so it is perfect conditions for winter sports. We visited during December, and while we didn't ski or anything, we loved how beautiful the landscapes were in Winter. We were fortunate enough to get some snow, and it added a sprinkle of magic to our trip.
Staying Safe
In short, Slovenia is exceptionally safe. So much so, it often finds it's way into various top 10 lists of the safest countries in the world. That's not to say crimes never happen. But they are rare and can often be avoided by exercising caution.
Like many places, theft and pickpocketing pose the biggest risk to tourists. We suggest keeping your belongings close to you at all times and use a small padlock or compartmental bag to keep your valuables safe.
When travelling at night, avoid being alone in parks or dimly lit areas.
For LGBT Travellers in Slovenia, there is little risk of hate crime; however, you may find rural areas to be more conservative than the bigger cities.
Travel Insurance
With that, don't even think about going to Slovenia without travel insurance. Travel insurance will protect you against illness, injury, theft, and cancellations. In, the unlikely event that something goes wrong, you'll want the best cover money can buy.
For this reason, we always recommend World Nomads for travel insurance. They are affordable, offer a variety of packages and add ons, and allow you to make amendments to your policy while travelling. Say, for example, you go scuba diving or hiking a mountain, World Nomads will amend your plan accordingly. It's a super handy feature that we've used numerous times including the time we trekked to Annapurna Base Camp.
If you need further convincing, read our article on why you need travel insurance. Or get an on-the-spot quote from World Nomads using the form below.
Staying Connected in Slovenia
If, like us, you rely on the internet when you travel (let's face it, who doesn't anymore), we have the perfect solution. After coming home to too many hefty phone bills and buying countless international sim cards, we were desperate for an affordable solution. That's when we discovered TravelWifi. TravelWifi's portable pocket wifi allows us to quickly and securely connect when we need it the most. Click the link for more information on coverage, packages, and the latest offers.
More on Slovenia
Planning a trip to Slovenia? Check out some of our other articles to help plan your trip:
Did you enjoy our 1 Day Ljubljana Itinerary?
Let us know. That concludes One Day in Ljubljana – The Best One Day Ljubljana Itinerary. We hope you enjoy your time in this magical city. If you have any questions or feel we have missed anything, please reach out to us in the comment section below, through our contact us page. Don't forget to follow us on Instagram here, where we share further travel advice & inspiration.
Stay adventurous and Happy travels.
Charlotte & Natalie x
Disclosure: Some of the links in this post are affiliate links. That means that if you purchase through these links, we will earn a small commission, at no extra cost to you. And we can continue bringing you free travel tips and advice. If you found the content helpful and are kind enough to use our affiliates – you are awesome, and we thank you!
2 Days in Prague – The Best 2 Day Prague Itinerary
2 Days in Berlin – The Best 2 Day Berlin Itinerary
4 Days in Budapest – The Best 4 Day Budapest Itinerary
PIN IT FOR LATER