Ssssh, I have a secret.  There is more to lesbian fashion than flannel, blazers, and brogues.    
There you go, I said it – crushing lesbian stereotypes since approximately 7 seconds ago. No, but seriously, regardless of what type of lesbian you identify as, there are a ton of epic lesbian styles out there to compliment your look.
And do you know the kind of magic that happens when we look and feel good? We radiate from the inside and can go out into the world with confidence, prepared for whatever might come our way.  
We already wrote about the best lesbian hairstyles of 2023, and you all got scissor-happy about it. So in this article, I'm going to share some of the hottest lesbian outfits that will have you looking like a style icon in no time.
So whether you're preparing for a date or getting ready to go back to work, or simply looking for some general lesbian fashion inspo, you've come to the right place.
Time to get to it; here are the hottest lesbian outfits of 2023.
Disclosure: Some of the links in this post are affiliate links. If you purchase a product through these links, we will earn a small commission at no extra cost to you. And we can continue bringing you free tips and advice. If you found the content helpful and are kind enough to use our affiliates – you are awesome, and we thank you! 
Who said that lesbian formal wear needs to be boring? You'll be strolling into the office like an absolute boss in this stylish take on the traditional suit.
Not only does it look the part, but it's comfortable and breathable, too. Meaning that you'll feel at your best and ready to take on whatever the day throws at you.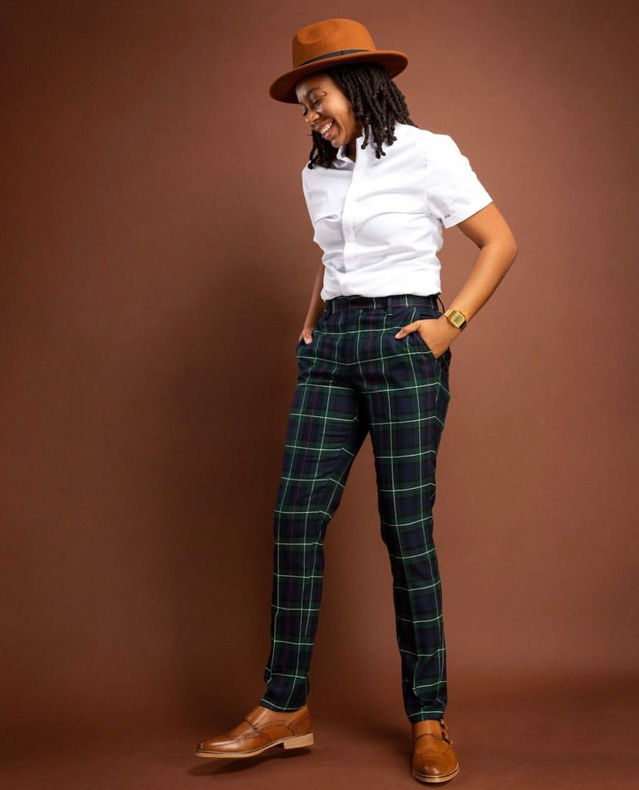 OK, I am in love with this look. The colour palette is perfect. It certainly makes a change from the usual plethora of black, white, and greys that you see in the office.
I know I said that there's more to lesbian fashion than brogues, but you can't deny they look great, particularly with this formal lesbian outfit.
When did lesbian fashion allow you to look like such a superhero? Wow!
If you want to walk into a meeting feeling like a complete badass and fashion icon in equal measure, this outfit is the one for you.
The all-black colour palette will forever be timeless, but can we please take a minute to appreciate that coat? I am swooning right now.
PinkCupid dating app for queer women 
PinkCupid is a safe and inclusive space where you can connect with thousands of lesbian singles to find their match from all over the world.
You can create your profile for free and join a community of like-minded women looking for friendship, love and more.
This next formal lesbian outfit is perfect for our femmes. It's still very feminine and is sure to turn heads; however, it oozes charisma and screams that you won't put up with any bulls*it.
Not to mention that you'll feel like an absolute fashionista!
There's that all-black colour palette again. You can't deny that it's such a gorgeous look, especially when it comes to formal wear.
I love that this outfit is extremely versatile. Not only could you wear this at the office, but it would be the ideal tomboy outfit for a wedding or other special occasion.
Ashlyn Harris is one of my style icons, so don't be surprised if you see her mentioned more than once on this list. I love her because she pulls off the tomboy fashion look in a way many people can't.
We are a similar age, so maybe that's why I find her style so appealing. Anyhow, I love the contrast here of the casual jeans and trainers, paired with a smart blazer and turtle neck.
A tomboy style doesn't necessarily mean you have to live in ripped jeans, hoodies, and sneakers. Just take a look at the beautiful Ariana and how she rocks these striking yellow hues.
This outfit may not be for everyone, but it's bold, brave, and makes a true fashion statement. I love how Ariana is experimental with her style and how she is able to transform fashion into art.
You can follow her on Instagram for more quirky lesbian style inspo.
Nothing screams lesbian like a funky patterned shirt – I'm pretty sure it's a mandatory wardrobe item along with flannel, brogues, and blazers.
The one pictured is pretty tame compared to some; however, paired with the funky beach shorts and that epic messy hairstyle, it's a winning tomboy look for the warm summer months.
Come on; you knew it was coming. I couldn't have an article on lesbian fashion without throwing a little bit of flannel into the mix.
After all, ALL lesbians look good in flannel – it's part of our DNA. I especially love the layered look that Danni has created here. If you're looking for a 'cool' way to rock flannel, take note, sister.
I told you to expect to see Ashlyn again on this list, and now you know why.
When I saw this picture last year, I was immediately in awe of that sensational khaki suit.
My hunt for something similar has been wildly unsuccessful, so if you have better luck than me, hook your girl up!
I'm gonna round off my favourite tomboy styles with the iconic skater look.
While you could say that this minimalist androgynous style is simple, it can also be highly effective if you have the swagger to carry it off.
Again, it's not for everyone, but if you prefer a more masculine approach to your wardrobe, this is the ideal Summer outfit for you.
I don't know about you, but I am loving the aesthetics here. That pop of pastel peach seriously makes a statement.
If you're a fan of your tracksuits and trainers, this is one way to step up your game and make a fashion statement without compromising on comfort.
"She was a skater girl, she said see ya later girl" – Yep, I always thought the lyrics sounded better that way.
All black attire with a pop of colour will always be a winner in my eyes. Casual lesbian fashion never looked so good.
Denim on denim is one of those controversial fashion trends. You either believe it works, or you don't.
Personally, I never feel like I can get away with it, but that's not to say I don't dig the style on others.
Like here, for instance, I think it's a great example of denim on denim done right. The shades are similar, which is key, and it's paired nicely with a crisp white t-shirt. Yep, I'm officially sold.
Here is another prime example of how to spice up your casual lesbian fashion wardrobe.
From the quirky tee design to the metallic tracksuit bottoms, nothing about this style is scruffy.
Pair the outfit with some epic kicks, and you'll be looking on point for just about any occasion.
Swagging hell! I have A LOT of time for this outfit.
This casual lesbian style might seem a little bold and edgy; however, it's all about the attitude that you rock with it.
Your confidence will always be your number one accessory, so don't be afraid to dabble with different styles.
The ultimate casual summer style. Perfect for holidays and days out at the beach.
You know when I said that confidence will always be your number one accessory? Well, a bronze tan like this one will always come a very close second.
If you are a fan of this casual lesbian style, you should definitely follow @danniparr on Instagram – she is #lesbianstylegoals.
Here's an outfit for when you want to embrace your feminity while still giving off those "hi, I'm a lesbian" vibes.
These white Doc Martens are becoming a staple of many a gay girls wardrobe, and it's not too difficult to see why. They look great and go with pretty much anything.
I'm particularly fangirling, however, with the beige and cream colour palette we have going on here.
Brittenelle Fredericks is another of my style icons! I've been trying to achieve her hairstyle for as long as I can remember, but can never quite get the same *Queue sad violin music*.
Anyway, I'm here to talk about the suit. Usually, Brittenelle wears suits that I'd describe as quite masculine.
However, paired with the low cut open blouse, I'd positively say this is a stunning femme lesbian style.
Femmes love a maxi dress in the Summer, and who can blame them? They are light, airy, and allow all your essential lady parts to stay just the right amount of chilled.
Pick a vivid colour (like the orange pictured here), pair it with a comfy pair of slip-on sandals, and transform this basic vacation outfit into the ultimate summer glow-up.
First of all, how cute is this picture, please? And second of all, how gorgeous is this femme lesbian style?
Here is a prime example of how accessories can completely transfigure an entire outfit. Your everyday jeans and white tee revolutionised with a charming bowler hat and sultry red lipstick.
Finally, we have another maxi dress. But, whereas the one above was a more casual style, this pretty number is ideal for warm summer nights out.
Again, it's the belt that really helps pull the outfit together, so don't disregard accessories when planning your outfits.
Naturally, we have to kick off our list of butch lesbian outfits with a masculine style suit.
The suit should be a staple feature of any butches wardrobe. A butch woman in a suit is fit as fudge!
Of course, there is a huge variety of styles, fits, and colours out there; but, you can't go wrong with the traditional black. Especially with a tie. Do not forget the tie.
Erm, how hot are they? I'm not sure if I want to get with her or if I want to be her. And that jawline! That jawline is sharper than my bread knife.
Anyway, I digress; let's talk about the k!ller outfit. The term 'too cool for school' springs to mind. And I am aware of how totally uncool I sound saying that. I'm just going to quit while I'm ahead here.
I know you were all starting to get anxious by the lack of flannel on this list. But don't worry, you don't need to clear out your wardrobe just yet.
Here's another perfect example of how to make flannel look trendy – I'd even go as far as to say, s$xy!
I guess this is proof that a leather jacket can make any outfit look hot. And, of course, the leather jacket is the piece de resistance of butch lesbian fashion.
Yes! I am in love with this rock star look! Again, it's all about the accessories here. Chain, check. Bandana, check. Sunglasses, check.
Do I need to stress the importance of accessories again? They have the ability to make or break an outfit, so pick them wisely.
Wow! These two are taking butch lesbian fashion to the next level. Never has any couple ever made matching outfits look so badass.
You wouldn't catch them wearing any of those cheesy "I'm hers" and "she's mine" tees, would you? NOT that I'm judging anybody who does. (I am, really.)
They have the swagger, and they have the style; what more is there to say?
OK, I think this is one of my favourite lesbian outfits on the entire list. I NEED that oversized mustard jumper in my life!
How could you not ooze confidence when wearing an outfit like that? It's on-trend, it's flattering, it's diversifiable, and not to mention, it's downright HOT.
Also, the photographer in me can't help but notice the aesthetics in this photo – perfection!
Lesbian Outfits for Couples
Well it would be rude not to include Natalie and I. When we're not living like scruffs in our campervan, we love to express ourselves with clothes. I'm more of a tomboy look while Natalie is more grunge.
Our friends Kirsty & Christine are #lesbianstylegoals. When it comes to coordinating their outfits, they nail it every time.
They recently started their own clothing line, and here's hoping that we can look at least as half as good as them in their garms.
Be sure to follow them on the 'gram for more inspiring travel & lesbian couple content.
OMG, How cute are they? I adore their matching outfits, and they come across as such a beautiful couple.
I especially love that their choice of fashion is so unique, and they prove that you don't always have to follow a trend in order to stand out.
In fact, individuality can be the best lesbian outfit of them all. Be sure to follow them on Instagram for more bold & colourful fashion inspiration and cute couple content.
Meet our good friends Chris and Alex. They are two of the most interesting and beautiful people we've had the pleasure of meeting online.
Not only that, they do a pretty rad job at coordinating outfits, which can't always be easy when Alex is a butch (princess) and Chris identifies as femme.
These bold floral prints make for perfect pride outfits, and the resemblance is subtle enough that you may JUST get away with not being stereotyped by all of your friends! 
OK, it's the last time now, I promise. But I mean, COME ON! How incredible do they look together?
Ashlyn is married to Ali Krieger (pictured), and they are the epitome of a power couple. It just radiates off of them, doesn't it?
And again, I could really do with having this suit in my life, please!
If you're looking for some femme/femme lesbian fashion inspo, you should definitely check out Whitney & Megan on Instagram.
Not only is their feed is bursting with colour, but they always have the most stunning and elegant coordinating outfits.
They are sporting quite a casual look here (I love those pastel tones), but you're sure to find inspiration for all kinds of occasions.
Our final lesbian couple outfit is another subtle one, but you can't deny that they compliment each other flawlessly.
Of course, they've got the aesthetics on point, and it helps that they're both so darn cute. But I'm most impressed with the matching pride sneakers.
Did You Find the
Lesbian Outfit for you?
Thank you for reading! We hope you enjoyed our list of the hottest lesbian outfits.
Which ones are your favourite? Let in know! You can reach out to us in the comment section below. Or if you have any questions for us, or anything you'd like to add to the article, don't hesitate to get in touch. We love hearing from you.
Happy styling!