In recent years, the Lesbian Netflix library has tremendously upped its game. What was once a handful of WLW titles is now an entire category dedicated to lesbian content. In this article, I'll be sharing my top 20 favourite lesbian Netflix movies and TV shows so that you can add them to your watch list.
Ever find yourself scrolling through the lesbian Netflix library, wondering what the best wlw movies and TV shows are? Yep, we've been there!
While Netflix now streams a realm of lesbian content (thank you, rainbow gods), it's not always easy to filter out the good from the bad. And let's face it, there's a lot of bad.
Luckily for you, I've filtered my way through 90% of the lesbian series and movies on Netflix. And I've managed to narrow it down to a manageable 20 titles.
On this list, you'll find 10 of the best sapphic movies and 10 of the best lesbian TV shows on Netflix. All that I'm recommending have lesbian storylines at their core – not just one supporting lesbian character in Episode 6 of Series 7.
So let's get to it; here are 20 of the best lesbian Netflix movies and tv shows streaming now.
Unlock 30+ Netflix libraries around the world!
You may find that some of the movies or TV shows in this list are not available in some regions. To get around this, we use Surfshark VPNExpress VPN, which allows us to unlock geo-restricted content on Netflix. We've found Surfshark to be THE best VPN to use with Netflix, allowing us to watch tons of content that we'd otherwise not have access to. Sign Up Here now and you'll receive a special discount.
10 Best WLW Movies on Netflix
1. Blue is the Warmest Colour
A French coming-of-age movie that fully conveys the overwhelming emotions of first love, Blue is the Warmest Colour caused quite the stir when it was released.
It continues to do so today, with many criticising the movie for its graphic sex scenes. Many argue that they are unnecessary and cater to the male gaze. Claims of poor working conditions by the lead actresses only add fuel to the fire.
The movie charts the lesbian love story of Adele and Emma. After a chance encounter, they fall in love, and the story follows their relationship from teenage years into early adulthood.
The two lead actresses depict the overwhelming emotions of young love perfectly. Yes, there are some graphic scenes; however, that's not all there is to the movie.
Controversies aside, Natalie and I loved this movie. It was one of the first lesbian movies we watched together, and we both found it incredibly relatable.
It's a shame that what went down went down, as it had the potential to be a masterpiece.
2. The Half of It
Films like The Half of It don't come along often, which is a damn shame.
A 2020 Netflix original, this is a charming coming-of-age comedy by Alice Wu. You may know the name, as she also directed Saving Grace, another lesbian film that's well worth a watch.
The story follows Ellie, the high school nerd who makes money by doing coursework for her high school peers. When Paul offers to pay Ellie to write love letters to his love interest Ester, neither anticipate that they'd end up falling for the same girl.
The movie manages to juggle serious topics like cultural and religious expectations while remaining lighthearted and fun to watch. It's a unique and well-handled storyline featuring one of our all-time favourite lesbian scenes.
3. The Prom
Directed by Ryan Murphy and starring a stellar cast, The Prom is an all-singing, all-dancing musical, with its campness metre ramped up to the highest.
Adapted from the Broadway show of the same name, it follows high-school student Emma, who's devastated when the PTA decide she can't take her girlfriend to prom.
When a group of has-been Broadway stars get wind of the story on social media, they see an opportunity to revive their careers. They drive to the small Indianan town and rally behind Emma to stand up against inequality.
Complete with catchy music, an important message, and all the glitter and glamour, we found the movie highly entertaining. But many have condemned James Corden's performance, particularly describing it as homophobic and over-the-top.
4. The Miseducation of Cameron Post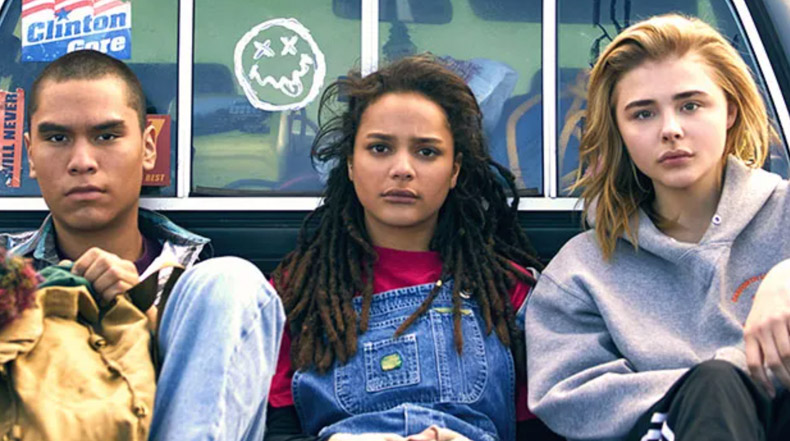 Derived from the book of the same name, The Miseducation of Cameron Post tells an all-too-real account of growing up in a conservative family.
When Cameron is caught with the prom queen in the back of a car, she's sent away to a gay conversion camp called 'pray away the gay'. Here, they subject Cameron and her peers to questionable therapies in the hope of curing them of their 'illness'.
While Cameron's bond with fellow residents is a beacon of light, the whole ordeal is traumatic. It's incredibly sad to think that some young LGBTQ people have to go through this.
All in all, it's one of the darker lesbian movies on Netflix, but a crucial watch nonetheless.
5. Booksmart
On the opposite end of the scale, there's Booksmart – A lesbian comedy that's not only hilarious but does a fantastic job at normalising same-sex relationships.
The storyline follows two best friends, Amy and Molly. As they approach graduation, they realise that they've spent way too much time wrapped up in their school work. So much so, they've forgotten to have any fun.
When their fellow students tease them for being teacher's pets, Amy and Molly decide to have one wild night out. Of course, nothing goes to plan, and a series of comical events ensues.
Plot twist, Amy is a lesbian. But there's none of the tropes or cliches that you get with other coming-of-age movies. She doesn't die, she doesn't fall for her best friend, and she doesn't get bullied.
We need more lesbian representation like this in cinema.
6. A New York Christmas Wedding
A New York Christmas Wedding is another delightful addition to the ever-growing lesbian Christmas movie list, and the storyline is important in more ways than one.
I should start by mentioning that this movie is an extremely low budget production, and unfortunately, it shows. But please don't allow that to overshadow the fact that this is a queer Christmas movie. Not only that, a queer Christmas movie with a woman of colour at its lead.
The movie follows Jenny, who shortly before her Christmas eve wedding, gets paid a visit by her guardian angel. Similar to the festive classic A Christmas Carol, the angel shows Jennifer what life might have been like if she hadn't denied her feelings for her childhood friend, Gabby.
In many ways, this movie is your typical cheesy Christmas rom-com. But don't we all love a bit of that at this time of the year? Not to mention we should all celebrate the inclusivity of this movie. So be sure to add this to your watch list this December.
7. Carol
Cate Blanchet and Rooney Mara are sensational in Carol. A stunning period drama about two women who defy all odds and fall in love.
It's the 1950s in NYC when Carol and Therese meet in a department store. Therese, a young and timid shopworker, and Carol, a bold and sophisticated older woman.
There's an immediate attraction between the unlikely pair, and they find an excuse to see each other again. But it's complicated, as Carol is also married.
The way the relationship develops between the couple is a pleasure to watch. Nothing feels at all forced, and the leads have incredible chemistry. It's no wonder it's regarded as one of the best LGBTQ movies of all time.
8. The Handmaiden
This erotic thriller is a loose adaptation of the famous lesbian novel, Fingersmith. Only, it doesn't take place in Victorian England like the book – it is set in Japanese-occupied South Korea instead.
Other than that, the storyline resembles that of the lesbian classic. A young woman assumes the role of handmaiden for a wealthy family as part of a devious plan to trick the young heiress into marrying a con man.
Needless to say, the handmaiden develops feelings for the heiress, and a passionate relationship develops. The way the movie tells the story from three different angles is incredibly clever, and it's some of the best cinematography that I've seen in any LGBTQ+ movie.
The two main actors have chemistry and effortlessly portray the role of two women in love. You can expect several lengthy and graphic scenes between the two; However, the beauty and rawness of the production keep it from looking and feeling like a porno.
9. My Days of Mercy
Elliot Page stars as Lucy in My Days of Mercy, a young woman whose father is on death row.
Lucy and her older sister Martha travel around the country in a camper van, partaking in anti-death penalty demonstrations. Only at one protest, she locks eyes with Mercy who is an activist for the opposite side.
Despite their conflicting views, the tension builds as Lucy and Mercy get to know one another. And soon enough their relationship turns romantic.
They have their complications and the movie isn't perfect. However, in what should be quite a dark and distressing storyline, the relationship between Lucy & Mercy is a beacon of light.
10. A Perfect Ending
I have to admit; I didn't have high hopes for this movie after reading the synopsis, but it turned out to be quite an emotional watch.
The storyline follows middle-aged housewife Barbara, who, having never had an orgasm, calls in a female escort to do the job. You know, as you do.
When Barbara meets Paris, the two women have an instant connection. And they fall in love in the most unlikely of circumstances.
Admittedly, the movie is cringe-worthy at times and falls victim to a typical lesbian trope. However, there's superb acting and artistic cinematography make the movie worth a watch.
The Best Lesbian TV Shows on Netflix
1. Orange Is the New Black
Unless you've been hiding under a rock somewhere, I'm sure Orange Is the New Black requires little introduction.
This lesbian Netflix sensation exploded when it hit our screens in 2013, and we, like so many others, were so ready for it! I mean, we hadn't seen this much lesbian action since the L Word.
Set in a female prison, you already know that it's going to be gay AF. But with OITNB, you get so much more than that. It's inclusive, diverse, and addresses important societal issues.
Supported by complex and unforgettable characters, the storylines are fantastic as well. Honestly, it ticks all of the boxes.
2. The Haunting of Bly Manor
After waiting far too long for the follow up to The Haunting of Hill House, I think we were all surprised to find a lesbian love story at the centre of the storyline.
Different story, same cast, and while it's not as scary as its predecessor, the blossoming relationship between Jamie and Dani secures its place as one of the best lesbian series on Netflix.
Although, I was slightly disappointed by the lack of scare factor. The Haunting of Hill House was such a superb supernatural horror, and I'd love to see more of that next time.
3. Sense 8
I always get such a pining in my heart when I reminisce on this show. It's one of my favourite shows of all time, and I'll never forgive Netflix for cancelling it after two seasons.
Nonetheless, Sense 8 is a show you cannot miss. It's a unique sci-fi thriller produced by the Wachowski sisters – the trans duo behind The Matrix and Bound.
It follows eight strangers around the globe who one day find themselves linked mentally by a shared ability to connect to one another's thoughts and actions.
While figuring out what it means, a mysterious organisation attempts to hunt them down, and the group must find a way to survive.
The lead characters include a bi-racial lesbian couple, one of whom is transgender, and also a gay couple.
4. Ratched
As twisted and eccentric as one might expect from a Ryan Murphy Creation, Ratched is a psychological thriller that delights as much as it disturbs.
Starring the lavish Sarah Paulson, the show tells the origin story of Mildred Ratched. The mean and ruthless nurse featured in Ken Kesey's 1962 novel One Flew Over the Cuckoos Nest.
When Ratched applies for a job at a mental asylum, she convinces the doctor she's a caring and competent nurse. However, it's not long before she reveals her dark side, and it seems there's a lot more to her than meets the eye.
I'll admit, it's probably not a show for everyone; however, we absolutely adored the gore, the twists, and the campness of it all. And the lesbian romance between Sarah Paulson and Cynthia Nixons characters (both openly queer in real life) is a real highlight
5. Orphan Black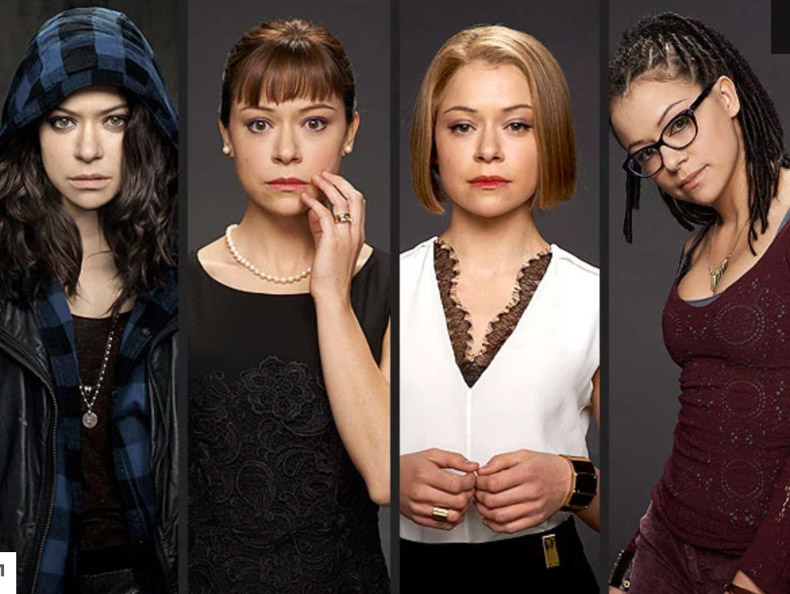 In this creative, exciting, science-fiction thriller, we are introduced to a world of clones and conspiracy.
It all starts with Sarah. When she sees someone identical to her jump in front of a train, she sets off to find out who the woman is.
In doing so, she opens up a can of worms. She finds there are hundreds of clones just like her, and the whole thing gets more and more messed up as the show unravels.
Delphine and Cosima are the lesbian ship of the show. And while they get off to a rocky start, by the end, they are the epitome of #lesbiancouplegoals.
It's strange, as I connected with each character in Orphan Black in entirely different ways. I lusted over Rachel, found Cosima incredibly cute, wanted to be best friends with Helena, and related to Sarah.
Considering that each clone is played by the same person, it shows how outstanding an actress Tatiana Maslany is.
6. Sex Education
Prepare to laugh, cry and cringe with this hilarious teen comedy series, which follows Otis as he reluctantly becomes a sex therapist amidst his high-school peers.
Gillian Anderson plays Otis's Mum, and I challenge you not to fall in love with her a little bit. But while she's unfortunately not a lesbian, there's a cute lesbian relationship that develops in series 2.
Also worth a mention is the fabulously queer Eric, who is one of our favourite characters in the show.
6. A-Typical
Atypical is a charming and heartwarming comedy centred around an autistic teenage boy named Sam. The story follows Sam and his family as Sam decides he's ready to start dating.
The storyline is handled brilliantly and each of the characters is truly fantastic. One of them is Sam's younger sister, Casey, who in season two, lands in a cute lesbian relationship with her best friend.
7. Dead to Me
Prepare to go through the emotions while watching this dark comedy series, that follows the friendship of two women after meeting in a support group.
Don't worry; it's not as cliche as it sounds. Jen & Judy do not fall in love. But they do embark on a weird roller-coaster relationship that's like a car crash you can't turn away from.
The lesbian relationship doesn't happen until series 2, when Judy falls for a beautiful chef played by bisexual actress Natalie Morales.
They are downright adorable, and the writers did a superb job in normalising their relationship which we love to see.
8. Feel Good
Feel Good is a warm and lighthearted lesbian series on Netflix, following recovering cocaine addict and stand-up comedian Mae.
After falling for a straight girl at one of her shows, the storyline homes in on her struggles overcoming the toxic behaviours that destruct her life.
The humour is excellent, the love story is cute as hell, and Lisa Kudrow (Phoebe from Friends) plays Mae's unlikeable Mother.
Definitely, a binge-worthy lesbian Netflix show to add to the list!
9. The Fosters
In this LGBTQ+ family drama, Stef and Lena are an interracial lesbian couple raising a large family of biological, adoptive, and foster children.
Having lots of kids naturally comes with its challenges, and the show portrays Stef and Lena juggle raising their children and nurturing their own relationship.
Overall, the show provides some excellent storylines and important life lessons. It also does a great job of representing LGBTQ+ families and highlighting the ups and downs of family life.
10. A Secret Love
Coming out is a pinnacle moment in the lives of LGBTQ+ folk. And in this moving 2020 documentary, Terry Donahue and Pat Henschel come out to their families after decades of keeping their love a secret.
The couple fell in love in 1947 at a time when homosexuality was barely acknowledged, let alone accepted. They knew that their relationship would face intolerance and judgement, so they kept it to themselves for all those years.
It's sad to think that there are so many people who've had to hide their true identities. But I'm glad that these two finally got to share their inspiring love story with the world.
Don't Forget! You may find that some of the movies or TV shows in this list are not available in some regions. To get around this, we use Surfshark VPNExpress VPN, which allows us to unlock geo-restricted content on Netflix. We've found Surfshark to be THE best VPN to use with Netflix, allowing us to watch tons of content that we'd otherwise not had access to. Sign Up Here now and you'll receive a special discount.
What's Your Favourite Lesbian Netflix Movie or TV Show?
Let us know! We love hearing from you. You can reach out to us in the comment section below or through our contact us page.
If you enjoyed this article, you may also be interested in the following:
Don't forget to follow us on Instagram here, where we share more lesbian and couple content.
Happy binging,
Charlotte & Natalie x
Disclosure: Some of the links in this post are affiliate links. That means that if you purchase through these links, we will earn a small commission, at no extra cost to you. And we can continue bringing you free travel tips and advice. If you found the content helpful and are kind enough to use our affiliates – you are awesome, and we thank you!
PIN IT FOR LATER