Lesbian Netflix – 60+ Unmissable Lesbian Movies & TV Shows Streaming Now
Do you find yourself scrolling through the lesbian Netflix library, wondering what the best lesbian movies and TV shows are? Yep, we've been there! While Netflix now streams a realm of lesbian content (thank you, rainbow gods!), it's not always easy to filter out the good from the bad and the bad from the ugly.
Also, I don't know about you, but I like to know how much lesbian action I will get before committing myself. For example, is this TV show or movie oozing lesbian storylines like The L Word. OR, are we talking about one supporting lesbian character in Episode 6 of Series 7? Because honestly, ain't nobody got time for that.
Luckily for you, I have compiled a comprehensive list of the good, the bad, and the ugly of the lesbian Netflix library to help save you some time. I'm covering the best (and worst) lesbian movies on Netflix, as well as the ever-expanding list of lesbian TV shows and documentaries.
So let's get to it; here's a list of the lesbian movies, TV shows, and documentaries, streaming on Netflix right now. Please note, this list is ranked in no particular order.
Unlock 30+ Netflix libraries around the world!
You may find that some of the movies or TV shows in this list are not available in some regions. To get around this, we use Surfshark VPNExpress VPN, which allows us to unlock geo-restricted content on Netflix. We've found Surfshark to be THE best VPN to use with Netflix, allowing us to watch tons of content that we'd otherwise not had access to. Sign Up Here now and you'll receive a special discount.
Lesbian Movies on Netflix
1. Blue is the Warmest Colour
Let's start with what is probably the most famous and controversial lesbian movie ever made. I have to admit; while many have criticised the movie and that unforgettable 10-minute scene, the first time my girlfriend and I watched it, we really enjoyed it. I guess because we were young and in love ourselves, we found the movie sexy, moving, and relatable.
The french movie tells the story of a teenager named Adele, who falls for eccentric art student Emma after meeting her at a lesbian bar. The film follows their relationship into early adulthood and is a painful yet beautiful portrayal of first love, lust, and obsession.
That said, it's important to recognise the issues surrounding this lesbian movie. First of all, it's clear that there may be an element of exploitation by the straight male director. However, that isn't what disturbs me most. It's the alleged unjust treatment of both the cast and crew, which, if true, is unacceptable.
Overall, I can honestly say I don't find the movie offensive or degrading. Had it been a queer woman director, I believe the movie would be celebrated for its boldness rather than condemned. The lead actors Adèle Exarchopoulos and Léa Seydoux are exquisite, and the film has far more depth than the one famous intimate scene. Whichever side of the fence you sit on, Blue is the Warmest Colour is a must-watch.
Click Here to Watch the Trailer
2. The Half of It
The Half of It is easily one of the best lesbian movies available to stream on Netflix right now. A 2020 Netflix original, the movie is a charming coming-of-age comedy by Alice Wu – who also directed another must-watch lesbian movie, Saving Grace.
The story follows Ellie, the high school nerd who makes money by doing coursework for her high school peers. This entrepreneurship connects her with Paul, who hires Ellie to write love letters to his high school crush, Ester.
You guessed it, Ellie ends up falling for Ester herself. From a small town and born into a traditional Chinese family, this realisation is tough for Ellie. It's a very well handled storyline and features one of our all-time favourite lesbian movie scenes.
Click Here to Watch the Trailer
3. The Prom
Directed by the eccentric Ryan Murphy, and featuring an all-star cast including Meryl Streep, Nicole Kidman, and James Corden, The Prom is an all-singing all-dancing musical, with the campness metre ramped up to its highest.
The movie, adapted from a Broadway show of the same name, charts a group of Broadway stars who storm into an Indiana town to help support a high school girl who wants to take her girlfriend to the prom.
Complete with catchy music, an important message, and all the glitter and glamour, we found the movie highly entertaining. But many have condemned James Corden's performance, describing it as homophobic and inappropriate.
Click Here to Watch the Trailer
4. The Miseducation of Cameron Post
Based on the book of the same name, The Miseducation of Cameron Post is an important and heartwarming LGBTQ+ story. The movie opens with teenage Cameron, who is caught getting intimate with the prom queen in the back of a car.
Cameron's actions result in her being sent away to a gay conversion camp called 'pray away the gay'. And the story follows her journey as she is subjected to questionable therapies and makes friends with fellow residents.
This movie manages to capture a realm of emotions while portraying a very important story. So I'm sure you will love this lesbian movie just as much as we did.
Click Here to Watch the Trailer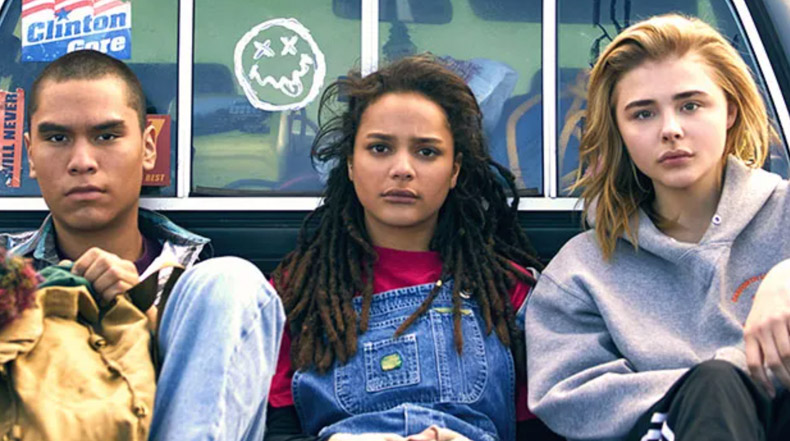 5. The Feels
Slightly silly, but equally entertaining, The Feels is a romantic comedy worthy of the 90-minutes you'll spend watching it.
The story is of engaged lesbian couple Andi and Lu. At their joint bachelorette party, Lu makes a drunken confession that she's never had an orgasm. EVER.
With such a catchy storyline, the movie has the potential to be funnier. However, the unravelling of Andi and Lu's relationship proves to be quite an intriguing watch.
Click Here to Watch the Trailer
6. A New York Christmas Wedding
A New York Christmas Wedding is another delightful addition to the ever-growing lesbian Christmas movie list, and the storyline is important in more ways than one.  
I should start by mentioning that this movie is an extremely low budget production, and unfortunately, it shows. But please don't allow that to overshadow the fact that this is a queer Christmas movie. Not only that, a queer Christmas movie with a woman of colour at its lead.
The movie follows Jenny, who shortly before her Christmas eve wedding, gets paid a visit by her guardian angel. Similar to the festive classic A Christmas Carol, the angel shows Jennifer what life might have been like if she hadn't denied her feelings for her childhood friend, Gabby.
In many ways, this movie is your typical cheesy Christmas rom-com. But don't we all love a bit of that at this time of the year? Not to mention we should all celebrate the inclusivity of this movie. So be sure to add this to your watch list this December.
Click Here to Watch the Trailer
7. Yes or No
Next up, we have a Thai lesbian movie, that stole our hearts with its adorable although slightly cheesy storyline. It is an iconic LGBT+ movie, in the sense that it is the first lesbian film from Thailand to feature a Tom (i.e. butch) lead character.
At first, Pie is intimidated by her Tomboy-ish roommate. But before long she finds herself increasingly attracted to her. Attraction and lust draw them together, but will traditional customs keep them apart? You'll just have to watch to find out!
Click Here to Watch the Trailer
8. Elisa and Marcela
In this next lesbian movie on Netflix, Elisa and Marcela depict the true story of Spain's first-ever same-sex marriage. The two women met in 1885, and what started as a friendship soon developed into love. A love that they had to keep secret.
Since gay marriage was still forbidden, Elisa adopted a male identity, and the pair went on to marry in 1901. When officials found out, a warrant was issued for their arrest, forcing the couple to flee to Argentina.
Not only is this a fascinating true story, but the intimate scenes are pretty great too!
Click Here to Watch the Trailer
9. Lovesong
If there's any film that's going to have you yelling at the screen 'just kiss, god damn it!', it's Lovesong. This subtle yet beautiful romance explores the underlying desire between two lifelong friends confused about their sexuality.
I love how well-acted and relatable this movie is, and when circumstances tear the friends apart, my heart broke harder than I care to admit. A few years later, Sarah attempts to save her relationship with Mindy before she marries. But will they get their happy-ever-after? You will have to see for yourself.
Click Here to Watch the Trailer
10. Chloe
I'm still on the fence about whether or not Chloe deserves its position on the list of best lesbian movies on Netflix. However, a stellar cast (Julianne Moore, Liam Neeson, and Amanda Seyfried) and a semi-interesting plot just about secure it.
The storyline involves Catherine, who suspicious of her husband's infidelity, hires an escort to test his loyalty. Plot twist, Catherine ends up falling for her herself. And the steamy scenes and intense acting that follow are what saved this movie from being a complete disaster.
Click Here to Watch the Trailer
11. Carol
Next up, we have the movie Carol, which is not only one of the best lesbian films streaming on Netflix but ever produced. Set in 1950s New York, Carol follows aspiring photographer Terese, who falls for beautiful older woman Carol upon meeting her in a department store.
Naturally, Carol and Therese embark on a romantic love affair. But with Carol going through a tricky divorce, they are playing a dangerous game.
Derived from the lesbian novel The Price of Salt, Carol is a timeless and exquisite production. And it's certainly one you do not want to miss.
Click Here to Watch the Trailer
12. My Days of Mercy
Elliot Page stars as Lucy in My Days of Mercy, a young woman whose father is on death row. Lucy and her older sister Martha travel around the country in a camper van, partaking in anti-death penalty demonstrations. Only at one protest, she locks eyes with Mercy who is an activist for the opposite side.
Despite their conflicting views, the tension builds as Lucy and Mercy get to know one another. And soon enough their relationship turns romantic. They have their complications and the movie isn't perfect. However, in what should be quite a dark and distressing storyline, the relationship between Lucy & Mercy is a beacon of light.
Click Here to Watch the Trailer
13. Loving Annabelle
While not the most creative of lesbian storylines; Loving Annabelle, is incredibly gripping. Not to mention, kinda relatable to anybody who's ever had a crush on their high school teacher.
Annabelle is a troubled teen who after being kicked out of two high schools, lands up in a catholic boarding school. It's here that she meets sheltered teacher Simone, and the film charts their relationship as the sexual tension between them builds to its crescendo.
A relatively well-acted production, a cute storyline, and a notable sex scene make this movie an essential watch.
Click Here to Watch the Trailer
14. The Handmaiden
Bizarrely, this erotic South-Korean thriller is a loose adaptation of the famous lesbian novel, Fingersmith.
In regards to the storyline, it's very much the same as the book. A young woman assumes the role of handmaiden for a wealthy family as part of a plan to deceive the young heiress into marrying a con man.
Needless to say, the handmaiden develops feelings for the heiress, and a passionate relationship develops.
You can expect several lengthy and graphic scenes between the two women. However, the beauty and rawness of the production keep it from looking and feeling like a porno. The two main actors have chemistry and portray the role of two women in love effortlessly.
All things considered, The Handmaiden is another must-watch.
Click Here to Watch the Trailer
15. Ek Ladki Ko Dekha Toh Aisa Laga (How I Felt When I Saw That Girl)
Ek Ladki Ko Dekha Toh Aisa Laga translated as, "How I Felt When I Saw That Girl", is making waves in Indian cinema as Bollywood's first-ever lesbian rom-com.
The storyline centres around a young in-the-closet lesbian, Sweety Chaudhary, whose traditional parents seek to marry her off to a man. Unsurprisingly, they are unaware of their daughter's sexuality. Not to mention that she is already in love with another woman.
I can think of several reasons why I loved this movie; however, having such a beautiful LGBT+ representation within Bollywood is revolutionary and amazing to see. Needless to say, I highly recommend you watch this one!
Click Here to Watch the Trailer
16. Concussion
Another trashy movie that revolves around lesbian sex, Concussion is sure to get you a little hot under the collar.
Abby is at the centre of the storyline. And after experiencing a blow to the head seeks sexual experiences outside of her marriage. She hooks up with a lesbian prostitute and later decides she wants to become one herself.
It's a weak storyline but has some steamy scenes, so I'll let you decide if it's worth a watch or not!
Click Here to Watch the Trailer
17. Duck Butter
You only have to google the meaning of Duck Butter to get an idea of what you can expect from this movie.
Relative to the other movies on this list, Duck Butter isn't terrible. But the storyline which involves a 24-hour romp between the female leads in the hope that they'll realise their compatibility is weak and far fetched.
Again don't expect much and you won't be disappointed!
Click Here to Watch the Trailer
18. Let it Snow
Having queer representation in a Christmas movie is a revelation. And to be honest with you, the queer characters in Let It Snow are one of the major highlights of the film.
The story follows a group of friends brought together by a snowstorm on Christmas Eve. It's every bit cliche and predictable as most Christmas rom-com's. But it's got all the feel-good factor that we enjoy about these movies as well.
Click Here to Watch the Trailer
19. The Perfection
If it hadn't been for the fact that The Perfection is the only lesbian horror movie on Netflix, it likely wouldn't have made this list at all. But it is, and so it is.
Now I should warn you; there are scenes in the film that could turn the strongest of stomachs. And the themes of violence and abuse warrant a trigger warning. But if you like gory thrillers with a lesbian couple at its core, you might just about enjoy this movie.
Click Here to Watch the Trailer
20. So My Grandma's a Lesbian
Despite the bad reviews, I had high hopes for this recent lesbian movie on Netflix. However, unfortunately, it didn't quite hit the mark for me.
I'll start by saying that this quirky Spanish comedy has an indisputable catchy title and storyline. The movie charts Eva, who not long before her marriage into a conventional family, finds out that her eccentric Grandmother is in-fact a lesbian.
The movie had the potential to be a fun and unique LGBTQ movie. However, its focus on side plots involving straight cast members draws away from what could have been a beautiful lesbian love story.
Click Here to Watch the Trailer
21. Someone Great
If you're seeking a feel-good movie, Someone Great should be at the top of your list. This movie centres around Jenny who's just split up with her long-term boyfriend. After grappling to come to terms with being single, she calls in her good friends to help cheer her up.
One of those friends is Erin, a badass lesbian woman struggling to tie down her fun-loving girlfriend. While the queer storyline takes a back burner in the film, this funny and heartwarming story of friendship is enough to win anybody over.
Click Here to Watch the Trailer
22. Below Her Mouth
If you're down for some more raunchy scenes, Below Her Mouth is by far one of the most explicit lesbian movies on Netflix. I'm talking about a LOT of sex that goes on in this movie. And the scenes are hot! So it's a real pity that the script and storyline are not.
I'm sure you will agree that the stereotypical storylines of an emotionally unavailable androgynous character and a closeted lesbian cheating on her fiance have both run their course. Yawn. But is it worth watching for the sex scenes? Potentially, yes.
Click Here to Watch the Trailer
23. A Perfect Ending
I have to admit; I didn't have high hopes for this movie after reading the synopsis, but it turned out to be quite an emotional watch.
The storyline follows middle-aged housewife Barbara, who, having never had an orgasm, calls in a female escort to do the job. You know, as you do.
When Barbara meets Paris, the two women have an instant connection. And they fall in love in the most unlikely of circumstances.
At times the movie is quite cringe-worthy; however, there's some superb acting and artistic cinematography that make the movie worth a watch.
Click Here to Watch the Trailer
24. Chasing Amy
We are all for a controversial movie, and this 90s movie certainly doesn't disappoint. The sexual politics of this movie p*ssed many people off; However, we found it incredibly entertaining. And so long as you keep an open mind, I'm sure you will too. *Stop reading here to avoid any spoilers!*
Chasing Amy is a romantic comedy about a guy who falls in love with his best friend Amy, who is, in fact, a lesbian. While Amy insists nothing will ever happen between them, she does eventually hook up with him. Admittedly, this isn't ideal, giving the impression to men everywhere that they do have a chance *sigh*. But it is also an accurate portrayal of how fluid sexuality can be.
Funny, lighthearted, and well-casted, I'd say this lesbian Netflix film is worth a spot on your watch list.
Click Here to Watch the Trailer
Lesbian TV Shows on Netflix
Now we are going to take a look at what I consider to be the best lesbian tv shows on Netflix. Each of these shows features either a gripping queer storyline or a powerful queer character. And life will not be complete until you've watched each and every one of them. Basically, you need to add each of these lesbian TV shows to your watch list immediately.
1. Orange Is the New Black
Unless you've been hiding under a rock somewhere, I'm sure Orange Is the New Black requires little introduction. This lesbian Netflix sensation exploded when it hit our screens in 2013, and we like so many others, were so here for it!
Set in a female prison, you already know there is going to be plenty of queer characters. But not only that, the characters are complex, diverse, and fascinating to watch.
The storylines are pretty epic too. You can expect sex, love, emotion, comedy, violence and more in this one of a kind comedy-drama.
Click Here to Watch the Trailer
2. The Haunting of Bly Manor
The spooky follow up to The Haunting of Hill House features the lesbian love story that would go on to occupy every queer girl's mind towards the end of 2020.
Different story, same cast, and while it's not as scary as its predecessor, the blossoming relationship between Jamie and Dani secures its place as one of the best lesbian series on Netflix.
We've recently finished the show, and while I absolutely adored Jami and Dani's love story, I was disappointed by the lack of scare factor. The Haunting of Hill House was such a superb supernatural horror, and I'd love to see more of that next time.
Click Here to Watch the Trailer
3. Sense 8
You'll probably hear me say this a lot throughout this list, but we absolutely loved this show. It's got a bit of everything we love – travel, sci-fi, sex, action, and of course, plenty of queer action.
Sense 8 is about eight strangers from around the globe who one day wake up to find themselves connected. It seems they can connect with one another's thoughts, actions, and even feelings.
It's a fast-paced show that will keep you on the edge of your seat, and I just know you're gonna love it just as much as we did.
Click Here to Watch the Trailer
4. Ratched
Starring the lavish queen herself, Sarah Paulson, this recent Ryan Murphy creation is as twisted and eccentric as you might expect.
Ratched tells the origin story of Mildred Ratched from 'One Flew Over the Cuckoos Nest' before she became the ruthless Nurse that we see in the movie.
While the show received mixed reviews, we absolutely adored the gore, the twists, and the campness of it all. But it's the beautiful romance between Sarah Paulson and Cynthia Nixon (both openly queer in real life) that had us hooked on this Lesbian Netflix series.
Click Here to Watch the Trailer
5. Sex Education
Prepare to laugh, cry and cringe with this hilarious teen comedy series, which follows Otis as he reluctantly becomes a sex therapist amidst his high-school peers.
Gillian Anderson plays Otis's Mum, and I challenge you not to fall in love with her a little bit. But while she's unfortunately not a lesbian, there's a cute lesbian relationship that develops in series 2.
Also worth a mention is the fabulously queer Eric, who is one of our favourite characters in the show.
Click Here to Watch the Trailer
6. A-Typical
Atypical is a charming and heartwarming comedy centred around an autistic teenage boy named Sam. The story follows Sam and his family as Sam decides he's ready to start dating.
The storyline is handled brilliantly and each of the characters is truly fantastic. One of them is Sam's younger sister, Casey, who in season two, lands in a cute lesbian relationship with her best friend.
Click Here to Watch the Trailer
7. Dead to Me
Prepare to go through the emotions while watching this dark comedy series, that follows the friendship of two women after meeting in a support group.
Don't worry; it's not as cliche as it sounds. Jen & Judy do not fall in love. But they do embark on a weird roller-coaster relationship that's like a car crash you can't turn away from.
The lesbian relationship doesn't happen until series 2, when Judy falls for a beautiful chef played by bisexual actress Natalie Morales. They are downright adorable, and the writers did a superb job in normalising their relationship which we love to see.
Click Here to Watch the Trailer
8. You
In this creepy psychological thriller, handsomely charming Joe can't help but develop unhealthy obsessions with attractive women. Only he's not the only one. And in the first season, sexy Shay Mitchell's character is stalking the same girl that Joe is.
The storyline takes on a dangerous game of cat and mouse, coming to a head in an explosive finale! There are also some lesbian characters in season two, although they are far less prominent. Either way, both seasons are incredibly addictive.
Click Here to Watch the Trailer
9. Feel Good
Feel Good is a warm and lighthearted lesbian series on Netflix, following recovering cocaine addict and stand-up comedian Mae. After falling for a straight girl at one of her shows, the storyline homes in on her struggles overcoming the toxic behaviours that destruct her life.
The humour is excellent, the love story is cute as hell, and Lisa Kudrow (Phoebe from Friends) plays Mae's unlikeable Mother. Definitely, a binge-worthy lesbian Netflix show to add to the list!
Click Here to Watch the Trailer
10. Everything Sucks
There's not a lot not to love about this lesbian tv show on Netflix. Other than the fact they axed it after one series for reasons I will never quite understand.
Having grown up as a 90s kid, I loved the shows retro vibe. And its various references from that era left me feeling incredibly nostalgic.
I think every girl who grew up questioning their sexuality will resonate with the lead character Kate, whose world flips upside down after she sees two girls kissing at a concert.
Click Here to Watch the Trailer
11. One Day at a Time
A classic 1970s American sitcom reboot takes on a modern approach in One Day at a Time. The series follows the life of Penelope and her Cuban-American family as they navigate through life.
One of them is Penelopes daughter, who comes out as a lesbian in season one. In season two, she gets a non-binary partner and challenges stereotypes by rocking up to her school prom in a tux.
Click Here to Watch the Trailer
12. Trinkets
In this inclusive teen drama, Elodie, Moe, and Tabitha form an unlikely friendship after a chance encounter at a Shoplifters Anonymous meeting.
On paper the girls have nothing in common; however, they form a bond over their shared shoplifting habit. They later find that they can learn a lot from one another, as they navigate through their own personal issues.
Elodie is openly gay in the series and is played by lesbian actress Brianna Hildebrand. And she develops a love interest with aspiring singer Sabine in series one. Furthermore, Tabitha is played by non-binary actor Quintessa Swindell.
Click Here to Watch the Trailer
13. The Fosters
In this LGBTQ+ family drama, Stef and Lena are an interracial lesbian couple raising a large family of biological, adoptive, and foster children.
Having lots of kids naturally comes with its challenges, and we watch as Stef and Lena juggle raising their children and nurturing their own relationship.
Overall, the show provides some excellent storylines and important life lessons. It also does a great job of representing LGBTQ+ families and highlighting the ups and downs of family life.
Click Here to Watch the Trailer
14. I Am Not OK With This
In this teen lesbian series on Netflix, we follow Sydney as she comes to terms with her sexuality, her father's suicide, and her newly discovered superpowers.
Sydney ends up falling for her best friend, Dina who is dating one of the high-school jocks. This makes Sydney super jealous causing her powers to start acting up and putting her in funny yet awkward situations.
Based on the comic of the same name, the show, unfortunately, got the chop after only one season, but it's well worth a watch nonetheless.
Click Here to Watch the Trailer
15. Gypsy
Come for the lesbian sex scenes. Stay for the lesbian sex scenes. But don't expect too much else from this psychological thriller involving a bi-sexual therapist in New York.
Naomi Watts plays the role of Jean Holloway, a mysterious character who gets way too involved in the lives of her patients forming intimate relationships with people close to them.
It's a twisted plot with the potential to be good, but the poor writing and endless unanswered questions left me incredibly frustrated by this series.
Click Here to Watch the Trailer
16. Black Lightning
On paper, there is a lot to love about Black Lightning. Not only does the superhero series feature some juicy lesbian scenes. But it also highlights TV's first Black lesbian superhero, while celebrating Black culture in general. Honestly, I haven't seen it yet. But it's one lesbian series we are keen to watch.
Click Here to Watch the Trailer
17. The Shannara Chronicles
Lord of the Rings meets Game of Thrones in this American fantasy drama. Based on best-selling novels and set in New Zealand, the story follows an elven princess, a human, and a half-elf as they embark on a magical adventure. The human character, Eretria, is bisexual and has a very pretty girlfriend named Lyria.
Click Here to Watch the Trailer
18. Wynonna Earp
The primary storyline of this horror/supernatural/western series follows Wynonna as she returns to her hometown. Her mission: To rid the world of the demonic revenants her Grandfather once killed.
The sub-plot; however, involves Wynonna's sister who winds up in a lesbian relationship with the local Sheriff. I can't speak from experience, but there has been a LOT of hype over this on-screen queer relationship, so this lesbian show streaming on Netflix has to be worth a watch.
Click Here to Watch the Trailer
19. She's Gotta Have It
Based on the 80's film of the same name, She's Gotta Have It follows pansexual Nola Darling on her journey of self-discovery.
The second series explores Nola's sexuality in more detail, and we also get some steamy lesbian scenes.
The series has received some praise, however, its messy politics has been criticised at the same time.
Click Here to Watch the Trailer
20. The Politician
As with anything created by Ryan Murphy, you can fully expect a multitude of queerness in The Politician. The storyline focuses on Payton Hobart, who decides at the age of 7 she wants to become President of the United States.
In the first series, Payton's Mum played by Gwyneth Paltrow embarks on a lesbian affair. There's also another lesbian character played by queer black actress Rahne Jones. And Trans actor Theo Jermaine plays one of Payton's political advisors so the show offers great representation all around.
Click Here to Watch the Trailer
21. The Sinner
I'm struggling to decide whether The Sinner is actually good. Or if it's more like a car crash you can't turn away from. The first series is especially disturbing, and while it features no queer characters there was that awkward scene between two sisters. In season two, however, we are introduced to a Black lesbian cop named Heather, who finds herself in a messed up relationship with a lead figure in the case.
Click Here to Watch the Trailer
22. Glee
Everybody fell in love with Glee. Everybody except me that is. While many religiously tuned in for the all-singing all-dancing cheese-fest, I can't understand what the fuss is all about.
In series two, one of the lead characters comes out as a lesbian and ends up in a relationship with her best friend. The storyline was progressive for its time and resonated with closeted teen lesbians all over the world.
Netflix Shows with Lesbian Characters
OK, finally we are going to take a glimpse at the Netflix TV shows that feature lesbian characters. You won't necessarily find the queer characters at the centre of any major storylines. But they do make each of the shows all the more fabulous just by being there. I'll also try to let you know when in the show you can expect the lesbian characters to make an appearance.
1. Stranger Things
Easily one of the best Netflix series ever released, Stranger Things sees a small, unassuming town transform into a supernatural realm of strange goings-on. The characters are fantastic, and the 80s setting provides such a retro vibe.
Stranger Things is probably one of our favourite ever shows, so imagine our joy when the writers introduced a lesbian character in season 3. Throughout the season we are lead to believe that Robyn has a crush on Steve, but it turns out that isn't the case after all.
2. The Haunting of Hill House
As the name suggests, this 10-part Netflix series is more about a haunting than it is a queer storyline; however, one of the lead characters is a lesbian played by the beautiful Kate Siegel.
Siegel plays a hot lesbian named Theo. The storyline follows Theo and her siblings into adulthood after being brought up in one of the most haunted houses in the country.
Not only does the show pack a punch when it comes to the scare factor. But Theo shares a few steamy romps throughout the season as well. By far, one of my favourite tv shows on Netflix!
3. Skins
Skins is somewhat of a cult classic from my teenage years. But it's still very much relevant and entertaining to this day. The show follows the lives of a group of teenagers in Bristol, England. And amongst them, they develop a wealth of issues that are prevalent amongst youths.
Some of the topics that span from substance abuse and eating disorders to teenage pregnancy and mental illness are deep and should be distressing. Yet Skins manages to approach them in a sensitive yet lighthearted way. The first two seasons are the best, but the queer storylines occur later on.
4. The Umbrella Academy
In this American superhero series, we meet an estranged family of child superheroes, who must reunite to save the world. The beloved series stars Elliot Page, who comes out as a lesbian in series two. Now he's come out as transgender, it will be interesting to see how the show develops in the next season.
5. Jessica Jones
In this Netflix original, we learn more about the life of Marvel's mysterious superhero Jessica Jones. It also sees us introduced to Marvel's first-ever lesbian character – lawyer and powerhouse Jeri Hogarth. As well as Marvel's very first trans character played by trans actress Aneesh Sheth.
6. How To Get Away With Murder
If you want a gripping crime drama that features some queer characters, this is the show for you. How To Get Away With Murder tells the story of a group of ambitious law students who become involved in a twisted murder plot alongside their criminal defence professor. The professor is a bisexual Black woman played by Viola Davis, and her protagonist role is pivotal to queer TV history.
7. The End of the F*cking World
In this hilarious dark British comedy, James is convinced he is a psychopath and needs to kill. He embarks on a road trip with Alyssa and plans to kill her; however, the story takes a different turn. The detectives looking for James and Alyssa are two lesbians who once had a thing, and now it's hilariously awkward.
8. The Fall
In this British psychological thriller, Gillian Anderson plays a sexually fluid detective, on the hunt for a twisted serial killer. 'Sexy' Stellar as we have come to nickname her, works alongside a lesbian detective as well as a cute sexually-confused doctor. But which one do you think she makes out with?
9. Russian Doll
This one-of-a-kind show follows Nadia, a young woman who finds herself stuck in some kind of groundhog day. Only this continuous loop sees Nadia repeatedly die at a party, only for her to wake up fine on what appears to be the next day.
It sounds cliche, but it's actually very very funny. And of course, there are a few lesbian characters. Rebecca Henderson, who is a lesbian in real life, plays Nadia's best Lizzy who just so happens to be married to the show co-creator Leslye Headland.
10. Shameless
While Shameless isn't an explicitly lesbian show, we meet numerous lesbian characters throughout each season.
The American remake of the British Classic is also hilarious, with countless quirky characters and gripping storylines.
Both the American and British versions of Shameless are well worth a watch!
11. American Horror Story
The American Horror anthology of stories are shocking, horrifying, and at times, damn right grotesque. But what else can you expect from Ryan Murphy? Everything is far fetched and entirely over the top. However, the show managed to pull it off. Well, for the first few seasons at least.
We loved how every season took on a fresh new story, and the first 4 or 5 seasons were perfect. The show introduced us to the fabulous Sarah Paulson. And in series two they gave us what we'd been waiting for. Asylum sees Paulson play a complex lesbian character institutionalised for her sexual orientation.
12. Dear White People
In this series based on the film of the same name, the story follows a group of Black students navigating various forms of racism and discrimination on their predominantly white college campus.
In series two, one of the lead characters, Kelsey, comes out as a lesbian. And various other queer characters make an appearance throughout the show. However, it's the important topics that this show addresses that really makes the show worth watching.
13. Cable Girls
Set in the 1920s, Cable Girls follows the story of four women from different backgrounds who share various passions. One of which is the desire to work, which in those days was unusual. So after starting work at a cable company, they become close friends. One of the cable girls turns out to be a bisexual who ends up falling for another cable girl.
The Best Lesbian Documentaries on Netflix
I say all of the best lesbian documentaries on Netflix when in fact, this is ALL of the lesbian documentaries on Netflix. But they are all pretty good, and most certainly worth a watch.
1. A Secret Love
A Secret Love took Netflix by storm this year. In this moving 2020 documentary, Terry Donahue and Pat Henschel come out to their families after decades of keeping their love a secret.
Coming out is a pinnacle moment in the lives of so many of the LGBTQ+ community. And Terry and Pat's story proves that it comes with its complication regardless of your age.
We adored this beautiful love story and have no doubt you will too. Just make sure that the tissues are on hand.
2. Tig
Comedy, emotion, romance, and a lesbian family are just a few of the gems you can expect from this uplifting documentary. Tig chronicles American comedian Tig Notaro following a groundbreaking performance that changed her life forever.
Without giving too much away, the documentary hits home how life can change at any given moment. And how Tig deals with an immensely testing time in her life is an inspiring and positive message to us all.
3. Ellen DeGeneres Relatable
If you get and enjoy Ellen DeGeneres's humour, then you are going to love this 70-minute stand-up special. Personally, her goofy humour grates on me after a while. But each to their own.
What makes this documentary worth watching in my opinion, however, is Ellen's vulnerability as she shares her experiences coming out and how the people she loved consequently rejected her.
For that reason, it's a poignant and relatable watch for all queer people.
Don't Forget! You may find that some of the movies or TV shows in this list are not available in some regions. To get around this, we use Surfshark VPNExpress VPN, which allows us to unlock geo-restricted content on Netflix. We've found Surfshark to be THE best VPN to use with Netflix, allowing us to watch tons of content that we'd otherwise not had access to. Sign Up Here now and you'll receive a special discount.
More Like This
We hope you enjoyed this list of the best lesbian movies and lesbian tv shows on Netflix. Be sure to let us know if you have any others that you think deserve to be on this list. You can reach out to us in the comment section below or through our contact us page.
If you enjoyed this article, you may be also be interested in the following:
Happy binging,
Charlotte & Natalie x
Disclosure: Some of the links in this post are affiliate links. That means that if you purchase through these links, we will earn a small commission, at no extra cost to you. And we can continue bringing you free travel tips and advice. If you found the content helpful and are kind enough to use our affiliates – you are awesome, and we thank you!
PIN IT FOR LATER
Last Updated on October 11, 2021 by Our Taste For Life