Looking for the best lesbian movies of all time? We've rounded up 30 of our favourite sapphic and wlw films that are well worthy of a spot on your watchlist.
Have you often wondered if you'll find a lesbian movie that isn't overrun with tropes and cliches? Yes, us too.
Admittedly some stereotypical wlw movies are quite entertaining, some of which you might even find on this list. However, there's no denying that the all too familiar storylines get somewhat… boring.
That's why we've made it our mission to research all of the lesbian movie titles we could find. I mean, it's hard work all this, uh-hum researching. But we really wanted to bring you the best and most diverse list we could come up with.
It's actually quite reassuring to find there are so many lesbian movies out there. From the classics and romance titles, to period dramas and even lesbian Christmas movies, we've got representation in all the genres ya'll.
For the sake of this list, we've picked 30 of our favourite wlw movies. All of which moved us, made us laugh, made us cry, turned us on, or were relatable in some way or another. I can't guarantee they all have happy endings, but I can promise even the tragic ones are forgivable.
So with all that out the way, let's jump into what you came here for. Please note, this list is ranked in no particular order.
Disclosure: Some of the links in this post are affiliate links. If you purchase a product through these links, we will earn a small commission at no extra cost to you. And we can continue bringing you free tips and advice. If you found the content helpful and are kind enough to use our affiliates – you are awesome, and we thank you! 
History of Lesbian
Representation in Cinema
I know you're all desperate to know what our favourite lesbian movies are. But I thought it would be interesting to look at the history of lesbian representation in cinema. Or lack of, should I say. With that in mind, it shan't take long.
Did you know that cinema's first lesbian character appeared in 1929 in the movie Pandora's Box? There were actually a few notable lesbian characters in cinema around that time. The pinnacle being the release of the first explicitly lesbian movie 'Mädchen in Uniform' in 1931.
The German drama tells the story of a young schoolgirl who falls in love with her female teacher. It was both shocking and revolutionary for its time, and N@zis would later attempt to rid the world of it without a trace. Thankfully, the movie survived, and you can watch it today on YouTube.
Following that, the appearance of lesbians in cinema was few and far between. A 1950s movie called 'Pit of Loneliness' explored lesbian themes. As did 'The Children's Hour' starring Audrey Hepburn in 1961 and 'The K!lling of Sister George' in 1968.
Then came along the 80s with cult classics 'The Hunger' and 'Desert Hearts'.  
Ultimately, however, it's the past two decades where we've seen the most progression both on and off the screen. And while there's always room for improvement, let us be grateful for how far we have come. 
Stream for Free!
If you're yet to sign up for Amazon Prime, you can do so by clicking here or using the button below. By signing up, you get a 30-day free trial, which means you have 30 days to decide whether or not it's worth the money.
Sign up for Amazon Prime
The Best Lesbian
Movies of All Time
Based on the lesbian novel A Price of Salt, Carol is one of the first sapphic movies Natalie and I watched together. We both loved it so much that we've gone on to watch it multiple times since. It's also one of the few decent lesbian Christmas movies, so that's an added bonus.
The movie, set in 1950s New York, conveys a blossoming lesbian love story between two women who meet in a department store. Carol (Cate Blanchett), who is slightly older than Therese (Rooney Mara), is going through a tricky divorce. But that doesn't stop her from falling for Therese, and naturally, their love affair gets complicated.
Unlike many lesbian period dramas, which can feel slow and dreary, Carol is thoroughly entertaining from start to finish. The two lead actors have wonderful chemistry, and the director does a superb job of portraying the tenderness and intensity of their relationship.
2. Heavenly Creatures (1994)
Heavenly Creatures isn't just a lesbian film; it's a roller coaster of emotions. It's also one of the most sinister storylines on this list, which only makes the fact that it's a true story even more disturbing. 
Based on the notorious 1954 Parker–Hulme case in Christchurch, New Zealand, the sapphic movie stars a young Kate Winslet and Melanie Jayne Lynskey. Both were in their teens at the time of filming and showcase remarkable talent.
If you're unfamiliar with the case, Juliet Hulme and Pauline Rieper met during their early teens. Both were unique and imaginative souls with an undeniable connection; however, too young and immature to handle it, their relationship grew toxic and obsessive.  
Other than one intimate scene, the girl's relationship is open to interpretation in the movie. Much of the film was derived from Pauline's diary, and honestly, I think they were too young to understand it themselves. But you certainly get the feeling that they were very much in love.
I won't give too much more away in fear of ruining it for you. But as you've probably guessed, this story does not end well. In fact, it's incredibly shocking and sad.
After all that heaviness, let's move on to a lesbian drama movie that's a little more lighthearted.  
Bound centres around ex-con corky who finds herself in a sticky situation when she falls for the irresistible Violet. It turns out that Violet is the girlfriend of mob-gangster Caesar, and she wants out with Corky's help. 
Violet has a plan that will see them run off into the sunset with $2 million of mob money. But now Corky must figure out if Violet is using her, or if she's genuinely into her.
OK, that doesn't sound that lighthearted. But, believe me, there are some very funny moments in the movie. And much to my surprise, it was rather unpredictable. It had me on the edge of my seat all the way through with no idea how it was going to end.  
All in all, Bound really stands out for its individuality. It's rare to find a lesbian movie that doesn't focus primarily on the character's orientation, so this is a huge win in my eyes!
This next title is a Netflix original lesbian romance movie, and it's up there as one of the best-handled storylines I've come across during my uh-hum research.
The movie's plot is set in a small American town whereby the lead character Ellie struggles with being the only Chinese-American in her school. Her side-hustle involves doing the other kid's school work in exchange for money, and this is how she meets Paul.
Paul has a crush on Ester, the beautiful brunette in school, and pays Ellie to help him write some love letters. But in doing so, Ellie ends up falling for Ester herself.  
A tender and heartwarming story of love, friendship, and self-discovery follows. While, at the same time, addressing important issues around social, cultural and religious expectations. It's impossible not to be moved by this wlw movie.
5. Blue is the Warmest Colour (2013)
I already know this next one will be met with mixed opinions, but please keep in mind that I'm judging purely on my initial observation of the queer movie.  
Natalie and I watched Blue is the Warmest Colour for the first time almost seven years ago. At the time, we had no idea of the controversies surrounding it, and honestly, we loved it. 
The storyline is raw and relatable. It handles the scenario of young love and heartache perfectly. And, my god, it is fire. I'm not ashamed to say that we found that infamous 10-minute scene hot as hell.  
Does that mean I agree with how the actors were treated? Of course not. Was the scene catering to the male gaze? Probably. But I'm pretty sure it catered to many a lesbian gaze as well.
Most importantly, however, let's not forget that there is so much more to the movie than that scene. Such as the protagonists who are phenomenal and portray the story beautifully.  
It's a real pity what went down went down, as this has the potential to be a masterpiece.
Here we have another lesbian true story that's both inspiring and heartbreaking in equal measure.  
The lesbian film Freeheld centres on New Jersey detective Laurel Hester. After being diagnosed with terminal cancer, Hester requests that her pension benefits be signed over to her domestic partner, Stacie.  
Set in the early 2000s, it was common practice for pension benefits to be signed over to spouses; however, county officials denied the request based on Hester's orientation.  
With the help of an LGBTQ+ activist, Hester spent her final months in a heart-wrenching battle for equal rights. Hitting home the fact that archaic laws and opinions are the work of greedy, straight, white, male politicians.
Admittedly, Julie-Anne Moore and Elliot Page are unconvincing as a couple at times. However, this is a compelling story of how the actions of one incredible woman helped pave the way for equal rights across America.
7. The Miseducation of Cameron Post (2018)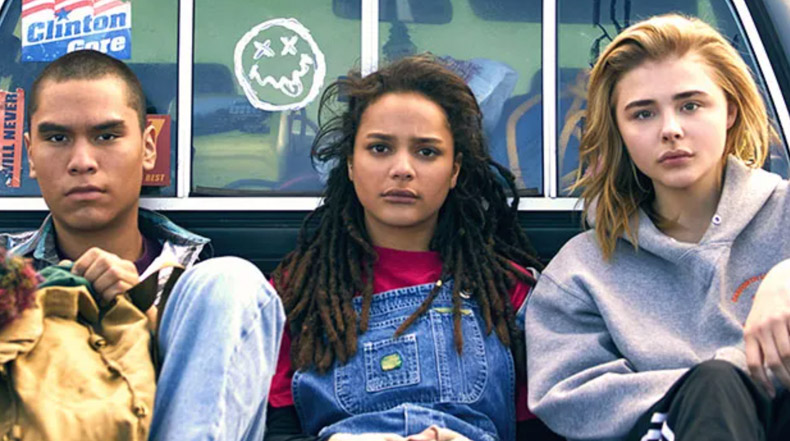 Another queer movie that's important in more ways than one is The Miseducation of Cameron Post, which touches on tough topics such as religion and gay conversion camps.
When teenage Cameron is caught in the backseat of a car with the prom queen, she is sent away to a conversion camp. There she is subjected to questionable therapies designed to cure her so-called 'illness'. 
Throughout the whole traumatic ordeal, the one beacon of light is her bond with fellow residents. Some are playing the game in order to make it through, while others don't cope so well with the strict regimes.  
Either way, it's a tough watch. Despite the superb acting and gripping storyline, I couldn't shake off the realisation that this shit actually happens.
8. The Kids Are Alright (2010)
If there's one area where the lesbian genre lacks, it's in same-s$x parenting and family dynamics. Luckily we have The Kids Are All Right to bridge the gap, but it's far from a perfect lesbian movie.
I'm including it because, well, it is the first mainstream movie to portray a same-s$x household. It also has a stellar cast starring Annette Bening and Julieanne Moore as a married couple with two teenage kids.
When the kids reveal they want to meet their biological father, naturally, it rocks the foundations of the family. Jules and Nic are already facing insecurities in their relationship, and Paul's arrival only pushes them further apart.
Again, this storyline has caused divisive opinions within the queer community, but it doesn't mean you shouldn't watch it. Give it a chance, and let us know your thoughts.
If you're looking for a lesbian comedy that will give you serious belly laughs, you needn't look any further. Booksmart is one of those rare movies that ticks all the boxes. It's charming, and funny, and manages to normalise queer relationships.
Amy and Molly are two best friends approaching graduation. They've always sacrificed their social lives in order to get good grades at school. But after some hard-hitting home truths from their peers, they decide to have a wild night out to show them how much fun they are. 
Cute subplot: Amy is a lesbian. She came out over two years ago but has never kissed a girl. There's no stereotypical storyline like falling for her best friend; she just so happens to be queer. We wish there could be more queer movies that represent lesbians in this way.
That aside, the two leads (Kaitlyn Dever and Beanie Feldstein) are a cracking comedy duo. They bounce off each other effortlessly, and the relationship never seems forced. This is a must-watch! 
A lesbian movie starring Kate Winslet will always make the cut, won't it? It's a pity that it's a bit of a slow burner, but when I tell you that you get to see Kate's boobs, I bet you'll watch it anyway.
Ammonite is a lesbian period drama loosely based on the true story of renowned palaeontologist Mary Anning. Set in 1840s England, the movie portrays Mary falling in love with Charlotte Murchison. Both are real people; however, their relationship is purely speculation.
It's an interesting movie with some notable lesbian scenes; however, I did feel that it lacked personality. I would have liked to of seen more dialogue and chemistry between the two protagonists. But I guess in this case, I'll just have to settle with Kates boobs.
11. But, I'm a Cheerleader (1999)
This classic lesbian movie manages to put a comical spin on a more serious subject matter.  
When Megan's parents form an intervention to send her to a gay conversion camp, she is utterly stunned. She's popular; she has a boyfriend, and but, she's a cheerleader! 
Once Megan gets to True Directions, she realises she may have been suppressing her identity after all. Megan finds herself increasingly attracted to out and proud Graham and an endearing love story develops.
While parts of the movie feel a bit over the top, that's kind of the point. It's all done in a very tongue-in-cheek way, and you can't help but fall in love with all of the characters. Not to mention the retro cotton candy aesthetics.
You're sure to recognise a few faces as well. Including Natasha Lyonne, who plays Nicky in the lesbian Netflix sensation Orange is the New Black.
As heartbreaking as this one is, It wouldn't be a list of the best lesbian movies without mentioning Gia.  
Gia is a biographical film about the tumultuous life of one of America's first supermodels, Gia Carangi. She was only 16 when she rose to stardom; in the hedonistic days of the 1980s.
She was openly lesbian/bisexual, partied hard, and did lots of drugs. But this would come to be her downfall when she contracts HIV from an infected needed.
Angelina Jolie stars as Gia in the movie – a role which she plays flawlessly. Both women are renowned for their breathtaking beauty as well as their wild side, so Jolie is a natural fit.
One of the movie's highlights is the lesbian love story between Gia and Linda. 
13. Below Her Mouth (2016)
We all know the story; a straight, engaged woman falls for the elusive alpha lesbian. Yeh, no points go to Below Her Mouth for the storyline, that's for sure.
What did arouse our interest, though (excuse the pun), is the graphic intimate scenes. I mean, I don't know where the line is between acting and p*rn, but I'm pretty sure this movie crosses it.
If you need a wlw movie to get you in the mood, this one ought to do the trick. 
Set in Ireland during the mid-90s, this lesbian comedy follows two school friends, Eddie and Amber. 
Both are in the closet and struggling to come to terms with their s$xuality. So, to stop people from speculating, they stage being in a relationship.  
It works for a while. In the process, the pair form a beautiful friendship where they can be themselves for the first time.
However, things get complicated when Amber meets a girl at a gay bar. Amber ends their 'situation-ship' so she can come out, but Eddie isn't ready.  
This wlw movie is a realistic portrayal of what young LGBT folx face when they feel they need to fit in. It's both moving and funny… you don't want to miss it.
I guess you can't really call this one a lesbian movie, but it is a heartwarming lesbian documentary that I recommend you watch all the same.
Pat Henschel and Terry Donahue fell in love in 1947 at a time when being queer was barely acknowledged, let alone accepted. As a result, they didn't come out to their families until 60 years later.
This emotional documentary shows the couple in recent years while combining footage and photographs of when they were younger.  
An elderly lesbian couple is a perspective that we don't often see when it comes to representation on screen, so A Secret Love is a refreshing and eye-opening watch.
16. Tell it to the Bees (2018)
If you want a cheesy lesbian romance that's ideal for a lazy Sunday afternoon on the sofa, this is it. Tell it to the Bees may not be perfect, but it does a pretty good job portraying a forbidden love story in post-war Scotland.
Lydia is a young mother who falls upon hard times. When the local doctor, Jean, steps in to help, pulses race, and they end up falling in love. Much to the dismay of the locals in town.
As I say, there are a few things I could criticise about this movie, but I don't want to overshadow what is ultimately an enjoyable lesbian movie. My advice is not to expect anything revolutionary, and I think you will enjoy it as well.
Queer relationships among Black women are not often represented in lesbian cinema, so Pariah is an important lesbian film in more ways than one. 
Pariah tells the story of Alike, a Brooklyn-based teenager struggling with their s$xual identity.  
Of course, this isn't an original storyline. There are plenty of coming-of-age lesbian movies out there. However, Pariah feels incredibly authentic, almost like a documentary.
We take a journey with Alike, from being in the closet and shy around girls. To her first love, getting hurt, and battling with her parents. It's emotional and, at times, hard to watch, but definitely deserving of a spot on this list.
An all-singing, all-dancing musical with a stellar cast and a happy ending. Yep, The Prom is the campy lesbian movie we never knew we needed.
When Emma is told she can't take her girlfriend to prom, it ignites the interest of some has-been Broadway stars. They set out to help Emma in an attempt to revive their careers. And when they storm into the small Indiana town, things are never to be the same again.
I'll admit, the movie probably isn't for everyone. Directed by Ryan Murphy, it's every bit as extravagant and flamboyant as one might expect. Some people, like us, love that. Others not so much.
Meryl Streep, Nicole Kidman, and James Corden are just a few of the star-studded names in the movie. Unfortunately, my only criticism is that their characters tend to dominate the script. Other than that, though, I thoroughly enjoyed it.  
I promised you that I'd be bringing some lesser-known titles to the mix, and this is one of them.  Cloudburst is a laugh out load lesbian romance film about a lesbian couple of 31 years.  
Stella and Dot are in their 70s, but that doesn't stop them from being young & wild at heart. They watch p*rn, joke about vibr*tors, and most of all, love the bones off each other. Basically, they are the epitome of #lesbiancouplegoals.
When Dot has an accident, her granddaughter forces her into a nursing home apart from Stella. But true love isn't to be messed with. The pair escape the home and take a road trip to Canada to get married.
The humour, the love story, the rare representation of an older lesbian couple, there is just so much to love about this queer movie. But bring the tissues, as you'll be shedding a few tears as well.
20. Imagine Me & You (2005)
When you're in the mood for a super-cheesy lesbian love film, look no further.
Rachel has just got married when she locks eyes with Luce at the reception. The two women have an immediate connection which inevitably leads to trouble in Rachel's marriage.
It's a pity as Rachel's fiancé is a really cool guy. You don't want her to hurt him, but at the same time, her love for Luce is genuine.
Again no prizes for creativity when it comes to the storyline. But it's got all the feel-good factor of iconic British comedies such as Love Actually and Notting Hill. Basically, you're going to love it.
21. My Summer of Love (2004)
Another British lesbian movie with slightly darker undertones, My Summer of Love, is a coming-of-age love story.
A young Emily Blunt plays Tamsin, an exuberant middle-class schoolgirl. When she befriends working-class Mona, the pair form an unlikely bond over their dysfunctional families.
They are both troubled souls; that much is obvious. And as they start to spend more and more time together, it's not long before the relationship grows intense and obsessive. 
This storyline reminded me a little of Heavenly Creatures, only slightly less disturbing since it's fiction. It's far from a perfect movie, but worth a watch nonetheless.
Another less-well-known lesbian movie, perhaps, as it was only released quite recently, but Sweetheart is an all-too-relatable British film that didn't fail to impress.
It follows seventeen-year-old AJ, a socially awkward teen trying to understand her s$xuality and gender identity.  
When she's dragged to a holiday park with her family, she becomes besotted with Isla. A beautiful, free-spirited lifeguard that flips AJ's world upside down.
It sounds pretty basic, but there's much more to it than the blossoming love story. It homes in on AJ's struggles with her identity and her frustrations amidst a family that doesn't understand her.
All in all, I think this is one of the best handled coming-of-age storylines on this list.
23. Mulholland Drive (2001)
A far cry from your typical lesbian film, Mulholland Drive is a psychological thriller that will keep you on your toes all the way through.
When budding actress Betty finds a mysterious amnesiac in her room, the pair team up to discover the woman's true identity.
You don't see it coming, but the pair end up getting intimate in a rather raunchy lesbian scene.  
Their unexpected relationship is just one in a long line of plots that don't make any sense until the very end. 
Is the unexpected ending worthy of the stellar reviews? I'm not so sure. I was left feeling slightly cheated, if I'm honest.  
But I did enjoy the twists and mystery leading up to that point, so that's why this wlw film made the cut.
Here we have a dark-British comedy film that is unlikely to be appreciated by everybody. But for those that do, you're going to love it.  
Emma Stone, Rachel Weisz, and Olivia Colman are the three protagonists, portraying a messed up love triangle as you've never seen before.
Colman plays Queen Anne of England. When she falls ill, her close aide Sarah, the Duchess of Marlborough (Weisz), is on hand to help the queen in more ways than one.
Trouble starts when Abigail (Stone) arrives and fights for the queen's affections. She wants to take Sarah's place and will do anything to do so.
As I say, it all gets pretty weird. But in a strangely hot and captivating way.
The perfect movie for date nights indoors, allow me to introduce you to the Swedish version of Imagine Me & You. Only Kiss Me is much more current with convincing lead characters and some unforgettable lesbian scenes.
When Mia and Frida meet at their parent's engagement for the first time, there's an obvious attraction. Only Mia is recently engaged to her boyfriend.
You'll probably be able to guess the ending long before the credits roll. But that doesn't prevent this from being a really great lesbian romance movie.  
26. Kissing Jessica Stein (2001)
Out of all the titles on this list, I think Kissing Jessica Stein surprised me the most. Not only is it funnier than I expected, but it offers a unique perspective on your average lesbian storyline.
This lesbian movie starts out as your typical rom-com. Jessica is a single woman in New York on the quest for love but struggling to find the right guy.  
When she finds Helen's promising personal ad in the paper, she's reluctant to answer at first. But when the two finally meet, they wind up falling for one another.
Only it's a little more complicated than that as Jessica has never been with a woman. So she struggles to adapt to the demands of the relationship.
Summerland may be one of the newer titles on this list, but with its moving storyline and brilliant characters, it's sure to become a lesbian movie classic.
I didn't really know what I was letting myself in for when I started watching this movie. I knew it was a lesbian romance, but actually, that's so much more to it than that.
Gemma Arterton is incredible in her role as Alice, a lonely academic writer living in a picturesque coastal town during WWII.  
Her world is turned upside down when a young boy is sent from London to stay with her. She's forced to open her heart again, which allows the past to come flooding back in.  
A moving narrative, stunning cinematography, and superb acting assist in telling the heartwarming story beautifully. And the twist at the end is sure to leave your hearts beaming with your joy.
28. The Handmaiden (2016)
A wildly hypnotic wlw film that ticks all the boxes, The Handmaiden is an adaptation of the classic lesbian novel Fingersmith. (Have you read that yet? You should!) 
Other than the obvious change of setting (from London to Japanese occupied Korea), the storyline is otherwise very similar. A young woman assumes the role of handmaiden for a wealthy heiress.  
Only what the heiress doesn't know is that the handmaiden is working alongside a con man. Their plan is to defraud the heiress of her wealth, amongst other awful things. 
Needless to say, the handmaiden develops feelings for the heiress. But with a web of lies and deceit binding their relationship, can they ever truly be happy?  
Everything from the storyline to the cinematography and the immense chemistry between the two protagonists makes this one of the most unforgettable lesbian films on this list.
29. Portrait of a Lady on Fire (2019)
I think we can all agree that there have been one too many lesbian period dramas produced over the years. However, if you're going to watch any of them, make it Portrait of a Lady on Fire.
Everything about this lesbian movie is a masterpiece. Most notably, the cinematography, which manages to make a painting out of every single frame.  
Then, of course, there is the love story. Marianne is a painter commissioned to do a wedding portrait of Héloïse in secret. But as she observes her subject, she finds herself falling in love with her.
The intimate relationship between the two women is executed perfectly by the leads, who have amazing on-screen chemistry. Expect a movie that cuts right to the soul and lingers with you far beyond the credit roll. 
30. Battle of the Sexes (2017)
Emma Stone plays Billie Jean King in this biographical sports film about one of the greatest tennis players of all time.
King is most famous for her defeat against Bobby Riggs in 1973. She was also one of the first athletes to be publicly outed and has gone on to say that it wasn't easy at a time when "being gay was a big deal".
The film follows King as she struggles with two monumental battles. The one which would lead to her defeat over Briggs. And the one that sees her trying to come to terms with her s$xuality.  
As well as dealing with LGBTQ+ issues, it also raises the issue of gender inequality in sports. It is a very well made film with superb acting by both the leads. There's also a cute lesbian love story.
31. Serpentine Pink (2022)
This next lesbian movie is hot off the press! Here we have a neo-noir thriller with eccentric characters and a twisted storyline. It's based on the 1912 short Grand Guignol play The Final Kiss.
We were lucky to get an advanced screening of Serpentine Pink ahead of its launch on September 2nd, 2022. Wow, what a journey it was. It's very clever the way the film has been directed. We especially loved the cinematography and use of symbolism. Truly compelling stuff!
Based in California's Joshua Tree desert, the movie centres around the toxic relationship of Jaymee and Henrietta. Following a particularly brutal fight, the pair must confront their past traumas and find a way to heal.
The story is a painful and difficult one to tell. However, the talented female-led cast and crew behind the movie convey the message in a powerful and captivating way.
Catch the Premiere on September 2nd at 5 pm if you are in LA. Otherwise, stay tuned and stay connected for launch dates in other countries and cities.
What Is Your
Favourite Lesbian Movie?
So there you have it, 30 of the best lesbian movies of all time. Which one is your favourite? Are there any others that you think deserves a spot on this list?
Let us know! We love hearing from you. You can reach out to us in the comment section below.
Happy binging!