Planning a magical trip to Lake Bled in Winter? This guide details all of the best Lake Bled Winter activities and includes where to stay, how to plan, and all of our top tips for visiting.
No Slovenia itinerary is complete without a visit to Bled. The charming alpine town looks like it's landed straight out of a storybook, with the pinnacle being the astonishing Bled Lake.
Encompassed by the Julian Alps, I'd confidently say the lake is one of the most picturesque in the world. Arguably even more so during winter, when the mountains are snow-capped and glorious.
Regardless of whether you visit Bled in Winter or Summer, there are tons of exciting things to do and look forward to.
The winter months are especially adventurous with Bled's winter activities including skiing, hiking, and ice skating. Not to mention the magical Christmas markets during the holidays.
Sound good? Let's get to it then! Here's a comprehensive guide to visiting Lake Bled in Winter.
Visiting Lake Bled from Ljubljana? Check out our winter in Ljubljana guide for further travel inspiration.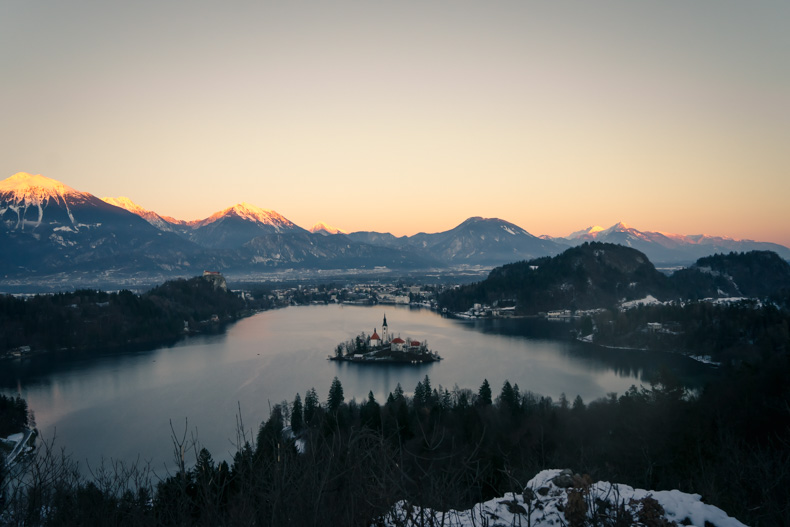 Why Visit Lake Bled in Winter
If snow-capped mountains and exciting winter activities didn't already convince you, then honestly, I don't know what will.
But no, in all seriousness, I understand why some would have reservations about planning a winter trip to Bled. Or anywhere in Europe for that matter.
Let's face it; the weather is cold and unpredictable, putting your valuable sightseeing time at risk. But what if I told you there are a lot of positives to travelling offseason?
First of all, as one of the most photographed places in Slovenia, Bled has grown in popularity in recent years.
Over a million tourists visit every year to immerse themselves in the tranquil nature. While of course, nailing that perfect Instagram shot alongside the most beautiful lake in Europe.
But make no mistake, Bled's reputation is far bigger than the town itself. During the peak season, an influx of tourists sees Bled busy, overpriced, and honestly, no fun at all.
Winter in Bled, on the other hand, is an entirely different ball game. Yes, the weather is cold and unpredictable. But with the right attire, you can still have a truly fantastic time.
Hotels, transport, and activities can be cheaper during the winter months. And better still, you'll only have to share the lake with a few other tourists.
We had a wonderful time visiting Bled in Winter, and we didn't feel we missed out on a thing. All things considered, I'd confidently say that Bled is one of the best winter destinations in Europe.
Winter in Lake Bled Essential Info
With Lake Bled being such a magical winter destination, it's almost impossible not to have an incredible trip. However, the tips and tricks below can help you make the best of your winter getaway.
When is Winter in Lake Bled
The cold season in Bled starts toward the end of November and lasts until the middle of March. However, temperatures will be pretty mild at the start and end of the season.
If you want to experience that enchanting wintery vibe, your best bet is to visit in December or January. You will most likely get some snow alongside crisp, dry days during that time.
We visited Lake Bled in December, and it was an unforgettable experience. We got to enjoy the Christmas markets, we got snow, and it was just a truly magical time.
Some days were clear and crisp; others are foggy and moody. Both make for an interesting perspective, and either way, you cannot fail to fall for the charm of this magical Slovenian town.
How Long Should I Stay in Bled?
Bled might be a small town but it has a lot to offer. With all the exciting winter activities in Lake Bled, you could easily spend a week here and not get bored.
We spent 3 days in Lake Bled and managed to cram a lot into this time. But we both agreed we could have stayed longer, even just to relax and enjoy the chilled vibe of the town.
Also, bear in mind that daylight hours will be limited if you visit Lake Bled in the depths of winter.
Getting to Lake Bled in Winter
You'll likely start your Slovenian adventures in Ljubljana. I suggest staying at least a day in Ljubljana before continuing your travels to Lake Bled.
Slovenia is a relatively small country compared to most in Europe. That means, getting around is pretty straightforward. But, best of all, it doesn't take a lot of time!
For this reason, many choose to rent a car when travelling in Slovenia. The roads are quiet and in good condition, and you'll be rewarded with astonishing views along the way.
Alternatively, you can use the public bus network. We used it a couple of times during our time in Slovenia and was always reliable. Be sure to use the official Slovenian bus network website to plan your route.
Once you've arrived at Lake Bled everything is located pretty close together, so you should be able to get around on foot.
Winter Closures in Bled
It's not uncommon for several Bled businesses to shut up shop during the Winter. After all, they make a killing in the peak season, so who can blame them?
You can be assured that it's business as usual at any of the recommendations I've made on this blog, but don't be disappointed should you find others where it's not.
One example that comes to mind is the popular Summer activity Tobogganing, and there are several others. Similarly, many of the Lake Bled winter activities are unavailable during the Summer.
Bled Winter Tours
While there is plenty to keep you busy in and around Bled town, there are also some really cool places to visit in the surrounding area. The best way to experience these is undoubtedly on a guided tour.
We always use Get Your Guide when we book tours. They have an endless selection of tours in locations worldwide, including Slovenia. Check them out!
Where to Stay in Bled in Winter
There is no shortage of places to stay in and around Bled, and the great thing about visiting in winter is that accommodation is far less expensive than at other times in the year.
The price of food and winter activities in Bled can soon add up, so any pennies you can save on your hotel I guarantee you'll appreciate.
I've made some hotel and hostel suggestions further down, or you can compare Lake Bled accommodations using the map below.
The only thing I will say is that you'll want to ensure you're located close to the lake, so to avoid additional costs taking public transport or taxis.
Lake Bled Winter Activities
OK, now we've prepared you for your trip, let's look at all the exciting winter activities in Bled that you have to look forward to.
From gentle strolls around the lakeside and visiting fairy tale castles, to a variety of winter sports and entertainment, there's guaranteed fun for all the family.
1. Walk around Bled Lake
The first thing I suggest you do when arriving in Bled is to take a wintery stroll around Bled Lake. This way, you can get acquainted with where everything is, as well as take in the gorgeous view.
The total distance circumferencing the lake is 6km, so it isn't all that far. It takes around 1.5-2 hours – perhaps more if you stop often for photos etc.
Unlike in the Summer months, walking around Bled Lake in Winter is a serene and romantic experience. Particularly as you stray further from the town, and all that surrounds you is nature and stillness.
There is the odd cafe & restaurant dotted around the lake, but many close over the winter months.
2. Visit Bled Island
The small, tear-shaped Bled Island is essentially what makes Bled Lake so iconic and recognisable. The primary symbol is the chapel and bell tower of the unmistakable Church of the Mother of God.
Arguably the country's most famous landmark, you can take in magnificent panoramic views from inside the church, which was once a temple dedicated to the pagan goddess of life and fertility.
Other features of the island include the 99-step staircase that leads visitors up to the top of the church tower and the wishing bell. Legend has it that if you ring the bell, you will have all of your wishes come true.
3. Getting to Bled Island in Winter
Bled Island is, well, an island, so naturally, you have to cross the water in order to get there. Unless you're going to swim or SUP, which I highly discourage during the winter, you'll have to choose from the two boat options available to you.
The first option is to hire a rowing boat and paddle yourself over to the island. The rowing boats look like they hold up to 6 or 8 people; however, if it's your first time trying this activity, I'd stick to 2-4 of you.
It's not all that far out to the island, perhaps 15 minutes or so, but it's tiring work. To rent a rowing boat is between €15-20. They are often cheaper on the far side of the lake on the other side of town.
If, like us, you don't trust yourself not to topple over in the water; your other option is to take a shared boat. The shared boats come in the form of a traditional Slovenian Pletna, which resembles a gondola.
These larger boats hold up to 20 people and come with a driver so you can sit back and enjoy the view. There are several docking stations around the lakeside, and the cost is around €12 per person.
Visiting the island isn't the cheapest winter activity at Lake Bled, but a quintessential one nonetheless.
4. Marvel the View from Ojstrica Viewpoint
Ojstrica viewpoint is one of the most popular Slovenia Instagram locations at Lake Bled, and not without good reason.
It's very likely you've already encountered photos taken at this very spot, which allows for jaw-dropping vistas over the lake and surrounding mountains.
To reach the viewpoint requires a reasonably easy hike, which so long as you're in fair shape shouldn't be too difficult. Only it can get icy during the winter months so appropriate shoes will be required.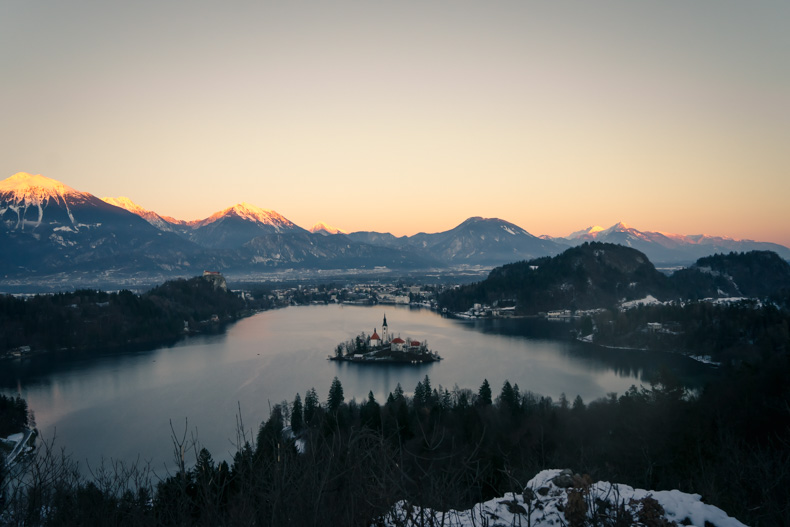 5. Walk up to Bled Castle
Do you see that medieval-looking castle scaling a tremendous cliff edge, appearing as if it might fall at any minute? Yep, that's Bled Castle.
Bled Castle is one of the top things to do in Bled in Winter – or any other season for that matter. Perched atop a steep 130-metre cliff edge, authorities report that the castle is the oldest in Slovenia.
As if you needed more fuel to add to the fire, the castle adds extra fairy tale charm to the magical scene of Lake Bled. Admire the view from the lakeside looking up, or climb up to the castle for a spectacular vista looking down.
If that's not enough, you can pay to get inside the castle which boasts a museum, restaurant, and wine tasting cellar.
6. Go Skiing
You haven't experienced a true Winter in Lake Bled if there aren't some adventurous winter activities thrown into the mix. And the first one worth considering is skiing.
There are four main ski areas located around Bled, with the closest being Straza. Located just minutes from Bled centre, Straza is ideal for both experienced skiers and beginners alike.
If you are a serious skier and prefer more adventurous slopes, Kobla and Vogel Ski Centres are your playground.
Located in Bohinj, only 20 and 30 km from Bled respectively, you can expect a series of intermediate runs as well as astonishing views over the Julian Alps.
For more information, check out this guide to skiing around Lake Bled.
7. Sample Traditional Bled Cream Cake
Following cold mornings of exploring and taking photos, we would look forward to sitting down with a coffee and a slice of Bled's traditional cream cake.
An amalgamation of puff pastry, eggs, cream, sugar, and all other kinds of yumminess, it's a delightful treat for those with a sweet tooth.
You can find traditional Bled cream cake at most cafes and restaurants in the town; however, for the original version, they say you must try the one at Park Cafe.
We don't know how accurate this is, but all I can say is that after having one here, we daren't try one anywhere else.
8. Go Sledding
Sledding is one of the most fun and adventurous Lake Bled winter activities and it's great because it's suitable for all the family.
The town has several surrounding hills that become the perfect sledding terrains during winter. Some are steeper than others, providing a real hit for the adrenaline junkies.
While you could quite easily locate a nearby hill and sled down it, it's recommended you go with a guide so you know it's a place that's safe for the activity.
If you're feeling extra adventurous, you can even join an exciting night-sledding tour. Either way, you're guaranteed an unforgettable time.
Book a Sledding Tour: Sledding Tour in Bled
9. Visit Lake Bled Christmas Market
One of our favourite things about visiting Lake Bled in Winter is the joyous Christmas Market, which brings added sparkle to the already captivating town.
The market starts at the end of November and runs into early January, where several stalls and activities make for great festive fun for all the family.
Located on the lakeside closest to town, you'll find it impossible to miss the festive display of Christmas trees, lights, and decorations.
Several stalls are selling a variety of fayre, from food and wine to traditional souvenirs.
10. Take a Festive Photo at the Heart of Bled
Visiting Lake Bled without getting a photo at the Heart of Bled, is like visiting Paris and not getting a photo with the Eiffel tower. OK, that might be a bad comparison, but you get my gist.
It's gimmicky and cheesy no doubt about it, but it's just one of those things you do when visiting Bled.
If you're travelling with your significant other, you can seal your love by adding a padlock to the lover's lock fence at the same time.
11. Go Ice-Skating
It's quite hard to imagine, but some winters in Bled see the lake completely iced over. The ice can get so thick that people actually go ice skating on it.
In the past, various winter sports took place on the lake; however, due to safety concerns, it is no longer supported by the tourism board. In other words, skating on the lake is done so at your own risk.
From what I've heard, it's rare to see the lake iced over in recent years. A knock-on effect of global warming, I guess. But that doesn't mean you can't go ice skating.
There's a large indoor rink at the Bled Sports Hall and a smaller outside rink on the terrace of Kavarna Park. The latter boasts a beautiful view over the lake, making for quite a romantic setting.
12. Relax at a Spa
After a long day in the cold enjoying Bled's winter activities, what better way to warm up and revitalise than spending a relaxing few hours at a spa?
Unsurprisingly, there is no shortage of wellness centres in Bled, as well as some of Slovenia's Thermal Spas. And I have a good feeling that they do pretty well over the winter months.
We were travelling on a budget so didn't get to experience one for ourselves; however, you can check out the best-rated spas and wellness centres here.
13. Take a Day Trip
While there is plenty to keep you occupied in Lake Bled, it isn't all that big, so you could easily cover the main attractions in 2-3 days.
With this in mind, depending on how long you are staying, perhaps you'll consider taking some day trips to see some other parts of the country.
There are so many beautiful places worth visiting and many are accessible on a day trip from Bled. Here's a selection of some of the best day trips to consider during the winter:
Triglav National Park
Triglav National Park is Slovenia's only national park and surrounds Mount Triglav, the highest peak in the Julian Alps.
There are some incredible hiking opportunities in these parts, as well as breathtaking views, crystallised alpine lakes, magnificent waterfalls, and lush green forests.
Due to the slightly precarious nature of hiking during Winter, I would suggest making this day trip with an organised tour.
Book Your Tour: Triglav National Park Tour from Bled
Postajna Cave and Predjama Castle
Located within Postojna Cave Park, both Postojna Cave and Predjama Castle are considered national gems in Slovenia. A visit here makes for a truly adventurous day trip from Bled.
Postojna is said to be one of the most captivating and impressive caves in the entire world. And located within the same national park, Predjama Castle looks like something out of a twisted fairy tale.
Again, you can plan your own trip, or go as part of an organised tour.
Book Your Tour: Postajna Cave and Predjama Castle Day Trip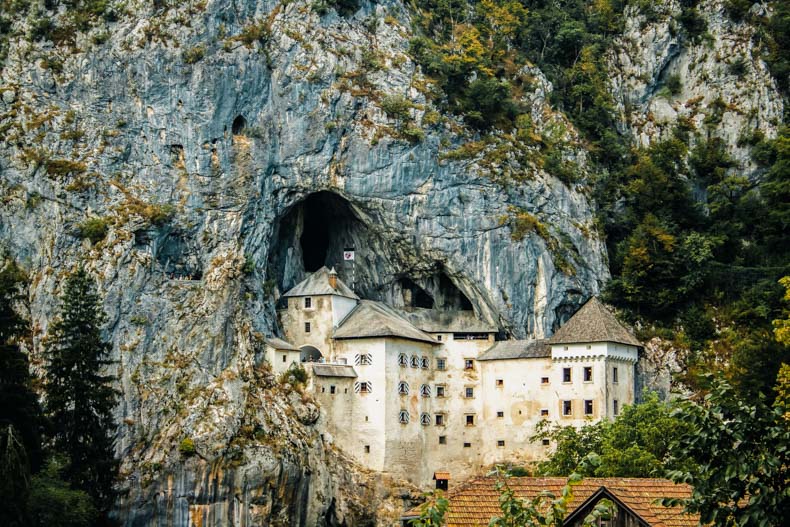 14. Do Nothing at All
While we loved all of the adventurous Winter Activities in Bled, some of our best experiences were doing nothing whatsoever.
It was quite satisfying to wrap up warm and find a peaceful spot on the lakeside to sit back, feed the ducks and enjoy the view.
Lake Bled has a way of conjuring up all the romantic vibes, and we'd cuddle up together feeling grateful to experience such natural beauty.
That is until we got too cold, and it was back to the Christmas market for more mulled wine!
Best Restaurants in Bled
You are going to need to fuel up for all these wild winter activities in Bled, so here's a list of our favourite places to eat.
Vegan: Public & Vegan Kitchen
Pizza: Pizzeria Rustika
Slovenian Food: Vila Ajda
Bled Cream Cake: The Park Cafe
Mulled Wine & Pretzels: Bled Christmas Market
Enjoy Your Winter Trip to Lake Bled!
So there you have it, our ultimate guide to visiting Lake Bled in winter. I hope it's got you excited about your trip.
If you have any questions or anything to add, please drop us a comment below or message us through our contact us page. We love hearing from you!
Finally, check out the rest of our Slovenia series to help you with your travel planning.
Stay adventurous and happy travels.
Charlotte & Natalie x
Disclosure: Some of the links in this post are affiliate links. That means that if you purchase through these links, we will earn a small commission, at no extra cost to you. And we can continue bringing you free travel tips and advice. If you found the content helpful and are kind enough to use our affiliates – you are awesome, and we thank you!
PIN IT FOR LATER