The Best Winter City Breaks in Europe – 16 Unmissable Destinations
A winter city break in Europe is the perfect way to escape the winter blues. Sure, it's still cold in places, freezing in fact. But I've come to realise that winter can be a truly magical time of year. In this article, I'll be listing 16 of the best European winter city breaks that I guarantee will have you falling in love with winter like never before.
Until a few years ago, you would never hear me say anything nice about winter. Winter and I were not on good terms. Winter was cruel and harsh and unforgivable. It was only when I travelled full time that I began to appreciate the beauty of all the seasons.
Of course, we all love warm weather and tropical beach holidays. But what about glorious snow-capped mountains, frozen lakes fit for ice-skating, Christmas markets with twinkling lights and mulled wine, or clear, crisp skies adorned with stars. That's just a taster of what you can look forward to when spending the winter in Europe.
If you're still not entirely sold on the idea of a cold winter city break, do not worry. There are some incredible destinations in Europe that remain warm throughout the year. With this in mind, I'll also be listing some winter sun destinations in Europe further down the article.
But with all that out of the way, let's get to it. Here are 16 of the best winter city breaks in Europe.
The Best Winter City Breaks in Europe – 16 Unmissable Destinations
Disclosure: Some of the links in this post are affiliate links. That means that if you purchase through these links, we will earn a small commission, at no extra cost to you. And we can continue bringing you free travel tips and advice. If you found the content helpful and are kind enough to use our affiliates – you are awesome, and we thank you!
1. Berlin, Germany
I will kick off the list with the first city that springs to mind when I think about winter in Europe. You'd think it would be London seeing as I lived there most of my life. But no, it's Berlin.
We visited Berlin for the first time almost two years ago. It was the first stop on a winter tour of Europe, and to this day, it remains one of our favourite ever cities.
It's strange because Berlin is by no means the most beautiful city in Europe. However, it does have a character, an edge, that is truly unique and addictive. I can see myself revisiting time and time again, at any time of the year, and continuing to fall for its charm.
There is a realm of incredible things to see and do in the city, which I cover in my Berlin itinerary. But what makes Berlin special during winter is the Christmas markets and overall festive cheer.
Out of all the Christmas markets I've visited, none feel as traditional and authentic as they do here. The locals put a lot of effort into making them a magical experience regardless of your age.
Suppose getting lit on mulled wine, buying extravagant Christmas decorations, and eating sausages of all shapes and sizes sounds like your idea of fun. In that case, you will love visiting Berlin during the wintertime.
2. Prague, Czech Republic
Unlike Berlin, the next destination on our list is most certainly one of the most beautiful cities in Europe.
I've had the pleasure of visiting Prague on three separate occasions, each at a different time of year. Regardless of the season, the city never fails to blow my mind.
With its quaint cobbled streets and striking medieval architecture, visiting Prague is like taking a walk back in time. It's impossible not to be in awe of the fascinating history that welcomes you at every turn.
Exploring Prague is especially magical during the winter. Largely due to the festivities and markets around Christmas time, but also because it's a lot quieter. Nothing quite kills the charm of a city like too many people.
When planning your Prague itinerary, be sure to check out some of the city's hidden gems as well as the major landmarks. There's so much wonder to discover in the Bohemian city, and I know you will love it just as much as I do.
3. Budapest, Hungary
Budapest is one of the most underrated cities in Europe. It's for this reason that it should be a strong contender for your European city break this winter.
OK, that's not the only reason. In fact, Budapest has a lot to offer. But, there's something quite exciting about exploring somewhere you know very little about.
In a nutshell, Budapest is a diverse and enchanting city. It's primarily famous for its historical sights such as the Fishermans Bastion and Chain Bridge, as well as its thermal spas and bustling nightlife.
During winter, you will find various unique activities such as ice skating at City Park, Christmas markets and light shows, and lots of themed nights at the city's infamous Ruin bars. You'll also need to visit one of the outdoor thermal spas for a one-of-a-kind local experience.
We visited Budapest in Winter and had a fabulous time. If you need help planning your trip, check out my 4-day Budapest Itinerary for the best of what the city has to offer.
4. Amsterdam, Netherlands
Is there ever a wrong time to visit Amsterdam? Apparently not, as I've been too many times to remember.
While there are many incredible things to see and do in Amsterdam, It's the city's cosy and romantic vibe that draws me back time and time again. Unlike other major cities in Europe, I feel I can relax here. It's less about cramming lots of things in and more about immersing in the culture.
For example, I enjoy sitting in a canal-side cafe, reading a book, and watching the world go by. I love meandering the streets sampling the culinary delights. And I adore the museums and fairytale architecture.
Again, winter is arguably the best time to explore a popular city such as Amsterdam. Not only because of its magical festive vibe and activities, but you can expect a fraction of the crowds relative to other times of the year.
5. London, England
How could I write an article on the best winter city breaks in Europe, without including my home city of London?
Having spent most of my life in London, it was easy to take the city for granted when I lived there. However, since moving away, I find I have a newfound appreciation every time I visit.
Regardless of the season, London is an awesome city to visit. Rain or shine, there's always something to keep you entertained. You will need 4-days or more here, just to scratch the surface.
The lead up to Christmas is as equally energetic and exciting as the summertime. The lights on Oxford Street and Harrods are iconic and some of the best I've ever seen. Then, of course, you have Winter Wonderland and all the other festive activities that happen throughout the city.
If you're planning a winter tour of Europe, be sure to include London on your list.
6. Edinburgh, Scotland
I'm staying close to home for our next city and invite you to check out Edinburgh this coming winter.
Edinburgh is Scotland's fascinating capital, bursting with history and character, and home to one of the worlds top universities. It's also famous for inspiring a lot of the Harry Potter series, which, if you're a fan, you'll notice right away.
Edinburgh's great because it's a manageable size to get around in just a few days. You'll want to check out Edinburgh castle for its architecture and astonishing views, and I recommend taking a tour to discover some of the cities colourful history.
While Scotland isn't known for its good weather, winter is still a great time to visit. I've never been during this time of year myself, but I did find this excellent guide covering all the best things to do in Edinburgh in winter.
7. Ljubljana, Slovenia
Next up is another compact and unassuming city that we absolutely fell in love with during our winter tour of Europe.
The best thing about Ljubljana is that it didn't feel much like a city at all. Everything feels small and whimsical, like a fairytale town that exists only in children's books.
Adding to its charm are quaint cobbled streets, local legends of heroes and dragons, and the stunning Alpine peaks that encompass the city.
Naturally, wintertime only adds to the magic here. The city's views and surrounding mountains are all the more enchanting when covered in snow.
One day in Ljubljana is plenty of time to see what the city has to offer. But you may wish to stay longer to enjoy the peace and quiet only less popular city breaks provide.
8. Paris, France
Of course, the city of love will always be one of the best winter city breaks in Europe.
Winter in Paris is arguably the most romantic time of year. You can wrap up warm and cosy up with your love and enjoy coffee and croissants, followed by dreamy city walks.
You can look forward to Christmas decorations or Valentine's Day treats alongside all the incredible sights that the city has to offer. All delicately topped with a chance of snow. How perfect.
9. Salzburg, Austria
Salzburg at any time of the year is magical. However, it's during the winter months that it truly resembles something out of a fairy tale.
You may know of Salzburg for being the birthplace of Mozart. Or for its associations with the movie 'The Sound of Music'. If neither, now you may understand why this Austrian city is so unique and inspiring.
Sporting majestic views of the Eastern alps, as well as impressive medieval and baroque architecture, Salzburg is the perfect amalgamation of city and nature.
When snow hits the ground, as it often does during the winter months, it creates a scene so astonishing it's hard to believe it's real.
If you also consider all of the incredible things to do in Salzburg during winter, I wouldn't be surprised if you're booking your tickets already.
10. Strasbourg, France
Many cities resemble a fairytale during the Christmas months; however, only a few resemble one all year round.
Strasbourg is one of those few with its picturesque streets full of half-timbered houses, sloped buildings in colourful hues, and magical reflections in the canals.
It makes sense then that during Winter, Strasbourg is a sought-after destination. Christmas markets are aplenty, the smell of mulled wine floods the city, and the festive cheer is infectious.
All of this results in a vibe that feels like you could be in the North Pole itself. I honestly can't imagine many places more magical than Strasbourg at this time of the year.
11. Helsinki, Finland
Helsinki probably isn't the first city that springs to mind when it comes to winter destinations in Europe.
While it's certainly not the most exciting spot on this list, it's worth stopping by if you're planning to visit Lapland this winter.
That's exactly what we did on our way to Kakslauttanen resort in Lapland. We spent a day exploring Helsinki and were extremely glad that we did.
Helsinki is a cool and futuristic city, home to traditional finish spas, abstract art galleries, fascinating history museums, and hipster cafes. There are also lots of festive activities going on around the Christmas period.
12. Bled, Slovenia
OK, I might be cheating a little bit here, as Bled is technically a town rather than a city. But I hope when you hear what I have to say, you'll forgive me for my sins.
The enchanting town of Bled is one of the most astonishing destinations I've ever visited. The pinnacle, of course, is Bled Lake.
Surrounded by the Julian Alps, I'd confidently say the lake is one of the most picturesque in the world. Even more so during winter when the mountains are covered in snow.
Words do not do Bled justice. But you only need to look at the photo below to see why visiting Lake Bled in Winter is an absolute must.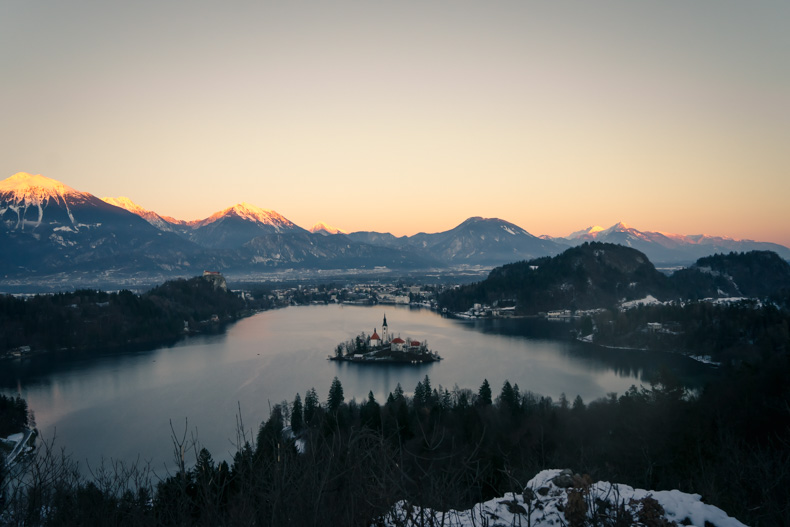 Winter Sun City Breaks in Europe
OK, now we're done going through those chilly winter breaks in Europe, it's time to share some destinations that remain warm all year round.
For those looking for some winter sun destinations in Europe, this section is for you.
13. Barcelona, Spain
Oh, Barcelona. What a city! When ocean meets metropolis, and history meets the future.
With temperatures averaging 16 degrees in January, and very few rainy days, it's the winter that most of us can only dream of.
Barcelona's cityscape can only be described as extraordinary. It has an urban Gothic feel due to its Renaissance and Baroque architecture, alongside magnificent structures designed by Antoni Gaudi.
When you combine all of that with fewer tourists, lower prices, and Barcelona's plentiful attractions, this could be the city break you are looking for this winter.
14. Lisbon, Portugal
The further south in Europe you go, the warmer it tends to be, and that's certainly the case as you hit Portugal.
Lisbon is the capital and largest city of Portugal. We haven't been ourselves yet; however, we plan to head there in our camper van very soon.
Similar to other cities in Europe, you get the best of both worlds when visiting Lisbon in winter. It's still the same incredible city, but minus the crowds and inflated prices.
There are also lots of free things to do in Lisbon if you're travelling on a budget.
Naturally, the weather is colder than the summertime, but Lisbon is still one of the warmest European cities to visit in winter, with temperatures averaging 12-15 degrees.
15. Nice, France
Nice is another of those desirable cities that make it onto everybody's bucket list. Therefore, when it comes to the warmer months, it's completely overrun with tourists and impossible to enjoy.
That's why we all need to think outside the box and take advantage of the solitude of winter.
What many don't realise is that Nice remains pretty mild even through December to February. Temperatures rarely drop below 12 degrees in the day, and there's very little rain. Ideal sightseeing weather if you ask me.
16. Arrecife, Lanzarote
I would describe our final city on the list as the ultimate winter getaway. Located in the Canary Islands, this is where you want to go if you're seeking sun, sea, and sand this winter.
For those not in the know, The Canary Islands are a Spanish archipelago off the coast of northwestern Africa. Therefore, it should come as no surprise to learn that it's one of the warmest winter destinations in Europe.
With temperatures averaging 18-22 degrees in January, it'll take some convincing that it's wintertime at all. However, you can enjoy all the benefits of a winter break, such as lower prices and fewer crowds.
It sounds too good to be true, doesn't it, but it's the truth. You will have the most incredible time relaxing on the island's beaches, exploring the rugged landscapes, and sampling the local cuisine. All I ask is that you take me with you!
Thank you For Reading
Well, that concludes our list of the best Winter City Breaks in Europe. Which city are you looking forward to visiting? Are there any other cities that you think deserve a spot on this list??
Let us know! We love hearing from you. You can reach out to us in the comment section below or through our contact us page.
Stay adventurous and happy travels.
Charlotte & Natalie x
Disclosure: Some of the links in this post are affiliate links. That means that if you purchase through these links, we will earn a small commission, at no extra cost to you. And we can continue bringing you free travel tips and advice. If you use our affiliates, you are awesome, and we thank you!
4 Days in Budapest – The Best 4 Day Budapest Itinerary
2 Days in Prague – The Best 2 Day Prague Itinerary
4 Days in London – The Best 4 Day London Itinerary
One Day in Ljubljana – The Best One Day Ljubljana Itinerary
An Ultimate Guide to Visiting Lapland in Winter
PIN IT FOR LATER
Last Updated on March 7, 2022 by Our Taste For Life