4 Days in Budapest – The Best Budapest Itinerary
4 days in Budapest is the perfect amount of time to appreciate all this enchanting city has to offer. So, I've put together this comprehensive 4-day Budapest Itinerary so that you can spend less time planning and more time enjoying the city.
When it comes to European city breaks, the same few tend to come up time and time again. Paris, London, Prague, Rome, Barcelona, the list goes on.
Of course, each of these cities is wonderful and unique in its own right; however, there are so many other European cities worth exploring. And one that should be at the top of your bucket list is Budapest.
Truth be told, we knew very little about the Hungarian capital before our recent visit. We were, therefore, quite surprised by how much there is to see and do.
As it turns out, Budapest is a diverse and beautiful city, bursting with life, culture, history, nightlife, and awe-inspiring architecture. It's also far more laidback than most European capitals, making exploring a far more pleasant experience.
If you're wondering what four days in Budapest might look like, think meandering fairytale castles, relaxing in thermal spas, exploring underground caves, and boating down the Danube river. Not to mention eating at fabulous restaurants and drinking in quirky bars along the way.
Sound good? Let's get to it then! Here's the best Budapest Itinerary for four days.
4 Days in Budapest – The Best Budapest Itinerary
Disclosure: Some of the links in this post are affiliate links. That means that if you purchase through these links, we will earn a small commission, at no extra cost to you. And we can continue bringing you free travel tips and advice. If you found the content helpful and are kind enough to use our affiliates – you are awesome, and we thank you!
Is 4 Days in Budapest Enough?
The short answer to this question is, yes. Four days in Budapest is certainly enough to cover all of the cities highlights.
Not only can you cover the hotspots during this time, but you could also squeeze in some of the hidden gems in Budapest. You know, the places you don't often see on most Budapest itineraries.
We always try to allow extra time to explore the lesser-known spots of the places we visit. While the main attractions are popular for a reason, there's something about discovering something new that feels adventurous and rewarding.
That's why when most people spend 2 or 3 days in Budapest, we stayed for 5. Not only did this allow time for us to explore off the beaten path, but our days didn't feel at all hurried. Ultimately that's what you want, right?
This Budapest Itinerary will allow you to explore at an exciting pace, while at the same time, mirroring the laidback culture of the city.  
Did you know? International travellers coming to Europe may need to have authorisation to enter the Schengen Area. ETIAS is a new electronic visa waiver system expected to be operational by the end of 2022. Click the button below to check if you are eligible.
Where to Stay in Budapest?
Buda vs Pest.
Did you know that Budapest was originally two different cities divided into Buda & Pest? No, me neither!
The West Bank of the Danube was once Buda, and the Eastern side was Pest. It wasn't until 1873 that they united and Budapest as we know it was born.
So when people ask us where they should stay in Budapest, it ultimately comes down to what you are looking for.
In simple terms, Pest is the more touristic side of the river. It's where the majority of tourist sights are, as well as restaurants, thermal baths, ruin bars, and nightlife.
Conversely, Buda is the calmer side of the city and feels somewhat more residential. You can expect great views at many hotels on this side thanks to their hilltop locations. And it's here that you'll find Budapest's famous castle district – home to Buda Palace and the Fishermans Bastion.
In my opinion, if you're only in Budapest for 4 Days, you're better off staying in Pest and visiting Buda for sightseeing. There's more of an atmosphere in Pest, and you have everything you need right on your doorstep.
It's easy enough to get in between the two sides, so why complicate things? If you're staying long term and fancy something a bit more chilled out, perhaps Buda will be your better bet.
Best Hotels & Hostels in Budapest
Unsurprisingly, there is no shortage of accommodation options in Budapest. You can click the button below to search for hundreds of hotels, hostels, and guesthouses in the area. I'll outline a few other good options below suitable for all budgets, including the hostel where we stayed.
Hostel: Avenue Hostel
Avenue Hostel is probably one of the best hostels we've ever stayed in. Not only centrally located but incredibly friendly staff and comfortable rooms. The vibe is super laidback at the hostel itself. But there's plenty of party events such as bar crawls and party boats. There's also an all-inclusive breakfast buffet.
Budget Hotel: East Private Rooms
East Private Rooms is one of the best budget hotels I could find. You only have to click the link to read hundreds of positive reviews from guests. The rooms are basic as expected, but they are clean, spacious, and equipped with everything you need. The hotel is also in a great location, so you won't have to travel far to see all the sights.
Mid-Range Hotel: Bohem Art Hotel
Just minutes away from the Danube riverbanks, this bohemian style hotel is one of the trendiest spots in the city. Each room features the eclectic artwork of local Hungarian artists while combining all the modern features of a hip hotel. I even read that they serve wine with the American style breakfast buffet. If that doesn't persuade you, I don't know what will.
Luxury Hotel: Aria Hotel Budapest
Featuring a panoramic rooftop bar, luxurious rooms & suites, and 5* facilities, Aria Hotel is the ideal place to treat yourself during your stay in Budapest. The design is chic and modern, mirroring the hipster vibe of the city. And guests can enjoy ample facilities such as a fully-equipped spa, swimming pool, and state of the art rooms.
Use the Map below to check availabilty:
Get the best deals on flights and hotels!
Using a VPN when you travel is very important these days not only for safety reasons but also helps to avoid demographic price discrimination while looking for a flight or a hotel. In my experience, Surfshark is the best VPN for travel. Click the button below for an exclusive discount.
Best Things to see in Budapest in 4 Days
We have a lot to cover in this Budapest Itinerary, so if you're short for time, here are some of the highlights you can enjoy over the 4 Days in Budapest.
Visit the Fishermans Bastion
River Cruise on the Danube River
Marvel the Budapest Parliament building
Watch the sunset from Gellert Hill
Relax in a thermal spa
Admire the bridges that connect Buda to Pest
Go for drinks at the various ruin bars
Take in the views at Citadella Fortress
Check out the largest Synagogue in Europe
Discover what lies below the ground of Budapest
Budapest 4 Day Itinerary
OK, let's dive into the itinerary. I've tried to make it as strategic as possible so that you cover a lot, but at the same time don't end up burning yourself out.
I'm aware that some of you will be keener than others to cover everything on the list. So, if the itinerary sounds a bit much for you, cut out anything that you wouldn't mind missing.
We will guide you based on our experiences, but you can switch it up as you go along. Here's a quick overview of what to expect:
Day 1: Get to know the landmarks of the city on foot and by river cruise.
Day 2: Marvel all the enchanting wonders of the Castle District
Day 3: Explore alternative Budapest and relax in thermal spas.
Day 4: Meander the City Parks and discover Budapest's Hidden Gems.
Save Money with a Budapest Card
Are you going to be visiting all of the cities top attractions and taking full advantage of the public transport network? If yes, you should consider purchasing a Budapest Card in advance. The card allows you to ride public transport for free, access several museums for free, plus discounted entry at most other attractions.
Day 1 of Budapest Itinerary
Get to know the landmarks of the city on foot and by river cruise.
Alright, day 1 in Budapest and we suggest using this time to get to know the city. You can either do it alone as we did. Or you can participate in a free walking tour.
The free tours are great as you'll get to learn about the history of the city from a local. But, personally, we don't like being on a time frame, so we decided to go out and explore ourselves.
This itinerary allowed us to get our bearings on the Pest side of the city, as well as cover several of the major attractions.
St Stephens Basilica
St Stephens Basilica is one of the cities most recognisable landmarks. A roman catholic place of worship, it is the largest religious building in all of Hungary. The church was named after the first Hungarian King, and inside you can find a mummified relic of St Stephens right hand.
Impressive architecture is a staple of the city of Budapest, and the church is no exception. The pinnacle is the exquisite dome, where you can climb 400 or so steps to the top for beautiful views over the city.
Sadly, the building was closed for renovation when we were there; however, I believe it is now back open to visitors. Classical music lovers should keep an eye out for any concerts held inside the Basilica.
Entry: 600 HUF (Free to view outside)/Allow: 1hr
Liberty Square & The Antifascist Monument
A short 5-minute walk from St Stephens you'll find Liberty Square. A significant location in Hungarian history that was once a large barracks known as Újépűlet.
Historically, many Hungarians were imprisoned and executed at the barracks, during the struggle for Hungarian independence from the Hapsburg dynasty.
During the 20th century, the square became the centre point of the communist revolution, protests and war. Today, various conflicting statues and columns sit throughout the square, including one of the last remaining Soviet monuments in the city.
The most recent monument and arguably the most controversial is the Antifascist Monument. The memorial dedicated to the 'victims of the German occupation' appeared in 2014.
Most argue that the monument is hypocritical, as it's believed that Hungary supported the Nazis during their reign of terror. A memorial of candles, letters and other memorabilia has been set up by protesters.
Entry: Free/Allow: 1hr
Hungarian Parliament Building
Located just a couple of blocks away from Liberty Square, the Hungarian Parliament Building is easily one of the most impressive structures in Budapest.
Sat gracefully upon the Danube river, the first thing we noticed was its sheer size and magnificence. It has been the largest building in Hungary since its completion in 1902.
Other impressive buildings complete the Parliament square, though none come close to the main parliament building. I suggest walking the entire perimeter of the structure and taking in all the ornate details and design.
If you wanted to see inside the Hungarian Parliament, there are daily guided tours available in a variety of languages. The interior is said to be as equally beautiful as the facade.
If you are on a budget like us, seeing the exterior alone will be more than enough. If you want to take the tour, it will set you back HUF 3500 (£9).
Entry: 3500 HUF for a tour (Free to view outside)/Allow: 1hr
Shoes on the Danube Promenade
Just south of the Hungarian Parliament Building alongside the Danube river, Shoes on the Danube Promenade is a chilling memorial dedicated to the murdered Jews of WWII. The monument consists of 60 pairs of life-like shoes, true to 1940s style, and sculpted out of iron.
The shoes are symbolic of the tragic fate met by thousands of Jews along the banks of the Danube. Due to the value of shoes during those times, it meant victims were forced to remove them before being executed.
We thought it was both a beautiful and thought-provoking tribute. And while perhaps one of the darker experiences you'll have over the 4 days in Budapest, it's a vital one nonetheless.
Entry: Free/Allow: 1hr
Danube River Cruise
Possibly the best way to view the sights of this gorgeous city is on the water. With many significant landmarks set upon the banks of the Danube, it's the perfect way to take it all in without the pressure of crowds.
When it comes to choosing a river cruise, there is no shortage of options. The banks of the Danube are lined with vendors waiting to sell you the 'Best Danube River Cruise'.
Don't be fooled by fancy words and pushy salesman. Many tours are overpriced. In our experience, it's cheapest to book in advance online.
Depending on your budget, there are several tour packages you can choose from. Some include 1-hour of sightseeing, others you can hop on & hop off, and there are even romantic dinner cruises.
Get your Guide has a wide selection of tours to choose from at a competitive rate, so it's worth checking them out before your trip.
Or, if you're on a real shoestring budget, you can take the public transport boats for just a fraction of the price. It will be a no-thrills experience, but the views will ultimately be the same.
Price: Varies/Allow: 1-3 hrs
Book a Tour: Budapest – Danube River Boat Cruises
Pick your Sunset Spot
On a clear day in Budapest, the sunsets can be equally as enchanting as the city itself. The sun sets on the Buda side of the river, disappearing behind the majestic Fishermans Bastion and Buda castle. For this reason, many gather on the Pest side of the river to witness the spectacle unfold.
There are many places where you can enjoy the sunset in Budapest. If you're on a budget, you can find a spot along the Danube riverbank. Even on the Buda side of the river is nice, as the setting sun casts a magical golden glow on the parliament building opposite.
Otherwise, find yourself a safe place to perch on one of the many bridges that connect Buda to Pest, as we did in the photo below.
Finally, if you're on vacation and want to enjoy the sunset view with a cocktail in hand, we can recommend High Note SkyBar. Set on the rooftop of the 5* Aria Hotel, you can expect world-class cocktails and an unforgettable view.
Day 2 of Budapest Itinerary
OK, day 2 of our 4 Day Budapest Itinerary and it's set to be a busy day exploring the Buda side of the city.
You have a couple of choices here, depending on how early you're prepared to leave your hotel. If you're an early riser and don't mind being up & out for sunrise, you're in for one hell of a treat.
Witnessing sunrise on this side of the river is truly magical. And the best place to do that is from the Fishermans Bastion.
Regardless if you make it for sunrise or not, the entire castle district is like a scene straight from a fairy tale. You're going to fall in love with the city on a whole other level after you've experienced it.
Getting to the Castle District
There are several ways to reach the castle district, including by foot, bus, and funicular cable car. We always go around on foot in Budapest; however, from the city centre, you should prepare for a 40-50 minute walk. After you've crossed the chain bridge, a gentle 15-minute hill walk leads you to the Fishermans Bastion.
Alternatively, you can take the bus from the city centre. The number 16 bus regularly runs from Deak Ferenc Square and can be picked up at numerous stops along the route. Or, you could book the Official Buda Castle Electric Hop-On Hop-Off Bus. That way you can get off and hop back on at any of the 23 major attractions in the castle area.
Finally, the Funicular cable car located at the end of the chain bridge is open from 7.30 am to 10.00 pm. A return ticket will set you back HUF 1800.
Fishermans Bastion
The Fishermans Bastion is the most popular photography spot in Budapest. With its fairy tale towers and panoramic views, it's not too difficult to see why.
I'd gladly say the Fishermans Bastion is our favourite spot in the city. We loved it so much we visited twice over the four days in Budapest.
A grand white-stone staircase leads visitors up to the fortification, where several viewpoints and archways make for incredible photo opportunities. This is another good reason to visit for sunrise, so you can get your photos before the crowds arrive at 9 am.
We had quite a unique experience when we visited for sunrise. It was oddly foggy that day which clouded any sunrise view; however, we ended up loving the mysterious mood it created.
It's impossible not to be impressed by this place, regardless of the conditions.
Entry: Free (Upper Terraces: HUF 1000)/Allow: 1-2 hrs
Matthias Church
In front of the Fisherman's Bastion lay another architectural gem of the city of Budapest. The equally beautiful and unmistakable Matthias Church.
Historically, the roman catholic church served as a coronation church to Hungarian Kings. Today its awe-inspiring facade is admired by thousands of people every day.
The original structure of the Matthias Church is said to date back as early as the 11th century. Although extensive restoration works have taken place since then, allowing the church to blend seamlessly in the castle district.
The sleek church tower and colourful roof tiles, make it one of the finest and most unique religious buildings in all of Europe.
Entry: HUF 1000 (Free to view outside)/Allow: 30mins – 1hr
Buda Castle
Next up we can hop back on the castle district bus, or take a gentle stroll along the charming cobbled streets towards Buda Castle.
Many would argue that the castle is the main attraction in Budapest; however, we were a little underwhelmed. In our honest opinion, the Fishermans Bastion and Matthias church are far more visually impressive.
Nevertheless, that's not to say you shouldn't include the Buda Castle on your Budapest Itinerary. Not only is the structure a spot of historical importance, but it also plays an important cultural role, with the Hungarian National Gallery, the Budapest History Museum, and the National Library all set within the palace complex.
Of course, to enter any of the features within the complex does not come cheap. Perhaps if you're more interested in history and art than we are, the fees would be worth it. But we were happy enough to wander throughout the grounds taking in the beautiful views.
Entry: HUF 2400-3200 for museums (Free to view the grounds)/Allow: 1-2hrs
Hospital in the Rock
I'll be honest; I only found out about this museum while researching for this blog. But it's a pity, as it's the one museum within the castle district that I think sounds interesting enough to pay the entrance fee. Hospital in the Rock is one of Budapest's underground attractions, which was once a secret hospital and nuclear bunker.
The hospital, built in a 10km long natural cave system underneath the Buda Castle, opened in 1944. Its purpose was to protect injured soldiers and civilians during further bomb attacks on the city. Nowadays it's the biggest waxwork exhibition in Hungary where wax figures and original machinery depict the reality of those dark times.
Entrance: 4000 HUF (Includes a guided tour)/Allow: 1 hour
Citadella and Gellert Hill
After spending plenty of time meandering the Castle District, we made our way to Citadella. A historic fortress set upon Gellert Hill that offers unrivalled views over the city.
From Buda Castle, we walked for around 30-40 minutes to the summit of the hill. It was a workout but nothing too challenging. Although if you don't fancy the exercise, you can take the bus directly to the top.
Historically speaking, the Citadella was constructed in 1854 by the Hapsburgs as a surveillance platform. The Nazis and communists later used it for the same purpose taking full advantage of its fantastic view over the city.
Over the years the structure has suffered at the hands of angry locals but remains a top tourist attraction. Although you can no longer go inside the Citadella walls, it's worth visiting for the view alone.
We strategically planned our itinerary so that we would get to this spot shortly before sunset. It was a wise move. We witnessed the best sunset of our time in Budapest and got to experience the city lights by night at the same time.
Entrance: Free/Allow: 1-2 hours
Day 3 of 4 Days in Budapest
Day 3 in Budapest and today we are going to explore the trendier, more alternative side to the city. It's also going to be quite a chill day in comparison to the first couple of days. Think street art, local markets, quirky ruin bars, and finally, a thermal spa.
The Jewish District
In a city that largely feels somewhat royal and elegant, the Jewish District is a breath of fresh air. Boasting a realm of street art, quirky food haunts, boutique stores, and the cities best nightlife, we felt it was the coolest district in the city. And yes, I am aware I sound completely uncool saying that.
Ironically, this area was once considered the ghetto of Budapest. Jews were confined to live here during the Nazi occupation of Hungary, and the Jewish influence remains prominent to this day. I'm pleased to say it's now the most vibrant and cultural part of the city, with plenty to see and do which I lead onto below.
Entrance: Free/Allow: 2-3 hours
Street Art
The first thing you'll notice when exploring the Jewish district is the wealth of street art that adorn the walls of several buildings. We felt like we were in an open-air gallery as we marvelled at each of the creative murals with great admiration.
The murals created by a mix of local and international artists reflect various subjects, including Hungarian history, local culture, and general world events.
Though, most prevalent in the Jewish District, you'll also find some artwork in other areas of the city. You can follow this map of Budapest street art to find them.
Szimpla Kert Ruin Bar (by day)
Szimpla Kert is Budapest's most famous ruin bar by night and a cultural/artistic centre by day. Many visitors add the bar to their list of things to do at night, without considering that the daytime might be the best time to visit. Particularly if you want to check out the creativity and quirkiness that makes Szimpla Kert unlike any other bar in the world.
There is nothing not to love about this bar. From their eco-friendly initiatives, cheap drinks prices, and the whacky themed decor, walking around Szimpla Kert feels like getting lost in Wonderland. Located in the Jewish district, I suggest visiting during the day and again in the evening when the party vibe gets WILD!
Finally, if you're in Budapest over a Sunday, head down between 9 am – 2 pm for the local farmers market. Every seller at the market is an authentic local producer, who only bring what they grow and make by hand.
Dohany Street Synagogue
Next up is the Dohany Street Synagogue which is probably the most significant religious landmark in the Jewish District. The architectural gem is the largest Jewish place of worship in all of Europe and the second largest in the world, built to accommodate over 3000 people.
Within the grounds of the synagogue, are a memorial for Jewish Hungarian soldiers, a cemetery for the victims of the Holocaust, and the Wallenberg Memorial Park.
If you'd like to learn more about the history of Budapest's Jewish community, you can join a guided tour of the synagogue. Tours run regularly and are included in the entrance fee, but by booking in advance, you can skip the queue.
Budapest Central Market
No Budapest Itinerary is complete without a trip to the grand central market hall. It's the oldest and largest market in the city, and impressive by both design and size.
Inside the great market hall, you'll find thousands of local vendors selling everything from fresh produce to local delicacies, and an array of clothes & souvenirs.
We love to meander the local markets when we travel. They are always so full of energy and life, and it feels like an authentic local experience.
Even if you don't plan on buying anything, we encourage you to visit and immerse yourself in the thick of it. You won't regret it!
Entrance: Free/Allow 1-2 hours
Book a Tasting Tour: Budapest Market Tours
Thermal Baths
Now for the moment we've all been waiting for – It's thermal bath time. Budapest's thermal baths have formed a part of the local culture for centuries, and to visit the city without experiencing one is quite honestly, scandalous.
Would you visit Paris without eating a croissant? Well, this is kinda the same thing. Or if you don't like croissants, just trust me when I say you need to experience a thermal bath during your 4 days in Budapest.
The history behind the thermal baths and bathing culture stems back to Roman times. They discovered that the waters from localised thermal springs were rich in dissolved minerals and proved to be beneficial for relaxation and medicinal purposes.
So they started to build thermal baths all over the city. While we can't vouch for the therapeutic benefits, we agreed that the spas are the ideal place to unwind after long days of exploring.
Naturally, there are several baths dotted all over the city, and which one you choose will depend on what you're looking for. Below I've listed the most popular baths with a short description of what to expect at each one.
We opted for Gellert Spa as it is close to the Central Market, but you can choose whichever one sounds most appealing.
The Best Thermal Baths in Budapest
Szechenyi Bath – Szechenyi Bath is the largest and most famous thermal bath in Budapest. Built in the early 20th century, the sprawling site boasts 15 indoor pools and three outdoor pools, all of varying temperatures. It is also famous for its weekly 'sparties', featuring DJs, laser shows, and plenty of drunk backpackers.
Gellért Bath – Gellért Baths is arguably Budapest's most elegant thermal spa. With its roman style columns and mosaiced walls, it feels more authentic than others in the city. The complex features indoor and outdoor baths fed by the thermal springs from nearby Gellért Hill. After spending an entire afternoon here, we would gladly recommend to anybody seeking a relaxing experience.
Rudas Bath – If you fancy a late-night weekend dip, then Rudas Baths are a winning choice. The baths stay open until 4 am on a Friday and Saturday, meaning you could wind up here after a night out. To be clear, visiting the baths under the influence of alcohol is not recommended.
Király Baths – Finally, we have the budget option of the bunch. Király Baths may appear a little run down at first glance; however, you can be sure the water is clean and ultimately does the same job as the rest of them.
Day 4 of Budapest Itinerary
It's your final day in Budapest, and today, you have a couple of options. You can either follow the morning activities and hit up another spa for the rest of the afternoon.
Or you can follow our itinerary as it is, which leads you to some of the hidden gems in Budapest. If you're a real adventurer, you won't want to miss the last activity of the day.
Andrassy Avenue
Our first stop is the iconic Andrassy Avenue – A 2.4km boulevard lined with exclusive designer boutiques and opulent Neo-Renaissance mansions.
You may have been on the street before now, as it's very central and connects several of the city districts. But now's your time to admire the architecture, and even go shopping.
That's if your pocket can afford the likes of Gucci, Dior, and Louis Vuitton, of course. Either way, the boulevard leads us to the next stop on our list, so let's keep moving.
Entrance: Free/Allow: 30mins-1hour
Heroes Square
Heroes Square is one of the most significant landmarks in Budapest. It's best known for the Millenium Monument that occupies a large area of the square.
The monument, made up of a towering column with two colonnades on either side, features statues of influential Hungarian leaders including the Seven chieftains of the Magyars. These legends were the leaders of the seven original Hungarian tribes when they arrived in AD 895.
It's worth visiting the square during the day and night if you have the time. At night it's especially picturesque when the entire monument is lit up. There are also some other impressive buildings surrounding the square, including the Museum of Fine Arts and the Palace of Art.
Entrance: Free/Allow: 30 mins
City Park
Just behind heroes square is City Park, one of the largest and most picturesque green spaces in all of Budapest. Featuring vast lawns, trees, a lake, castles, museums, and even a zoo, visiting here is fun for all the family. It's also the home of Szechenyi Thermal Baths, so you could always make a detour there if you fancied it.
Depending on the season, there are a variety of activities that take place throughout the park grounds. We visited Budapest in Winter, and they had opened up a huge ice skating rink over the lake.
But in the Summer, I believe you can rent little paddle boats and take to the water that way. Regardless of the season, nature lovers are sure to love the scenic and idyllic atmosphere here.
Entrance: Free/Allow: 1-2 hours
Vajdahunyad Castle
Set directly behind the City Park lake, Vajdahunyad Castle is somewhat of a hidden gem in Budapest. While the park itself makes its way onto most Budapest itineraries, the castle rarely gets a mention.
When we stumbled upon the castle during our visit, we were surprised we'd not heard about it. In our opinion, it's one of the most beautiful castles in Budapest.
Again, Vajdanhunyad Castle looks like a scene straight out of a fairy tale. Only, unlike the Fishermans Bastion, you can imagine this one belonging to the villain of the story.
The amalgamation of Gothic-Renaissance and Baroque architecture creates a mysterious and almost eerie scene. Ironically, legend has it that the castle once imprisoned Count Dracula.
It is free to enter the grounds of Vajdahunyad Castle, so even if you do not wish to go inside, it is worth taking a romantic stroll through the courtyards. Inside, there is a museum and other interesting artefacts, but in our opinion probably not worth the entrance fee.
Entrance Fee: Free to enter the grounds/HUF 1600 to go inside/ Allow: 1 hour
Palvolgyi Cave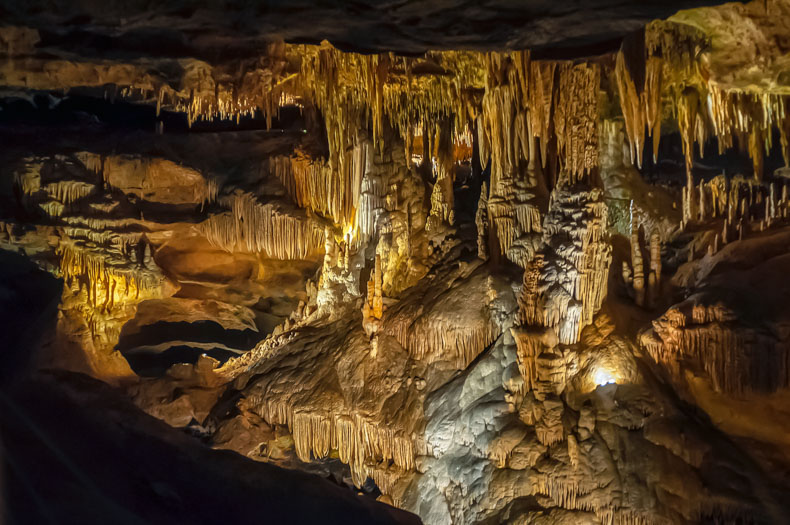 Interestingly, some of the more unique things to do in Budapest are located underground, and believe it or not; caving adventures is one of them.
Budapest is the only European capital that has natural caves in the middle of the city. A collection of 170 smaller and bigger caves make up the system – all of which are formed by the same thermal springs that supply water to the thermal baths.
While several of the caves are accessible and fun for all the family, Palvolgyi Cave is a somewhat more demanding tour. The 1-hour long escapade leads you through the longest and most beautiful cave in the Buda Hills.
Boasting stunning dripstone formations and an adrenaline-pumping course, those keen on a real adventure in Budapest will not want to miss it. On the other hand, the series of steep climbs, obstacles, and confined spaces, mean it's not for the young or the faint-hearted.
If you'd prefer something a little more family-friendly, you can check out other caving tours such as The Labyrinth in Buda Castle or Szemlőhegyi Cave.
Tour Price: HUF 2200/Allow: 1-2 hours
Save Time and Book a Tour
For a more local experience, we recommend checking out the guided tours on Get Your Guide:
Where to Eat in Budapest
Knowing very little about Hungarian culture before our recent visit to Budapest, we weren't too sure what to expect when it came to food. Our trouble is, we are big foodies on a small budget, so in European cities, we often have to work pretty hard to find fitting places to eat.
Thankfully, that wasn't the case in Budapest. The city is bursting with incredible places to eat regardless of your budget or diet.
If you consider yourself an avid foodie, where your trip is largely centred around food, I suggest checking out this restaurant guide by OffBeat Budapest. Otherwise, here are a handful of our favourites for your inspiration:
Vegan? See a Vegans Guide to Budapest for a wide choice of restaurants throughout the city.
Nightlife in Budapest
Budapest boasts some of the most random, fun, and eclectic nightlife in all of Europe. It's for this reason that the city is a favourite amongst the party-loving crowds, attracting backpackers, hen parties, and stag dos alike.
We weren't really in the city to party on this occasion; however, we did get out to a few bars and agreed we'd like to come back on more of a party holiday next time. The infamous Budapest ruin bars were especially interesting, and they are what sets the city apart from other party destinations in the region.
You don't have to be a party animal to enjoy what Budapest nightlife has to offer. In addition to Ruin Bars, you'll find trendy rooftop establishments, fancy wine bars, buzzing nightclubs, craft beer pubs, and riverside hangouts. There is something for everybody!
Ruin Bars in Budapest 
So what are ruin bars? Budapest's ruin bars are pretty much what they say on the tin – Quirky, creative, and artsy bars set within the old ruins of abandoned buildings.
There's nothing at all fancy about drinking at these bars. They're rough and ready, but manage to pull it off with their eccentric hipster vibe.
Szimpla Kert is the most famous ruin bar in Budapest, which I covered earlier in the article. However, there are dozens scattered around the city, mostly in the Jewish District.
If you're planning to cover the best of Budapest in 4 Days, visiting a ruin bar is an essential addition to your itinerary. Check out this article for the best ruin bars in Budapest.
Budget for 4 Days in Budapest
Despite being a European city, Budapest is strangely affordable. And if you're sensible about what you spend your money on, you can comfortably live on £30/$40 a day.
We actually averaged far less than that, but we ate cheap, stayed in hostels, walked everywhere, and are picky about the attractions we spend our cash on.
As always, how much you spend depends on how comfortable, or uncomfortable, you are prepared to be. You can find decent hostels in the city for under $10 a night per person which often includes breakfast, while private budget rooms are $30-40 per night.
Food can also be pretty cheap if you eat local, but even some of the trendier restaurants we found to be affordable.
Entry prices for tourist sights in attractions can soon add up if you insist on seeing everything. As a guideline, the most significant buildings are $10-12 to enter, Thermal Baths are $15-20, and museums are $8-10.
It pays to be selective, and only pay for things you are certain you want to see. In our experience, many of the attractions are just as impressive from the outside, and it's free.
Though we rarely used it ourselves, public transport in Budapest seems to be fairly cheap. If you think you'll be taking public transport a lot, as well as visiting a lot of the tourist sights, it pays to invest in a Budapest Card. Just be sure to do your research first to be sure the card works out in your favour.
Finally, if you plan on partying every night away during your 4 days in Budapest, you can expect your spending to soon add up. Alcohol in Budapest is relatively cheap if you stick to the local brands; however, it's easy to get carried away. Before you know it you're $50 and have nothing to show for it.
Tips & Advice for this Budapest Itinerary
Here I'll list some of the travel tips that we accumulated during our stay in Budapest. Hopefully, they will help you have a hassle-free break in the city. It's also worth checking out some general Europe Travel Tips ahead of your trip.
Getting Around in Budapest
Budapest might well seem like a large city on paper; however, when you compare it to the likes of Berlin or London, it's actually relatively small and easy to navigate.
For this reason, we ended up doing all of our exploring on foot. It's our favourite way to explore any new city as you generally discover far more than you do using public transport.
Don't get me wrong; walking everywhere is not for everyone. Some days we would walk over 12 miles, and while we loved it, it was also exhausting. But if that's what you're into, it's certainly doable.
Otherwise, the city is well connected by public transportation, hosting a reliable metro system as well as many trams, buses, and riverboats. Whichever corner of the city you want to go to, you can rely on public transport to get you there.
If you plan to use public transport regularly, you may wish to consider purchasing a Budapest Card. The card not only includes unlimited access to the cities public transport network, but you'll also get discounted or free entry at many of the cities top attractions.
To work out your route, we always suggest using Google. So long as you have data or wifi, you can type in your destination, and Google will find the quickest route from your exact location. It will direct you to the station closest to you and state the trains or buses you need to take to reach your destination.
If you prefer to avoid public transport altogether, taxis are easy to come by at taxi stands, train stations, and the airport. Uber is also in operation and is usually cheaper than the local taxis.
Best Time to Visit Budapest
There isn't really any right or wrong time to visit Budapest, as there is a great atmosphere all your round. Although, if you are relying on warm and dry days for sightseeing, between May and October will be your safest bet.
July and August are the warmest months, but it's also when the city is at its busiest and most expensive.
Personally, we can vouch for visiting in December. Though the temperatures can be freezing, the Christmas markets and festivities are genuinely magical.
Staying Safe in Budapest
Compared to most other cities in the world, Budapest is extremely safe; however, there are still some precautions you should take to protect yourself and your belongings.
First of all, petty thefts such as pickpocketing and bag snatching are not uncommon. We suggest keeping your belongings close to you at all times and using a small padlock or compartmental bag to keep your valuables safe. When travelling at night, avoid being alone in parks or dark areas.
Common scams pose another risk to tourists, and we advise being vigilant at all times. If something doesn't feel right, trust your gut and walk away from the situation.
Check out this article for a comprehensive guide to staying safe in Budapest.
Travel Insurance
With that, don't even think about going to Budapest without travel insurance. Travel insurance will protect you against illness, injury, theft, and cancellations. In the unlikely event that something goes wrong, you'll want the best cover money can buy.
For this reason, we always recommend World Nomads for travel insurance. They are affordable, offer a variety of packages and add ons, and allow you to make amendments to your policy while travelling.
If you need further convincing, read our article on why you need travel insurance. Or get an on-the-spot quote from World Nomads using the button below.
Staying Connected in Budapest
While wifi is readily available throughout the city, travelling is so much easier when you have the internet on your phone. In order to avoid crazy roaming charges, consider getting a local sim card or invest in a pocket wifi device.
I also suggest using a secure VPN when surfing the web internationally. Using a VPN is very important these days to make sure that all your data is safe and secure.
Also, it helps while travelling not only for safety reasons but also unlocks geo-restricted content such as Netflix and helps to avoid demographic price discrimination while looking for a flight or a hotel.
In my experience, Surfshark is the best VPN for travel.
Enjoy this Budapest Itinerary!
Well, that concludes our 4 day Budapest Itinerary. We hope you enjoy your time in this magical city.
If you have any questions or feel we have missed anything, please reach out to us in the comment section below, or through our contact us page.
Planning a trip to Budapest? Check out our other articles to help plan your trip.
Don't forget to follow us on Instagram here where we share further travel advice & inspiration.
Stay adventurous and Happy travels.
Charlotte & Natalie x
Disclosure: Some of the links in this post are affiliate links. That means that if you purchase through these links, we will earn a small commission, at no extra cost to you. And we can continue bringing you free travel tips and advice. If you found the content helpful and are kind enough to use our affiliates – you are awesome, and we thank you!
2 Days in Berlin – The Best 2 Day Berlin Itinerary
2 Days in Prague – The Best 2 Day Prague Itinerary
The Best Winter City Breaks in Europe – 16 Unmissable Destinations
A Guide to Visiting Lake Bled in Winter
One Day in Ljubljana – The Best 1 Day Ljubljana Itinerary
PIN IT FOR LATER
Last Updated on April 19, 2022 by Our Taste For Life