If you're looking for the famous Lake Bled viewpoint, it's highly likely you're referring to Ojstrica. Set just a short hike from Bled, Ojstrica provides jaw-dropping views of the famous alpine lake and surrounding mountains. In this blog post, we will share all the information you'll need to hike to Ojstrica in Bled, including GPS coordinates, safety information, and the best time to go.
Lake Bled is arguably the most picturesque lake in all of Europe, and I'd even go as far as to say it's one of the most recognisable lakes in the entire world. Set in Bled, a charming Alpine town in Slovenia, its awe-inspiring beauty attracts over a million visitors each year. As we marvelled at the views and enjoyed the tranquil nature, we couldn't help but feel like we'd landed in some kind of fairy tale.
One of the best ways to appreciate the magic of the lake and surrounding nature is to find a viewpoint where you can overlook it all from above. We tried a few, but the best Lake Bled viewpoint is undoubtedly Ojstrica – One of Slovenia's Top Instagram Spots. This lookout point boasts unrivalled views of the lake, the iconic Bled Island, Bled Castle, and the Julian Alps. It's a relatively easy hike to reach the viewpoint, so this is an unmissable thing to do in Lake Bled that's accessible for all the family. 
So let's get to it; here's our guide to hiking Ojstrica in Bled – The best Lake Bled viewpoint.
Disclosure: Some of the links in this post are affiliate links. If you purchase a product through these links, we will earn a small commission at no extra cost to you. And we can continue bringing you free tips and advice. If you found the content helpful and are kind enough to use our affiliates – you are awesome, and we thank you! 
Hiking to Ojstrica
Lake Bled Viewpoint - Difficulty
This section is to give you an idea of what to expect when hiking to the Ojstrica viewpoint.
Hike Distance: Our Fitbit determined that the total distance of the hike for us was just under 5km. That was starting our hike in Bled town and finishing at the viewpoint. So there and back would have been 10KM.
Hike Elevation: Ojstrica viewpoint is at an elevation of 611 metres; however, the total ascent of the hike is probably only 150 metres or so. 
Hike Duration: From the town, the hike to Ojstrica Viewpoint took us a total of 1hr, of which the final 25 minutes were spent ascending the hill.  
Trek Difficulty: Naturally, how difficult you find the trek will depend on your fitness level and what conditions you have to face. However, generally, I would say the hike is easy to moderate. We visited Lake Bled in Winter, and even with slippery conditions, it wasn't too strenuous. 
Get the best deals on travel insurance!
If you become sick or injured, those medical bills can really add up. Or perhaps you have your bag stolen, or a flight cancelled.  Although these events are unlikely, they do happen, and having travel insurance gives you that extra piece of mind that you are protected.
Get a Quote From World Nomads
Getting to Ojstrica Starting Point
From Bled Town, make your way to the Lake Bled camping site, close to Velika Zaka. You can get directions to both locations using Google maps. Assuming you walk along the East side of the lake (past Bled Castle), the entrance to the camping area will be on your right-hand side. Shortly after that, there will be an unmarked path on your right that leads you into the forest. Follow it, and you should see a little barn house up ahead.  
Keep following the trail for 15 minutes or so until you see the sign for Ojstrica, which will instruct you to turn right. From this point, it's only another 5-10 minute climb before you reach the viewpoint. Be extra careful on the final ascent, particularly if it's wet or slippery. Soon enough you'll be looking out over the captivating view of Lake Bled.
Our Experience
Hiking to Ojstrica Viewpoint
It was our day of arrival at Bled when we decided to hike to Ojstrica Viewpoint. Considering we were visiting in mid-December, we felt it was wise to take advantage of the clear skies while we had them. It had been snowing the past couple of days, and the views were mesmerising. We had an unobstructed view of the snow-capped Julian Alps, and a light frosty dusting caused the area around the lake to sparkle. In all honestly, we felt very fortunate to encounter Bled in such magical conditions.
We commenced our hike from our hostel in Bled Town and walked along the Eastern bank of the lake, past the Bled Christmas Market and under the Bled Castle. Unlike in the Summer months, walking around Bled Lake in Winter is a serene and romantic experience. Particularly as you stray further from the town, and all that surrounds you is nature and stillness.  
As we cornered the foot of the lake adjacent to the town, it wasn't long before we saw the campsite on our right-hand side, closely followed by the trail. Despite some blog posts saying otherwise, we saw no signpost at this point, but perhaps we just missed it. Nonetheless, we followed the route that our Google Maps provided, and thankfully, it got us on the right track.
The trail starts off nice and easy, weaving through a pretty woodland area at a very gradual incline. After 10 minutes or so, it starts to get a little steeper and in our case, trickier due to the wet and slippery conditions. Thankfully we had good sturdy walking boots on, so other than a slight burn in the legs, we were able to walk pretty much at ease. 
The Best Lake Bled Viewpoint
At this point, we still hadn't seen any signposts to signal we were going in the right direction, so it was a relief when we encountered the first one. We swung a right as instructed and tackled the final ascent to the viewpoint. The last 5-10 minutes is the steepest part of the hike, but it's really not far at all, so anybody of a reasonable fitness level will complete it with no problems.
As we approached the summit, we were awestruck by the view that lay waiting for us. Despite having seen photos from this very spot on numerous occasions, nothing could have prepared us for quite how spectacular it would be. There are so many spots that don't live up to expectations due to Instagram these days. But this is not one of them. In fact, I don't think any photo could ever do it justice.
We strategically planned our hike to arrive just before sunset, and the timing was perfect. A magical golden glow illuminated the landscapes, and the snow-capped Alps gleamed before our eyes. We had the spot all to ourselves, so we were able to snap a few photos before sitting down on the only bench to appreciate the moment together. 
Before long, the golden glow transformed into pink hues, intensifying the view once again. We couldn't believe our luck and sat there until we lost the sun behind us completely. It was a somewhat sketchy hike back down in near darkness, but we made it safely, and it was all worthwhile to experience the very best Lake Bled viewpoint.
Hiking to Mala Osojnica Viewpoint
After you've enjoyed the view at the Ojstrica viewpoint, you can continue the adventure and hike even higher to Mala Osojnica Viewpoint. At a height of 670 metres, it is a 15-20 minute hike from Ojstrica, where you'll find further astonishing views over the landscapes.  
Personally, after comparing both viewpoints online, we decided that Ojstrica was equally beautiful, if not better, so we didn't continue. However, if you'd like to do so, return down the trail until you see signs for Mala Osojnica. This part of the hike is a little more troublesome, primarily due to the metal staircase, which gets very slippery when wet or icy. So it would be wise to assess the conditions before attempting it.
Tips for Hiking Ojstrica Viewpoint
Here are some further tips for hiking to Ojstrica Viewpoint to ensure you get the very best out of your experience.
For the best view of Lake Bled, visit during sunrise or sunset. If you're lucky to have clear conditions, golden hour casts a magical golden on the landscapes. We took the pictures you see on this blog during sunset.  
If you're visiting during the peak months in Lake Bled, it's unlikely you'll be alone at the viewpoint. This location has become somewhat "Insta-famous", so unless you visit early in the morning, you'll be contending with dozens of people trying to nail the perfect shot.  
On the other hand, if you visit Lake Bled in Winter as we did, there will be hardly any other people around. The weather may be colder, but, in my opinion, the snow-capped mountains and white frosting made the scene even more magical You should, however, take extra care on the hike, as the trail gets exceptionally slippery.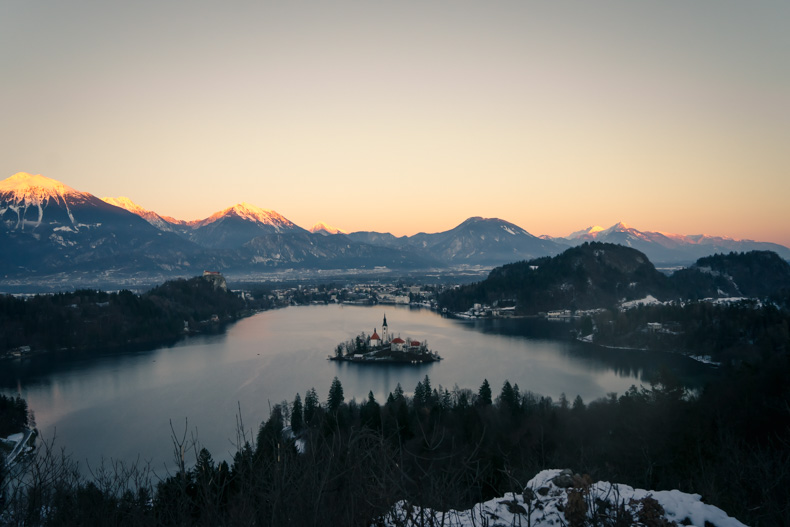 Comfortable hiking shoes or trainers
Breathable and flexible clothing
Warm jacket (during winter) 
Water
Snacks
Camera
Scarf and Gloves (winter)
Sunglasses
Headlamp  
Hiking to Ojstrica viewpoint is one of the free things to do in Lake Bled. 
Save Time and Book a Tour
For a more local experience, we recommend checking out the guided tours on Get Your Guide:
Did you Enjoy our Guide
to Hiking Ojstrica in Bled?
Well, that concludes Hiking to Ojstrica, Bled – The Best Lake Bled Viewpoint.
We hope you enjoy this magical hike If you have any questions or feel we have missed anything, please reach out to us in the comment section below.
Stay adventurous and happy travels.