Instagrammable Prague – 15 Best Prague Photography Spots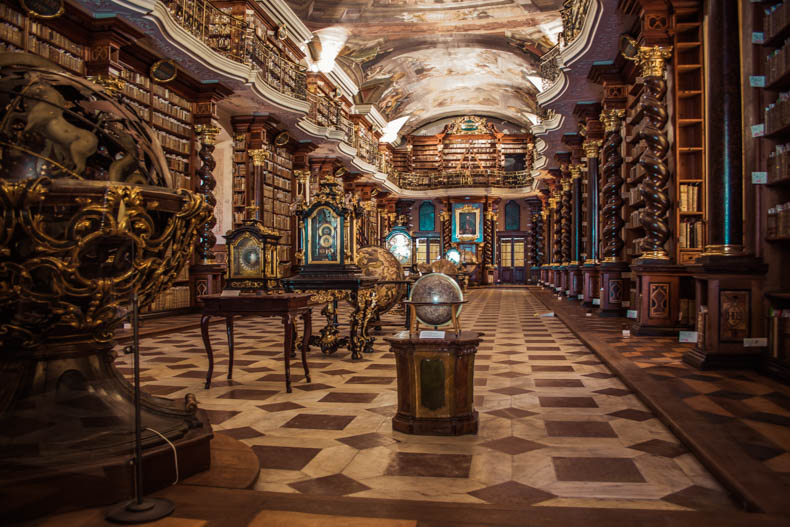 Prague is a magical and beautiful city. With so many awesome locations for photography in Prague, we have put together this list of 10 of the best photography and Instagram spots in Prague. So that you can spend less time searching and more time enjoying the city.
When it comes to our favourite European city breaks, Prague tends to top the list every time. We've visited the charming capital of Czech Republic 3 times already, and it continues to blow us away with its beauty. With its charming cobbled streets and jaw-dropping architecture, the Bohemian city is every photographer's dream.
So let's get to it, here are the 10 most Instagrammable Photography Spots in Prague. We also include photography tips, map links, where to stay in Prague and top tips for exploring the city.
Instagrammable Prague – 15 Best Prague Photography Spots
*Before You Travel to Prague, have you got your travel insurance sorted? Cover yourself for the unexpected, read why you really need travel insurance or get a quote from World Nomads.
*Have you got your travel Visa sorted? Check if you need one here and retrieve a quote. It's simple, fast and reliable.
*Don't leave home without any backpacker essentials with our free printable packing list.
The 15 Best Instagram & Photography Spots in Prague
From dancing houses and medieval architecture, to stunning viewpoints of the city, here are our 15 favourite spots for photography in Prague.
1. Dancing House
We dive into our list of Prague Instagram spots with the unmistakable, "Dancing House", or the Nationale Nederlanden building as it's officially known.
The unusual structure is revolutionary to Prague, symbolising the arrival of democracy to Bohemia in the late 1980s. Worlds apart from the gothic style of Prague's Old Town, the Dancing House is quirky and modern.
You can have a lot of fun getting creative with the "Dancing House" as pictured below. And afterwards, you can pop up to the rooftop bar for a drink or 2.
2. Old Town Square
Next up we head to the legendary Old Town Square, known by locals as Staroměstské náměstí. You are sure to recognise this spot if you're at all familiar with Prague photography.
Many of the cities most significant historical buildings surround the square. Quaint cobbled streets add to its charm, and you're sure to find several angles that are Instagram worthy.
Arguably the most impressive structure in the square is the enchanting Tyn Church. It's said to have inspired the palace in Disney's Beauty & the Beast, and we can see the resemblance. Can you?
3. Astronomical Clock
The most famoust attraction in Old Town Square is the Astronomical Clock. Built into the side of the Old Town Hall, it's a Prague Instagram Spot not to be missed.
First installed in 1410, it is the third-oldest astronomical clock in the world and the oldest still in operation. As well as being an intricate piece of engineering, the invention is incredibly beautiful.
You can generally expect a large crowd surrounding the clock. Particularly on the hour when the clock performs a short spectacle. Don't go with too higher expectation, but it's always a crowd-pleaser and worth seeing all the same.
4. Vltava River – Mánes Bridge
On our recent visit to Prague, we spent our first evening down on the river banks admiring the swans. Little did we know it would make for a beautiful photo, and we couldn't resist capturing the romantic moment for the 'gram.
The best place for swan spotting is beside the Mánes Bridge just across the river from the Old Town. With Charles Bridge looming in the background, it makes for a mesmerising scene.
Alternatively, you could head to one of the boat stations along the river and hire a peddle or rowing boat.
5. Charles Bridge
Charles Bridge is one of Prague's most famous landmarks and Instagram spots. Not only that, but it's also one of the most recognisable bridges in the world.
The awe-inspiring medieval structure is the oldest bridge still standing over the Vltava River, connecting Prague's most significant districts.
The old iron lamp posts are especially majestic on the Charles Bridge, dramatising the gothic mood of the structure. If you're looking for unique photography spots in Prague, this is one of them.
6. Prague Castle Viewpoint
Our next Prague Instagram spot is located just outside the Prague castle complex. From here, you can expect sweeping views over the entire city. If you're a bit lame like us, you'll have fun trying to locate the significant landmarks in the city below.
If you enjoy night photography, you'll definitely want to check this spot out after dark. With the lights twinkling in the city below, you're sure to capture some magical photos.
7. Petrin Hill
Petrin Hill is one of Prague's vast open-spaces boasting various nature trails, a variety of flora & fauna, outdoor entertainment and glorious views of the city.
If the busy streets of Prague get a little bit much for you, it's an ideal spot to escape the hustle & bustle. There are a few attractions dotted around the park which make great photography spots, such as the mirror maze, rose gardens, and the Strahov Monastery Brewery.
The most popular, however, is the Petrin Lookout Tower, its hilltop position allows unrivalled views of the city below.
8. The National Museum
Our list of Prague photography spots wouldn't be complete without the National Museum. The facade of the Czech Republics largest museum makes for a striking photo to add to your Instagram feed. It's also very photogenic inside too!
9. Klementinum Library
Our next Prague Instagram spot is Klementinum Library. But this is not your average library. Klementinum Library is one of the oldest libraries in Europe – often considered one of the most beautiful libraries in the world.
The library is a stunning example of baroque architecture, with majestic ceiling frescoes painted by Jan Hiebl. It is a significant Czech landmark, protecting documents of immense value from as early as the 1st century.
While the interior gave us all the Harry Potter vibes, you'll want to snap some photos from the Astronomical Tower. Perfectly positioned in front of the Tyn Church you'll capture some stunning views of Prague's Old Town.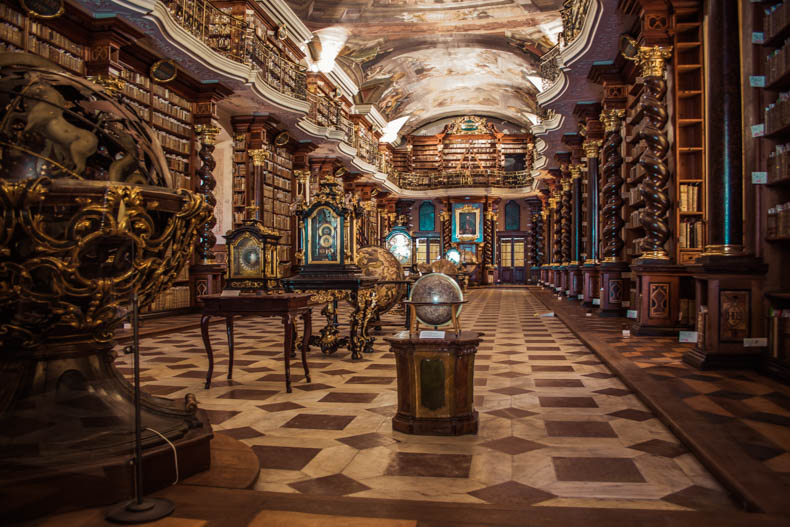 10. Hotel U Prince Rooftop Restaurant
For a unique and unobstructed view of Old Times Square, we suggest heading to Terasa u Prince restaurant. Located within the luxurious Hotel U Prince Hotel, the rooftop restaurant has been ranked among the top 15 most impressive in the world.
Unfortunately, we've always visited Prague on a budget so couldn't justify spending our money here. However, if you have the extra cash, this is an unbeatable spot for Prague Photography.
Boasting unrivalled views of the cities major landmarks, including Church of Our Lady Before Tyn and Prague Castle, you are sure to be charmed by this special place in the city. Our friends Kelly & Kody have captured it beautifully don't you think?
11. Old Town Bridge Tower
Old Town Bridge Tower is one of the best viewpoints in Prague, allowing stunning views of the Vltava River, Prague Castle, and Petrin Hill.
Located on the banks of Prague's Old Town, the tower forms a part of the legendary Charles Bridge. It's especially popular during sunset, and you only need to take a look at the photo below to see why.
12. John Lennon Wall
If your photography style is more underground or urban, you won't find many relevant photo spots in Prague. For that style of photography, I recommend you visit Berlin instead.
However, one spot that you might find fits your profile is the John Lennon wall. Ever since the 1940s, the wall's been a spot of creative expression, mostly geared towards political and global controversies.
After John Lennon died in 1980, locals took to the wall to express their grief. It's remained the John Lennon wall ever since, although the original memorials are barely visible beneath the graffiti.
13. Street Photography in Prague
The opportunities for street photography in Prague are endless. With its quaint cobbled streets, colourful houses, and old-fashioned vibe, there are idyllic scenes at every turn.
Just be sure to take note of our responsible photography section below, and you're good to go.
14. Night Photography in Prague
As I said earlier, if you're a fan of night photography, you'll love shooting after dark in Prague. The city that's vibrant and bustling during the day, takes on a whole new vibe at night.
After wandering the streets of Prague at night, I'm not surprised that many myths and legends suggest ghosts haunt the city. The streets feel eerie after dark. Not unsafe at all, just slightly mysterious like something unearthly lingers in the air.
Having said that, the mood creates an incredible ambience for photography. And those iron lamp posts – they get me every time.
Fancy a scare? On this best selling Ghost & Legends Tour, you'll go off the beaten path in Prague and learn about the myths and legends of the city through the ages. Your guide will tell unsettling stories of old legends, mysteries, and ghosts, leaving you never wanting to roam the streets of Prague at night again.
15. Prague Christmas Markets
Our final Instagram spot in Prague is seasonal; however, the Prague Christmas markets are so magical they certainly deserve a spot on this list.
We were fortunate to visit during December 2019, and Prague pulls off the festive vibes so perfectly. It's such a magical and romantic time of year to visit.
There are Christmas markets scattered all over the city, and each of them are worthy of a spot on your Instagram feed. The photo below is from the most popular market in Old Town Square.
Responsible Photography in Prague
Often when you travel, you see things that completely blow your mind, It's natural to want to take photos. However, please keep in mind the following basic rules of street photography:
If you have any questions about how we took these shots, feel free to ask in the comments below. You can check out our photography gear here.
Where to Stay in Instagrammable Prague
We suggest choosing accommodation around the Old Town or Mala Strana districts. These two districts are on opposite sides of the Vltava river, but not far from the Instagram spots and good restaurants. I've made some hotel suggestions below, or you can click the link for a list of all hostels, guesthouses, and hotels in the city.
For a full list of places to stay in Prague, you can check the latest prices here.
Best Hostel in Prague: Little Quarter Hostel – We stayed at Little Quarter Hostel during our time in Prague. Located within the Mala Strana district, the vibe was pretty chill. If you're looking for a cheap & chilled place to stay, don't hesitate to book Little Quarter Hostel.
Check rates and availability for Little Quarter Hostel here.
Best Budget Hotel in Prague: Design Room in Old Town – If you're travelling on a budget in Europe, it can be hard to find affordable private rooms – especially if you want to be located in the centre. Thankfully, Design Room has recently opened up shop in Mala Strana, offering visitors a cheaper alternative to the luxury hotels that dominate the area.
Check rates and availability for Design Room in Old Town here.
Best Mid-Range Hotel in Prague: Design Hotel Neruda – Conveniently located nearby Prague Castle, Design Hotel Neruda provides a touch of elegance without the hefty price tag. Guests can enjoy excellent facilities such as a spa, sauna, and hot tub. With a fabulous breakfast provided in the price, this hotel claims the best value for money title in my eyes.
Check rates and availability for Design Hotel Neruda here.
Best Luxury Hotel in Prague: Aria Hotel Prague – Featuring a panoramic rooftop garden, luxurious rooms & suites, and 5* facilities, guests can enjoy ample facilities such as a fitness centre, on-site restaurant, and state of the art rooms. Aria Hotel is the ideal place to treat yourself during your stay in Prague.
Check rates and availability for Aria Hotel Prague here.
More on Prague
Planning a trip to Prague? Check out our other articles to help plan your trip.
Did you Enjoy our List of Photography Spots in Prague?
Well, that concludes Instagrammable Prague – 15 Best Prague Photography Spots. If you have any questions or feel we have missed anything, please reach out to us in the comment section below. Don't forget to follow us on Instagram here!
Stay adventurous and Happy travels.
Charlotte & Natalie x
Disclosure: Some of the links in this post are affiliate links. That means that if you purchase through these links, we will earn a small commission, at no extra cost to you. And we can continue bringing you free travel tips and advice. If you use our affiliates, you are awesome, and we thank you!
Instagrammable Budapest – 17 Budapest Photography Spots
10 Awesome Locations for Photography in Berlin – Instagram Spots Berlin
2 Days in Berlin – The Best 2 Day Berlin Itinerary
Hiking to Ojstrica, Bled – The Best Lake Bled Viewpoint
PIN IT FOR LATER
Last Updated on July 29, 2020 by Our Taste For Life