If you are looking to find some hidden gems in Prague, you have come to the right place. In this article, I share what we discovered in off-beat Prague and our top 23 non-touristy things to do.
Prague is a mesmerising city, packed to bursting with history, culture, charm, and awe-inspiring architecture.
If it's your first time in the city, naturally you'll want to check out the major landmarks. Prague Castle, Old Town Square, Charles Bridge, these spots are popular for a good reason.
However, it's the hidden places in Prague, the secrets and mysteries, that in my opinion, make the city so unique.
To help you plan your own tour of unique places in Prague, I've collated this list of the weirdest and most wonderful things to do.
Slot these into your Prague itinerary for a truly unique and authentic experience in the city.
So let's get to it and break the silence on our favourite hidden gems in Prague.
Disclosure: Some of the links in this post are affiliate links. That means that if you purchase through these links, we will earn a small commission, at no extra cost to you. And we can continue bringing you free travel tips and advice. If you found the content helpful and are kind enough to use our affiliates – you are awesome, and we thank you!
From ghost hunting and beer baths to gothic castles in the Bohemia countryside, here are 23 of our favourite non-touristy things to do in Prague.
1. Discover Alternative Prague by Walking Tour
It makes sense to kick off the list with a mention of the best-selling Alternative Prague Walking tour. This tour will take you around the alternative neighbourhoods and secret places of Prague.
You'll see beyond the usual tourist spots and through the eyes of a local. Here's what you can expect from the 3-hour walking tour:
Discover Prague's graffiti and street art scene
Visit a community-funded art theatre located in a formal slaughterhouse
See a hidden artsy cafe where Czech designers presented their work
Learn about Prague's minority cultures such as LGBTQ+
Visit a Hackers crypto-anarchist institute
Explore a steam-punk underground club
Check out a quirky Vietnamese market
Book your Tour: Alternative Prague Walking Tour
2. Get Tipsy at the Dancing House
Prague's "Dancing House" isn't exactly a Prague secret, but it is unusual. Its location on the outskirts of the city also means it's easy to miss.
Worlds apart from the gothic style of Prague's Old Town, the Dancing House is a quirky and modern structure.
Above all else, the building is revolutionary, symbolising the arrival of democracy in Bohemia in the late 1980s.
It's worth taking the trip over to this little hidden spot in Prague, which also makes for a cool Instagram spot.
I recommend checking out the rooftop bar for sweeping views of the city. Go easy on the cocktails though, as you might end up as tipsy as the building.
3. Meander the Hipster Holešovice Neighbourhood
If you fancy a switch up from romantic strolls and sightseeing, I suggest checking out the hipster Holešovice district.
Once a run-down meatpacking district, is now one of the coolest places in Prague, with quirky cafes, bars, bookshops and art galleries aplenty.
A highlight of the neighbourhood is Letna Park. A sprawling open space set upon a plateau known as Letna Hill.
The Summer is the perfect time to visit when you can enjoy nature trails, an outdoor cinema, beer gardens, uber-cool bars, and incredible views.
For a full low down on this area of Prague, check out this comprehensive guide to Holesovice.
*The Holesovice Neighbourhood is included on the Alternative Prague Walking Tour I mentioned earlier in the article.
4. Bathe in a Tub of Beer
It's no secret that beer plays a massive role in Czech culture and sinking a few Staropramens is an essential Prague experience.
You'll find beer everywhere in Prague. Beer gardens, pubs, museums, and a lot of the time it's cheaper than bottled water. No wonder Prague is the stag do capital of Europe.
What I didn't expect to find though was a full-on beer spa!
Beer baths are a tradition from the Middle Ages, believed to cleanse the pores, increase circulation, regenerate skin and hair, and revitalise the nervous system.
The experience lasts between 1-2 hours. It includes unlimited premium beer and rejuvenating treatments by a team of professionals.
For sure one of the weirdest non-touristy things to do in Prague but an experience you're unlikely to forget.
Book Your Tour: Prague Beer Bath with Unlimited Beer
5. The Museum of Alchemists and Magicians of Old Prague
Next is one of my favourite secret places in Prague. I already told you that the Czech capital hides a mysterious past, and here's your chance to explore that truth a little further.
Over the years, various dabblers of the dark arts have called Prague home. At the Museum of Alchemists and Magicians of Old Prague, you'll get to learn in-depth about this darker side of the city.
It sounds like something out of Harry Potter, doesn't it? So it's kind of mind-blowing to learn that such practices have gone on in the city.
If you're at all interested in magic or alchemy, you won't want to miss this quirky hidden gem.
6. Get Educated at the Sex Machine Museum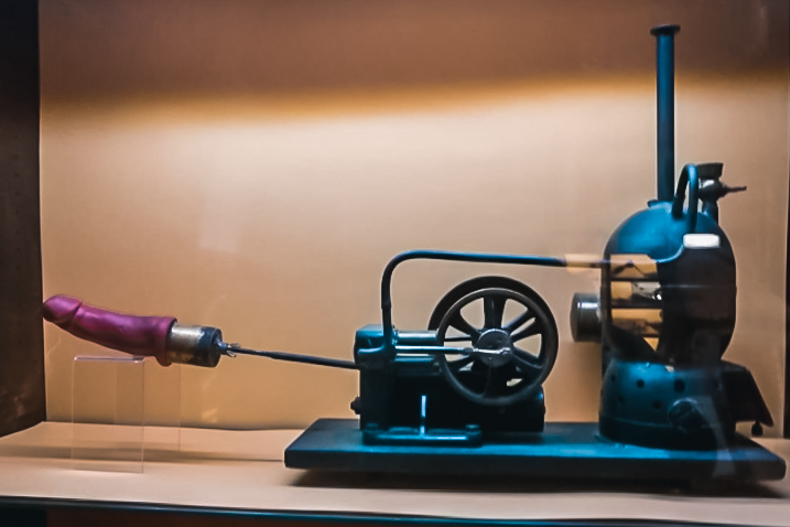 Prague's Sex Machine Museum is the only museum in the world that showcases only sex toys. So you can see why it's one of the more unusual things to do in Prague.
The museum aims to educate visitors on the history of sex through its extensive collection of sexual devices.
It's a fun exhibition for 18+ only, and even if you don't shock easily, you're guaranteed a few laughs.
I'd save this hidden gem for something to do in Prague during winter.
7. Take a Day Trip to Kutna Hora
A day trip from Prague worth considering is Kutna Hora. A quaint Bohemian town located 80km east of the city.
Like the city centre, Kutna Hora boasts awe-inspiring architecture, charming cobbled streets and fascinating history. On the contrary, it's incredibly peaceful with very few tourists.
There are various attractions worth visiting in the small town which you can find in this Kutna Hora Travel Guide. One of which is Sedlec Ossuary, otherwise known as the bone church.
The world-famous church features a bizarre collection of bones, artistically arranged to create various shapes and murals. It's pretty weird actually, but that's what makes it so unique.
Kutna Hora is accessible via public transport from Prague; otherwise, this Kutna Hora UNESCO Site Tour comes highly recommended.
8. Olšany Cemetery
Olšany Cemetery is the largest graveyard in Prague. It's a place steeped in history, having been the resting ground for plague victims of the 1600s.
It's also the burial place of many famous Czech artists, writers and politicians. A "Learning Trail" provides a historical walk through all of the graves.
You're probably wondering why I'd suggest visiting such a place; however, Olšany Cemetery is one of the prettiest secret places in Prague.
With its art nouveau monuments and ivy-covered graves, it makes for quite an enchanting experience.
9. See a Real-life Mummified Arm at Basilica of St James
This church may be one of the lesser-known churches in Prague, but it's certainly no less interesting. Especially when you find a mummified arm dangling from the ceiling!
As the legend goes, the arm belonged to a thief who tried to steal jewels off the statue of the Virgin Mary.
Naturally, Mary was not too happy about this. So she grabbed the thief's arm and held him there until somebody had to amputate it. Yikes!
To see the severed arm, look immediately to your right as you enter the church. You'll see a shrivelled black arm dangling from a meat hook.
10. Enjoy Nature at Divoka Sarka Reserve
Our next hidden gem in Prague is Divoka Sarka – A beautiful nature reserve with rolling hills and valleys, tall trees, a gorgeous creek and various walking trails.
Upon arriving at Divoka Sarka, it's easy to forget you're in a city at all. Long gone are the intense crowds of Prague's old town, replaced by the simplicity and calmness of nature.
During the Summer, there's a swimming pool open to the public, so you might want to pack your swimwear to cool off at the end of your hike.
*To reach the reserve takes only 20-25 minutes from the city on the number 20 tram.
11. Get Trippy at the Infinite Tower of Books
Prague is abundant in unusual & unconventional art, and the Idiom Installation in the Prague Municipal Library is one that never fails to mystify.
The fixture consists of thousands of books stacked into a cylindrical tower. An opening in the exhibit allows you to peer inside, where mirrors give it the illusion of being infinite.
Like all art, you can interpret the installation however you like. Although I like this definition by Atlas Obscura:
"For bibliophiles, an infinite tower of books is a nightmare disguised as a dream—a huge collection of literature that you can't get at because pulling a book or two out will cause the collapse of the tower. But it does make for a wonderful sight."
12. Is This The World's Most Beautiful Library?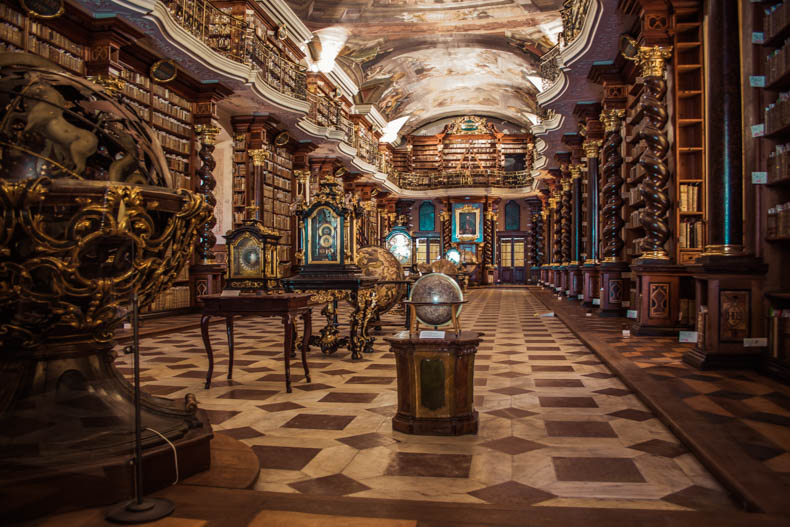 The National Baroque Library of the Czech Republic is often regarded as the most beautiful library in the world. And after capturing a glimpse of it on a guided tour, we would have to agree.
The library is a stunning example of baroque architecture, with majestic ceiling frescoes painted by Jan Hiebl.
It is one of the biggest and oldest libraries in Europe, said to protect documents of immense value from as early as the 1st century. Like the Latin Coronation Gospel Book, valued at 40 million EUR!
Visitors are not allowed inside the library. Which, considering the rare and precious documents that the library protects, is understandable.
You can, however, take a good look from the viewing deck. Also included in the Klementinum tour are the Meridian Hall and the Astronomical Tower.
13. Speculum Alchemiae
This next Prague hidden gem is another of my favourites. As you've probably guessed, I'm an enormous enthusiast of all things alchemy and magic. I was in my absolute element in Prague.
Speculum Alchemiae is another museum dedicated to the historical alchemists of Prague. But what's interesting about this place is that the museum contains a real alchemist's workshop.
They discovered the hidden lair during the reconstruction of one of Prague's oldest buildings.
It contains all the equipment that supposedly turns lead into gold, alongside a mummified crocodile that hangs from the ceiling.
14. Go on a Hunt for Prague's Controversial Art
Prague is an unconventional city – unafraid to break the rules and blur the lines. This is especially apparent in Prague's collection of controversial artwork.
Hunting down the quirky and provocative sculptures is one of our favourite non-touristy things to do in Prague.
Some of the most bizarre include 'brown nosers' where you can literally peer inside a giant butthole. And 'In Utero' which is meant to replicate what it's like to be in a womb.
15. Enjoy Cheap Beer & Food at Hany Bany
One of our favourite hidden gems in Prague for food & drink is the uber-cool Hany Bany bar.
We stumbled upon this place spontaneously, on the hunt for somewhere affordable for dinner. What we found was a bustling retro bar, with a great atmosphere and Pulp Fiction inspired decor.
Thankfully, the friendly waitress was able to seat us but suggested that usually, you need to make a reservation.
After filling our boots with cheap beer and generously sized meals, we could see why it's a hidden treasure among the locals.
*Vegetarian and vegan options are also available.
16. Get Lost in the Dripstone Wall
One of the more obscure hidden gems in Prague is the eerie Dripstone Wall.
Located within 'the grotto' area at the Wallenstein palace, it is a man-made wall constructed to look like stalactites in a cave.
If you study the wall long enough, however, you start to see all kinds of creepy shapes protruding from the wall.
Set in the heart of lush geometric gardens, the wall is a well-worthy addition to your Prague Itinerary. But be aware that it's only open to visitors between April and October.
17. Experience a Fire Show at James Dean
50's diner and burger joint by day, dark and dingy basement bar by night. James Dean is an experience you don't want to miss.
While I can't vouch for the food, we have visited the bar on numerous occasions, and always had a wild time.
The music is a mixture of golden oldies, rock anthems, and 90s dance hits, which never fails to get the crowd going.
The highlight of the night is the insane fire performances. The performers set fire to anything in sight – chainsaws, bottles, and even the bar.
There's no gold star for health and safety, but it's great fun nonetheless.
18. Go Back in Time for a Medieval Dinner
Curious to know what the city was like during Medieval times? Well, this hidden gem in Prague is your opportunity to find out.
Enjoy a fun-filled evening in an authentic medieval tavern, a delicious 5-course dinner with unlimited drinks, and fantastic entertainment.
With authentic performances including swordsmen, jugglers, belly dancers, and music, this is a unique experience in Prague you're unlikely to forget.
Secure your booking here: Prague Medieval Dinner with Unlimited Drinks
19. Check out the Alternative Cross Club
If you're seeking a unique nightlife experience in Prague, you cannot miss the eccentric Cross Club. It is by far one of the coolest clubs I've ever been to, up there with Szlimpla Kert in Budapest.
Similar to the infamous ruin bar, Cross Club is a creative multicultural centre, where the whacky decor resembles some kind of twisted wonderland.
On party nights, music genres range from dubstep to hardcore and local bands. On other nights the club welcomes aspiring creatives to showcase their work.
20. Sample Flavoured Absinthe
Absinthe is the legendary spirit of the Bohemian era. Historically, it was known as the 'green fairy' – thought to induce psychedelic and hallucinogenic effects.
Absinthe was banned in many countries for a while; however, recent studies have proved it to be no more potent than a standard spirit beverage.
So we feel entirely comfortable encouraging you to try a shot or two when visiting Prague.
For a more unusual experience, visit one of the Absinthe alchemy stores, where you can sample the spirit in a variety of flavours.
21. Dare to Brave the Ghosts & Legends of Prague's Old Town
When wandering the streets of Prague at night, you can't help but sense something eerie and mysterious lingering in the air.
It's therefore unsurprising to learn that various ghosts and legends are believed to haunt the city.
On the Ghost & Legends Tour, you'll delve into the secrets of Prague and learn about the myths and legends of the city through the ages.
Your guide will tell unsettling stories of old legends, mysteries, and ghosts, leaving you never wanting to roam the streets of Prague at night again.
Book your Tour: Prague Ghosts and Legends Walking Tour
22. Take a Half-day Trip to Magical Karlsteijn Castle
The city centre may be jam-packed with cool and exciting things to do, but some of the best of Prague's hidden gems are on the outskirts.
The majestic Karlsteijn Castle is an excellent example – a stunning Gothic castle set in the hills of the Bohemia countryside.
Surrounded by a protected forest, we both agreed it was one of the most fairytale-like castles we'd ever seen.
Unfortunately, we couldn't get inside the castle during our visit thanks to reduced Winter hours. However, we made the most of our day and went hiking instead.
If you visit when the castle is actually open (check the opening times here) it's free to wander the castle grounds. But to see inside requires a guided tour.
*To get to Karlstejn, you can drive, or take a train (line S6) from the central station (Hlavní nádraží). Journey time is 40 minutes each way.
23. Go Hiking in the Protected Forests of Karlsteijn
When we arrived at Karlstejn Castle to find it closed, we were naturally a little disappointed. However, it turned out to be a blessing in disguise.
We'd found this article about hiking at Karlsteijn Castle, so with the castle closed, it was the perfect opportunity to explore.
As it turns out, there are some fantastic hikes in the area which lead us through mysterious forests and lush countryside.
We got as far as Velka Amerika quarry before we turned around and headed back to Karlsteijn village.
Save Time and Book a Tour
For a more local experience, we recommend checking out the guided tours on Get Your Guide:
Quirky Hotels in Prague
Naturally, there is no shortage of accommodation options in Prague regardless of your budget. You can click the button below for a list of all hostels, guesthouses, and hotels in the city.
As this article is looking at cool and unusual places in Prague, I thought it would be fun to recommend some quirky hotels that I've found dotted around the city.
If you've not booked your accommodation already, you're definitely going to want to check these out.
Design Hotel Neruda
Conveniently located nearby Prague Castle, Design Hotel Neruda provides a touch of elegance without the hefty price tag. As the name suggests, the interior design is stylish and modern throughout the property, while guests can enjoy excellent facilities such as a spa, sauna, and hot tub.
Vintage Design Hotel Sax
Located in the historical part of Prague, the Vintage Design Hotel Sax is a retro-style boutique hotel. All around the hotel, you'll find bold, colourful, and psychedelic decor. So it's the perfect choice for those looking for a quirky alternative to the contemporary style you find elsewhere in the city.
Dancing House Hotel
Yes, the Dancing House mentioned earlier in the article is also home to an uber-cool hotel. Due to the obscure shape of the building, you get some pretty unusual and futuristic looking room designs. Not only that, the views over the city are pretty incredible.
NYX Prague
For our final quirky hotel in Prague, we're heading to the bright and bold NYX Hotel. Located in the city's urban centre, it's close to plenty of bars, restaurants, and tourist spots. And you're sure to love the artsy interior, which includes modern street art from young aspiring artists.
Use the Map below to check availabilty:
Well, that concludes our list of non-touristy things to do in Prague. We hope you enjoy exploring these weird and wonderful Prague hidden gems.
If you're heading to Prague, we have a comprehensive Prague Itinerary as well as a list of the best Instagrammable Places in Prague that you may find helpful.
If you have any questions or feel we have missed anything, please reach out to us. We love hearing from you!
You can contact us in the comment section below or through our contact us page. Don't forget to follow us on Instagram, where we share further travel tips & advice.
Stay adventurous and happy travels.
Charlotte & Natalie x
Disclosure: Some of the links in this post are affiliate links. That means that if you purchase through these links, we will earn a small commission, at no extra cost to you. And we can continue bringing you free travel tips and advice. If you found the content helpful and are kind enough to use our affiliates – you are awesome, and we thank you!
Off the Beaten Path in Budapest – 14 Unusual Budapest Hidden Gems
Visiting Lake Bled in Winter + 14 Lake Bled Winter Activities
4 Days in London – An Insider London Itinerary
2 Days in Berlin – The Best Berlin Itinerary
PIN IT FOR LATER