If you're planning a New York to Florida road trip, you've come to the right place! After several epic road trips and living in 4 states on the East Coast, I know all the best places to stop on route where you can experience a variety of landscapes and activities.
This road trip to Florida will take you down the coast for an unforgettable journey through these states: New York, Pennsylvania, Maryland, Virginia, North Carolina, South Carolina, Georgia, and Florida. I'll be sharing the best places to stop along the way, as well as noteworthy activities and sites, East Coast hidden gems, and other helpful tips.
What's impressive about the United States' Eastern Coast is that each state is special in its own way. Whether you're travelling with friends, your partner, or solo, you're in for quite the adventure. Get ready for stunning mountain views, breathtaking beaches, delicious food, and vibrant nightlife.
And, of course, the best part of road tripping is finding secret spots along the way, which you'll certainly come across as you make your way to each of these destinations!
Save this article as your road trip guide, but feel free to get creative with it, adding and removing places of your choice. And, if you're starting your road trip in Florida, you can start at the bottom of this guide and make your way up.
So let's get to it; here's the ultimate road-tripping guide from New York to Florida.
New York to Florida Road Trip – The Best Places to Stop
Disclosure: Some of the links in this post are affiliate links. That means that if you purchase a product through these links, we will earn a small commission, at no extra cost to you. And we can continue bringing you free tips and advice. If you found the content helpful and are kind enough to use our affiliates – you are awesome, and we thank you!
Tips for a New York to Florida Road Trip
As you road trip from NYC to Florida, these tips will help you out along the way in terms of travel time, how many days you need, and where to stay.
How far is the drive from New York to Florida?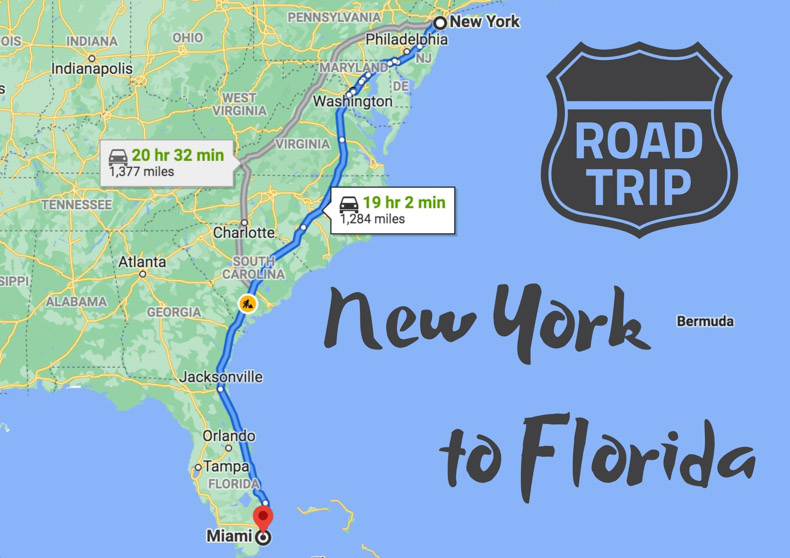 The drive straight through from New York City, New York to Miami, Florida is about 1,300 miles and 20 hours. But, of course, you want to make stops along the way to explore.
This guide shares the best driving route from New York to Florida, with 18 cities or areas to stop in. Each destination is within a one to five-hour drive to the other.
Since the drives are shorter, you could stop at half of them on your way down and the other half on your way back up. Alternatively, you could do a slow drive one way and a quicker drive the other way.
Of course, this will all depend on your travel style and timeline. If you're not planning on making any stop-offs you might consider taking a bus from NYC to Orlando instead.
How long is the drive from New York to Florida?
While I recommend taking one to three months to make the most of your road trip, many people don't have this much time, which is totally understandable!
If you're on a shorter timeline, driving from NYC to Florida and back can be done in two to three weeks.
As you read, you'll see that I recommend how long to spend in each place – usually around three days. But since the stops I recommend are so close to one another, you can easily skip some or just make a quick stop if you'd prefer.
Where to Stay on Route?
Whether you're a camping kind of road tripper or you prefer resting at hotels or vacation rentals, most of these stops offer both options.
I mostly camped in my camper van on my East Coast road trip. Although, there aren't too many free camping spots since there isn't Bureau of Land Management (BLM) land on this side of the country.
However, I did find the odd free park up, mostly in national forests, using the iOverlander app and the Free Campsites website. There are also plenty of paid campsites at state parks and other campgrounds, along with the Hipcamp app.
If you prefer hotels or staying in vacation rentals, this is easy to find along the coast. I always use booking.com to find the best deals.
Interested in learning how you can be an eco-friendly traveller? Check out these eco-travel essentials and tips for responsible travel.
New York to Florida Road Trip Itinerary
Now, let's get to the fun part and check out the best places to stop on your New York to Florida road trip!
New York
Of course, as you begin your New York to Miami road trip, you're going to want to spend some time in the 'Empire State'. Famous for its cultural diversity, stunning landscapes, and bustling economy, there's so much to see and do in New York.
My favourite 2 places are New York City and the Finger Lakes region. This gives you the perfect mix of nature, city life, and fantastic food and drinks.
New York City
You can't go wrong starting your New York to Florida road trip itinerary in NYC. The 'Big Apple' is a melting pot appreciated for its vibrant culture, architectural variety, and incredible cuisine. It's no wonder that it's considered one of the most iconic cities in the world.
While you'll have your road trip vehicle with you, I recommend leaving it parked while you explore the city. It's easy to wander around on foot, and the public transportation system is fantastic. If you need some ideas on what to see and do this comprehensive New York itinerary is packed with useful tips and advice.
Aside from walking, the MTA NYC Transit is the most affordable way to get around. There are also tons of taxis available if needed.
Things to do in NYC
Whether you're looking to spend just one night or a few, here are some recommended activities to do while you're in NYC:
Manhattan: Visit Times Square, Central Park, Empire State Building.
Chelsea Market: A lively marketplace with endless food.
The Metropolitan Museum of Art: The largest art museum in the US.
Chinatown: An area filled with Chinese and Asian cuisine and shops.
Brooklyn: Check out street art, Brooklyn Botanic Gardens, have a waterfront dinner at Time Out Market.
Finger Lakes
NYC to Cayuga Lake (Finger Lakes), 245 miles, 4.5 hours
The Finger Lakes region just might be my favourite hidden gem on the east coast. This 9,000 square-mile area of natural beauty is in west-central New York, where you can find eleven long, narrow lakes. While it's a little off the path from NYC, it's well worth a visit.
Each lake is roughly half an hour from one to the other. I recommend taking your time to explore as many lakes as you can, where you can find wineries, waterfalls, and state parks. Whether you're interested in hiking, biking, dining, or fishing, there's something for everyone!
Each lake area offers so much to do. You can find accommodations, including hotels, campsites, inns, and private vacation rentals. You can make this part of your adventure as short or long as you'd like.
Things to do in Finger Lakes
Here are some top spots to check out around the Finger Lakes:
Cayuga Lake: Downtown Ithaca, Stewart Park, Taughannock Falls State Park.
Seneca Lake: Watkins Glen State Park, Zugibe Vineyards, Grist Iron Brewing.
Keuka Lake: The Keuka Outlet Trail, Keuka Lake State Park, Champlin Beach.
Check out these thrilling hiking trails in the Finger Lakes
Visit the best Finger Lakes Waterfalls.
Pennsylvania
Next up is a quick stop in Pennsylvania to explore the uber-cool city of Philadelphia. While there are great places to stop between the Finger Lakes and here, I prefer to make a beeline for Philadelphia before continuing south. Of course, you can go ahead and add other stops to your journey as you see fit!
Philadelphia
Keuka Lake (Finger Lakes) to Philadelphia, 286 miles, 4.75 hours
Philadelphia is a must-visit on your New York to Florida road trip – especially if you enjoy history, nature, and food.
It's also one of the best places on this itinerary where you can make a quick stop. One to three days in Philly is plenty for you to experience what the city has to offer.
To get around Philadelphia, it's best to use public transportation. There's also a lot to explore within walking distance of the downtown area known as Center City.
Below are some of the top things to see and do in Center City. For a full day downtown, you can visit each area in this order stopping at or skipping whatever you'd like!
The walk from Rittenhouse Square to Old City is only about half an hour but offers many points of interest along the way. Many visitors enjoy staying in the Old City, where you can find many hotels, restaurants and bars.
Things to do in Center City
Rittenhouse Square: Town square and urban park to relax, shop, and dine.
Midtown Village: Historical monuments like Independence Mall, several performing arts venues, and a thriving LGBTQ+ community.
South Street in Society Hill: Shops, galleries, and restaurants.
Independence National Historical Park: 20 blocks filled with museums, the Liberty Bell, and Independence Hall.
Old City: Nightlife galore with restaurants, cafes, and bars
Maryland
Next up on your New York to Florida road trip, we have Maryland. It's the national anthem's birthplace and home to the highest number of blue crabs on the East coast. It, therefore, goes without saying that Maryland is a hotspot for delicious seafood.
As you journey through Maryland, the best stops to visit include Baltimore, Washington D.C., and the Assateague Island National Seashore.
Baltimore
Philadelphia to Baltimore, 105 miles, 2 hours
While Baltimore is a must-see, the experiences that make it unique can easily be explored in a day or two.
Again, like other northern US cities, getting around Baltimore is best on foot or via public transportation. So, feel free to leave your road-tripping vehicle parked up so you can go off and explore.
I recommend these activities while you're in Baltimore.
Things to do in Baltimore
The National Aquarium: The most visited attraction in Baltimore.
Star-Spangled Banner National Historic Trail: Walking Trail with picturesque views of the city and harbour.
Try blue crabs and other seafood.
Washington D.C.
Baltimore to Washington, 38 miles, 1 hour
On the border of Maryland and Virginia is Washington D.C. (District of Columbia). If you haven't been to the United States' capital, this road trip is the perfect time to check it out.
You can easily make a quick stop here on your way to the next destination or spend a few days. It all depends on how big of a history buff you are.
Aside from the iconic sites in Washington like the White House and Capitol Hill, here are some other noteworthy spots and hidden gems:
Things to do in Washington D.C.
Constitution Gardens: A 50-acre park that's beautiful day and night.
The Hillwood Estate, Museum, and Gardens: A decorative arts museum.
Culture House: An old neighbourhood church turned vibrant arts collective.
Assateague Island National Seashore
Washington D.C. to Assateague Island National Seashore, 147 miles, 3 hours
Although you'll be on the border of Virginia when you stop in Washington, nature enthusiast's will want to drive 3 hours east to Assateague Island National Seashore. Assateague Island is a protected area off the coast of Maryland with beaches, trails, and wildlife.
Every road tripper needs a few days off to relax, and Assateague is the perfect place for it. Enjoy relaxing on the beach, watersports, and even horseback riding alongside the ocean.
If beachside camping is your thing, you're going to love Assateague. You can find several campgrounds on and around the beach, including private spots in the Maryland State Park. There are also hotels.
Note: If you have pets, you may only visit the Maryland side of Assateague Island National Seashore. Pets aren't allowed on the Virginia portion of the island.
Virginia
As you make your way south, your next stop is the East Coasts historical and beautiful state of Virginia. Many road trippers know Virginia as the beginning of the Blue Ridge Parkway, the scenic route that runs from VA to NC.
Since this New York to Florida road trip itinerary takes us closer to the coast, we won't hit the Blue Ridge Parkway just yet. But, don't worry, we will come back to it later on.
For now, I suggest stopping in Virginia Beach, Richmond, and Roanoke.
Virginia Beach
Assateague Island National Seashore to Virginia Beach, 106 miles, 2 hours
Virginia Beach is a lively coastal town with a vibrant culture and tons of activities to enjoy. It's especially ideal for those looking to relax on a beautiful and unique beach.
There are many places for road trippers to stay in Virginia Beach, including hotels, vacation rentals, and campgrounds.
Aside from hanging out on the coast, these Virginia attractions and hidden gems are worth checking out.
Things to do in Virginia Beach
Cape Henry Lighthouse: Worth the climb up the lighthouse for picture-perfect views.
Mount Trashmore Park: The largest park in VA beach with an incredible (and Instagrammable) colourful staircase.
Beach Street USA: A beachfront street lined with shops, restaurants, cafes, live performers, and events.
False Cape State Park: Unspoiled beaches off the beaten track; only accessible by foot or bicycle (cool place to tent camp!)
Richmond
Virginia Beach to Richmond, 107 miles, 1.75 hours
After the beach, head to Virginia's eclectic capital city of Richmond. There's something for everyone in Richmond, from unique architecture and outdoor adventures to craft beer galore and endless dining experiences.
You can easily spend a week here getting round all there is to see. But no matter how much time you have, I'd highly suggest stopping for as long as possible!
Here are some of my top recommendations in Richmond:
Things to do in Richmond
Virginia Holocaust Museum: Offers a fascinating learning experience.
Belle Isle: A small island on the James River where you can hike, swim, or kayak.
Brewery hop: Richmond has more than 30 craft breweries, most of which are well worth checking out.
Downtown Richmond: Wander around the riverfront, where you can find shops, murals, historical landmarks, bars, and more.
Roanoke
Richmond to Roanoke, 189 miles, 3 hours
While Roanoke isn't always a top spot in Virginia, in my opinion, it's worth checking out. Particularly if you're a hiker – if you're a hiker, Roanoke is a must-visit!
Roanoke is home to several outdoor adventures and quirky attractions. It also leads you towards the Blue Ridge Parkway for the next part of your journey.
Stop for a day or spend a couple of nights and check out the following unique activities and sites:
Things to do in Roanoke
Mill Mountain Park and the Roanoke Star: Various hiking trails in a beautiful park with an iconic massive star (excellent photo-op!).
Smith Mountain Lake: A gorgeous place to hang out on the water with camping opportunities available.
Carvins Cove Natural Reserve: Located on the Appalachian Trail, it features a stunning panorama.
North Carolina
Now it's time to make your way over to the Blue Ridge Parkway. With breathtaking mountain views and an exhilarating ride, an East Coast road trip isn't complete without spending some time on this stretch.
You'll probably want to have your camera ready and plan in extra time for stop-offs, as there are many jaw-dropping lookout points.
When you leave Roanoke, you'll head south and slightly west to the Blue Ridge Parkway, then continue down to Little Switzerland and Asheville. Get ready for an awesome road trip of North Carolina!
Little Switzerland
Roanoke to Blue Ridge Parkway to Little Switzerland, 254 miles, 4.5 hours
Now that the Blue Ridge Parkway has gotten you geared up for the incredible North Carolina mountains be ready for Little Switzerland to blow your mind!
This unique, unincorporated community sits over 3,000 feet above sea level. Between its charm and mountain views, there's a good chance you'll never want to leave Little Switzerland.
Things to do in Little Switzerland
Here are some noteworthy things to see in Little Switzerland:
Grassy Creek Falls: Nature trails leading to a 25-foot waterfall.
Books & Beans: Massive shop selling books, crafts, treats, and coffee.
DiamondBack 226A: A curvy highway with unmatched views – perfect for adventurous road trippers.
Asheville
Little Switzerland to Asheville, 52 miles, about 1 hour
Head over to Asheville via the Blue Ridge Parkway for more mountainous beauty. You'll drive through Black Mountain, which is well worth stopping in for a mountainside hike and checking out the quaint downtown area.
Again, many of the best Asheville adventures are the gems you'll find on your drive along the Blue Ridge Parkway. This area is teeming with waterfalls, trails, and views.
Once you arrive in Asheville, there's so much to see and do. Here are my top recommendations:
Things to do in Asheville
Downtown Asheville: Vibrant area with fun restaurants, cafes, breweries, and bars.
Pisgah National Forest: Forested area with hiking trails, waterfalls, and campsites.
French Broad River: Relax on a raft and float down the river.
Charlotte
Charlotte, known for award-winning cuisine and beer, diverse culture, and fun activities is one of my favourite places to visit in North Carolina.
The tagline "Charlotte's got a lot" couldn't be more accurate. Charlotte is filled with a ton of exciting experiences, and there's something for all kinds of travellers to enjoy. 
Even if you're like me and don't usually opt for visiting big cities, look to spend two or 3 days in Charlotte during your NYC to Florida road trip. I promise you won't forget it!
Top Things to do in Charlotte
Spend time in Uptown Charlotte: First Ward Park, Harvey B. Gantt Center, NASCAR Hall of Fame, The Green Park, Truist Field for baseball, and Mint Museum.
Charlotte Segway Tour: A unique and fun way to discover Uptown.
Visit Lake Norman: A large lake with water recreation and a local state park.
Explore the NoDa neighbourhood: Mac Tabby Cat Cafe, Pura Vida Worldly Art, NoDa Easy Art Walk, Optimist Hall, Divine Barrel Brewing, and The Evening Muse. 
South Carolina
As you continue on your New York to Florida road trip, you'll make your way through the mountains back towards the ocean.
South Carolina is known for delicious southern fare, friendly people, beautiful weather, and some of the best family beaches on the East Coast.
Let's visit Greenville and Charleston, easily two of South Carolina's absolute best cities.
Greenville
Asheville to Greenville, 63 miles, about 1 hour
Greenville is an up-and-coming city with a growing diverse culture, an award-winning downtown area, and ample natural beauty. It's got something to offer all kinds of road trippers.
Accommodations are endless, and it's easy to spend a day or a week here, depending on your timeline and interests! Here are some must-do Greenville adventures:
Things to do in Greenville
Downtown Greenville: Shops, restaurants, cafes, and live entertainment.
Falls Park: Huge picturesque green space on the river with hiking trails, benches, art pieces, and gardens.
Paris Mountain State Park: Massive park on Lake Placid where you can enjoy hiking, water activities, and camping.
Charleston
Greenville to Charleston, 212 miles, 3.25 hours
Charleston is a charming, historic city that's been named the 'best small city' for 11 consecutive years. But don't let the term 'small' fool you.
Charleston itself grows by the year, offering endless things to see and do. And there are tons of other towns that lie just outside of Charleston, which you may find you want to explore.
I recommend staying for a long weekend in Charleston. The city really comes to life Friday through to Sunday while 3 days allows you plenty of time to explore all that there is to see.
Things to do in Charleston
Folly Beach: Laid-back beach with a lively downtown area.
Sullivan's Island Beach: More upscale beach with great restaurants and bars nearby.
Downtown Charleston: Shops, restaurants, cafes, bars, and historical sites (I highly recommend taking a day to bike around downtown – lots of bike rentals available!)
Shem Creek: There are various bars and seafood restaurants on the water with amazing views.
Note: There are minimal camping opportunities around Charleston, but you'll find plenty of hotels and vacation rentals throughout the city.
Georgia
As your journey continues, you'll hit Georgia. A lot like South Carolina, you'll find friendly locals, nice weather, and delicious food.
The two beautiful and quirky areas I like to explore in Georgia are Savannah and Jekyll Island.
Savannah
Charleston to Savannah, 110 miles, 2 hours
Located just a couple of hours south of Charleston, Savannah is another exciting city with lots to offer.
That said, it does offer a very similar experience to Charleston. So if you're crunched for time, it's a stop I'd say you can afford to miss.
However, if you do decide to stop here, you won't be disappointed. While Charleston offers beautiful beach life, Savannah has a more laid-back vibe. You feel a sense of unmatched serenity here.
Things to do in Savannah
Here are some of my favourite things to see and do in Savannah:
Downtown Savannah: Stroll, shop, eat and drink.
Forsyth Park: Large city park in Savannah's historic district.
Jekyll Island
Savannah to Jekyll Island, 94 miles, 1.5 hours
Just south of Savannah, directly on the ocean, is the beautiful Jekyll Island. If you need some downtime and tranquillity, your prayers will be answered at this stop!
Jekyll Island is the perfect place to lay on the beach and relax or enjoy activities. In line with the laid-back beach vibe, there are tons of bike trails around the island, so I love hopping on a bike to explore the area.
As you explore Jekyll Island, check out these experiences:
Things to do in Jekyll Island
Jekyll Island Historic District: Large site with over 30 historic structures.
4H Tidelands Nature Centers: Kayak tours, nature walks, and a wildlife exhibit.
Horton Pond: The ideal place to relax or take a hike.
Note: If you don't have your own bike with you, you can find plenty of places where you can rent them.
Florida
And, just like that, you've made it to Florida – the last state on your New York to Florida Road Trip. But do not fear; the fun is far from over.
Here in the sunshine state, it's all about relaxation and beach life, as well as a little bit of nightlife if that's your style. There is no best time to visit Florida since it has a subtropical climate all year round.
On your drive through Florida, the best places to visit are Fernandina Beach (& Amelia Island), Orlando, and Miami.
Fernandina Beach & Amelia Island
Jekyll Island to Fernandina Beach, 65 miles, 1.25 hours
The historic city of Fernandina Beach is where you'll find the beautiful Amelia Island. Both areas are well worth spending some time hanging out in.
Beach adventures are at the top of most visitors' bucket lists, and rightfully so. The beaches here are unmatched. But, here are some other things to do when you're visiting Fernandina Beach.
Things to do Fernandina Beach
Historic Downtown Fernandina Beach: Trendy shops, restaurants, and bars.
Fort Clinch State Park: Historical park with trails, beaches, and campsites.
Orlando
Fernandina Beach to Orlando, 178 miles, 2.75 hours
If you've never been to Orlando, this one's a must-visit on your east coast road trip! While it's known for its iconic theme parks, Orlando also offers amazing food, shopping, nature, and nightlife opportunities.
While you're in Orlando, you may want to check out a theme park or two (because did you really go to Orlando without visiting a theme park?) But, here are some other things to do in the 'City Beautiful.'
Things to do in Orlando
Disney Springs: A huge district that features shopping, dining, and entertainment.
Universal CityWalk: Similar to Disney Springs but found near Universal Studios.
Wekiwa Springs State Park: Lush park for exploring nature and camping.
Miami
Orlando to Miami, 235 miles, 3.75 hours
And, there you have it. You've made it to the final stop on your New York to Miami Road Trip!
Miami is a hub for all things fun – beaches, art, food, and nightlife. What better way to end your road trip (or start it if you're driving south to north)?
While it's easy to spend a month in Miami getting around all there is to see, here are a few activities and sites you won't want to miss.
Things to do in Miami
Wynwood Walls: An outdoor museum with vibrant street art.
Ocean Drive: Iconic art-deco street where you can find restaurants, bars, and beach access.
Time Out Market: A massive market with local fare and beverages.
Bill Baggs Cape Florida State Park: Park, beach, nature trails, and picture-perfect scenery.
Enjoy Your New York to Florida Road Trip!
There you have it – the best places to stop on your East Coast road trip. Whether you have a few weeks or a couple of months, a road trip from NYC to Florida will take you on an unforgettable journey!
Have I missed anything that you think deserves to be on the list? Do you have any other questions or feedback? Let us know! We love hearing from you.
You can reach out to us in the comment section below or through our contact us page. Don't forget to follow us on Instagram, where we share further travel tips and inspiration.
If you plan on exploring the East Coast soon, perhaps these other articles will help you to plan your trip:
Stay adventurous and happy travels.
Polly is a freelance writer from the US. She loves to explore and spent over a year living in and traveling around Southeast Asia. Polly has many more places on her bucket list and currently travels around the United States. Along with writing and traveling, she loves coffee, craft beer, and spending time outdoors. You can see more of Polly at pollycloverwrites.com.
PIN IT FOR LATER