Looking for the perfect lesbian wedding rings? In this guide, guest author Lori Wade shares her top tips for buying lesbian engagement rings and wedding rings. By the end of the article, you will feel confident in picking a perfect lesbian wedding band for the one you love. 
A marriage proposal is not complete without a ring. This is true even for lesbian relationships.
For most couples, a wedding ring is not just a piece of jewellery. Instead, it symbolises love, unity, and a binding affinity.
That being said, buying lesbian engagement rings or lesbian wedding rings can be tricky and confusing.
The myriad of designs and range of budgets to choose from is overwhelming. This is where a little pre-planning can go a long way.
Often we can feel pressured into buying a ring that society deems acceptable. When, for some couples, having something unique and personal to them is even more special.
I have written this ultimate lesbian wedding ring shopping guide to help lessen the burden of picking out a ring.
Things to Consider When Choosing a Lesbian Wedding Ring
It does not matter who proposed. What matters is that you are now taking your relationship on the road to eternity.
So, if you are having a hard time deciding which engagement ring or wedding ring to buy, here are some factors you can consider to make your selection process easier.
1. Is a Lesbian Engagement Ring Necessary?
The decision to buy lesbian engagement rings will depend on the couple.
Many women of all sexualities have dreamt of receiving a sparkly engagement ring since they were little. However, some may find this tradition to be heteronormative and outdated.
Of course, the best way to find out how your partner feels about the subject is to communicate.
It is important that you understand each other's expectations and desires regarding marriage early on in the relationship. That way, nobody is left hurt or disappointed later on down the line.
If you decide that marriage is on the cards, you'll likely want to propose to your partner with a ring of some kind.
It could be a traditional diamond ring, or maybe you will choose another design of a lesbian commitment ring.
Either way, consider making the event extra memorable by taking her on a romantic getaway or organising a special date night.
2. How Much Can You Afford?
If you are on a budget, you first have to consider the amount of money you can spend on a ring.
It would be very frustrating for you to go to a jewellery store excited to buy your ring only to find out that your money is not enough.
Do not despair, however. You can still buy a beautiful and meaningful engagement or wedding ring without spending an obscene amount of money.
Remember, the value of your relationship is not measured by how expensive the rings are.
Marriage is a commitment and a promise to love that person forever. The ring is simply a symbol of that.
So, ultimately, it does not matter how much you spend on it.
3. Consider Your Love Story
Lesbian couples are pretty particular about the milestones in their relationship.
Therefore, when choosing lesbian wedding bands, it is a good idea to pick one that includes symbolic stones, colours, or metals that correspond with specific dates or have a personal meaning to both of you.
For example, if your wedding date is in April, choose wedding bands with diamonds. However, if you started to become intimate in February, a ring with amethyst detail might be a nice touch.
As well as representing a particular date, having stones other than the traditional diamond and metals other than the usual gold or silver will make your ring unique to your lesbian love story.
4. Consider the Ring Style
Now that you have considered the amount you can spend on the ring, your next step is to choose the perfect ring style for your partner.
Selecting the best ring style is not easy as there are many of them in the market. But further down the article are some of the different ring styles you may want to consider.
5. Consider the Ring Metal
When choosing your lesbian wedding bands, you have to consider your lifestyle.
Lesbian wedding rings are available in various metals. The most popular choice is the gold bands, but they can get damaged in certain situations.
For example, if your job exposes you to strenuous activity every day, gold can bend easily or get dented.
Also, gold is one of the most expensive metals, so don't feel you have to stretch yourself if you cannot afford it. But if you want a timeless classic style that never goes out of fashion, gold is a good option.
A good alternative for gold is titanium or sterling silver. Lesbian engagement rings or wedding rings made of these materials appear stately on your fingers but are more affordable and much more robust.
6. Consider Which Finger You Will Wear the Ring
Traditionally, a married couple would wear their wedding ring on the left ring fingers. However, it is a bit different with same-sex couples. They can decide where to place their wedding or engagement ring.
So when choosing lesbian wedding rings or engagement rings, you have to consider which finger you will wear the ring.
It would be good if you discuss this matter with your partner. But if you want to propose in secret, there are some hacks for figuring out your partner's ring size.
If you want to be different from others, you can wear your couples bands on your index fingers or pinkies. Being different is exciting.
After you choose your wedding or engagement rings, consider how they will look on your other fingers. Pick the option that suits you and fits you comfortably, not what is expected.
7. Decide if You Want Identical or Different Styles of Ring
Some lesbian couples like to have matching wedding rings, and some prefer to have different styles. Regardless, the symbolism of the lesbian wedding bands is more important than the look.
Suppose you and your partner have different likes and preferences; there is no need to fight over the ring designs.
You can wear a fancy band filled with lovely gems and patterns, and your partner can put on a ring according to their preference without deflecting the meaning of wearing a wedding ring.
As you will likely wear your wedding ring most of the time, you must choose a style that you are comfortable with.
I know a couple who wears a ring crafted from shiny metal, and her partner chooses the black cobalt. Even if they do not match, their sentiment remains.
8. Look for an LGBTQ+ Friendly Jeweller
Stepping into a jewellery store with your fiancé looking for a lesbian wedding band can be pretty intimidating, especially if you are looking for a non-traditional band.  
Sadly, many judgmental people in this world cannot accept that the LGBTQ+ community deserve the right to marry like anybody else.
Despite the legalisation of same-sex marriage, around 30% of the population still believed it should not be valid.
If you have the misfortune of meeting a jeweller who feels this way, you might find it challenging to find the perfect ring.
With this in mind, you may consider calling your local jewellers in advance and asking if they accommodate couples looking for same-sex wedding rings before going to the shop.
You can quickly gauge whether they will be accepting or not by their tone of voice or if you encounter an awkward pause. But at least this way, you only have to deal with them over the phone rather than face to face.
Most of the time, however, you will find that jewellers are very welcoming to LGBTQ+ clientele.
If you have a negative experience, it would be best to share it with your LGBTQ+ friends and community. And likewise, if you have a positive experience.
On that note, you should also consider an LGBTQ-friendly photographer and videographer to capture your wedding.
We can recommend Steff & Ells Photo & Film who capture LGBTQ weddings and events all over the world.
Lesbian Engagement Ring Styles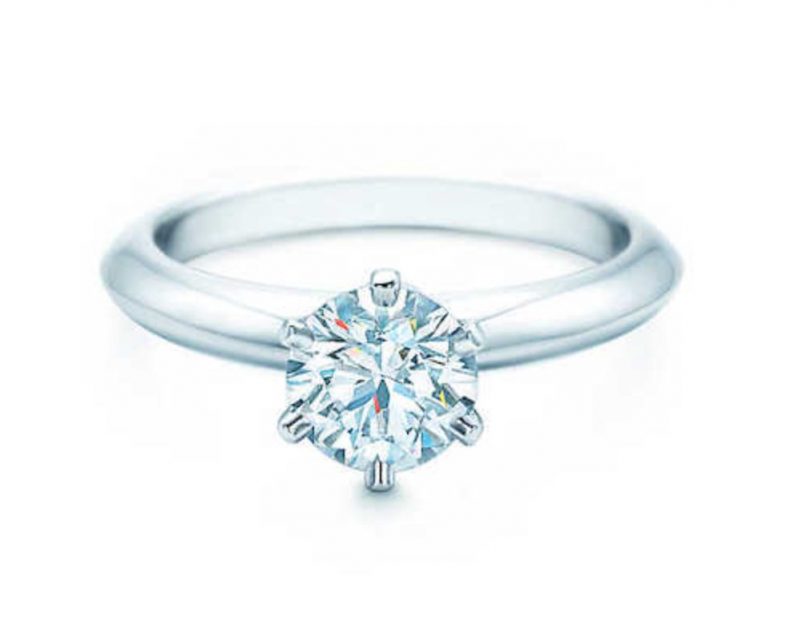 Classic Lesbian Engagement Rings
Classic engagement ring styles are classic for a reason.
It doesn't mean that they are dull or old-fashioned. More so that they are timeless and versatile and work flawlessly with various gemstones, metals, and designs.
Classic ring styles include three stone engagement rings, which represent past, present, and future.
Also included in this category are the ever-popular solitaire, cluster, and bezel engagement rings.
Vintage Lesbian Engagement Rings
If your other half has a soft spot for the old-fashioned or admires items with a story behind them, perhaps a vintage engagement ring would be better suited.
From Art Deco to Art Nouveau and Victorian to Edwardian, there are various eras that you can choose from. But each will offer a unique and elegant charm that a classic ring could never pull off.
Alternative Lesbian Engagement Rings
If you consider your partner to be slightly eccentric or unconventional, they will likely prefer a ring that's that way as well.
You can find some really cool alternative designs these days, ranging from geometric patterns to quirky shapes, and unusual coloured gemstones that you wouldn't traditionally find in engagement rings.
Lesbian Wedding Ring Styles
Traditional Lesbian Wedding Band
The most basic type of lesbian wedding ring is the traditional wedding band.
Typically, this ring style is made of silver, gold, or a different kind of metal and has no markings or embellishments.
If you are on a tight budget or want a simple wedding ring design, this is the ideal solution.
Five-Stone or Nine-Stone Bands
Another of the most common lesbian wedding ring styles is either the five-stone band or the nine-stone band.
This ring style is ideal for all brides, and while traditionally used as a wedding ring, they also make for beautiful engagement rings.
Generally, five-stone bands and nine-stone bands sport equal-sized diamonds, with no single stone stealing the show.
However, you may also choose to pair diamonds with sapphires or other stones of your choice.
Lesbian Eternity Rings
Eternity rings inspired by historical eras are another typical lesbian wedding ring.
Eternity rings usually have diamonds embellished around the band, providing a captivating design and symbolising eternal, flawless, and unchanging love.
Due to their symbolic meaning, they are a traditional style of ring that many couples love to have.
This type of ring is super versatile as you can stack it along with other rings, or you can wear it alone.
The eternity ring is not just for the same-sex wedding ring but can be a lovely anniversary gift as well.
French-Set Diamond Ring
The French-set diamond wedding rings have small diamonds raised by tiny prongs encircled on the ring band. Thus, the ring produces the single, continuous line of sparkle effect.
It usually has more sparkle than other diamond bands since they allow the most light to enter the diamonds.
Closing Thoughts on Lesbian Wedding Rings
A wedding ring symbolises that your love for each other has no end. Wearing it on your hand every day is a profound reminder of your commitment to your partner.
The price of lesbian engagement rings or wedding rings may not matter to some as they can afford to buy them regardless of how expensive it is. But for some with a limited budget, you may find it challenging to choose. 
Consider the above factors when choosing the right ring for you and your partner. You can also ask for some lesbian relationship advice from other couples who have been together for a long time. Either way, if you stay true to yourself, you can find the perfect ring for your wedding day with ease.
Keep in mind that the price of the ring will not measure how much you love each other. It's the deeper meaning of having it on your finger that matters.
Good Luck Finding the Ring!
Thank you for reading! We hope you enjoyed the lesbian wedding ring shopping guide.
If you have any questions for us or anything you'd like to add to the article, don't hesitate to get in touch.
You can reach out to us in the comment section below or through our contact us page.
If you enjoyed this article, you may also be interested in the following:
About the Author
Lori Wade is a content writer for sylviecollection.com who is interested in a wide range of spheres from wedding design and fashion trends to wedding business and sharing her ideas. If you are interested in relationships, weddings & fashion, you can find her on Twitter and LinkedIn.
PIN IT FOR LATER