Looking for all the best things to do in North Bali? We've got you covered! In this guide, I share all of the top places to see in the North of Bali. As well as where to stay, how to get around, and all of our top tips!
When it comes to popular destinations in Bali, the same few come up time and time again. Uluwatu for its surf & beaches, Ubud for its architecture & culture, and Canggu for its laidback vibes & good food.
After visiting the North of Bali and discovering all there is to see, we were left wondering why it's often left off of the hotlist. We found so many cool things to do in the North of Bali!
From chasing waterfalls and climbing volcanoes to cruising along some of the most picturesque landscapes on the island – everything about the North screams adventure.
Not only that, it's far less crowded than the South of Bali. Which, in our opinion, makes exploring a far more enjoyable experience.
As I say, you won't be short of things to do in North Bali. So let's get into what you came here for.
18 Unmissable Things to do in North Bali
Disclosure: Some of the links in this post are affiliate links. That means that if you purchase a product through these links, we will earn a small commission, at no extra cost to you. And we can continue bringing you free tips and advice. If you found the content helpful and are kind enough to use our affiliates – you are awesome, and we thank you!
Where to Stay in North Bali
While the North of Bali isn't as popular as the South, there's still a fair bit of tourist infrastructure in place.
It's certainly more built-up than the likes of Amed in Eastern Bali. So regardless of your budget, you won't struggle for a place to stay.
There are a couple of areas in North Bali that you might want to consider. Here's a short description to help you decide where you might want to be:
Lovina
Lovina is the main tourist town in the North of Bali, famous for black sand beaches and dolphin spotting.
You'll find many types of hotels in Lovina, ranging from budget hostels to high-end resorts. We stayed at Hotel Suma and would highly recommend it.
Check rates and availability for accommodation in Lovina here.
Munduk
If you consider yourself more of a jungle lover than the beach, Munduk is an ideal choice in Northern Bali.
Set around 45-minutes South of Lovina, the area is lush, green, and quiet, boasting some of Bali's most instagrammable hotels. Like the Munduk Moding Plantation Nature Resort & Spa.
Check rates and availability for accommodation in Munduk here.
Seririt
Further West of Lovina is Seririt – A beachside town that rarely sees any tourists.
There are just a few beautiful resorts in these parts, so it's perfect for those seeking to escape the crowds. We stayed at the beautiful Mayo resort.
At the same time, Seririt is relatively close to all the top things to do in North Bali.
Check rates and availability for accommodation in Seririt here.
Use the Map below to check availabilty:
Things to do in North Bali
Captivating waterfalls, volcanic beaches, and stunning religious sites make up the best things to do in North Bali. Here are 18 ideas to help you plan your trip.
1. Sekumpul Waterfall
When you search for anything to do with waterfalls in Bali, Sekumpul tends to top the list every time.
Many describe this waterfall as the most impressive in Bali, and there's no doubt that the momentous triple falls are a sight to behold.
With water cascading from an almighty 80-metres high into the lagoon below, and dense green vines adorning the cliff face it feels like a scene straight out of Avatar.
There are a couple of ways in which you can view the waterfall. The first is to admire a birds-eye view from the viewing deck up above.
Or, if you are feeling adventurous, you can opt for the arduous hike down to the bottom of the falls.
We go into the pros and cons of both options in this guide for Sekumpul Waterfall. Either way, if you plan to chase waterfalls in North Bali, Sekumpul should be at the top of your list.
2. Fiji Waterfall
Just minutes away from Sekumpul Waterfall lay the majestic Fiji Falls.
Set in the same lush jungle environment, it's equally as impressive. Yet, despite its beauty, is often overlooked in favour of other more popular waterfalls in North Bali.
To access the Fiji Waterfall, you have to pass through Sekumpul Falls first. You can just about spot it from the same viewing deck I mentioned above. or you can hike down to the bottom of the valley and reach it that way.
Our only complaint about the Sekumpul and Fiji waterfalls is the steep entrance fees. It's not so bad if you just visit the viewpoint at 20,000 IDR/pp.
However, a recent regulation (ahem, scam), insists that a guide must accompany visitors who want to trek to the bottom of the waterfalls.
The result: A steep fee of 200,000 IDR/pp and unfortunately there doesn't seem to be any way around it.
3. Gitgit Waterfall
At a tremendous height of 35-metre, Gitgit is one of the tallest and most powerful waterfalls in Bali. Thanks to its accessible location, it's also one of the most popular amongst tourists and locals alike.
Set in a real jungle paradise environment, Gitgit has all the feels of an off-the-beaten-path adventure. When, in fact, it's located an easy 15-minute walk from the main road.
It's an adventure without too much risk involved, which is what most people want. Especially if you're travelling with little ones or don't fancy the long hikes that come with most waterfalls in North Bali, Gitgit is a perfect choice.
Just because it's touristic, that's not to say you shouldn't visit. Gitgit is the ideal spot to take a dip, chill out, and admire nature. However, we would encourage you to visit early should you want to avoid the crowds.
The entrance fee for Gitgit is 20,000 IDR/pax.
You can read everything you need to know about this waterfall in our complete guide to Gitgit Waterfall.
4. Aling Aling Waterfall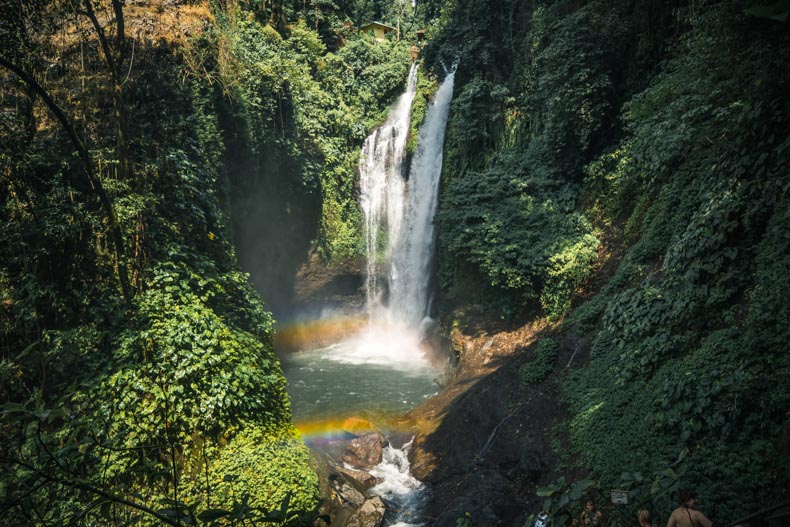 If you're seeking a real adventure in North Bali, you absolutely cannot miss Aling Aling Waterfall.
Famed for its impressive collection of waterfalls and daredevil cliff jumping opportunities, this is one of our favourite things to do in North Bali.
What many don't realise is that Aling Aling itself is considered sacred amongst locals, so no swimming or jumping is allowed.
However, there are countless natural pools, water slides, and cliff jumps at other points along the trail.
With so much to see and do at Aling Aling, it would be easy to kill an entire day here and not get bored.
It's important to mention that if you want to take part in cliff jumping at Aling Aling and all the other adventurous stuff, you will need to pay for a guide.
Unlike Sekumpul & Fiji Waterfalls, it's an absolute necessity here for your own safety.
5. Munduk Waterfall
Munduk waterfall is one of the lesser-known waterfalls in North Bali and not ideal for swimming; however, if you're in the area, it's worth stopping by all the same.
Located in the mountainous region of Munduk, you can expect an impressive waterfall amid lush jungle conditions. As a result of its unpopularity, it's highly likely you'll have the place all to yourself.
It's an easy trek to reach the falls, and as I say, you can't swim, so you won't need much time here at all.
Enjoy the leisurely pace and serene conditions before making your way to Banyumala Waterfall, which is next on our list.
6. Banyumala Waterfall
Making quite a name for itself on the North Bali Waterfall route, Banyumala is an impressive set of falls in the mountainous region of Munduk.
Equally impressive as the likes of Sekumpul, Fiji, and Gitgit waterfalls, this hidden gem is quickly becoming one of the top things to do in North Bali.
If you don't mind the relatively difficult trek to reach Banyumala Falls, your reward will be a striking double waterfall cascading down a vine infested cliff face.
The falls have formed a crystalised natural pool at the bottom, ideal for cooling off after the arduous trek down.
We predict Banyumala will become increasingly popular as the next Bali season approaches; therefore, get there soon and enjoy its solitude while it lasts.
North Bali Tour
Take the stress out of planning a visit to North Bali and book this bestselling tour with Get Your Guide instead. Choose your package and allow them to organise your transportation and schedule while visiting some of the most iconic sights in North Bali.
Book Your Tour Here: Best of North Bali Tour
7. Mount Batur for Sunrise
There's nothing quite like the feeling of accomplishing something while most people are still in bed. So how about climbing Mount Batur for sunrise – a 1700 metre high active volcano.
That's precisely what we did during our stay in North Bali, and it's probably the highlight of our time there. It may even be the highlight of all our time in Bali.
I have to admit, getting out of bed to make our way to base camp at 2 am was less than appealing. However, the magical moment of experiencing sunrise atop an active volcano was the ultimate reward.
If you are to drag yourself out of bed for only one sunrise during your time in Bali, I strongly suggest it be this one.
BOOK YOUR TOUR HERE: Mount Batur Sunrise Trekking Tour
8. Dolphin Spotting
Many are surprised to learn that dolphin spotting is one of the popular things to do in North Bali – us included!
When we heard about this activity, we were really excited. I mean, who doesn't want to see these majestic & playful animals in their own habitat. They're like the puppies of the sea.
Thankfully we did our research before we head out on a dolphin-spotting tour, and unfortunately, the feedback wasn't great.
There is a fine line between ethical animal tourism and unethical; however, from what we heard, it was enough to put us off participating in the tour.
Of course, we can't speak from personal experience, so we wouldn't want to stop anybody from going on a dolphin-spotting tour.
However, I would recommend you read this article first before making any decisions.
9. Black Sand Beaches
If you've spent quite a lot of time on the island, it's likely you've already encountered one of Bali's black sand beaches. But, if not, you might be pleasantly surprised to discover the volcanic shores of North Bali.
OK, so they might not be the pristine, white-sand beaches that one might expect in the tropics. But black sand beaches are picturesque in their own right.
The black sand is said to have originated from Mount Agung – Bali's most notorious volcano. The volcanic shoreline stretches from Amed, all along the East Coast and up to Seriret in the North.
Lovina is the most popular black sand beach in North Bali. You'll find various beachside bars and restaurants along this stretch as well as water sports and other activities.
If you prefer somewhere a little quieter, you can head further west towards Seriret. You should also seriously consider heading to Amed in East Bali if you haven't already.
10. Banjar Hot Springs
There are various 'natural' hot springs dotted around Bali; however, most are unauthentic and incredibly touristic.
We found Banjar Hot Springs to be the complete opposite, with mostly locals bathing in the cleansing waters of the holy springs.
The 38-degree hot springs are centuries old; however, the newly renovated grounds allow visitors a spa-like environment.
The temperature of the water combined with the sulphuric properties is said to be excellent for your skin and health in general.
11. Brahma Vihara Arama Monastery
One of our favourite hidden gems and a unique thing to do in North Bali, Brahma Vihara Arama Monastery is the only Buddhist monastery on the island.
After opening its doors in 1970, the monastery has since served as a sacred pilgrimage site and place of enlightenment.
Set in the mountains of North Bali, the complex consists of various gardens, meditation rooms, and religious statues, as well as a striking view over the surrounding landscapes.
Perhaps the most impressive feature of the monastery is the replication of Borobudur Temple. Located in Java, Indonesia, Borobudur is a UNESCO World Heritage Site and the largest Buddhist Temple in the world.
We were also surprised to find a similar design to the Instagram-Famous Gateway to Heaven, only without the crowds!
12. Ulun Danu Water Temple
It may be touristic as hell, but there's no denying the sheer magnificence of the Ulun Danu Water Temple.
The 'floating' Hindu temple, built in the middle of Tamblingan Lake is iconic to Bali thanks to Instagram. As a result, it's one of the first things people want to do when they visit the island.
With this in mind, particularly if you are visiting Bali during peak months, be sure to visit Ulun Danu Water Temple in the early morning.
This way you'll get to appreciate the true essence of the temple without hoards of other tourists around. Complemented by the backdrop of the misty Bedugul mountain range, the view is one of a kind.
It's good to note that rising water levels influence the appearance of the temple. If there hasn't been a lot of rain, the 'floating' effect isn't as noticeable.
Either way, the temple is well worth adding to your list of things to do in North Bali.
If you're on Instagram, the likelihood is you've come across the Wanagiri Hidden Hills on a few thousand separate occasions.
The infamous Bali Swing and bamboo viewing platforms are the epitomai of gimmicky; however, there's no denying that the stunning backdrop makes for a spectacular photo.
Personally, we have a bit of a bugbear paying or queuing for photos, so we don't tend to do it. However, we completely understand why somebody would, and it's actually a great way of supporting the local economy.
Even if it's for the view alone, it's worth a visit if you're in the area. Go on, do it for the 'gram.
Bali Instagram Tour
Want to hit all the photography hotspots in Bali? Book this best selling Bali Instagram Tour and visit the most scenic and Instagram-worthy sights around Bali.
14. Immerse in Local Culture
One of the things we loved most about the North of Bali is being in the heart of traditional Balinese culture.
With fewer tourists around and less big-scale developments, it somehow feels more authentic. I imagine it's what Bali must have been like 20 or 30 years ago.
Particularly driving around the areas surrounding Munduk and Seriret, you often find yourself passing quaint local villages who rarely see tourists.
We love stopping off in these parts and buying a drink or a bite to eat, as you always end up getting way more from the exchange than just a refreshment.
It's part and parcel of the Balinese culture to be accepting and welcoming, so don't be shy of starting a conversation. You'll likely end up with friends for life.
15. Snorkelling & Scuba Diving
Some of the best snorkelling and scuba diving sites are in North Bali, boasting abundant marine life and flourishing coral reef.
The best dive sites are Menjangan Island which is famous for its drop-off and coral garden, and Tulamben, which is popular for wreck diving.
A diving day trip to Menjangan Island is quite a popular activity from the North of Bali, so you could do that or look into staying in the National Park for a night or 2.
If you do decide to stay over in the National Park, there are some beautiful resorts around such as Menjangan Dynasty Resort and NusaBay Menjangan, as well as various homestays.
16. Bali Coffee Plantations
Due to cooler climates in the mountainous region of North Bali, it's the ideal conditions for growing all kinds of fresh produce.
Most of the island's fruit and vegetables are grown in these areas, as well as the delicious Balinese coffee. As a matter of fact, coffee plantations take up an unbelievably vast amount of space in the Munduk area.
The biggest and most-popular plantation is the Munduk Moding Coffee Plantation.
Munduk pride itself on being an organic coffee plantation, and as such, run several organised tours where visitors can learn all about their speciality coffee.
If visiting a coffee plantation is on your list of things to do in North Bali, I don't think you will be disappointed by the Munduk experience.
17. Stay at Munduk Moding Plantation
While we are on the subject of Munduk Moding Plantation, it's worth mentioning (again), the incredible hotel resort they have here. If you're going to treat yourself during your time in Bali, this is the place to do it.
The pinnacle of the mountain top property is the infinity pool overlooking the landscapes of North Bali. Rolling green hills and rice paddies stretch as far as the eye can see.
Oh, and if you rise & shine early, you're in for one of the best sunrise views in Bali.
Photo credit to our good friends, Kelly & Kody @positravelty.
Check rates and availability for Munduk Moding Plantation here.
18. Handara Gate
Another spot that owes thanks for its popularity to Instagram is Handara Gate.
The landmark is often mistaken for a religious site or historical point of interest. When in fact, the picture-perfect gate is actually just the entrance to a luxury golf course in Munduk.
Nowadays, entrepreneurial locals make a business from the gate alone, charging tourists 30,000 IDR for the 'selfie' ticket.
This gets you a spot in the often hours-long queue, where groups of people scramble for the same perfect shot. It's madness really, but again, a beautiful place to take a photo.
How to Get to North Bali
The northern coastline of Bali and even the mountainous jungles of Munduk are both pretty far from the tourist hubs of Canggu, Ubud, or Uluwatu.
As a result, many of those backpacking Bali erroneously miss them off their itinerary. Either that or they only visit on a day tour, unaware of all the incredible things to do in North Bali.  
Getting around in Bali can be an expensive ordeal. There is little to no public transport, and tourist buses are unheard of. Consequently, taxis, hiring drivers, or renting a car in Bali is often your only option.
If you can drive a scooter, this will be the cheapest and most convenient way to get around. Renting a scooter in Bali will set you back around 60,000 IDR per day.
Thankfully, the roads in Bali are for the most part in good condition and offer some scenic drives. The journey to North Bali, in particular, is incredibly picturesque as you pass through the heart of the Balinese jungle.
Of course, we advise exercising caution when driving in Bali. Always wear your helmet, and carry an international license should you be pulled over by the local police.
Top Tips for North Bali
Here are some useful tips that I hope will enhance your travel experience in North Bali.
How Long to Stay in North Bali
We stayed in North Bali for almost a week. It isn't necessary to be there that long, but we extended our visa at the Singaraja office, which meant we had to stay locally.
You could probably cover most of the highlights over 2-3 days. But if you wanted to take your time, 4-5 days would be perfect.
Best Time to Visit
The best time to visit Bali will be in the dry season, which runs from April to late September. While there is always a chance of an odd rainy day, you generally see warm and dry conditions during this time.
Having said that, the best time to visit the waterfalls in North Bali is usually between March and May just as the wet season is drawing to a close.
That's because all the rainfall causes the rivers to overflow, resulting in some pretty damn ferocious waterfalls. Of course, they are still well-worth visiting in the dry season; however, this is just our personal preference.
It's also worth mentioning that July and August are considered the high season in Bali, and consequently, prices are higher, and everything is busier.
While North Bali doesn't get as crowded as other tourist hubs in Bali, it's still better to visit outside of this time for a more peaceful experience.
Getting Around in North Bali
Unless you are confident on a scooter, getting around North Bali could prove a little tricky.
With no public transportation, and from what we could tell no Grab or GoJek, your only option is to hire a driver. 
This offer for a Private Car or Minibus Charter is highly competitive relative to local transport companies. Click the link to read thousands of positive reviews, check the latest prices, and to make a booking.
Extending your Visa in North Bali
In our experience, the Singaraja Immigration Office in North Bali is the fastest place on the island to extend your visa. If you purchased a visa on arrival when arriving at Bali airport, you are eligible to extend for up to 30-days. For more information, check out our article on getting a visa extension in Bali. 
Enjoy These North Bali Attractions!
So there we have it, 18 unmissable things you should do when visiting the North of Bali. I hop you have an incredible trip!
If you have any questions or feedback, feel free to reach out to us in the comments. Or drop us a message – we are always happy to help.
Planning a trip to Bali? Check out our other articles to help plan your trip.
Don't forget to follow us on Instagram here where we share further travel advice & inspiration.
Stay adventurous and Happy travels.
Charlotte & Natalie x
Disclosure: Some of the links in this post are affiliate links. That means that if you purchase through these links, we will earn a small commission, at no extra cost to you. And we can continue bringing you free travel tips and advice. If you found the content helpful and are kind enough to use our affiliates – you are awesome, and we thank you!
PIN IT FOR LATER