Off the Beaten Path in Budapest – 14 Unusual Budapest Hidden Gems
If you are looking to get off the beaten path in Budapest, you have come to the right place. After spending almost a week in the Hungarian capital and having covered all of the main attractions, we went in search of some of Budapest's hidden gems. In this article, we share what we discovered and our top 14 unusual things to do in Budapest.
Budapest is a diverse and beautiful city, bursting with life, culture, history, nightlife, and awe-inspiring architecture. Naturally, if it's your first time in the city you'll want to cover all the major landmarks. Attractions such as the Fishermans Bastion, Hungarian Parliament Building, Thermal Baths and Ruin Bars are quintessential Budapest experiences. However, if you're spending longer than a couple of days in the city, I suggest checking out some of Budapest's hidden gems as well.
As it turns out, there are many quirky and unusual things to do in Budapest. You might not find them on your average Budapest travel guide or blog, but that's what makes them so appealing. Getting off the beaten path in any touristy destination allows you to see the city through the eyes of a local. We had a wonderful time exploring an alternative side to Budapest. And to help you plan your own offbeat adventures, we've collated this list of the most weird and wonderful things to do in the city.
So let's get to it, it's time to break the silence on our favourite hidden gems in Budapest.
Off the Beaten Path in Budapest – 14 Unusual Budapest Hidden Gems
*Before You Travel to Budapest, have you got your travel insurance sorted? Cover yourself for the unexpected, read why you really need travel insurance or get a quote from World Nomads.
*Have you got your travel Visa sorted? Check if you need one here and retrieve a quote. It's simple, fast and reliable.
*Don't leave home without any backpacker essentials with our free printable packing list.
Unique Hotels in Alternative Budapest
Unsurprisingly, there is no shortage of accommodation options in Budapest. You can click the link below to search for hundreds of hotels, hostels, and guesthouses in the area. But while we are on the topic of unusual things to do in Budapest, I thought it would be nice to share some of the more unique hotels in Budapest – the hotels that reflect the cities alternative side.
Check the latest rates and availability for all Budapest accommodation here.
T62 Hotel $
First on our list of cool and quirky places to stay in Budapest is T62 Hotel. T62 is a budget to mid-range hotel, ideal for couples or friends visiting the city on a weekend or mini-break. The decor is chic & stylish, including graffiti-style walls, and the rooms are simple yet modern. With a central location close to all the major attractions, an enjoyable stay is guaranteed.
Check rates and availability for T62 hotel here.
Bohem Art Hotel $$
Located just minutes away from the Danube riverbanks, this bohemian style hotel is one of the trendiest spots in the city. Each room features the eclectic artwork of local Hungarian artists while combining all the modern features of a hip hotel. I even read that they serve wine with the American style breakfast buffet, so if that doesn't persuade you, I don't know what will.
Check rates and availability for Bohem Art Hotel here.
Baltazár Budapest $$$
You'll find this hip boutique hotel on the Buda side of the river, close to Buda Castle and the Fishermans Bastion. It's a small yet cosy, family-run hotel boasting only 11 bedrooms; however, this adds charm to its already edgy character. The hotel decor reflects Budapest's artistic and bohemian side, with individually decorated rooms that range from urban modern to shabby chic. Baltazar Budapest is an ideal choice for anyone seeking somewhere a little bit out of the ordinary, but with all the luxury comforts.
Check rates and availability for Baltazar Budapest here.
Aria Hotel Budapest $$$
Featuring a panoramic rooftop bar, luxurious rooms & suites, and 5* facilities, Aria Hotel is the ideal place to treat yourself during your stay in Budapest. Unlike other luxury hotels in the city, the Aria Hotel is luxurious in a gentle yet classy way. The design is chic and modern, mirroring the hipster vibe of the city. And guests can enjoy ample facilities such as a fully-equipped spa, swimming pool, and state of the art rooms.
Check rates and availability for Aria Hotel here.
14 Most Unusual Hidden Gems in Budapest
From underground caving adventures and eerie gothic castles, to meandering the cities alternative district, here are 14 of the most quirky things to do in Budapest.
1. Alternative Budapest Tour
It makes sense to kick off the list with a mention of the best-selling Alternative Budapest Walking tour. This tour will take you off the beaten track on a 3-hour walking tour of the cities alternative neighbourhoods. On this tour, you'll see beyond the usual tourist spots and through the eyes of a local. Here's what you can expect from the tour:
Discover Budapest's graffiti and street art scene and learn about the local artists
Find hidden cafés, bars, galleries, design shops, studios, music venues and hangouts
Learn about Budapest's minority cultures such as LGBT+
Visit Budapest's infamous ruin bars
Explore Budapest's Jewish District
Check out a local market
Book your Tour: Alternative Budapest Walking Tour
2. Vajdahunyad Castle
Despite its prime position in City Park, Vajdahunyad Castle remains somewhat of a hidden gem in Budapest. While the park itself makes its way onto most Budapest itineraries, the castle rarely gets a mention. When we stumbled upon it during our visit, we were surprised we'd not heard about it. In our opinion, it's one of the most beautiful castles in Budapest.
Similar to other architecture in Budapest, Vajdanhunyad Castle looks like a scene straight out of a fairy tale. Only, this time, you can imagine it belonging to the villain of the story. The amalgamation of Gothic-Renaissance and Baroque architecture creates a mysterious and almost eerie scene. Ironically, legend has it that the castle once imprisoned Count Dracula.
It is free to enter the grounds of Vajdahunyad Castle, so even if you do not wish to go inside, it is worth taking a romantic stroll through the courtyards. Inside, there is a museum and other interesting artefacts, but in our opinion probably not worth the entrance fee.
Entrance Fee: Free to enter the grounds/HUF 1600 to go inside/ Allow: 1 hour
3. Palvolgyi Cave
Interestingly, some of the more unusual things to do in Budapest are located underground, and believe it or not; caving adventures is one of them. Budapest is the only European capital that has natural caves in the middle of the city. A collection of 170 smaller and bigger caves make up the system – all of which formed by the same thermal springs that supply water to the thermal baths.
While several of the caves are accessible and fun for all the family, Palvolgyi Cave is a somewhat more demanding tour. The 1-hour long escapade leads you through the longest and most beautiful cave in the Buda Hills. But the series of steep climbs and obstacles, alongside confined spaces, mean it's not for the inexperienced or the faint-hearted.
Boasting stunning dripstone formations and an adrenaline-pumping course, those keen for a real adventure in Budapest will not want to miss it. Or, if you'd prefer something a little more family-friendly, you can check out other caving tours such as The Labyrinth in Buda Castle or Szemlőhegyi Cave.
Tour Price: HUF 2200/Allow: 1-2 hours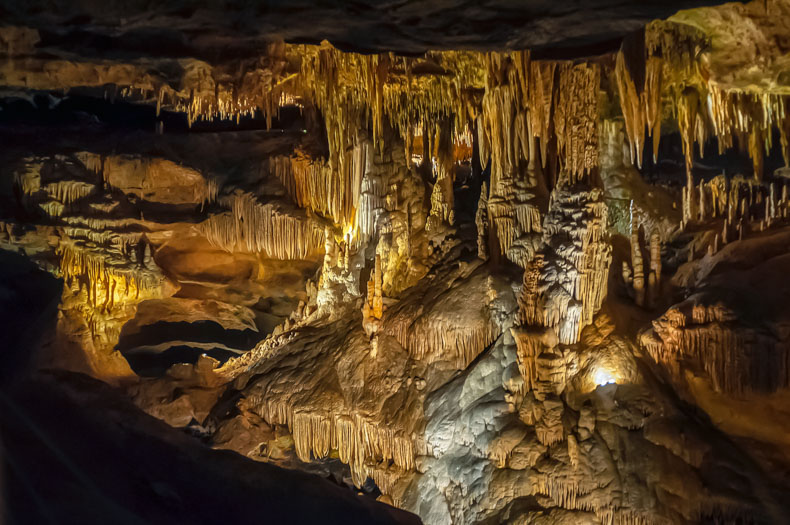 4. Hospital in the Rock
I'll be honest; I only found out about this museum while researching for this blog. But it's a pity, as it's one of the few museums in Budapest that I think sounds interesting enough to pay the entrance fee. Hospital in the Rock is another one of Budapest's underground attractions, which was once a secret hospital and nuclear bunker.
The hospital, built in a 10km long natural cave system underneath the Buda Castle, opened in 1944. Its purpose was to protect injured soldiers and civilians during further bomb attacks on the city. Today it's the largest waxwork exhibition in Hungary where wax figures and authentic machinery depict the reality of those tumultuous times.
Entrance: 4000 HUF (Includes a guided tour)/Allow: 1 hour
5. For Sale Pub
Some of the most unusual things to do in Budapest include drinking in bars. But with so many eccentric drinking holes around the city, what else do you expect? Of course, Budapest's ruin bars are famous for being a little off the wall; however, there are other quirky bars in the city worth checking out as well.
One of our favourites is the For Sale Pub – and no, it's not actually for sale, that's just the name of the bar. What's unique about this bar is the shabby interior, unpretentious atmosphere, and the fact that patrons can leave their mark. You see, covering every last inch of surface in the bar are notes, business cards, keepsakes and other momentums left by visitors from all over the world. It seemed to be a bit of a fire hazard actually, but it was something different and worth seeing all the same.
Other offbeat bars in Budapest, include the Blind Mice Exchange Pub. A multi-room establishment, where you buy your spirits according to the stock value on the television screen. Another is Red Ruin Bar – A communism themed bar with a sense of humour about the political past. Check out this guide to Budapest Nightlife for more awesome nocturnal things to do in the city.
6. The Cheapest Danube River Cruise
Possibly the best way to view the sights of this magnificent city is on the water. With many significant landmarks set upon the banks of the Danube River, it's the perfect way to take it all in without the pressure of crowds.
When it comes to choosing a river cruise, there is no shortage of options. Vendors swarm the banks of the Danube, waiting to sell you the 'Best Danube River Cruise'. Don't be fooled by fancy words and pushy salesman. Many tours are overpriced. In our experience, it's cheapest to book in advance and online.
Having said that, if you're on a real shoestring budget, another option is to take the public transport boats for just a fraction of the price. Of course, it will be a no-thrills experience, but the incredible views will ultimately be the same. I know, you're thanking me for this travel hack right now, and you're welcome.
7. Szimpla Kert by Day
Szimpla Kert is Budapest's most famous ruin bar by night and a cultural/artistic centre by day. Famed for its wild party vibe and trippy decor, many visitors add the bar to their list of things to do at night. However, to truly appreciate the creativity and quirkiness that makes Szimpla Kert unlike any other bar in the world, you need to experience it during the day as well.
There is nothing not to love about this bar. From their eco-friendly initiatives, cheap drinks prices, and the whacky themed decor, walking around Szimpla Kert feels like getting lost in a twisted Wonderland. In my opinion, you should stop by during the day to wander around and take some photos, then return in the evening for a boozy night out.
Alcohol in Budapest is relatively cheap if you stick to the local brands; however, it's easy to get carried away. Before you know it you're $50 and a shoe down with a nasty hangover to boot.
8. Street Art Hunting
In deep contrast to the grand and elegant architecture found elsewhere in the city, alternative Budapest hides an edgier side. A side where street art, quirky food haunts, hipster stores, and a trendy nightlife scene prevail. You'll find this scene centred mainly around the Jewish District. A spot that holds a turbulent history, but has risen from the ashes as the trendiest and most cultural spot in all the city.
Historically, this area was considered the ghetto of Budapest, and Jews were confined to live here during the Nazi occupation of Hungary. The Jewish influence remains prominent to this day, with various synagogues, kosher restaurants, and memorials. However, the hidden gem amongst it all, in my opinion, is the street art.
We felt like we were in an open-air gallery as we marvelled the murals created by a mix of local and international artists. The subjects range from Hungarian history and local culture to various world-wide events and controversies. You can follow this map of Budapest street art to find the best artwork in the city.
9. Langos at Retro Langos Bufe
Langos is a traditional Hungarian dish, consisting of round deep-fried dough, that resembles a pizza, but thicker and heavier. Traditionally, langos were brushed with garlic and sprinkled in salt, and it was job done; however, today's evolving culinary scene sees them topped with all kinds of delicious ingredients. The most popular duo is sour cream and cheese, which I can confirm is divine, but you can also choose from a variety of vegetables and meats.
While Langos is an iconic street food dish to Hungary, finding a good one in Budapest is harder than what you might think. To ensure you're getting a Langos of the best quality, we insist you go to Retró Lángos Büfé. One of Budapest's hidden gems where you can guarantee your food will be hot, fresh, and delicious.
10. Gellert Hill Cave Church
As the name suggests, you'll find this unusual cave church, tucked beneath Gellert Hill on the Buda side of the river. Historically, the cave is said to of been the home of a hermit monk, who used the nearby thermal springs to heal people of their ailments. Nowadays it belongs to the Pauline Monks and is one of the more quirky things to do in Budapest.
Thanks to its unique setting inside a natural cave, the Church Cave is one-of-a-kind. The church has no grand decoration like other architecture in Budapest; however, it's unique charm makes the structure well worth visiting. For a 500 HUF (£1.20) donation, you can enter inside the church and includes an audio tour.
11. Flipper Museum
The Flipper Museum is an ideal hidden gem to save for a rainy day, quite literally. If you find yourself rained off of sightseeing, this retro museum of pinball machines and arcade games is the ideal distraction. Once you've paid the entrance fee, gaming is free, and you can stay for as long as you want.
As for the machines themselves, the diversity is enormous, spanning different eras and styles. Most of them are very well-maintained, and if you're an old skool gamer, you're sure to leave feeling nostalgic. At 3000 HUF (£8) the entrance fee isn't all that expensive, and it can be great fun for all the family.
12. Shop at a Local Market
If you're serious about getting off the beaten path in Budapest, a great place to start is to go where the locals go. On this occasion, I'm talking about the local markets. And when I say local, I don't mean the Budapest Central Market, which by all means you should visit, but it's as touristy as they come.
No, I'm talking about the lesser-known markets, which are admittedly smaller but only by size. Most have a lot of character, and their unpopularity only adds to the charm. Interestingly, they hold most of the local markets on a Sunday, which is ideal if you're spending the weekend in Budapest. But not so much if you're there in the week.
The first of the Sunday markets I recommend you visit is at Szimpla Kert. A local farmers market, whereby every seller is an authentic local producer, who only bring what they grow and make by hand. Another is the Flower & Vegan Market at Anker't – another of Budapest's infamous ruin bars. And finally the Antique Flea Market at Klauzál Square is well worth a visit if you're on the hunt for some rare gems.
13. Urban Exploring in Budapest
When you think of Urban Exploring, Budapest is the last city that probably comes to mind. Or maybe you don't even know what Urban Exploring is. In which case it's basically exploring abandoned buildings or areas within a city. This kind of exploring is especially popular in cities such as London and Berlin; however, we were pleasantly surprised to learn there are some cool adventures to be had in Budapest as well.
Unfortunately, we didn't have a chance to check any of them out on this particular trip. But if urban exploring sounds like something that might be up your street, I recommend checking out this article relating to some interesting abandoned buildings in Budapest. Including a former power station and an old bunker, offbeat Budapest doesn't get better than this.
14. Karavan Street Food
Located in Budapest's hip & happening party district, Karavan is an outdoor food court, that gives home to a variety of food trucks and international fayre. Conveniently set next to Szimpla Kert, the cities most famous ruin bar, you can expect a variety of cuisines including Italian, Mexican, and Indian. Not to mention Las Vegan who cater solely to vegans. Whether it's a 3 am feed up after a heavy night of drinking, or a cheap and cheerful dinner one evening, you won't be disappointed by the food on offer.
More on Budapest
Planning a trip to Budapest? Check out our other articles to help plan your trip.
Did you Enjoy our List of Hidden Gems in Budapest?
Well, that concludes Off the Beaten Path in Budapest – 14 Unusual Budapest Hidden Gems. We hope you enjoy your time in this magical city. If you have any questions or feel we have missed anything, please reach out to us in the comment section below, or through our contact us page. Don't forget to follow us on Instagram where we share further travel advice & inspiration.
Stay adventurous and happy travels.
Charlotte & Natalie x
Disclosure: Some of the links in this post are affiliate links. That means that if you purchase through these links, we will earn a small commission, at no extra cost to you. And we can continue bringing you free travel tips and advice. If you found the content helpful and are kind enough to use our affiliates – you are awesome, and we thank you!
20 Unusual Hidden Gems in Prague – The Best Non-Touristy Things to do
2 Days in Berlin – The Best 2 Day Berlin Itinerary
Gay In: Slovenia – A 2020 Guide to Gay Ljubljana
Gay In: Brighton – A 2020 Guide to Gay & Lesbian Brighton
PIN IT FOR LATER
Last Updated on January 1, 2021 by Our Taste For Life