Planning a magical trip to Lapland in Winter? This guide details all of the best Lapland Winter activities, and includes where to eat, how to plan, and all of our top tips for visiting. 
Winter in Lapland is the most magical time of the year to visit. It's the Christmassy destination we all dream about as little kids. And regardless of your age, it holds the magic to make you feel like a kid once again. 
Quite honestly, I'm not usually a fan of winter getaways, but Lapland was an exception. It's impossible not to get lost in the enchantment of it all, and Lapland is by far one of our favourite destinations to date.
Imagine days discovering glorious winter landscapes and fascinating local culture. Followed by cosy evenings by the fire or in a glass igloo beneath the Northern Lights.
You see, Lapland is both romantic and adventurous in equal measure, so it's guaranteed fun for all the family.  
If you're visiting Lapland in winter, there are tons of exciting things to do and look forward to. It's the best time of year in Lapland to see the Northern lights, while Lapland winter activities include reindeer safaris, husky sledding, snowmobiling, and skiing.
And, of course, if you're visiting Lapland for Christmas, it's your chance to get up close and personal with the big man himself. So I hope you've all been good this year!
But with all of that out of the way, let's get to it. Here is the ultimate guide to visiting Lapland in Winter.
Disclosure: Some of the links in this post are affiliate links. That means that if you purchase through these links, we will earn a small commission, at no extra cost to you. 
Where is Lapland?
Is Lapland a real place? Is Lapland a country?  Where is Lapland? These are all legit questions we've been asked when talking about our winter trip to Lapland.
First of all, yes. While it might appear to be a fairy tale destination, Lapland is 100% a real place. I know, because I've seen it with my own eyes.  
Is it a country? No, but it is a region. A vast region in fact that covers northern Sweden, Finland, Norway and even part of Russia's Kola Peninsula.
To put its size into perspective, if Lapland were a country, it would be in the top 20 biggest countries in Europe, which is pretty staggering.
Planning a Trip to Lapland in Winter
Your first step in planning a winter trip to Lapland is to decide which part or parts of Lapland you want to go to. While most visitors stick to one area, some travel throughout the region by air, car or rail.
All areas are equally magical. After all, Lapland is one of the best places to see the Northern Lights.
However, there are certain unique features or attractions, that might appeal to you more than others. I'm going to break that down for you now to help with your decision.
Finnish Lapland
Finnish Lapland is the most visited part of the region and is where we stayed during our recent trip.
The capital, Rovaniemi, is the official hometown of the real Father Christmas. So, if you plan on visiting Santa in Lapland, this is the place to go.  
National parks make up most of Finnish Lapland, protecting some of the last remaining wilderness in Europe.
You'll spend most of your time skimming through forests and lakes that provide some of the most jaw-dropping views in all of the region. 
You also have an excellent chance of spotting the Northern Lights in Finnish Lapland, as well as having access to an abundance of exhilarating winter activities such as reindeer safaris and husky sledging tours.
Finally, there are several diverse and exciting places to stay in Finnish Lapland.
Some of you may be familiar with the iconic glass igloo hotels – they originated in this part of the region. The innovative design allows guests to watch the Northern lights from the comfort of their beds. 
The easiest way to access Finnish Lapland is to fly to Helsinki, spend a day or two, and from there, fly to Lapland. The main airports in Lapland with scheduled daily flights are Rovaniemi, Kittilä, Kuusamo, and Ivalo.
Swedish Lapland
Swedish Lapland takes up an entire quarter of the country, so it's equally vast and just as enchanting as Finland.
The general nature and culture aspects are very similar with sprawling forests, whimsical villages, and beautiful wildlife. However, there are some details to Swedish Lapland that set it apart from its neighbours.
First of all, Swedish Lapland is famed for having the worlds first ice hotel – built entirely of ice and snow. The Icehotel is an ever-changing work of art that gets rebuilt each and every year.
Then there is the town of Abisko, famed for being one of the best places in Lapland to spot the Northern lights. Or, for adventure enthusiasts, you can drive race cars on the ice of frozen lakes.
Finally, you might find the indigenous Sami culture of Lapland to be most prevalent here.
Some Swedish Lapland experiences even include a homestay with a local Sami family – a once-in-a-lifetime opportunity to encounter one of the last remaining aboriginal groups in Europe.
The easiest way to access Swedish Lapland is to fly to Stockholm, spend a day or two there, and then fly to Lapland. The main airports in Swedish Lapland are Luleå and Kiruna Airport, while smaller airports include Skellefteå, Gällivare and Arvidsjaur. You can also take an overnight train from Stockholm.
Norwegian Lapland
Finally, there is the Norwegian Lapland. Considerably smaller than its neighbours above, but no less beautiful and compelling.
Norwegian Lapland is supposedly the most expensive part to visit, so it's possibly better tied in when visiting other parts of the country. Norway, in general, looks stunning, so it certainly wouldn't be a wasted trip.
Unique to this part of the region are the fantastic skiing opportunities in Narvik. Narvikfjellet is a jaw-dropping ski resort surrounded by majestic mountains and deep fjords, offering some of the best alpine skiing in all of Norway.
The easiest way to access Norwegian Lapland is to fly to Oslo, spend a day or two there, and before flying to Lapland. The two main airports in Norwegian Lapland are Alta and Kirkenes.
When is Winter in Lapland
Here's a fun fact about Lapland for you. Not only is it home to untouched wilderness, majestic nature, magical hotels, and Santa Clause, it's the home of 8 seasons as well.
While Lapland's main seasons are spring, summer, autumn, and winter just like the rest of the world, the change in weather conditions is particularly dramatic.
The lives and work of the locals are highly sensitive to the changing seasons; therefore, it makes sense for them to break down the year into eight seasons instead of four.
If you're interested, the eight seasons are as follows:
True Autumn – Sami: tjaktja: September – October
Autumn-Winter – Sami: tjaktjadálvve: November – December
True Winter – Sami: dálvve: December – March
Spring-Winter – Sami: gidádálvve: March – April
True Spring – Sami: gidá: April – May
Spring-Summer – Sami: gidágiesse: May – June
True-Summer – Sami: giesse: June – July
Summer-Autumn – Sami: tjaktjagiesse: August – September
So as you can see, Winter in Lapland can span six months of the year. Although, if you want to make the very most of the winter activities, you'll want to visit Lapland from December to March.  
December and January tend to be the peak months, especially among families with little ones who are hoping to visit Santa in Lapland.
Lapland Winter Temperatures
While Lapland at Christmas is a great idea, it does come with inflated hotel and travel prices.
Considering there are also very few daylight hours during this time, and the Lapland winter temperatures can drop as low as -40C, you wouldn't be missing much by pushing your trip into February or March instead.  
We visited Lapland in March, and the enchanting winter vibes were still in full swing.
The landscapes adorned a thick blanket of white snow but the days were longer than the earlier winter months, and temperatures were far more endurable -5 to -10C.
No Lapland winter activities were out of bounds, and even Santa allowed us to visit him. So if you're planning a trip to Lapland in March, I'm confident you won't be disappointed.
Best Hotels in Lapland
Planning where to stay in Lapland will probably be the most exciting yet challenging part of organising your winter holiday to Lapland. Simply because there are so many epic hotels and resorts to choose from.
Glass igloos, wooden cabins, ice hotels, tree hotels, the list is endless. All provide an equally unique experience.  How on earth will you choose?  
My advice is: do your research. After all, this is likely to be a once-in-a-lifetime experience for many of you. So you want to ensure everything is perfect. 
I will list some of my Lapland bucket list hotels below, including Kakslauttanen Resort, where we stayed. But for more, you can check out this list of the best hotels in Lapland Finland and Sweden.
Kakslauttanen Arctic Resort (Finland)
After spending 4 nights at Kakslauttanen Arctic Resort in March, I can confidently say it's one of the most magical resorts in the world.
I am talking Disneyland on ice – A snow-ridden playground for adults and children alike. 
Alongside iconic luxury accommodations such as glass igloos and cosy log cabins, the resort offers several exciting excursions.
From reindeer safaris and snowmobile adventures to cross-country skiing and Santas grotto, there is guaranteed fun for all the family. 
You may also find the story behind Kakslauttanen Resort to be pretty interesting – I know we certainly did!
Arctic Treehouse Hotel (Finland)
For a slightly modern twist on the glass igloo, Arctic Treehouse hotel provide another extraordinary hotel experience in Finnish Lapland.
Elevated on stilts overlooking the Lappish wilderness, the luxury cabin accommodation is designed to allow a nest-like view.
Waking up to sweeping vistas of the majestic winter landscapes is an experience unlike no other. After a few nights here, mornings will never be the same again.
Treehotel
So I'm not sure which tree resort came first, but out of the 2, I think this one is my favourite.
Treehotel in Swedish Lapland provides a real treehouse experience, with extraordinary accommodation such as a UFO, birds nest and mirror cube cabin, set way up high among the tall trees of a Pine Forest.
Each cabin allows you to watch the Northern Lights from the comfort of your bed. And during the day you can enjoy an abundance of winter activities, such as reindeer safaris, husky sledding and exploring the local Sami culture.
Ice Hotel (Sweden)
I mentioned the extraordinary Ice Hotel earlier, and I have a full section dedicated to it further down in the article. So for now, I will leave you with a short statement from their website:
"Icehotel is a hotel and an art exhibition with ever-changing art made out of ice and snow. Icehotel is created in a new guise every winter, completely made out of natural ice from Torne River, one of Sweden's national rivers and last untouched waters. When the winter suites have melted back into the river in spring, a part of the hotel still stands, a place where visitors can experience the ice and snow year-round."
The 16 Best Lapland Winter Activities
Lapland provides a realm of exploration opportunities throughout the year; however, wintertime is, without a doubt, the most adventurous.
In summer and autumn, you can enjoy tranquil hikes and bike rides amidst the sprawling national parks.
But when the first sign of snow hits the ground, the hiking boots are replaced with snowmobiles, sleds, skis, and reindeer.
With this in mind, here are 16 of the best things to do in Lapland in Winter:
1. Husky Sledding Safari
I'm kicking off the list with our favourite winter activity in Lapland, and that is a Husky Sled Safari.
Led by a team of energetic mountain dogs, you'll discover the spectacular winter landscapes moving at a nail-biting pace.
Nothing can prepare you for the exhilarating sensation until you experience it for yourself. But all I can say is hold on tight.
If you're anything like us, you're likely questioning if this activity is entirely ethical. In all honestly, it's a grey area amongst animal rights activists. Ultimately, it comes down to how well looked after the dogs are. 
From our experience with Kaslauttanen Resort, I can confidently say I've never seen such a healthy and happy bunch of dogs. These dogs are born to run, and boy, do they run.
I go into more detail regarding this topic in our guide to dog sledding in Lapland, so be sure to check that out for more info.
But if you're an adrenaline junkie, this is one Lapland winter activity you don't want to miss.
2. Reindeer Safari
On the opposite end of the spectrum, a Reindeer Safari is an almost tranquilising experience.
Unfortunately, it doesn't involve any flying, the reindeer save that for Christmas eve. But it does involve dashing through the snow on a reindeer open sleigh.  
Reindeer safaris occur throughout the day during the Lapland winter; however, a Northern Lights Reindeer Safari is especially magical. 
We organised ours through Kakslauttanen Resort, and while the aurora refused to put on a show for us, it was still an enchanting experience.
Wrapped up in warm clothes and a blanket, we cruised at a gentle pace beneath the light of a mystical full moon.
Again, we had our concerns regarding how ethical the reindeer safaris are. After our travels throughout Asia, animal tourism is a sensitive subject to us. We would only ever want to promote ethical tours on this blog.
For more information about picking an ethical tour company or reindeer farm, see our guide to reindeer safaris in Lapland.
3. See the Northern Lights
Of course, one of the most popular bucket list experiences when visiting Lapland in Winter is seeing the Northern Lights.
Otherwise known as the Aurora Borealis, this spectacular natural phenomenon is an otherworldly experience. All kinds of colours from green to purple, and even red dance around in the twilight sky.  
Unfortunately, like most natural phenomena, the Aurora is unpredictable. While the wintertime is the best time to visit Lapland for the Northern Lights, the conditions need to be perfect for them to appear. Sometimes they don't show for days or weeks at a time.
In our experience, it's always best in these situations to have no expectations. That way, if it doesn't happen, you aren't left too disappointed. On the flip side, when it does, it's a wonderful surprise.
Unfortunately, the aurora failed to make an appearance for the four nights we were in Lapland. But honestly, we were so full of gratitude for the whole Lapland experience that it didn't matter.
We know we will catch them next time we find ourselves somewhere near the Arctic Circle.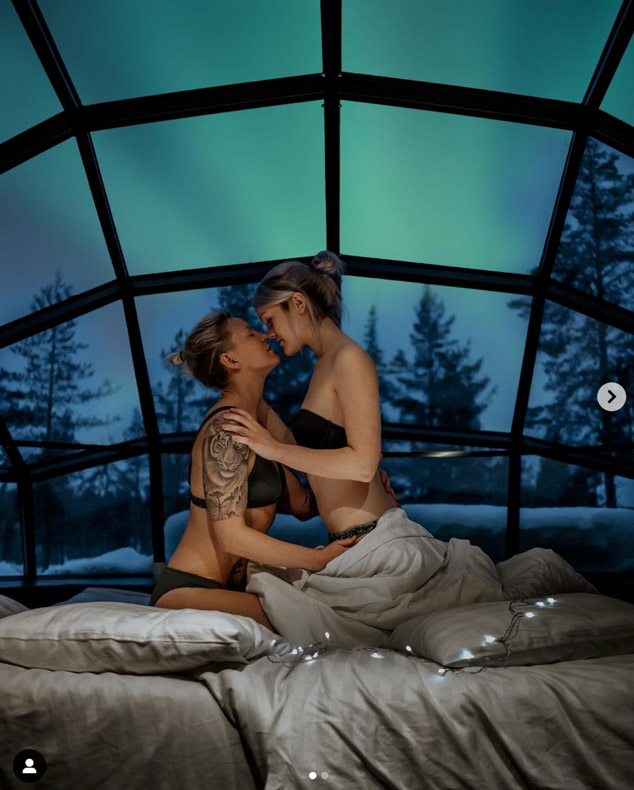 4. Spend a Night in a Glass Igloo
It had been on our bucket list forever to stay in a glass igloo before we were finally able to tick it off last year. And let me tell you, it was every bit as magical as we had imagined.
As I mentioned earlier, the concept of the glass igloo was born in Finnish Lapland, created by Jussi Eiramo – founder and owner of Kakslauttanen Resort.
The story behind Mr Eiramo and his vision for the world-famous resort is a truly inspiring one. After having the pleasure of meeting him, we are convinced that he's the real-life Santa Clause!
Anyhow, I digress. While the glass igloos originated at Kakslauttanen Resort, you can find them now all over Lapland. The captivating design of the glass igloos allows guests a panoramic view of the night sky.
So if the auroras are to make an appearance, you can watch the spectacle from the comfort of your bed. 
It isn't a cheap stay by any means, but if your budget permits, it's a once-in-a-lifetime experience not to be missed.
5. Cross Country Skiing
With Lapland seeing snow anywhere from 175 – 225 days per year, cross-country skiing plays a considerable part in the local culture. Most locals learn to ski almost immediately after taking their first steps.
Historically, skiing was an essential means of transport during winter. Skiing across forests and lakes to get to work or school was not unusual, and I can't help but feel like I was cheated by having to take the bus.
Since the invention of snowmobiles and cars, not so much; however, cross-country skiing is still a national sport in Finland. Locals insist it is a fantastic activity for both body and mind.
Gliding through the magical winter landscapes is an incredible way to spend the day. Even if you're a total beginner, this Lapland winter activity is fun for all the family.
6. Snowmobile Tour
Next up we have another of our favourite winter activities in Lapland, and that's a Snowmobile Tour.
A snowmobile is a bit like a jet ski on snow. And it's by far one of the most thrilling ways to discover the diverse winter landscapes that make up the arctic circle.  
With a variety of tours to choose from, you could spend anywhere from 1-hour up to an entire day whizzing through forests, lakes, and mountains.
We spent 3-hours driving through the wilderness, and it felt like freedom. I couldn't help but envy the locals who get to travel this way on a daily basis.
The snowmobiles are relatively easy to handle, but if you don't fancy driving, you can ask for a guide to drive you instead. It took me 10-minutes or so to get to grips with it, but after that, it was smooth sailing.
7. Traditional Finnish Sauna
Saunas play a significant role in Finnish culture. Most family homes have them, and they are considered a necessity for a happy and healthy life.
With this in mind, visiting a sauna is a quintessential thing to do in Lapland in Winter, helping you to relieve any stress on both the body and mind. 
If you're feeling brave enough, there's a deeply rooted Finnish tradition called 'cold therapy', where you take an ice plunge followed by a hot sauna.
The body-shocking process is said to relieve pain, improve moods, and strengthen the immune system.
It's quickly catching on in other parts of the world, with advocates like Wim Hof 'The Iceman' praising its help benefits.
I now take regular cold showers and dips as part of my health routine, and I feel healthier and more energetic than ever. I strongly recommend you give it a try. 
8. Visit Santa in Lapland
You can't visit Lapland without visiting Santa, and the great thing is, it doesn't even have to be Christmas time.
Santa Clause takes visitors all year round in this part of the world. So if you want to spread the festive cheer in the middle of Summer, so be it! In Lapland, anything is possible.  
The official home of Santa Clause is the Santa Claus Village in Rovaniemi. However, he does seem to have several houses all over the region. It would appear the Santa business is doing very well indeed!
Ask your hotel about the Santa experience closest to you, and prepare to make magical memories that will last a lifetime. 
Oh, and once you're friends with Santa, it's a great bribe to use against your kids every time they are naughty. You're welcome! 
9. Drive a Race Car on Ice
Exclusive to Swedish Lapland, driving a race car on ice is one of the most hair-raising experiences you can have throughout the region.
The winter activity, known as ice-driving, takes place in Arjeplog at the world's largest driving centre. It is available for just 11 weeks each year when the plains of Lake Adjaur transform into 2965 acres of icy terrain.
There's only one company that offers this one-of-a-kind experience, and that's Lapland Ice Driving.
This well-regarded company allows you to reach speeds of up to 200km/h in complete safety, with no walls or barriers to potentially get in your way.
Not only that, their impressive fleet of vehicles which includes Porsche, Maserati, and Ferrari, is guaranteed to make any sports car fanatic drool.  
10. Learn About Traditional Sami Culture
The entire Northern Lapland region is home to the Sámi – the last remaining indigenous people in the European Union.
The Sámi possess a rich cultural heritage and are known for their close connection to the land and nature. Time spent exploring and learning about this fascinating culture, is time well spent.
Inari, Rovaniemi, Enontekiö and Utsjoki are some of the best places to explore the Sámi culture in Lapland today.
You can discover the breathtaking Sámi homeland, join in the colourful festivals and activities of the locals, and discover their history. You can even organise to stay in the home of a Sami family and learn about their modern way of life.
Of course, a significant part of the local culture is the cuisine. With delectable dishes featuring locally sourced reindeer, cheese, fish, berries and mushrooms, your passion for the food is sure to match your love for the region.
11. Go Ice Fishing
A typical ice fishing experience involves a short hike to a nearby frozen lake, cutting a hole in the ice, and waiting for your catch to take the bait.
We didn't get around to trying ice fishing on our recent trip, but I can imagine it's quite a fun experience!
Ice Fishing may be one of the more low-key winter activities in Lapland, but it's an interesting one nonetheless.
12. Stay in the Worlds First Ice Hotel
Visiting Lapland in Winter is a once in a lifetime experience. But thanks to this extraordinary Ice Hotel in Swedish Lapland, I think I'm going to have to visit twice.
I had so many questions about this hotel when I first heard about it. Who are the artists behind it? Is the hotel there all year round? How can you possibly sleep in such conditions?
The Ice Hotel in Lapland is an ever-changing work of art and a true reflection of the magic that exists throughout the Lapland region.
Each year a team of international artists skillfully sculpt the hotel using ice from the Tornio River, only for it to melt away months later.
The special 'ice rooms' within the hotel come fully equipped with thermal sleeping bags and extra warm blankets so you definitely won't freeze.
But if you don't fancy sleeping in sub-zero temperatures, there are traditional hotel rooms and chalets instead.
Or if the prospect scares you altogether, you can also visit the Ice Hotel on a day trip.
13. Discover Lapland by Snow Tank
One of the more unique ways to discover the beautiful Lappish landscapes is to travel by snow tank.
Snow tanks are an awesome piece of machinery, made even more impressive by our guide who actually built his tank himself.
This guy was some kind of superhero, I'm sure. While we wore layers upon layers of thermal clothes and winter gear, he had a thin shirt on bearing his chest and arms. We both agreed he seemed like a useful man to have around the house.
Our snow tank tour took place at night. Again, we were on the hunt for the Northern Lights which as you know never showed.
Nevertheless, crawling through the wilderness and enjoying the scenery from the panorama cabin was an enjoyable experience.
All things considered, I'd say this Lapland winter activity is perfect for families with small children or those seeking a more comfortable safari experience.
14. Go Horse Riding
Another winter activity fit for animal lovers, horse riding tours allow a peaceful and romantic journey through the rugged wilderness of Lapland.
Experienced riders have the option to ride on horseback. Or you can relax and enjoy the ride in a horse-drawn carriage or sleigh. Ask at your hotel for horseback riding tours in your area.
15. Polar Explorer Ice Breaker Cruise
When visiting Lapland in Winter, another once-in-a-lifetime experience is to take the Polar Explorer Ice Breaker Cruise.
Exclusive to Finnish Lapland, the 3-hour cruise transports passengers through the frozen water of the Bothnian Sea.
During the cruise, you'll get to experience the tremendous power of the vessel, as it effortlessly cuts through the ice.
A guided tour is included, and you'll have the opportunity to stop off and walk on the ice or take a swim in a flotation survival kit.
16. Visit a Traditional Lappish Teepee
Historically, Teepees, otherwise known as Lavvu, were temporary dwellings used by the Sami people. They served as a place of refuge when herding reindeer across the barren winter landscapes.  
Today, the teepees are dotted all over Lapland. Many of the tours & excursions include a visit to one. We got to huddle around a fire with a warm drink while hearing spellbinding stories about Sami history and culture.
What to Pack for Lapland in Winter
Packing for your winter holiday in Lapland is the final step in the planning process, but it's not one that should be taken lightly.
With temperatures dropping as low as -40C, having the right winter gear is essential for a comfortable and enjoyable experience.
To help you prepare, you can check out our complete Lapland winter packing list here.
Enjoy your Winter Trip to Lapland
Well, that concludes our ultimate guide to visiting Lapland in Winter. I hope you have a magical trip to this unforgettable location.
If you have any questions or feel we have missed anything, please reach out to us. We love hearing from you! 
You can contact us in the comment section below or through our contact us page. Don't forget to follow us on Instagram, where we share further travel tips & advice.
If you're heading to Finland, check out our Finland series to help plan your trip!
Stay adventurous and Happy travels.
Charlotte & Natalie x
Disclosure: Some of the links in this post are affiliate links. That means that if you purchase through these links, we will earn a small commission, at no extra cost to you. And we can continue bringing you free travel tips and advice. If you found the content helpful and are kind enough to use our affiliates – you are awesome, and we thank you!
**Our trip to Lapland was sponsored by Kakslauttanen Resort. However, as always all thoughts and opinions are our own.
PIN IT FOR LATER