Wondering what to gift the backpacker in your life? I've got you covered! In this guide, I share 25 cool and creative backpacking gifts that any traveller will love and appreciate!
Choosing the perfect gift for a backpacker involves considering their lifestyle, needs, and how practical the item might be for their adventures.
A well-thought-out gift can enhance their backpacking experience and make their trips more enjoyable and convenient.
With that in mind, here's a list of the 25 best gifts for backpackers, which will make life on the road all the more comfortable and enjoyable.
Disclosure: Some of the links in this post are affiliate links. If you purchase a product through these links, we will earn a small commission at no extra cost to you. And we can continue bringing you free tips and advice. If you found the content helpful and are kind enough to use our affiliates – you are awesome, and we thank you! 
Essential Gifts for Backpackers
When it comes to finding the perfect gifts for backpackers, a reliable and versatile backpack is an absolute essential. I mean, they live out of this after all.
Choose a backpack built to endure the ruggedness of budget travel while featuring multiple compartments for efficient organisation.
Look for added features like hydration reservoir compartments, rain covers, and reinforced stitching to ensure it can withstand the demands of adventurous journeys.
Another top choice gift for a backpacking enthusiast is a lightweight tent. This is a crucial piece of gear, offering shelter and comfort during outdoor adventures.
Opt for a tent made from durable, high-quality materials that can withstand varying weather conditions.
Features like easy setup, compact packing, and ample ventilation are also key features to consider.
A compact and lightweight portable stove is an essential for hikers and backpackers, allowing them to prepare hot meals and beverages wherever they wind up.
A high-quality portable stove like this one is designed for efficiency, durability, and ease of use, making it a must-have for any outdoor adventure.
Whether it's a backpacking gift for her, him, or them, you can't go wrong with a quality multi-tool. Compact and lightweight, it combines a variety of essential functions into one handy device.
From cutting through rope and opening cans to fixing gear and preparing food, the multi-tool is a faithful companion for outdoor adventures.
Regardless of their backpacking style, this all-in-one gadget will surely be appreciated by those seeking convenience and efficiency on their journeys.
Another backpacking gift worthy of your consideration is a waterproof dry bag. These are fantastic for protecting your valuables from the rain or during water activities.
We swear by our bag, which has lasted us for years. Even when we were involved in a kayaking incident that saw all of our things floating down the river, everything inside remained dry.
Dry bags are available in a variety of colours and sizes. So you can customise based on the individual taste of the person you're buying for.
A camera backpack is the perfect gift for any avid adventurer and photography enthusiast.
Designed with specialised compartments and padding, they offer optimal protection for valuable camera equipment, lenses, and accessories.
Ours has features like adjustable dividers, multiple pockets, and weather-resistant materials, which makes it an invaluable addition to our travel essentials. 
7. Refillable Water Bottle
A travel essential that all backpackers should have is a refillable water bottle.
We are all aware of the problems that single-use plastic is causing the environment, so we must cut back as much as possible.
An excellent addition to this gift would be a water purifier like this one by Steripen.
Tech Gadget Backpacking Gifts
8. Portable Solar Charger
A portable solar charger is an essential piece of equipment for any outdoor enthusiast, providing a reliable power source on the go.
Whether trekking through the wilderness or gallivanting across countries, this compact device harnesses the sun's energy to charge your electronic devices.
It's an eco-friendly and practical gift that aligns with the sustainable ethos of backpacking, allowing us to stay powered up and connected while on the road.
Consider a GPS fitness tracker if you're looking to surprise a traveller with a thoughtful and practical gift. It's by no means a cheap gift, but it's sure to win you some brownie points!
This high-tech device is a backpacker's best friend, offering a myriad of features to enhance their outdoor adventures.
A GPS watch helps them plan routes, analyse performance, and ensure safety by providing accurate location data.
10. Waterproof Action Camera
Capturing moments during backpacking adventures is a priceless experience, and a waterproof action camera is designed to ensure those memories endure the elements.
Designed to withstand water, dust, and rough terrain, it allows adventurers to document their journeys, whether exploring mountain peaks or diving into crystal-clear oceans.
Of course, GoPro is the market leader for action cameras, but there are a variety of brands to choose from.
I know many people still love the feel and experience of reading an actual book, but for travellers with limited space, a Kindle makes for a great backpacking gift.
Lightweight and packed with an entire library at your fingertips, these handy devices allow you to read to your heart's content without weighing down your backpack.
Modern technology allows us to capture everlasting memories of our experiences and the places we visit.
That's why a travel tripod is an exceptional gift for backpackers, allowing them to capture high-quality moments during their adventures.
Tripods can be bulky & heavy; Therefore, I recommend a travel tripod like this one by Tycka.
A portable speaker is another perfect gift for backpackers, allowing them to enjoy their favourite tunes and podcasts while they are on the move.
Backpacking adventures land you in all types of situations, from group gatherings to solo experiences, and music is an epic way to enhance the mood.
Opt for a lightweight and compact design that's easy to carry in a backpack, and you're sure to be on to a winner with this one.
14. Noise-Cancelling Headphones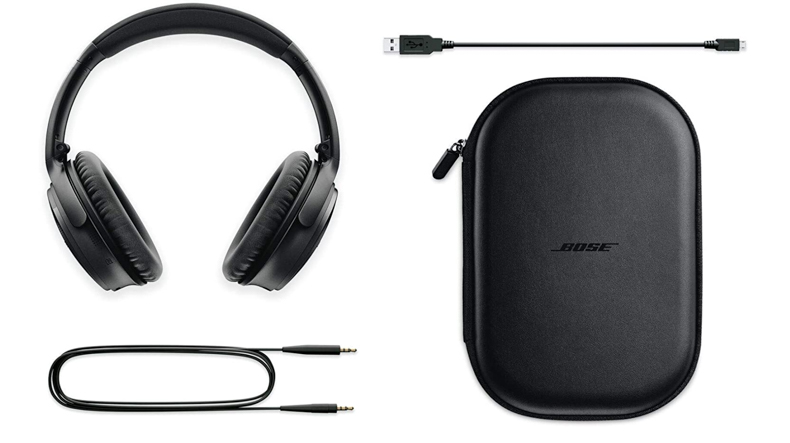 Of course, there will be times when it isn't appropriate to play music out loud, and that's where noise-cancelling headphones come in.
As backpackers, we often find ourselves in bustling airports, crowded buses, or shared hostel rooms where peace and quiet can be elusive.
Noise-cancelling headphones effectively eliminate external sounds, which can be a game-changer when you have a snorer in your dorm!
A mobile gimbal is an awesome gift idea for backpackers because it enhances their photography and videography experiences while on the go.
A mobile gimbal stabilises any smartphone, ensuring smooth, professional-quality footage even in dynamic and challenging environments.
We recently invested in one of these, and it's one of my favourite-ever investments. Any backpacker would be over the moon with this gift.
Personal Care Backpacker Gifts
16. Travel-Size Skincare Sets
Many sacrifices have to be made when you choose the backpacking lifestyle, but skincare needn't be one of them.
Various brands, from high-street to premium, offer comprehensive skincare sets in a travel-size package, ideal for tucking away easily in your luggage.
The best sets typically include compact versions of essential skincare products such as cleansers, moisturisers, serums, and sunscreen.
It might not be the most exciting backpacking gift on this list, but it's essential nonetheless.
When choosing the best first aid kit for backpackers, it should include essential medical supplies like adhesive bandages, antiseptic wipes, tweezers, adhesive tape, scissors, and gauze pads.
Also, consider gifting one that's compact and lightweight with a durable case so it's easy to pack and won't add unnecessary weight to a backpack.
18. Refillable Mini Perfume Bottles
A budget backpacker gift you might consider is these refillable mini perfume bottles, which you can quickly fill with any aftershave or perfume.
We've always found these super handy when we travel. They allow us to leave our clumpy glass perfume bottles at home while still being able to rock our favourite fragrances.
Comfort Item Gift Ideas for Backpackers
19. Inflatable Travel Pillow
One of the best gifts for backpackers on a budget is an inflatable travel pillow, providing much-needed comfort and support during the unpredictable events of travel.
Whether it's catching some rest on a train, bus, or the airport floor, an inflatable travel pillow ensures a good night's sleep or a quick nap wherever the journey takes them.
Not to mention, the inflatable design allows for easy storage and portability, making it a perfect gift for backpackers who value space-saving solutions.
20. Microfibre Travel Towel
Another not-so-exciting yet handy gift for backpackers is a microfibre travel towel. These compact and lightweight towels are perfect for adventurers on the go.
They dry quickly, making them ideal for outdoor activities and travel where space and weight are crucial considerations.
Also, their use extends beyond just drying—they can serve as a makeshift blanket, sunshade, or even a yoga mat.
For the outdoorsy backpacker in your life, a Pack-Away Raincoat is an invaluable and practical gift that they are sure to appreciate.
Designed with the needs of travellers in mind, these raincoats are lightweight, compact, and easily foldable, making them effortless to stow away in a backpack or daypack.
We don't travel anywhere without ours, and we've lost count of how many times they've come in handy.
Other Fun Gifts for Backpackers
While photos are a fantastic way of documenting your travels, they don't capture your feelings and emotions quite like the written word.
That's why we always recommend keeping a journal when you travel. Just imagine how precious it will be to read over it with your children or grandchildren in the future.
Some travel journals even include pockets for storing keepsakes like tickets, postcards, or small mementoes.
Backpacking isn't always intrepid adventures, wild parties, and cocktails on the beach. There are long travel days, days when it rains, and nights indoors trying to save money.
Classic card games like Uno, miniature magnetic chess sets, or pocket-sized versions of board games like Scrabble can provide entertainment during these times.
If travelling alone, they can encourage bonding with fellow travellers, turning strangers into friends over a friendly game.
One of the best gifts for backpackers is a portable hammock – the perfect outdoor accessory that allows them to relax and rest comfortably during their travels.
Pick one that's lightweight, easy to pack, and can be set up quickly between trees, posts, or other sturdy anchor points.
My Travel Yoga Mat is one of the best backpacking gifts I've ever been given.
I love that I can stretch and work out wherever the road takes me, and it also doubles up as something to lie on during long layovers between journeys.
Choose one that folds down and stows away easily, so it's not too much of an inconvenience to carry.
Did You Find the
Best Gifts for Backpackers?
So there you have it: 25 epic backpacking gifts that any traveller will love and appreciate! I hope it's been helpful.
If you have any questions or feel like we've missed anything, do let us know. You can leave a comment below.
Happy Gifting!